AP Photo/Donna McWilliam
Mavs Fall In A Tough Hole

DALLAS -- Chris Paul required some extra in-game stretching to stay loose Sunday night, took most of the second quarter off and looked closer to mortal than he has for months.
None of which helped the Dallas Mavericks one iota.
The surging
New Orleans Hornets
didn't need Paul at his peak to deliver a Game 4 blow to the Mavs -- and Avery Johnson's tenure coaching them -- that looked and sounded unmistakably fatal. The Hornets erased Dallas' biggest lead with Paul on the bench, kept piling on from there and progressively drained away the Mavs' spirit, emptying the building earlier than any playoff game here in recent memory and ultimately cruising to a 97-84 triumph that will be recorded as the franchise's first win in this town since 1998.
"You want to see if hopefully you can take their life away," Hornets coach Byron Scott said, summarizing the message he plans to transmit to his players before Tuesday's Game 5 back home.
Honestly? It looks like they already have.
Judging by the clear-cut lack of swagger, bounce, intensity and belief coming from the Mavs -- all of which began to fritter away on this night when New Orleans uncorked a 15-2 run in the second quarter with Paul spectating -- you'd give Phoenix more of a chance to overturn its 3-1 deficit to mighty San Antonio faster than you'd suggest Dallas can come back from 3-1 down in this series.
Jason Kidd looked more out of sorts in Johnson's offense than ever before, managing just three points, three assists and four rebounds while attempting just six shots from the field. Josh Howard responded to the scrutiny his untimely comments about marijuana use have invited by trying to shoot his way out of it and hitting a new low by missing 13 of 16 attempts from the field. No surprise, then, that New Orleans responded by swarming Dirk Nowitzki throughout, trying to force the ball out of Nowitzki's hands by packing the paint and attacking him almost every time he dared to dribble. Although he still managed 22 points and 13 rebounds, Nowitzki's production and Jason Terry's 20 points weren't nearly enough to compensate for the struggles of Kidd and Howard and a bench that provided virtually nil.
Even Nowitzki was guilty of uncharacteristically missing three free throws … as well as an accidental slip into the past tense.
After Dallas absorbed its 11th loss in 14 playoff games since taking a 2-0 lead over Miami in the 2006 NBA Finals, Nowitzki said: "This sport is still about scoring points. And we just didn't have a great offensive series, I guess."
The series, of course, is not quite over. But the Mavs will need some benevolence from the league office just so Kidd -- whom Dallas chased so hard in February because he "knows how to finish games," in Johnson's words -- can play in the expected finale.
He's facing a possible suspension after being ejected with 7:16 to play after a hard one-handed takedown of Jannero Pargo. It was a flagrant foul on a fast break, with New Orleans up 16, that would have been a lot uglier if not for Pargo's deft landing.
Pargo was heading for the floor headfirst when he managed to get his hands down to break the fall. The sight of the Hornets' bench spark plug bouncing back up quickly, however, doesn't change the fact that every Type 2 flagrant foul is automatically reviewed by the league office for additional penalties. Kidd denied later that it was a frustration foul, but it might regrettably wind up being the signature play of his 2008 postseason if he's forced to sit out Game 5, which would only add to the sense of doom rapidly enveloping the Mavs after they were widely picked to upset the No. 2 seed.
"The league is going to do what they do," Nowitzki said. "You never know what's going to happen with them anyway and what they're going to make up."
Said Paul: "I don't think there's [any] reason for him to be suspended for the next game."
The bad news there is that Paul might also be saying that the Hornets wouldn't mind seeing Kidd in Game 5.
You certainly can't hang the fact that Howard has become totally undependable (15-for-58 from the field for the series) on his coach. The Hornets likewise never imagined that Jerry Stackhouse's contribution would be so negligible … or that Johnson, getting nothing from his reserves apart from Brandon Bass, would gamble on playing little-used guard J.J. Barea and then pay the price during New Orleans' second-quarter burst without Paul.
Yet there have been whispers coming from the Hornets' camp, going back before the series even started, that they looked forward to playing Dallas because they were convinced that Kidd couldn't hurt them in his current role, given Johnson's penchant for slowing the game whenever it gets close and an offense not exactly known for ball or player movement, which so often turns Kidd into a weakside shooter.
And …
After backing off to let David West (24 points) carry the offense in the third quarter and finishing with a tame (for him) 16 points, eight assists and seven boards, Paul did say that the Hornets believed they could win this comfortably, even though he had never won a game at American Airlines Center in six previous tries.
Asked if the ease of the victory surprised him in any way, Paul said: "Not really, to tell you the truth."
He's only that confident with good reason. It would be an immeasurable surprise, after this dour display, if Dallas goes to Avery's hometown and finds a way to drag Paul back here for a Game 6.
Marc Stein is the senior NBA writer for ESPN.com. To e-mail him, click here.e.
Playoff Dimes Past: April 20 | 21 | 22 | 23 | 24 | 25 | 26 | 27
Most Improved Fits Turkoglu

By John Denton | Special to ESPN.com
ORLANDO -- All you need to know to quantify just how much improvement Orlando Magic small forward Hedo Turkoglu made this season is this very telling statistic:
The NBA's top three fourth-quarter scorers this season were Cleveland's LeBron James (645), Los Angeles' Kobe Bryant (538) and Turkoglu (487).
Turkoglu's shocking turnaround will be honored Monday when he is announced as the winner of the NBA's Most Improved Player award. The NBA and the Magic have scheduled an 11 a.m. ET news conference to honor the 29-year-old Turkoglu, the first-ever Turkish-born NBA player.
For years, Turkoglu had been thought of as a player with enormous potential and talent, but not nearly enough production. All of that changed this season when new Magic coach Stan Van Gundy put the ball in his hands and the confidence in him that he could blossom into an elite player.
And needless to say, Turkoglu responded. He averaged career highs in points (19.5), rebounds (5.7), assists (5.0), field goal percentage (45.6) and minutes (36.9), and he played in all 82 games for the first time in his eight-year NBA career. He also set new career highs for points in a game (39 against Washington in March), rebounds (15 versus Toronto in November) and assists (13 against Atlanta in March).
But Turkoglu was most dangerous in the fourth quarter. Even with Dwight Howard's stardom exploding in Orlando and Rashard Lewis added to the mix after signing a $118 million contract, Turkoglu was the Magic's choice in the tense moments of games. He delivered with two game-winning shots, and he won a third with two clutch free throws in the closing seconds. The faith the Magic showed in Turkoglu helped fortify a confidence level that was sometimes shaky in the past.
"Knowing that my coach and my teammates believed in me and trusted me meant everything to me," said Turkoglu, who had two triple-doubles this season. "I didn't want to let them down. I've just tried to stay aggressive and help my team the best I could."
Some have wondered whether Turkoglu should have been disqualified for the award because of his age (29) and experience in the league (eight years). But in many ways this was like Turkoglu's first season in a role in which he could truly flourish. In Sacramento, he was buried behind Peja Stojakovic, and in his one season in San Antonio he was there just as Manu Ginobili's stardom was taking off. And in his first three seasons in Orlando, he had always played in Grant Hill's shadow, deferring to him and playing the role of follower.
That all changed this season, and Turkoglu rewarded the Magic by boosting his scoring average by 6.2 points over last season, becoming the team's best playmaker/passer and thriving in the clutch.
Van Gundy hopes that Turkoglu's improvement will serve as a message to other players in the league that it's never too late to make a big step.
"Most of the time, people think when players are 25 or 26 they are who they are," Van Gundy said. "Maybe that's been true before, but it doesn't have to stay true. He should win the award, and really I think it would be a great testament to other guys already in the league.
"If Turk could win it, maybe it would show that you can get out of the box that people put you in. I'd like to see Turk rewarded, but I'd also like it because it would be a great message to the rest of the league."
John Denton covers the Orlando Magic for Florida Today.
Standing Problem For Nuggets

By David Thorpe | Scouts Inc.
Nuggets coach George Karl loves having his players make immediate decisions after they catch the ball, whether it is to drive, pass or shoot. He wants the ball moving quickly, which forces the defense to move with it and ultimately opens up lanes for his talented players to exploit. But the irony he is forced to face is that his two top players are considered to be among the biggest ball-stoppers in the NBA.
Standing and holding the rock (as Carmelo Anthony often does) and lateral dribbling (as Allen Iverson is known to do) allow the defense to consistently reset and reorient toward the main threats. When the Nuggets move the ball, they can light up any defense. When Melo or A.I. stop the ball, sometimes their talent is enough to find a way to win. But for Denver in the playoffs, especially against the No. 1 seed and expertly prepared Lakers, holding the ball has added up to lots of horrible shots and three losses. The Nuggets are now faced with a potential sweep, a certain first-round loss and possibly the end of the short-lived combination of their two star players.
To read the full story, click here.

SUNDAY'S BEST
Boris Diaw, Suns forward:
Starting in place of injured Grant Hill, Diaw had 20 points, 10 rebounds and eight assists in the Suns' 115-99 win over the Spurs. He also put the clamps on fellow Frenchman Tony Parker, who scored 18 points after a career-high 41 in Game 3.
---

SUNDAY'S WORST

Josh Howard, Mavs forward:
Shoots 3-for-16 from the floor, good for only six points in the 97-84 loss to the Hornets. (Insert gratuitous glaucoma joke here.)
---
QUOTE OF THE NIGHT

"If we was on the park, something definitely would have escalated. But, you know, I guess that's what they want to do. They want to hurt LeBron James this series. It ain't working." -- Cavs forward
LeBron James
on DeShawn Stevenson's physical defensive approach
• See Sunday's daily leaders
-- Andrew Ayres
Suns get on the board

By Brian Windhorst
Special to ESPN.com
WASHINGTON -- For years, LeBron James has been needled for not always demanding the last shot. It really came to a head during last year's Eastern Conference finals against Detroit, when he passed up a chance to tie in Game 1 and instead went to Donyell Marshall in the corner for the win. It was the same exact play the Cavs ran to set up West's winning shot Sunday. But Marshall missed, and the second-guessing started.
The phrase "killer instinct" has been brought up. Comparisons to Kobe Bryant have been issued. James has even been questioned by fellow players; in an interview last year, Gilbert Arenas questioned James' late-game rationale.
Arenas is a guy who always wants the final shot. Playing on a bum knee while logging the most minutes he's played since November, he took a wild one Sunday that missed.
James has never apologized for his reasoning, insisting that he will make the proper basketball play. He says it when it works, he says it when it fails.
"I've always been a guy who trusted my teammates," James said. "Even before I got to the NBA."
To read the full story, click here.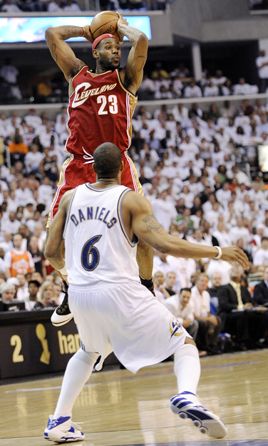 AP Photo/Nick Wass
LeBron James is not averse to passing, even when the game is on the line. James had a team-high seven assists and scored 34 points in the Cavs' 100-97 Game 4 win over the Wizards

By J.A. Adande
ESPN.com
PHOENIX -- The Phoenix Suns have as much reason to be regretful as they are optimistic after they pounded the San Antonio Spurs 105-86 Sunday. Sure, they avoided a sweep by winning Game 4. They reminded people that they can beat the Spurs. Handily.
And yet they have to wonder why they couldn't sustain double-digit leads in the first two games, why they failed to execute in a few critical moments of Game 1 and why they didn't play Game 3 with the type of energy and passion they displayed in Game 4. If they had done those things, it could just as easily have been the Suns up 3-1, not the Spurs, as they head to San Antonio for Game 5.
"A lot of woulda coulda shouldas," Steve Nash said. "But we're still alive, and we played well in San Antonio and haven't got a win yet. So we want to go down there with a very optimistic attitude."
There was more reason to be optimistic Friday, when the Suns were back home after two close-but-no-Cohiba losses in San Antonio and had a legitimate chance to get back in the series. But neither the fans nor the players were as energetic then as they were Sunday, when the crowd made noise and the Suns made plays despite a history book that shows no NBA team has come back from a 3-0 deficit to win a best-of-seven series.
It was as if everything Suns fans asked for all season came true. They got effective adjustments from coach Mike D'Antoni and aggressive play from Boris Diaw.
If anything, D'Antoni coached too much -- more than he had to. Long after Spurs coach Gregg Popovich pulled his key players, D'Antoni kept in Diaw. Then he sent Amare Stoudemire back in the game with 5:39 left and the Suns ahead by 21. (One possible rationale: If they're both on the court, they can't get suspended for leaving the bench should a confrontation break out, as they did during a pivotal moment in last year's series.) Then D'Antoni was ejected for arguing with the officials when his team was ahead by 23.
To read the full story, click here.

By Chris Sheridan
ESPN.com
PHILADELPHIA -- When it came time to save his job, and that's pretty much what the situation boiled down to in the moments after the Detroit Pistons exited the court at halftime trailing by 10 points, coach Flip Saunders ripped into every single member of the team -- except one.
"I told them: I looked at us playing in the first half, and we've got Antonio McDyess, who got operated on yesterday in Detroit, flew back and was throwing up all night, and he's competing harder than anybody," Saunders said.
"I said: 'That should show you how bad he wants it, and we all should look at what he's doing, and we've all got to be willing to make the same sacrifices.'"