Scott Cunningham/NBAE via Getty Images
Hawks Fly Past Celtics, Again
ATLANTA -- It seemed like a weird dream.
Ted Turner was sitting courtside cheering. Philips Arena was sold-out and turned into an intimidating venue, seriously. The Atlanta Hawks scored at will and Joe Johnson was the best player on the floor, not Kevin Garnett or Paul Pierce or Ray Allen. And the Boston Celtics, the top seed in the East, were left stunned and couldn't wait to get back home.
But this wasn't a dream. Actually, it was a stunning nightmare reality for the Celtics, who in a matter of days went from championship dreams to just hoping for survival against the cocky eighth-seeded Atlanta Hawks after being upset 97-92 in Game 4 Monday.
The Celtics and Hawks are now tied at two in this best-of-seven first-round series, with Game 5 on Wednesday in Boston.
"The Hawks have confidence and they think they can beat us," Celtics veteran guard Sam Cassell said. "They've beaten us the past two [games], so we're going to have to step it up in Boston."
The Hawks said before the series that they would shake up the world and that they match up well against the Celtics. But few others guessed they would have the mighty Celtics on the ropes.
You would have thought the Hawks would have been happy with one victory, right? Wasn't winning Game 3 good enough?
But the youngest NBA team in the playoffs is too young to know they weren't supposed to win anymore. The words "Don't Be Satisfied" were written on a board in their locker room. When Garnett threw an elbow at little-known Atlanta center Zaza Pachulia, Pachulia got right in Garnett's face to get the last laugh. And even though the Hawks were down 10 points entering the fourth quarter, Johnson and budding star Josh Smith outscored the Celtics 32-17 in the final frame to gain one of the biggest wins in franchise history.
"We have been done before and we know that," Johnson said. "We started the game slow and they hit us in the mouth, but we withstood and made a run. We knew we had a chance to come back and we jumped on it in the fourth quarter. And that gave us momentum, and we knew we could play against the Celtics."
Said Garnett: "Joe Johnson is the most underrated player in our league besides [Detroit's] Rasheed Wallace. He's underrated ... I'll give it to him. He played his [butt] off."
To make matters worse for the Celtics, Garnett's and Kendrick Perkins' Game 5 status is up in the air for their involvement in a second-quarter skirmish. Garnett instigated the incident and even re-entered the fray, while Perkins stepped on the floor from the bench. Atlanta forward Marvin Williams could be sitting, too, for stepping on the floor from the bench.
With no Garnett and no Perkins, a bad situation would instantly become worse for Boston.
"I'm sure if there is some relevance, then we're going to have to deal with it," Celtics guard Ray Allen said.
Bostonians will never forget the New England Patriots losing to the New York Giants in the Super Bowl this year. New Englanders will never forget the ball going through Red Sox first baseman Bill Buckner's legs in the 1986 World Series. And if the Celtics lose to the Hawks, they would never forget one of the greatest falls from grace not only in Boston or NBA history but in sports history, period.
The No. 1 seed has lost to the No. 8 seed only three times in NBA history, most recently last year, when the Dallas Mavericks were stunned by the Golden State Warriors. But an Atlanta upset over Boston would be far more shocking.
Unfortunately for the Celtics, this isn't a weird dream. This is real. This is stunning. And with nothing to lose and everything to gain, don't expect the Hawks to fly away quietly now.
"It's really win or go home now," Celtics guard Rajon Rondo said. "We don't want what happened to Dallas last year."
Marc J. Spears is a regular contributor to ESPN.com and covers the Boston Celtics for The Boston Globe.
Playoff Dimes Past: April 20 | 21 | 22 | 23 | 24 | 25 | 26 | 27 | 28

By John Denton | Special to ESPN.com
ORLANDO -- This, as far as the Orlando Magic are concerned, was about so much more than simply winning a first-round playoff series.
This was about the Magic franchise finally getting rid of 12 long years of misery in the postseason. This was about putting to rest the memories of Tracy McGrady gagging away a 3-1 lead to the Detroit Pistons in 2003. And maybe, most important of all, this was about the dawning of the Dwight Howard era and the exorcising of the Shaquille O'Neal curse over the franchise.
When the Magic defeated Toronto 102-92 Monday night, it allowed them to defeat the Raptors 4-1 in the first-round series and end the franchise's 12-year run without a series victory in the playoffs.
Before Monday, the Magic hadn't won a playoff series since 1996. That, of course, was the same year that O'Neal badly jilted the franchise and bolted to the Los Angeles Lakers.
What followed was seven consecutive series defeats in the playoffs and a wobbly, staggered franchise that seemingly couldn't get past the hangover of losing O'Neal.
But Howard changed all of that Monday when he became the first player to record three 20-point, 20-rebound games in a playoff series since Wilt Chamberlain did it in 1972 against the New York Knicks.
Howard demolished good friend Chris Bosh on both ends of the court in Monday's Game 5, scoring 21 points, grabbing 21 rebounds (10 of them offensive) and swatting three shots. Bosh was no match against the strapping 6-foot-11, 268-pound Howard, missing 12 of 19 shots. And his frustration at getting beaten up in the series was summed up when he was whistled for a technical foul after taking a crushing Howard shoulder directly to the chest.
Howard was aglow as Monday's final seconds ticked off the clock and the sellout crowd inside of Amway Arena throbbed with raw emotion. For four years, Howard has had to hear about the franchise's misfortune in the playoffs. And in this series he was more determined than ever to finally end the suffering.
"I was just very happy. We put in a lot of work in the offseason to get where we're standing today," Howard gushed, smiling once again. "Coach [Stan Van Gundy] had been on us from the first day about finishing and playing as hard as you can every possession. It hasn't hit me yet that we're moving past the first round, but it's such an unbelievable feeling. It's really hard to explain how I feel because we've done something that hasn't been done around here in a while."
And in Game 5, at least, they did it as a group. Jameer Nelson, who was said to be inferior to Toronto's tandem of T.J. Ford and Jose Calderon going into the series, had 19 points and a huge 3-pointer that put the Magic up 10 late in the fourth. Keith Bogans, who was benched throughout last spring's playoff loss to Detroit, had two more game-sealing 3-pointers down the stretch.
Rashard Lewis (18 points, 13 rebounds) and newly minted Most Improved award winner Hedo Turkoglu (12 points, nine assists and eight rebounds) played well in support of Howard and helped the Magic finally rid themselves of their playoff demons.
"I've only been here a few months so I haven't been through the pain that so many people in this organization have felt through the years," said Van Gundy, who sought out owner Rich DeVos and team president Bob Vander Weide for congratulatory hugs in the locker room after the clincher. "Twelve years is a long, long time. I just loved seeing some of the looks on the faces that I haven't seen in a long time.
"People who don't believe because they've been disappointed so much through the years should get on board with this team," Van Gundy continued. "If you can't enjoy this and enjoy this team, then you really don't like basketball."
Finally, the Magic can enjoy the taste of some playoff success again.
John Denton covers the Orlando Magic for Florida Today.
Sharing the Ball Key For the Lakers

By John Hollinger | ESPN.com
DENVER -- If you told me before these playoffs that one No. 1 seed would roll to four straight wins, while the other would be tied at 2-2 thanks to two road losses in a raucous environment, I would have found that very believable.
But if you would have told me the Los Angeles Lakers would be the ones sweeping while the Boston Celtics were knotted up … not so much.
Yet it's the Lakers who advanced to the second round in a series that was surprisingly easy. In Monday's Game 4, they used a dominating closing stretch from Kobe Bryant to hold off a Denver Nuggets team that, it must be said, didn't quit, winning 107-101 to complete the sweep.
While Bryant made most of the big plays, he was in that position because this revamped Lakers team has become a lot more than just the Kobe Show. That was evident throughout Monday's contest, as Bryant was at something less than his best for the first 42 minutes but the Lakers still held a lead, due to strong efforts from Pau Gasol, Lamar Odom and the gang.
In particular, L.A.'s exquisite ball movement was a dominant theme throughout the series. This was a pretty good passing team even on opening night, but with Kobe buying in and the midseason trade for Gasol putting another deft passer in the mix, they've taken it to another level.
To read the full column, click here.

MONDAY'S BEST
Kobe Bryant, Lakers guard:
He had 31 points, seven rebounds and six assists as the Lakers held off the Nuggets to wrap up the series 4-0. The Lakers made NBA history by becoming the first club to sweep a 50-win team in the first round.
---

MONDAY'S BEST: Part 2

Joe Johnson, Hawks guard:
In the most clutch performance of the postseason, he fired in 20 of his game-high 35 points in the fourth quarter; he also dished out six assists.
---
QUOTE OF THE NIGHT

"That's disappointing. I don't know what else to say about that. All you got to do is try to come back next year and try to start all over again."
-- All-Star forward Carmelo Anthony on the Nuggets being eliminated from the playoffs in the first round for the fifth straight season
-- Maurice Brooks
Magic make Raptors disappear

Chad (Atlanta): What do you think about Al Horford's development so far during these playoffs? There are talks of him already being the team's leader!
John Hollinger: Calm down. Boston is trying to take away Joe Johnson and Horford is popping free. Having watched him all season, he's a solid player now and will only get better ... but Johnson and Josh Smith are the stars on that team.
To read the full chat, click here.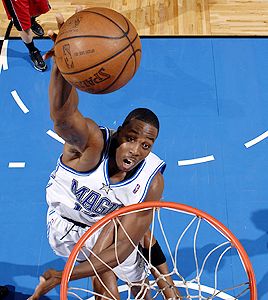 Gary Bassing/NBAE/Getty Images
Dwight Howard scored 21 points and grabbed 21 rebounds -- the third time in five games that he had a 20-20 -- to help the Magic win their first postseason series in 12 years.
Lots of Playoff Surprises

By John Hollinger
ESPN.com
Just gonna throw this out there...
All 83 times that a team has taken a 3-0 lead in an NBA best-of-seven playoff series, it has gone on to win the series.
But somebody is going to be the first to buck the trend. It happened for the first time in baseball with the Red Sox in 2004, and inevitably it will happen in basketball, too.
And when would it happen? Most likely with a team that's basically as good as its opponent. That's a rarity in most of the series that started 3-0 -- but not in the Suns-Spurs series. The two teams finished only a game apart in the regular season, the Suns finished ahead in my power rankings, the scoring margin after four games is only five points, and the series would be even if not for [Phoenix's] blunder at the end of Game 1.
I don't want to make too much out of this -- even if you presume the teams are dead-even and give the home team a three-point advantage each night, the fact that the Spurs have two home games in the final three and need to prevail only once adds up to a 94 percent chance they'll win the series. Most likely, San Antonio will be in the conference semifinals.
But this is one of the rare cases in which the team down 3-0 does still have a genuine chance of winning the series.
And if it happened, that would provide the ultimate surprise of this first round.
To read the full story, click here.
By John Denton
Special to ESPN.com
Stan Van Gundy was once the coach tabbed to run the Miami Heat when Pat Riley stepped away from the sidelines and into retirement. So he, maybe more than anyone else in the NBA, knows both the joy and pressure that Erik Spoelstra is feeling today.
"It's a tough day, even though Pat is looking forward to retirement, it's sort of the end of an unbelievable career and his success there,'' Van Gundy said after his Magic defeated the Toronto Raptors 102-92 Monday night to win the first-round series. "But the Miami Heat hired a great basketball coach. From my selfish perspective here, I wish they would have hired somebody not so good. From a personal perspective, I like Erik very much and he's one of my best friends. I have as much respect for him as anyone in the business. I'm really happy that his hard work got rewarded."
Van Gundy was an assistant coach under Riley for 10 seasons and worked closely with Spoelstra on the Heat's staff. It didn't take him long to see that Spoelstra would someday become a great NBA coach.
"I've spent my entire life around coaches. My dad coached 41 years and I was always around coaches," Van Gundy said. "I've been around a lot of great coaches in college and the NBA, and I knew Erik Spoelstra three months and I told my wife, father and brother that this guy is going to be a helluva coach."
Van Gundy, who sometimes see negativity in even the brightest of circumstances, said he started to worry about his team's fate Monday when he heard that Orlando forward Hedo Turkoglu won the league's Most Improved award and Spoelstra got the job in Miami.
"I'm sort of a negative guy,"' Van Gundy said with a smirk. "Turk gets the Most Improved award, which I thought was extremely deserved. And then I was ecstatic about Erik Spoelstra and I was starting to think that this was too much good in one day. I was thinking that [the Magic-Raptors game] could be a struggle. I can't get all of this [good] in one day.
"But I'm so happy for Erik."
John Denton covers the Orlando Magic for Florida Today.