Andrew D. Bernstein/NBAE via Getty Images
Phoenix Frustration: D'Antoni, Suns Fade Out Again

SAN ANTONIO -- If the Mike D'Antoni era of Phoenix Suns basketball is finished, it's because the Suns as an organization have stopped wondering why so many things go against them and ultimately realized that this series was lost due to mental mistakes and coaching decisions that were second-guessed within the locker room.
In the hours after the Suns were eliminated by the San Antonio Spurs in Game 5 Tuesday, 92-87, Sports Illustrated's Jack McCallum, citing sources within the organization, reported that D'Antoni's four-and-a-half year tenure with the Suns was over.
When the story keeps ending with the same result, at least one of the characters has to change. This is the third time in four seasons that the Spurs have bounced the Suns from the playoffs.
This time, more than ever, there was a feeling that the Suns betrayed themselves. This time, they felt their downfall wasn't fate or the league conspiring against them.
Playoff Schedule
WEST FIRST ROUND

In the past, they haven't quite gotten the breaks they needed to get past the Spurs. They have never had their full lineup vs. San Antonio in the playoffs, whether it be Joe Johnson sitting out with a fractured eye socket in 2005, Steve Nash missing crucial possessions with his busted nose in Game 1 and Amare Stoudemire and Boris Diaw getting suspended for Game 5 last year, or a groin injury this year that limited Grant Hill to 68 minutes in three games.
Adding to the Suns' frustration was the lack of punishment for Kevin Garnett when he shoved an official and Kendrick Perkins and Marvin Williams when they stepped onto the court during a confrontation in Game 4 of Monday's Celtics-Hawks series. Where, they wondered, was this type of leniency last year when Stoudemire and Diaw made their little excursion from the bench?
They thought some critical calls didn't go their way Tuesday (doesn't every team?), but really they knew this was about committing four turnovers in the final two minutes in what had been a tied game. That's poor execution, which is normally the code word for "it's the players' fault." But there was a running undercurrent throughout the series that the Spurs' Gregg Popovich was the one who had his players mentally sharper and made the better moves, and the Suns kept finding ways to trace their woes back to strategic decisions.
Shaquille O'Neal and Nash both lobbied for D'Antoni through the media after the game, but Nash was also among those who said the Suns were hampered by their inability make defensive adjustments against Tony Parker in Game 3, and then by the decision to run the offense through Boris Diaw in the final two games.
Amare Stoudemire offered no words of support for D'Antoni -- "That's not my focus at all," Stoudemire said -- and was much more willing to expound on the need for the Suns to find a plan and stick with it, most importantly establishing who is going to be The Man on this team. Not surprisingly, he nominated himself.
Whoever coaches the team next season will have to deal with the issues associated with two key players who looked like shadows of the top two finishers in the 2005 Most Valuable Player voting: Nash and O'Neal.
Shaq is 36, and while he has adapted to his reduced status and filled the low-post defense role the Suns asked him to, the career-long weak spot in his game played a major role in this series. The Spurs went with the Extreme Hack-A-Shaq strategy, fouling him away from the ball to send him to the line, disrupting Phoenix's rhythm and forcing D'Antoni's hand on whether to keep him on the court. Tuesday, O'Neal accounted for 11 of the Suns' 17 missed free throws.
Nash, 34, never really put his stamp on the series. He had more turnovers than assists (5-3) in Game 5 and committed two of the Suns' three turnovers on consecutive possessions after they tied the score with two minutes remaining.
After Game 3 he said the constant stops for the Shaq fouls threw him off, and he admitted after Game 5 that he had trouble adjusting to the tactical switch to put the ball in Diaw's hands in the low post.
"He played great, we had a mismatch there," Nash said of his teammate, who had 42 points and 16 assists in the final two games.
"I think moreso than the strategy, it was just [getting] used to it. It got me a little out of sorts -- it was my own fault -- and I think it probably, as a team, we were going with something we weren't real familiar with when it really counted, and that probably was difficult for us."
Stoudemire, who scored only 22 points in the final two games, was more critical.
"If you're going to play a certain way in the playoffs, you've got to play that way during the whole season," Stoudemire said. "I felt like we changed a little bit in the playoffs, tried to slow it down. If we were going to play that way, we should have played that way the whole season, that way we would have been prepared for the playoffs."
He echoed Nash on the Diaw strategy, saying that Diaw played well and had an advantage against defenders such as Michael Finley and Manu Ginobili. But he didn't offer a ringing endorsement when he said: "The decision is made by the head coach. We've got to live with it."
There's a big difference between living with it and supporting it. Stoudemire said that next year the Suns should "find out who our go-to player is, find out who's going to have the ball in their hands, then go with it."
Asked if he wanted to be that go-to guy, he said: "Absolutely."
That gets back to an issue we talked about here last week, that the Suns never found an identity after the Shaq trade, something Nash implied Tuesday when he said, "I think we've got to really figure out who we are."
Making an acquisition as major as Shaquille O'Neal with two months left in the season didn't allow much time for self-discovery. Is it really fair to judge D'Antoni on a team he didn't have time to form into a unit? Should general manager Steve Kerr have come in after a year and overhauled a group and a system that's been in place for four years?
The responsibility lies with Suns owner Robert Sarver as well. And while Sarver did compliment D'Antoni's tie before the game, he hasn't offered much public support for his coaching lately.
A clue to what the Suns need to do next can be found in their assessment of what went wrong in this series.
Stoudemire joined every player who was interviewed in expressing a mixture of admiration for the Spurs' ability to make the right plays and regret that they couldn't do so themselves.
"This series we made too many crucial mistakes against a good team," O'Neal said.
"They beat us with the intangibles," Raja Bell said. "They beat us with the little things. They beat us with the gamesmanship, they beat us with the attention to detail, the game plan, the commitment to doing all of the little things that win games. That's why they're the champs. That's why, year-in and year-out, no matter what people say about them, they find a way to be right there in the mix and vying for a championship.
"We were just as good if not better than them as a talent and a physical team, but they were way ahead of us mentally. That's a tough pill to swallow. That's tough to know that somebody outsmarted you, outwitted you and just outdid you in the little parts of the game."
Said Stoudemire: "They were well-coached. They were well-ran. They knew their strategies. And they're the champs. You've got to give them their props."
Nash said it all traces back to Game 1, when the Suns played a great first half, then held the lead in the final minutes of regulation and the first overtime, only to let three-pointers extend the game and give the Spurs more chances to win.
"They were close to asking real questions about themselves," Nash said. "You could feel it in the crowd. We didn't close them out. You don't close them out, all of a sudden they get confidence in and a belief in themselves that makes a difference. And then all of those little championship qualities that they have allowed them to close us out instead of us closing them out."
Over the weekend D'Antoni likened Duncan's 3-pointer in Game 1 to some of Robert Horry's big shots and any number of other memorable playoff baskets.
"It changes history," D'Antoni said.
And in D'Antoni's case, it might make him history. At least as coach of the Suns.
So look for them to bring in someone -- Celtics assistant Tom Thibodeau, perhaps? -- who will emphasize defense and details, instead of DAntoni's up-tempo, offensive-oriented approach. The Suns will become a little bit more like everyone else, D'Antoni's grand experiment in the desert will officially go down as a failure because it didn't win a championship. And fans of fast-break ball will think there was never more truth to the words it was fun while it lasted.
J.A. Adande is an ESPN.com senior writer and the author of "The Best Los Angeles Sports Arguments." Click here to e-mail J.A.
Playoff Dimes Past: April 20 | 21 | 22 | 23 | 24 | 25 | 26 | 27 | 28 | 29
Sixers Remain Confident Despite Loss

By Chris Sheridan | ESPN.com
AUBURN HILLS, Mich. -- "See you back here," Mo Cheeks said mischievously as he walked off the interview podium.
And the Philadelphia 76ers coach wasn't talking about next season.
Pretty bold words coming from the mouth of a coach whose team had just gotten run out of The Palace, eh? You had to wonder where Cheeks got the gumption to say such a thing on a night when his team was even more outclassed than it was in the second half of Game 4 two nights earlier -- the point when this once-surprising series took a sharp turn toward normalcy.
All the things the Pistons did right over those last two quarters in Philadelphia were done right again for all four quarters of Tuesday night's game, and Detroit's 98-81 victory left the Pistons looking very much in control of this series.
To read the full column, click here.
Is It Time For Change In Dallas?

By Marc Stein | ESPN.com
NEW ORLEANS -- It ultimately played out as a five-point game featuring a scrappy Dallas comeback and real, live crunch time. That's all true.
Yet you never really had a doubt how Tuesday's tale of two coaches was going to climax.
For Byron Scott? His morning appointment was a Coach of the Year press conference and his night was capped with the sweet sight of Chris Paul's first playoff triple-double ushering Jason Kidd into summer vacation. Which can only equate to all-day, buzzer-to-buzzer bliss.
For Avery Johnson?
The Lil' General had to leave his hometown wondering if this 99-94 defeat, wrapping up a 4-1 series rout for Scott's New Orleans Hornets, was an elimination game in the most literal sense.
"This is tough for me," Johnson conceded afterward, not specifically responding to a question about his job security but struggling to contain his disappointment after the Dallas Mavericks' second straight flameout in the first round.
"Obviously this is where I was born and raised."
To read the full column, click here.

TUESDAY'S BEST
Chris Paul, Hornets guard:
He tallied a triple-double of 24 points, 15 assists and 11 rebounds as the Hornets ended the Mavericks' season with a Game 5 victory.
---
TUESDAY'S WORST
Utah Jazz:
With a chance to wrap up their series against the Rockets, the Jazz chose the wrong time to have their worst offensive game, scoring a season-low 69 points.
---
QUOTE OF THE NIGHT

"It's the feel-good story of the NBA."
-- Mavs swingman Jerry Stackhouse, who calmed down sufficiently after his fourth-quarter ejection to praise the Hornets for impressively living up to the No. 2 seed in a five-game dismissal of Dallas...
But he did express his dismay with the referees who hit him and Chris Paul with a double technical foul late in the second quarter, insisting that their tangle was a non-incident. "That's my young boy," Stackhouse said. "I've known Chris Paul since he was 12 years old."
-- Maurice Brooks
Game 5: Pistons rough up Sixers
By Elias Sports Bureau
Chris Paul capped a historic playoff debut series with a triple double in the Hornets' 99-94 win, eliminating the Mavericks from the NBA's postseason tournament.
Paul averaged 12.0 assists in the five-game series, the second-highest mark in NBA history by a player in his first postseason series. The record is 13.0, by Kevin Johnson in 1989.
Over the last 20 years, the only other players to post a triple-double in their first playoff series were LeBron James (2006) and Steve Francis (2004).
• See more Elias facts that figure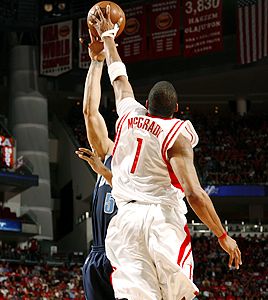 Bill Baptist/NBAE/Getty Images
Tracy McGrady's Rockets blocked Carlos Boozer and the Jazz from winning the series Tuesday by running past Utah in Game 5.

By John Hollinger
ESPN.com
HOUSTON -- I was talking to Rockets general manager Daryl Morey before Game 2 of this series about the challenges Houston faced in playing a strong, talented Utah team without, at that time, the services of Rafer Alston. It looked like a hopeless task.
"The one thing I'll say is that we've always played our best when we've been counted out," Morey told me.
Since he's a numbers guy too, I immediately teased him about leaning on intangibles. But he had a point -- one that was underscored by tonight's 95-69 pounding of Utah in Tuesday's Game 5.
Once again, the Rockets have done their best work after they've been disregarded -- just like they did when they lost Yao Ming, were counted out of the playoff race, and immediately ripped off the final 10 of their 22 consecutive wins.
After the Rockets dropped the first two games of this series at the Toyota Center, some deranged columnist wrote them off again. I wasn't the only one -- the ushers and other stadium employees were saying their farewells after that game last week, convinced there was no way the Rockets were winning a game in the hostile Energy Solutions Arena.
Certainly Houston isn't out of the woods yet. But after watching the Rockets dominate the Jazz to cut the series to a 3-2 Utah lead, Friday's Game 6 in Salt Lake City suddenly looks very interesting indeed.
So thorough was Tuesday's dismantling that the Rockets even led at halftime -- something that hadn't happened in the previous eleven playoff meetings between these teams over the past two seasons.
And Tracy McGrady actually made a basket in the fourth quarter -- three of them, in fact -- including a gorgeous spinning bank shot after head-faking Andrei Kirilenko and wheeling away from him.
From start to finish, this looked like the Rockets team that won 22 games in a row and had the league's best record after Dec. 31. Though Houston's brand name talent doesn't scare anyone, the keys to that streak and this victory were identical -- a suffocating defensive effort and massive output from the bench.
To read the full story, click here.

By Marc Stein
ESPN.com
NEW ORLEANS -- Byron Scott insisted hours before Tuesday's series-clinching victory over Jason Kidd and the Dallas Mavericks that winning this series would give him no vindication after his messy parting with Kidd in New Jersey.
Or validation.
"Why?" Scott exclaimed.
"Neither. To say it's validation means I'm thinking about what happened four years ago."
Kidd, for the record, publicly congratulated Scott more than once Tuesday for the award, saying: "I told him that should have been his second one. He should have won in Jersey when we went to the Finals [for the first time in 2002]."
Kidd could also be heard post-game contesting the notion that the Mavericks' midseason gamble to send a package headlined by Devin Harris, DeSegana Diop and two future first-round picks to New Jersey for his services should already be branded a failed gamble.
"I think to have a training camp and have a full season would definitely help, but we felt we were good enough to compete with the best," Kidd said after totaling 14 points and nine assists in Dallas' 99-94 defeat. "We look at this series and we made a lot of mistakes defensively. But, again, they were the better team and they won. I think with a little more time we can be better. So we'll see what happens this summer. ... We can build on the trade and hopefully attract other guys to come to Dallas."
And: "I want to give [Mark] Cuban and Coach [Avery Johnson] credit for the trade. This is a competitive West. For them to believe in me and make that trade, you've got to give those guys credit. It didn't work out the way we wanted it to, but sometimes you have to be patient for good things to happen. So we'll see what happens. With the trade, give us some more time and then you guys can evaluate it."
And: "I'm disappointed that we didn't win [this series]. But did I let 'em down? I gave them everything I had."
Said Mavericks forward Dirk Nowitzki: "I think it would have been a struggle to get into the playoffs either [with or without the trade]. So we just went for it. Sometimes you have to take some risks in this business. We went for it. We went for one of the greatest point guards to ever play this game, a Hall of Famer.
"... For some reason we never got clicking the way we wanted to. I'm sure we would love to have a complete training camp with him and get used to each other more, but we didn't have it. We had to get adjusted on the fly and things weren't ... I don't think they were natural."
Marc Stein is the senior NBA writer for ESPN.com. To e-mail him, click here.