Chris Graythen/Getty Images
Home Crowd Fires Up Young Hawks

ATLANTA -- It's becoming a familiar theme:
See Hawks fall behind.
See Atlanta make a run.
See the Philips Arena crowd whip the team into a frenzy as the Hawks rally to beat Boston.
The Hawks' 103-100 win Friday night was the third straight time that's happened in Atlanta, and it has the Hawks on the cusp of one of the biggest upsets in the history of sports … and the Celtics on the brink of one of the greatest failures. Although the Hawks won a mere 37 games this season and the mighty Celtics a league-best 66, the series is tied at 3 heading into Sunday's rubber match in Boston.
Playoff Schedule
WEST FIRST ROUND

"From day one I told this team that anything is possible when you get into the playoffs," Hawks coach Mike Woodson said, "and this team believes that."
They were about the only ones, but after again watching Boston crumble in the fourth quarter at Philips Arena, one has to wonder how they'll react to having all the pressure on them on Sunday. Unbelievably, the Hawks scored points on 16 straight possessions in the second half against Boston's vaunted defense to rally from an eight-point deficit.
Yet the Hawks' series-tying win may be only the second-biggest upset of the night. While the media that covered the team all year looked around and thought, "Where am I?" a towel-waving mob upped the Philips Arena decibel level to heights never before seen in this building. Of the five arenas I've been to in this postseason, Philips was easily the loudest -- a shocking turn of events for a place that could have doubled as a mausoleum for much of the regular season.
Where all of these people came from, nobody knows -- an arena-record 20,425, to be precise, showed up -- but the newfound fanatics carried the team. They quite possibly intimidated the refs, too: The Hawks enjoyed a 47-25 free-throw advantage and took 41 in the final three quarters. Included in that tally was a dubious sixth foul called on Paul Pierce with 4:44 left that he magnified with a technical foul, putting the Hawks up by seven points and taking Boston's best crunch-time scorer off the floor.
"Them shooting 47 free throws to us shooting 25 makes it a tough game to win," Celtics coach Doc Rivers said in his best fine-avoiding voice. "Paul being in foul trouble late in the game really hurt us."
Fittingly, Zaza Pachulia drew the sixth foul on Pierce. A target of boo birds during a disappointing regular season, he again was huge off the bench in an Atlanta win, with nine points, six rebounds and two steals. His play helped offset a foul-plagued evening from Josh Smith.
Woodson challenged Pachulia after Atlanta's Game 5 loss -- a team source told me his only substantive comment to the team was to express his disbelief that Pachulia didn't get a single rebound. The two have had a testy relationship all season, with Pachulia getting suspended earlier this year after one confrontation. But this time, the Georgian big man responded.
"I thought Zaza and Josh Childress played huge for us," Woodson said. "Zaza bounced back from the game in Boston where I didn't think he played well, but I thought he responded beautifully tonight, both rebounding and making some shots, and I thought he did an excellent job on [Kevin] Garnett."
Pachulia also got the crowd even more lathered up during a timeout in the fourth quarter, when a clip played of Atlanta's newest cult hero in a Rocky sweatshirt interspersed with his Game 4 stare-down with Garnett. The team filmed it this morning on the practice court, and went on a 10-3 run immediately after it was shown on the board.
Smith, who grew up in the Atlanta area before coming to the Hawks out of high school, said he'd never seen the arena this loud.
"This is the first time, for these three games," Smith said. "I mean, the fans have been outstanding. I can't say enough about those people. They just give us so much joy and so much motivation to go out there and try to make things happen."
Of course, Atlanta still faces a daunting task. The Hawks won't have those fans with them in Boston, and they lost their first three games there by 23, 19 and 25 points.
Worse, Atlanta may be without the services of Marvin Williams. He sprained his left knee in the fourth quarter, apparently bending it sideways, and although he made a brief return with 10.6 seconds left, he didn't appear to move well and Garnett scored very easily over him to cut the margin to two points.
Williams said he'll give it a go in Game 7, but one wonders if he'll be too limited to contribute much. If so, it would be a huge blow, because he was the key player Friday.
With the Celtics doubling Joe Johnson at every opportunity and forcing the Hawks to beat them with secondary players, Williams was regularly left open on the backside. Time after time, he either had an open midrange jumper or a mismatch with the chance to drive, and he ended up with a series-high 18 points while only missing three shots.
"We wanted to fight the double-team early," Johnson said. "When they doubled me, I kicked the ball to my teammates to make the play. I looked for Marvin Williams early on [when] the double-teams [came] and he hit some big shots."
Forced into a decoy role, Johnson saved his best for last. After taking a couple of dribbles and head-faking James Posey, he put Atlanta up by five with 1:07 left by nailing a fadeaway 3-pointer -- a dagger on a night when he shot just 4-for-13 overall, not to mention the Hawks' only 3-pointer of the game.
"I knew Posey would go for the pump fake because he was crowding me all game," Johnson said. "I just wanted to get a good look, and I knew it was good when it left my hands."
The surreality of this series went a step further afterward when Pachulia yelled, "We going to Game 7!" into the mike and the fans roared their approval, chanting "seven" as they headed to the exits. During the postgame press conferences, you could hear horns honking outside the arena.
The only thing you couldn't do was make sense of it. Yet it's really happening, and we're one game away from a jaw-dropping upset as a result.
John Hollinger writes for ESPN Insider. To e-mail him, click here.
Playoff Dimes Past: April 20 | 21 | 22 | 23 | 24 | 25 | 26 | 27 | 28 | 29 | 30 | May 1 | May 2
LeBron's Play Speaks Volumes

By Brian Windhorst | Special to ESPN.com
WASHINGTON -- With sweat pouring off of him -- and his teammates seated, huffing, below him -- LeBron James stalked up and down the bench, gesturing and screaming.
It was an impromptu players-only meeting at an odd time, the moments after the third quarter of the Cleveland Cavaliers' 105-88 Game 6 victory on Friday over the Washington Wizards to send the Cavs into the second round. It was the fiercest James looked all night as he made his point: close it out.
The Cavs missed a chance Wednesday in Game 5 back in Cleveland, letting a fourth-quarter lead slip away. Not this time. James wouldn't allow it, and his teammates, before and after his outpouring, were in step.
In four of the first five games of this series, James scored more than 30 points, but by his standards, he hadn't had a great game yet. He had had moments to be sure, especially in the closing minutes of Games 1 and 4 when he made difference-making plays. But he is at his best when his teammates are clicking around him, allowing his talents and theirs to be used fully.
So while he may have only scored 27 points on Friday, three fewer than his season and series average, it was his best overall game of the series, and he was especially masterful at the offensive end.
To read the full column, click here.
Hawks Chasing NBA History

By Marc J. Spears | Special to ESPN.com
ATLANTA -- While watching potential NBA history on television at Houston Hobby Airport on Friday night, ex-NBA player Robert Pack couldn't help but reminisce about how he helped make history 14 years ago.
Back in 1994, Pack and the Denver Nuggets became the first team in NBA history to upset a top seed when they knocked off the Seattle SuperSonics. Fast-forward to Friday, when the eighth-seeded Atlanta Hawks forced a deciding Game 7 in a first-round series against the heralded top-seeded Boston Celtics with a 103-100 upset win at Philips Arena. The winner of Game 7 in Boston on Sunday afternoon will advance to the second round to play the Cleveland Cavaliers.
"It's 48 minutes now. [The Hawks] only have to be better than them for 48 minutes," Pack said in a phone interview.
The Nuggets defeated the Sonics in five games during the 1993-94 season. The 1998-99 Knicks upset top-seeded Miami during that strike-shortened season. And then last season, eighth-seeded Golden State defeated the reigning Western Conference champion Dallas Mavericks in the first round.
But if the Celtics go down, this would be the biggest upset in NBA history.
Boston won an NBA-best 66 games this season, won a league-best 31 games on the road and boasts a deep roster that includes three All-Stars in Kevin Garnett, Ray Allen and Paul Pierce. These Celtics are supposed to make a run at winning an elusive 17th NBA title, not struggle in the first round with a team that has the worst record of any playoff team at 37-45.
"It's either win or go home," Celtics guard Rajon Rondo said. "We just got to go out there and get the job done."
This season, the Celtics are 38-6 at TD Banknorth Garden in Boston, including 3-0 in the playoffs (with an average margin of victory of 22.3 points in the three blowouts of Atlanta). The Celtics are also 17-5 all time in Game 7s, including 14-3 at home. But what Boston has done in the regular season, what they have done in the past and what they have done in the previous three home playoff games against Atlanta mean nothing now.
Like Pack said, it's 48 minutes now. All the pressure is on Boston, not these pesky young Hawks. At this point, you don't have to be the best team overall, you just have to be the best team on Sunday.
Pack knows what it's like to make unexpected history. The Celtics hope to keep the Hawks from finding out what that feels like.
"What other people think about this team does not bother us," Atlanta forward Josh Smith said. "We know we can play with this team or anybody else. We didn't come into this series to lose or just being satisfied with making the playoffs."
Said Pack: "It's one game."
Marc J. Spears is a regular contributor to ESPN.com and writes about the NBA for The Boston Globe.

FRIDAY'S BEST
Deron Williams, Jazz guard:
Tracy McGrady still hasn't won a playoff series in his career, and the reason the Rockets lost Game 6 to the Jazz was Williams, who scored 25 and gave out 9 assists.
---

FRIDAY'S WORST
Boston Celtics:
No way a team that won a league-best 66 games and features a lineup of All-Stars -- Kevin Garnett, Ray Allen and Paul Pierce -- can lose to a squad that barely qualified for the playoffs, right?
---
QUOTE OF THE NIGHT

"Three times in a row. It's tough. But who knows what happens if we have a healthy team? A healthy Gilbert Arenas? If we had Darius Songaila for Game 6 -- who knows what happens?"
-- Wizards guard Antonio Daniels thinking out loud about how the series could have been different.
-- Maurice Brooks
D-Will Followed the Script

By Tim Buckley
Special to ESPN.com
SALT LAKE CITY -- What is scary about Deron Williams' performance Friday night is not the numbers, or even how he got them.
Rather, it is that they came precisely as he planned -- long before his Utah Jazz finished beating the Houston Rockets 113-91 and taking their first-round Western Conference series 4-2.
"I wasn't really looking to score much in the first half," the Jazz point guard said. "And I just wanted to be a little more assertive, a little more aggressive, to start the second."
Was he ever.
Williams had only seven of his team-high 25 points in the opening half as he opted to involve others.
But after Houston trimmed what had been a 19-point Jazz lead in the second quarter to as few as one with 29.4 seconds to go before the break, the third-year point from the University of Illinois made the game all his own.
Forget that Rockets star Tracy McGrady would wind up with 40 points, including 28 in the first half. Ignore the fact that all five Jazz starters would score at least 11. And focus instead on what Williams did.
The No. 3 overall selection from the 2005 NBA draft hit a 3-pointer with 7.9 seconds to go before halftime to put Utah up by four. He then drained four more 3-pointers in the third quarter, pushing the Jazz's advantage heading into the fourth to 20.
Williams finished 6-of-7 from 3-point range, including 4-for-5 during the decisive third.
"Williams was terrific," Rockets coach Rick Adelman said.
"He was a lot more aggressive in the second half," McGrady added. "It seemed like he was feeding off the crowd."
All part of the plan, and nothing new to Jazz coach Jerry Sloan, who on Friday saw the same sort of confidence and determination that Williams has displayed throughout the season.
"I don't know where our team would be without him," Sloan said.
Certainly not preparing to face the Los Angeles Lakers, which is the next task for Williams and the Jazz.
It is one Williams intends to tackle knowing full well he is the leader in Utah, something that most definitely factored into the script he wrote.
"As a point guard I feel you have to be an extension of the coach -- be a leader out on the floor," he said. "I just tried to get guys hyped up. I tried to do my best Kevin Garnett impersonation, and get these guys going, because that's what we needed."
Tim Buckley covers the Utah Jazz for the Deseret News.
Thriller in Atlanta: Hawks force Game 7.

By Brian Windhorst
Special to ESPN.com
WASHINGTON -- The Wizards ended the season with a familiar feeling: a home loss to LeBron James and the Cavaliers. The question now is how familiar things will be for Washington come training camp.
Three straight years of first-round exits have left some doubt as to what sorts of changes need to be made. It's not an easy question, especially with Antawn Jamison's contract officially coming to an end Friday night. Gilbert Arenas' likely will become void in a few weeks as well, because he has sworn to opt out of the remaining two years in an attempt to get a raise.
"It's just another road block," Jamison said after scoring 23 points and grabbing 15 rebounds in the 105-88 loss. "It's hard to swallow. As a team you know you're better than what your performance has shown. We'll see what happens, you have to let the front office decide, my job is playing basketball."
Four years ago, with the core of Arenas, Jamison and Caron Butler, the Wizards upended the Bulls after falling down 2-0 in the series before losing out to the Miami Heat in the second round. It seemed like the beginning of a potential run with three All-Stars in their prime. Instead, injuries -- and James -- have undercut the Wizards three years in a row.
The team has been tempted to look back to the first three months of the 2006-07 season, when all three stars were healthy and Washington had the best record in the Eastern Conference. But it's hard to evaluate whether that same energy can be recaptured because the same bodies haven't all been available as injuries have slammed the team.
It all leaves a mix of frustration and uncertainty for the Wizards to sort out. Should they re-sign the stars and hope for health, let them walk and cultivate a rebuilding project or look for attractive sign-and-trades (which team president Ernie Grunfeld has taken advantage of in the past)?
"In the history of time in the NBA, if it is true that you have to take your lumps and your beatings before you can make the next jump, then we're on the brink," coach Eddie Jordan said. "But we've taken a lot of lumps."
Brian Windhorst covers the NBA for the Akron Beacon Journal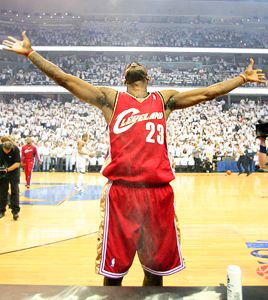 Jesse D. Garrabrant/NBAE/Getty Images
LeBron James' triple-double of 27 points, 13 rebounds and 13 assists quieted the Wizards and helped Cleveland eliminate Washington for the third straight postseason.

Michael (Charlotte): So, I am confused. Is D'Antoni in or out? There are so many contradicting articles out there.
J.A. Adande: I think they've come to an impasse, but it's a matter of logistics. Will he quit or be fired? It would be best for everyone if he moves on. This team needs to find an identity, and it can't do that if it brings back a coach whose job status will be uncertain throughout next season. But clearly Mike D. does not feel that Steve Kerr has his back no matter what. It's an unhealthy working environment.
To read the full chat, click here.