Chris Graythen/Getty Images
Easier Than Expected For Hornets

NEW ORLEANS -- At one point in the third quarter Monday night, there was an energy that swept through New Orleans Arena, as if the 17,972 fans collectively realized: This is happening.
The Hornets' defensive schemes really are working more effectively as this West semifinal series progresses. Chris Paul really is able to do whatever he wants out there. The Spurs, one of the smartest defensive teams around, really are leaving Peja Stojakovic open for 3-pointers. And the Hornets really have a 2-0 series lead.
Playoff Schedule
WEST SEMIFINALS

New Orleans 2, San Antonio 0
Game 3: Thu., 9:30 ET, at SAS
L.A. Lakers 1, Utah 0
Game 2: Wed., 10:30 ET, at LAL
EAST SEMIFINALS

Detroit 2, Orlando 0
Game 3: Wed., 8 ET, at ORL
Cleveland vs. Boston
Game 1: Tue., 8 ET, at BOS
On the surface, this shouldn't be a surprise -- that a team that beat the other team for the division championship won two playoff games at home.
But these are the defending champions we're talking about, getting handled by a group that's never done anything in the playoffs together, never been to the playoffs before.
The Spurs have a long list of accomplishments during their four-championship run of excellence, but one thing they've never done is come back from a 2-0 deficit to win a series. The last time they found themselves in such a hole they were swept out of the 2001 Western Conference finals by the Lakers.
The next natural skeptical step is to wonder if the Hornets can do this on the road. But it's time to stop doubting and start believing. The Hornets have answered every playoff challenge thrown at them so far except once, when they fell apart in their first road game at Dallas. Paul has made dominance look so routine that it's hardly worth mentioning he had 30 points and 12 assists in the Hornets' 102-84 victory.
It's the Hornets who are dictating how things go this series. The Spurs are the ones playing out of character. In the regular season, 25 percent of the Spurs' shots were 3-pointers. Forty percent of the shots the Spurs have tried in this series have been 3-pointers. And those E-ZPass lanes to the basket Ginobili and Parker enjoyed against the Suns are closed.
The Hornets are growing more convincing by the quarter. This time there wasn't a fluky statistic such as a playoff career-low five points by Tim Duncan in the opener, which even Hornets coach Byron Scott called "not a very Tim Duncan-ish type game." He scored 18 Monday night, but could do no more because the Hornets kept him from dominating the game.
"They did a great job of double-teaming me," Duncan said. "I got a couple of things to fall for me and that was the only difference, but I didn't have any stretches where I was extremely effective for periods."
That was thanks to the long arms of Tyson Chandler (who also swatted away a couple of Tony Parker drives) and an array of smaller players who dropped down to annoy Duncan. Even little CP3 got in the act, blindsiding Duncan for a steal once and forcing another turnover when he knocked the ball off Duncan's legs and out of bounds. When Duncan did pass, the Hornets did a great job of rotating so the Spurs' shooters were always taking contested shots.
It's the Spurs who have to answer the questions now. Why haven't they found a way to counter what the Hornets are doing? Why do they keep falling out of the game in the third quarter? Actually, they might not want to know the answer to that one, like a woman trying on a dress that's one size below realistic and asking if it makes her look fat.
This series is making the Spurs look old, as if all those birthdays and all those playoff games are catching up with them.
The Spurs have been blasted by a combined 65-35 in the two third quarters.
"In general they seem to get stronger in the second half," Spurs coach Gregg Popovich said. "I thought we went the opposite way."
"They just accelerate the offense," said Tony Parker, who missed six of his first seven shots before hitting a 3-pointer that gave the Spurs the lead at halftime. "We make some mistakes in transition. We let Peja hit some 3s and Chris Paul was going to the basket a lot. We just have to play better defense. Our defense was breaking down a lot."
Yes, the Hornets have the challenge of trying to duplicate this effort on the road, and surely the Spurs will be more comfortable at the AT&T Center.
But it's the Hornets who know that they're the group with the superior athletes and the better game plan to date. They're hitting the road, but they're packing the knowledge that their way is working.
"We've got to stick to our principles," Chandler said. "I thought we played better defense tonight than we did in the first game."
So go ahead and hop aboard this New Orleans streetcar. Not only is it impossible to root against this city while it still has ravaged houses and abandoned blocks left over from Hurricane Katrina, but this team doesn't constantly hit you over the head with a "nobody respected us" hammer, just because people picked the more experienced Mavericks to beat them in the first round, or the Spurs to knock them off here.
"Logic will tell you that these teams were probably in position to beat us just because we're new here," David West said. "As long as we don't start doubting ourselves, we don't worry about other people's opinions. It's not worth it."
Maybe they didn't worry about other people's opinions. They sure are starting to change them.
J.A. Adande is the author of "The Best Los Angeles Sports Arguments." He joined ESPN.com as an NBA columnist in August 2007 after 10 years with the Los Angeles Times. Click here to e-mail J.A.
Playoff Dimes Past: April 27 | 28 | 29 | 30 | May 1 | 2 | 3 | 4 | 5
Decision-Making Slows Magic

By John Denton | Special to ESPN.com
AUBURN HILLS, Mich. -- All season long, Hedo Turkoglu had been one of the NBA's best closers, hitting three game-winning shots and ranking third in the league in fourth-quarter scoring behind only LeBron James and Kobe Bryant.
But this head-scratching decision from Turkoglu -- a wild, off-balanced 3-pointer with 19 seconds on the shot clock and a two-point deficit staring at him -- perfectly summed up a night full of errors for a Magic team that couldn't afford them.
There were plenty of factors behind Orlando's crushing 100-93 loss to the Detroit Pistons in Monday's Game 2 -- the controversial third-quarter clock malfunction that allowed a Chauncey Billups 3-pointer, 19 Magic turnovers and some awful fourth-quarter decision-making.
But it was Turkoglu's out-of-character, rushed shot with 43 seconds remaining and the game still within grasp that had Orlando coach Stan Van Gundy fuming an hour afterward.
"I didn't understand that [Turkoglu] shot at all, and nobody on our team can understand it either," Van Gundy fumed. "We had a full [shot] clock, we're down two ... I don't know what he was thinking."
Remarkably, the Magic are still thinking they're in this series despite history saying they are all but toast. Historically, when home teams have taken the first two games in a best-of-seven series, they have won the series 168 of 178 times (94.4 percent). And in these playoffs, all six of the teams that won the first two games at home in the first round of the playoffs -- Boston, Orlando and Cleveland in the East, and the Lakers, New Orleans and San Antonio in the West -- went on to win their series.
And dating back to the Pistons' 2003 rally from a 3-1 deficit, they have now beaten the Magic nine straight times in the playoffs. According to Stats LLC, that streak is the fourth-longest in NBA history.
A Magic team that has been remarkably resilient all season long is refusing to believe they are dead men walking. They are heading home, where they are 3-0 this postseason, albeit against a Toronto team that is nothing like the tough, efficient Pistons.
"I thought this game was ours," said Magic center Dwight Howard, who had 22 points, 18 rebounds and two blocked shots. "We've got two games at home now. Cleveland was down two games last year [against Detroit] and made a big run. We just have to keep our heads. We can't rush and we have to stop having all of the turnovers."
Even Turkoglu, who suffered through another dismal shooting night on Monday, was somehow optimistic after the game. The recently named Most Improved Player saw his shooting percentage dip to 43.6 percent from the floor and 20 percent from the 3-point line following Monday's 12-point, seven-assist, six-turnover performance.
"We played harder, but we couldn't execute and couldn't make shots when we needed them. We all know we can beat these guys, but we have to do the little things at the end," Turkoglu said.
Little things like getting better shots from Turkoglu, the Magic's closer, with the game on the line.
John Denton is a regular contributor to ESPN.com. He covers the Orlando Magic for Florida Today.
Detroit Always Wins Game 2

By Elias Sports Bureau
The Pistons defeated the Magic on Monday night, giving Detroit its eighth consecutive win in a Game 2 of a postseason series. That ties the second-longest streak in NBA history. Portland holds the record, winning 12 straight Game 2s from April 1990 to May 1993.
• See more Elias facts that figure

MONDAY'S BEST
Chris Paul, Hornets guard
: The defending champions are two losses away from having their dreams of a repeat ended, and they have CP3 to blame. He shook loose for 30 points and 12 assists in the Hornets' 18-point win.
---

MONDAY'S WORST
San Antonio Spurs
: After getting blown out in the series opener, it was assumed that the Spurs would bounce back and play a tougher contest against the Hornets in Game 2. Wrong. Unless San Antonio figures out how to stop Chris Paul, a sweep by the Hornets is a strong possibility.
---
QUOTE OF THE NIGHT

"It's tough to be on the other end of that play, but I'll take it."
-- Pistons point guard Chauncey Billups, who made a disputed 3-pointer in the closing seconds of the third quarter
-- Maurice Brooks

By John Denton
Special to ESPN.com
AUBURN HILLS, Mich. -- For an Orlando Magic team already playing with so little margin for error against the playoff-hardened Detroit Pistons, this controversy was an absolutely crushing blow.
When Detroit All-Star Chauncey Billups was allowed to dribble up the court, pass off to Rodney Stuckey, get the ball back and launch a 3-pointer -- all in the span of one second off the game clock -- it crippled a Magic team that had managed to finally gain some momentum.
The problem, of course, was that the game clock mysteriously stopped twice along the way to Billups' momentum-turning shot. The ball was inbounded in the backcourt with 5.1 seconds left, but the clock stopped inexplicably at 4.8 seconds and again at 4.1 seconds as Billups' shot hit the net.
Referees Steve Javie, Joe Forte and Derrick Stafford huddled for almost two minutes and ultimately decided that the play happened in 4.6 seconds. They counted the shot and put five-tenths of a second back on the clock -- obviously much to the shock and disgust of the Magic, which went from being up one point to down two.
The officials were not allowed to look at television replays because the play didn't come at the end of a half or the end of the game. However, TNT replays did show that the play took 5.23 seconds in real time.
Javie refused to talk to a pool reporter after the game, so it's uncertain whether a referee or clock operator Tom Mauer (brother of NBA referee Ken Mauer) failed to properly start the clock.
"The clock stopped and they had to estimate how much time and they estimated 4.6 seconds. I mean, that's almost funny. 'How long did that play take? Uh, well, I don't know? 4.3, 4.6, I think, four or five seconds, right?'" Magic coach Stan Van Gundy fumed, semi-mocking the referees' decision-making process.
"They estimated 4.6. What can you do? They were put in a very tough situation on that call and it didn't go our way."
Orlando did rebound from Billups' blow to take an 84-80 lead early in the fourth quarter, but it ultimately fell apart down the stretch of the crushing 100-93 loss to the Pistons.
Several Magic players refused to point to Billups' shot as the reason they lost, but its impact was undeniable. An Orlando team that made all seven of its 3-pointers in the third quarter made only 1-of-9 tries from beyond the arc in the fourth.
And in the end, Billups said what the Magic would not: "It's a tough play. It really [stinks] to be on the other end of that, but we'll take it."
John Denton is a regular contributor to ESPN.com. He covers the Orlando Magic for Florida Today.
Game 2: Time on Detroit's side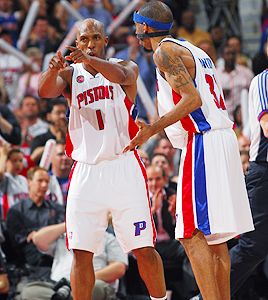 Allen Einstein/NBAE/Getty
The Pistons, who have reached the East finals five seasons in a row, are two victories away from becoming the first team since the 1984-89 Lakers to make it to a conference title game six straight years.
Regular Season Means Nothing

Greg Anthony says just because the Celtics had a great season, it doesn't make them a great playoff team. They have to win on the road.
Mike & Mike
Warning: Don't Upset Paul

By J.A. Adande
ESPN.com
NEW ORLEANS -- Chris Paul has become the must-see player in these playoffs, the one doing the most amazing things with the greatest regularity, the one worth flying 1,700 miles across two time zones to see.
Well, there was another reason I wanted to come down to the Big Easy. I had to confront and question him on this little theory I've developed: Chris Paul is a mean guy.
When I say this to him, he doesn't offer a rebuttal, only a justification.
"I hate to lose," he said.
To read the full column, click here.