Brian Babineau/NBAE via Getty Images
Beauty Is In the Eye Of the Beholder

BOSTON -- Chuckles and giggles got the better of Paul Pierce as he began formulating his explanation. He tried to keep a straight face, but he couldn't.
Whether it was nervous laughter or ashamed laughter, Pierce couldn't keep it bottled up as he looked down at the box score and gave his take on how the numbers -- the brutal, bizarre numbers -- had worked out for the Celtics.
Playoff Schedule
WEST SEMIFINALS

New Orleans 2, San Antonio 0
Game 3: Thu., 9:30 ET, at SAS
L.A. Lakers 1, Utah 0
Game 2: Wed., 10:30 ET, at LAL
EAST SEMIFINALS

Detroit 2, Orlando 0
Game 3: Wed., 8 ET, at ORL
Boston 1, Cleveland 0
Game 2: Thu., 7 ET, at BOS
"Me and Ray Allen felt we played LeBron to a standstill. We added up to 2-for-18, too," noted Pierce.
Indeed, Pierce's 2-for-14 shooting and Allen's 0-for-4 night made them a combined 2-for-18, just as LeBron was. And in an added oddity on a night of stupefying stats, Pierce's six turnovers and Allen's four matched James' 10 after some of the most difficult 48 minutes James has ever spent playing professional basketball.
Yes, there were nine rebounds, nine assists and eight made free throws for LeBron. But those entries on James' line in the box score were obscured by the bigger ones -- the 10 turnovers and the 16 misses -- including his miss on a drive to the basket with 10 seconds remaining that could have tied the game. Boston went on to defeat Cleveland 76-72 Tuesday night in Game 1 of their Eastern Conference semifinal series.
"Tonight was an offensive struggle game. Defensively, both teams were locked in," James said. "Not a lot of All-Star numbers out there."
Not from James, certainly, and not from Allen and Pierce. But there was another All-Star out there, one who has been criticized throughout his career for shying away from taking the big shot down the stretch of close games. That would be none other than Kevin Garnett, whose aggression could not be doubted this time.
The ball made its way into Garnett's hands after Zydrunas Ilgauskas had tied the game at 72-72 on a tip-in with 39 seconds left, and Garnett was isolated in single coverage when he spun one way, turned the other way and hit a short jump hook over Joe Smith to give the Celtics the lead for good.
"This was two heavyweights body punching. No finesse, no jabs, just body punching -- a beatdown defensive fight," Garnett said.
Or as Boston coach Doc Rivers put it as he walked off the podium, "This is gonna be Knicks-Heat, or Knicks-Bulls."
The teams combined for 41 turnovers (23 by Boston) against 52 field goals, and only a dozen combined second-chance points were produced off a total of 21 offensive rebounds. Cleveland shot less than 31 percent, Boston was only slightly better at 43 percent, and the 3-point shooting by both teams was uninspiring. In another statistical coincidence involving three of the game's four stars, Allen (0-for-3) and Pierce (0-for-3) combined to match James (0-for-6) in that category, as well.
"We've set ourselves up for an ugly series," Pierce said, although his coach made the point of saying "it was a beautiful win."
The beauty of it for the Boston fans was getting to see a compelling fourth quarter in their own building after watching four lopsided victories over the Hawks in the first round (three of those victories, lest we forget, were offset by disappointing losses on the road).
The entire arena seemed to hold its breath as James went to the hole on his pivotal final drive, going up as though he expected contact and then watching his shot rim in and out before the Celtics rebounded and James Posey iced the win with two free throws.
"He had a tough night, and he's entitled to it. My last few press conferences have all been about 'terrific, terrific, terrific.' He tried to attack, which is good, and knowing him, he'll definitely bounce back in Game 2," Cleveland coach Mike Brown said. "He didn't get the calls, especially down the stretch."
James' 10 turnovers were one shy of the playoff record of 11 set by Super John Williamson of the New Jersey Nets in 1979. It was James' second career 10-turnover game in the playoffs, matching a first-round game against Washington two years ago.
Allen's goose egg represented his first zero-point game in more than 11 years, a span of 852 consecutive regular-season and playoff games, according to the Elias Sports Bureau. He appeared unusually passive on offense, rarely moving without the ball and looking tentative when he did have it.
Pierce was hampered by early foul trouble and never got anything going, shooting just 1-for-8 in the second half, when he committed four of his six turnovers.
"If you're Cleveland, you're thinking you almost won with LeBron playing like that. And if you're us, we're thinking we won with Paul and Ray not scoring," Rivers said, "so it's probably a wash."
A wash? Well, statistically it was. But there are no ties in the NBA playoffs. You have to have a winner, and on this night that winner was Boston, on account of Garnett rising to the challenge. This coming on a night when every All-Star within earshot of him was just plain bad -- so bad you couldn't help but laugh, just like Pierce did.
Chris Sheridan covers the NBA for ESPN Insider. To e-mail Chris, click here.
Playoff Dimes Past: April 27 | 28 | 29 | 30 | May 1 | 2 | 3 | 4 | 5 | 6
All Of the Stars Were Misfiring Except For Garnett

By Marc J. Spears | Special to ESPN.com
BOSTON -- It's been said time and time again that Kevin Garnett fades down the stretch of big games and doesn't like to take the clutch shot. Well, if that were true on Tuesday night, the Boston Celtics would be down in their second-round series against the Cleveland Cavaliers.
Garnett scored a game-high 28 points and made two key late shots to vault the Celtics to a 76-72 victory over the Cavaliers in Game 1 of this best-of-seven Eastern Conference semifinal series at a sold-out TD Banknorth Garden.
"I was just being aggressive," said Garnett, who is averaging a team-best 21.9 points per game in the postseason through eight games.
Garnett learned Tuesday that he finished third in the NBA Most Valuable Player balloting behind the Los Angeles Lakers' Kobe Bryant and New Orleans Hornets' Chris Paul. And with his fellow All-Star teammates Paul Pierce and Ray Allen struggling offensively, Garnett needed to play in MVP-caliber fashion Tuesday night.
Pierce averaged 19.6 points per game during the regular season. But in Game 1 against Cleveland, he missed 12 of 14 shots, including all three 3-point attempts. He didn't shoot a free throw, and he finished with four points.
Allen averaged 17.4 points per game during the regular season. But in Game 1, the eight-time NBA All-Star was scoreless (on only four shots) for the first time in his playoff career -- it was just the second scoreless game of his NBA career.
So with Boston's other two stars stone cold, Garnett came to the rescue by scoring eight points on 4-of-8 shooting in nine minutes in the fourth quarter. Including one assist, the 11-time NBA All-Star accounted for 10 of Boston's 23 points in the fourth. And his drive and contested layup with 21.4 seconds left pushed Boston ahead for good, 74-72.
"I noticed that they were trapping from different positions, saw a lane and just was aggressive," Garnett said. "Took my time, got my head up, just a good shot and that's it. Nothing more, nothing less to it. Just trying to be a lot more aggressive on the floor."
Garnett has basically been the Celtics' only consistent offensive force in the postseason thus far and stepped up in Game 1 against Cleveland. Not bad for a guy who, it is said, doesn't come through in the clutch.
"Kevin Garnett was the one that was carrying them offensively," Cleveland coach Mike Brown said. "He did a very nice job."
Marc J. Spears is a regular contributor to ESPN.com and covers the Celtics and the NBA for The Boston Globe.
No Place Like Home For Celtics

The Celtics gave the Cavaliers a taste of the Garden in Game 1 ... and it was bitter. Boston held the Cavaliers to 72 points and in the process improved to 5-0 at home this postseason. In those five games, they have held their opponents to an average of 76 points. That's the lowest scoring average allowed by a team in the first five home games of a single postseason during the shot clock era (which began in the 1954-55 season).
Protecting Their House

Season
Team
Points per game by opponents
2007-08
Celtics
76.0
2003-04
Spurs
76.2
2003-04
Pistons
77.4
2003-04
Nets
77.6
2003-04
Heat
77.8
-- Michael E. Jackson, ESPN Research

TUESDAY'S WORST
Delonte West, Cavs guard
: LeBron James' 2-for-18 brickfest is going to get all of the headlines, but he wasn't the only Cleveland player who struggled with his shot. West finished with four points, connecting on just 2-of-10 from the floor.
---

TUESDAY'S WORST
Part 2: Ray Allen, Celtics
: The sharpshooter went 0-for-4 to finish with the same amount of points -- zero -- as everyone watching the game on television. It was the first time he went scoreless since 1997 (852 games).
---
QUOTE OF THE NIGHT

"This was two heavyweights, just body-punching. There was no finesse, no jabs, just an all-out, beat-down, defensive fight."
-- Celtics power forward Kevin Garnett on the poor shooting performances turned in by both teams.
-- Maurice Brooks

By Brian Windhorst
Special to ESPN.com
BOSTON -- Two pretty fierce forces collided in LeBron James' world in Game 1 Tuesday night.
He had his worst playoff shooting and ballhandling game ever, and he was playing against one of the most physical defensive teams in recent memory. The result was a hideous performance in a situation in which he usually thrives.
It was expected that the Celtics would be tough on James and the rest of the Cavs, since Boston led the NBA in field goal percentage defense this season. It was unexpected that James would react so poorly to it.
His 2-of-18 shooting line was his worst ever in the playoffs, his 10 turnovers tied his worst ever in the playoffs, and his 12 points were his second-lowest output in 40 career postseason games.
"You have to give a lot of credit to their defense. They are a very good shrink-the-floor team," James said. "I missed a lot of shots that I can usually make."
The Celtics didn't employ any sort of secret strategy; rather, they did what they always do against opposing stars. Because they have so much faith in their help defense, Paul Pierce and James Posey were able to play up on James so that he didn't have space to start moves on the perimeter. When the Cavs brought screens, the Celtics double-teamed James so he couldn't release, another normal tactic.
The Celtics also did an excellent job of staying attached to the Cavs' shooters, a luxury they have because they trust each other so much.
Meanwhile, James did a sloppy job with decision-making, passes and ballhandling. At one point in the fourth quarter, he got so locked up he shuffled his feet in a rare travel 20 feet from the basket.
Pierce may have had a lousy game offensively, going 2-of-14 with just four points, but he kept James in front of him. In doing so, he drew two charges on James in the third quarter, which got him into foul trouble and stripped some of his aggressiveness. James settled too often for jumpers early in the fourth, as the Cavs lost a small lead they'd built.
"We just tried to run him to the help and make his finishes tough at the rim," Pierce said. "He's not going to go 2-for-18 every game but we're sure going to try."
In the final two minutes, James was able to get to the basket on three drives, but he wasn't able to finish a single one of them. On the final two, he had contested but still clean looks, including one with nine seconds left that would've tied the game -- but it bounced in and out.
"That play symbolized the night I had," James said. "Those layups I've made my whole life, I put it right over the rim. I'll watch the film, get a better grasp on the game and come back in Game 2 with a better approach. We still had a chance to win. They made one more play than we did."
Brian Windhorst is a regular contributor to ESPN.com. He covers the NBA for the Akron Beacon Journal.
It wasn't pretty, but Boston will take it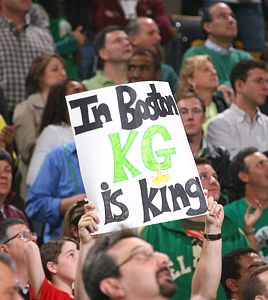 Jesse D. Garrabrant/NBAE/Getty
This fan's sign tells you all you need to know -- Garnett scored a game-high 28, including the winning bucket, while LeBron almost had more turnovers (10) than points (12).
Celtics-Cavs Series Preview

Chad Ford talks Celtics vs. Cavaliers with Brian Windhorst. Can Cleveland stop Boston?
NBA Dish

Scott (Orlando, FL): How much of an impact do you think the end of the third quarter had on the Magic-Pistons game?
John Hollinger: Huge. Take away that play and Orlando has a one-point lead in the final minute, plus maybe Turkoglu doesn't lose his mind and hoist that silly fling trying for a 2-for-1.
To read the full chat, click here.