Andrew D. Bernstein/NBAE via Getty Images
Will Kobe Be Able To Keep His Promise?

LOS ANGELES -- Kobe Bryant was spinning through the whole wheel of emotions after David Stern handed him his first Most Valuable Player trophy.
Appreciative, emotional, grateful, excited. And then, at the end of his speech to the adoring Staples Center crowd, Bryant switched back into the cold-blooded hit man we're used to seeing this time of year.
"We're going to play until June," Bryant vowed.
June is the NBA calendar code word for the Finals, the professional equivalent of the first Monday in April for college hoops.
Playoff Schedule
WEST SEMIFINALS

New Orleans 2, San Antonio 0
Game 3: Thu., 9:30 ET, at SAS
L.A. Lakers 2, Utah 0
Game 3: Fri., 9 ET, at UTH
EAST SEMIFINALS

Detroit 2, Orlando 1
Game 4: Sat., 5 ET, at ORL
Boston 1, Cleveland 0
Game 2: Thu., 7 ET, at BOS
Bryant didn't seem to care that the
Utah Jazz
were standing along the baseline the whole time, that any continuance of the Lakers' season would have to come at their expense. It's almost as if the Jazz are the details, not the obstacle. The Jazz have had two cracks at the Lakers now, following the Denver Nuggets' quick exit, and no one has been able to dent the Lakers' offensive efficiency.
The Lakers are the only undefeated team in the playoffs. They're the only team to score more than 100 points each game. And as far as this series is concerned, they're the only team with two players who own championship rings. (Utah center Mehmet Okur has a ring from his two-year stint with the Detroit Pistons.)
It's the leadership of those two ring-bearers in particular, Bryant and Derek Fisher, that has the Lakers up 2-0 in this series. But it's the collective effort of this entire team that has Bryant envisioning the Lakers on the court in Month 6.
The Lakers lead all playoff teams with an average of 26.5 assists per game. They're shooting 49 percent from the field. Their offense is breathtaking at times, with its rapid ball movement and the end result of shots dropping straight through the net.
"We believe in ourselves," Bryant said. "We have a high basketball IQ, collectively. That's why I believe we'll be playing in June. Because we all think the game extremely well. We play as a unit at both ends of the floor. That's what you need to play into June."
To symbolize the togetherness of this team, Bryant called all of the players out to join him at the middle of the court at the end of the ceremony.
It was a nice photo op, but it's actually the opposite of the way the Lakers have operated this season. They've been about team first, then closing with Bryant. He took them home Wednesday, finishing off the Jazz with six points in the final four minutes, playing a game of cat-and-mouse with defender Andrei Kirilenko, drawing more fouls (he has attempted 35 free throws in the two games) and telling courtside observer Denzel Washington, "He can't guard me, D."
"He's the guy that made the difference when it came down," Jazz coach Jerry Sloan said of Bryant. "They gave him the basketball and cleared out the side, and he just beat us."
Bryant scored 34 points, right at his playoff average, in a comfort zone that allows him to get his buckets while not starving his teammates of the ball. Fisher made 7 of 10 shots (including 4 of 5 3-pointers) for 22 points and defended Deron Williams, who was a nonfactor until the final quarter, when it was too late.
Plus, the Lakers got another double-double for Lamar Odom (19 and 16 rebounds), 20 points from Pau Gasol and 12 points off the bench for Sasha Vujacic. The Lakers shot 57 percent from the field and even higher -- 64 percent -- from 3-point range.
"Execution, that's what the triangle's all about," Odom said. "We want to continue to get better and better at it."
It was during Phil Jackson's year away from the team, when the Lakers tried Rudy Tomjanovich's offense and Bryant found second defenders attacking him from all sides, that Bryant gained a better appreciation for the triangle. It allows him to get isolations on the wing and gives him more area to work with more space between the defenders. The key is Bryant hasn't chosen to isolate himself from the team, or even the league at large, anymore.
"I think that there are times where [players] don't realize what they do for the game and what the game does for them until after they're retired," Stern told reporters before the game. "And it's always rewarding for me for players either before or at their prime to come to have an understanding of what the game has done and continues to do for them, what it means to them, really, and what their performance means to others. And I get the strong sense that Kobe has reached that point this season."
It all resulted in a trip to L.A. for Stern so he could preside over the ceremony. Lakers fans have been chanting "MVP" for Bryant over three seasons now, and now that their demands had finally been answered they were even louder. There was an unusually high energy level in the building, which the Lakers credited for their fast start.
Bryant made a rookie MVP mistake when he walked off the court holding the trophy. Standard procedure is to leave it on the table for others to remove.
"I didn't know," Bryant said. "I'm new to this.
"Next time, I'll leave it."
He was laughing about this. Not nearly as serious as when he talked about playing into June. As festive as this night was, the underlying message was that trophies are nice, but banners are even better.
J.A. Adande is the author of "The Best Los Angeles Sports Arguments." He joined ESPN.com as an NBA columnist in August 2007 after 10 years with the Los Angeles Times. Click here to e-mail J.A.
Playoff Dimes Past: April 27 | 28 | 29 | 30 | May 1 | 2 | 3 | 4 | 5 | 6 | 7
Billups' Injury the Key To the Series

By John Hollinger | ESPN.com
ORLANDO -- Fans commonly say one needn't start watching an NBA game until the very end. Sorry to disappoint, but if you missed the first five minutes of Game 3 between the Orlando Magic and Detroit Pistons, you missed everything.
The Magic landed a 20-3 haymaker to start the game en route to a 111-86 rout of Detroit on Wednesday night that closed their best-of-seven Eastern Conference semifinal series to 2-1 in favor of the Pistons.
More importantly, Detroit guard Chauncey Billups went down 3:49 into the game with a strained right hamstring, a potentially series-altering injury that removed the Pistons' best player from the floor for the final 44 minutes.
Billups left without talking to the media, but the Pistons are hopeful he'll be ready in time for Saturday's Game 4.
"We're shooting for him to play on Saturday," said Detroit coach Flip Saunders. "It's sore right now [and] we won't know for the next 24 hours where he's really at, but all indications are we're shooting for him to go on Saturday."
To read the full column, click here.
Jazz Need Boozer To Remain On the Floor

By Tim Buckley | Special to ESPN.com
LOS ANGELES -- From scoring to fouling, the 2008 postseason has proved to be one pressing problem after another for Jazz All-Star Carlos Boozer.
After averaging 23.5 points in 17 playoff games last year, including one 41-point outing and four in the 30s, Utah's power forward has not hit the 20-point mark this year since Game 1 of the Jazz's first-round series with Houston.
Boozer scored just 10 in Utah's 120-110 Game 2 loss to the Los Angeles Lakers on Wednesday, and everyone from coach Jerry Sloan to point guard Deron Williams is trying to figure out how to help him.
"I think every player goes through stages when things don't go especially right for them," Sloan said after Boozer went scoreless on 0-for-3 shooting in the opening half. "I think, knowing Carlos, he was trying to fight out of it.
"I thought he had a much better run in the second half, obviously, than he had in the first half, and seemed to be a bit more alive," Sloan added. "And sometimes that's the only way you get over it, is to try to fight back -- get rebounds, play defense and play yourself back in it. If you try to do it the other way, then you don't have much to rely on, don't have much to fall back on -- and I think that probably hurt him a little bit."
But at least Boozer was able to pinpoint his primary problem Wednesday.
Anyone at Staples Center could.
"Anytime somebody gets into foul trouble like I did tonight, it's tough to get into a rhythm," said Boozer, who had three in his first seven minutes. "By the time I'm back, you're pressing a little bit more, you're doing whatever you can to help your team win, and sometimes you rush it a little bit."
So how did it happen?
"Being too physical, I suppose. I don't know," Boozer said. "You know, I've been playing the same way I've been playing all season -- but I'm getting fouls the first two games, so I've got to figure out a way to play more games without fouls."
Williams, meanwhile, faulted himself for not picking up the slack.
"It definitely hurts, and I think that's a time when I have to be more aggressive," said Williams, who also was scoreless in the first quarter and had just three of his team-high 25 points at halftime. "You know, when Booz is in foul trouble and he's off the court -- that's 20 points a game out of our lineup.
"It's tough," Williams added. "Booz, he knows he's got to do a better job of trying to stay out of foul trouble so he can stay on the court and be effective for us."
Tim Buckley covers the Utah Jazz for the Deseret News.

WEDNESDAY'S BEST
Rashard Lewis, Magic forward
: Consider his slump officially busted. After making just 2 of 12 treys in the two games in Detroit, he found the home rims a lot friendlier, draining 5 of 6 from behind the arc en route to scoring a career playoff-high 33.
---

WEDNESDAY'S WORST
Carlos Boozer, Jazz forward
: If the Jazz are going to get back in the series against the Lakers, they will need their All-Star to avoid foul trouble and to score more than 10 points.
---
QUOTE OF THE NIGHT

"It felt real good, finally getting a chance to beat those guys. The main thing is, we played the way we know how to play -- run and try to cut the turnovers down. We can beat anybody."
-- Magic big man Dwight Howard on his team snapping its nine-game playoff losing streak against the Pistons
• See Wednesday's daily leaders
-- Maurice Brooks
Magic Finally Get Past Pistons

By John Denton
Special to ESPN.com
ORLANDO -- Just 48 hours earlier, many of the Orlando Magic's players had sweaty palms and racing heartbeats as their team plane made an unscheduled landing in Cincinnati and had a convoy of fire trucks and ambulances escorting them down the runway.
Contrast that somewhat scary scene to Wednesday night when a Magic team under heaps of pressure kept its cool and had the playoff-hardened Detroit Pistons sweating and gasping for air.
When Rashard Lewis played like the $118 million man that he is with 33 clutch points and Dwight Howard swatted shots like a basketball version of Karch Kiraly, the Magic were finally able to make a stand against a Detroit team that had dominated them for years.
The Magic's 111-86 thumping of the Pistons not only helped them get back into a second-round series but also allowed them to end a five-year drought against Detroit. Dating back to their infamous 3-1 collapse in 2003, Orlando had lost nine consecutive playoff games to the Pistons, the fourth-longest such streak in league history.
To Howard, who was openly embarrassed by last spring's first-round sweep at the hands of the Pistons, this was especially gratifying.
"It just feels good to finally beat those guys," said Howard, who battered Detroit's Jason Maxiell for 20 points, 12 rebounds and six thunderous blocks. "The main thing is, when we play how we know how to play -- run and cut the turnovers down -- we can beat anybody. [Wednesday] was a great win for us."
It was finally a bit of good news for the Magic, who endured a couple of rounds of high drama on Monday. First, they lost Game 2 amidst controversy; Chauncey Billups' 3-pointer at the end of the third quarter was allowed to stand despite a malfunctioning clock, and Detroit went on to win 100-93.
Then, incredibly, things got worse for an already frazzled Magic squad. Minutes into their flight home from Detroit, pilots informed the team that they would have to make an emergency stop in Cincinnati because of mechanical problems on the plane. If that wasn't enough to rattle some of those already fearful of flying, the sight of all the flashing lights on the fire trucks certainly did the trick.
"There was nothing we could do because we don't have parachutes and nobody knows how to skydive," joked Jameer Nelson. "They just said that everything was fine and that we needed to land and be safe. Nobody panicked, or nobody showed it, at least. But I'm sure some guys were a little nervous."
If Lewis was nervous heading into Wednesday's Game 3, he certainly didn't show it. He limped into the game shooting a frigid 36.6 percent from the floor and 16.7 percent from the 3-point line. But on Wednesday he hit 3-pointers when open (5-of-6) and relentlessly attacked Rasheed Wallace off the dribble (11-of-15 shooting overall). He was, in a word, cool.
"It feels good, especially hitting a couple of 3s," said Lewis, who had his highest scoring game in a Magic uniform and registered a new playoff high. "I hadn't been shooting the 3-ball well since the playoffs started. My shot has felt really good, but it just hasn't been going in. Shooters don't stop shooting, and I wasn't going to stop."
John Denton is a regular contributor to ESPN.com. He covers the Orlando Magic for Florida Today.
Oh, what a night for Orlando's Lewis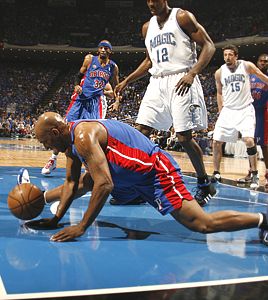 Nathaniel Butler/NBAE/Getty
Chauncey Billups strained his right hamstring early in the first quarter and did not return to the lineup for Detroit. Here's some friendly advice: Get plenty of ice and rest.

By Elias Sports Bureau
After receiving his MVP trophy, Kobe Bryant scored 34 points, shooting 11-for-18 (61 percent) from the field in the Lakers' 120-110 Game 2 win over the Jazz. That was the second-best field-goal percentage Bryant has had in 42 career playoff games of 30 or more points. Kobe was 18-for-27 (67 percent) in Game 2 versus the Nuggets last month.
• See more Elias facts that figure

City of Chicago: Let's play a little If and Then ... If D'Antoni heads to Chicago ... Then Kirk Hinrich will be traded. Correct?
David Thorpe: No. I think they'll first try to rehab him. And I'd like their chances.
Mike (Cleveland): Cavs/Boston Game 1. Good defense being played or poor offense? Do you expect all the games in the series to play out in the same manner?
David Thorpe: Poor offense combined with great D. Yes, I think every game will be similar.
To read the full chat, click here.