Nathaniel S. Butler/NBAE via Getty Images
Spurs Keep Their Heads Above Water

SAN ANTONIO -- No, the Spurs still don't have an answer for Chris Paul.
Instead, they changed the equation. San Antonio scored so easily in Thursday's Game 3 that Paul's brilliance on the other end was irrelevant, as the defending champs kept their heads above water with a 110-99 win. The Spurs trail the series 2-1, with Game 4 on Sunday at the AT&T Center.
Playoff Schedule
WEST SEMIFINALS

New Orleans 2, San Antonio 1
Game 4: Sun., 8 ET, at SAS
L.A. Lakers 2, Utah 0
Game 3: Fri., 9 ET, at UTH
EAST SEMIFINALS

Detroit 2, Orlando 1
Game 4: Sat., 5 ET, at ORL
Boston 2, Cleveland 0
Game 3: Sat., 8 ET, at CLE
San Antonio is better known for winning games -- and championships -- with defense, but Thursday it was the offense that saved its bacon. And it was an old Spurs stand-by -- moving
Manu Ginobili
from starter to bench or vice versa -- that fueled it.
With Ginobili in the starting lineup, the Spurs got 31 points apiece from him and Tony Parker and avoided the second-half offensive lulls that have plagued them of late. Parker also chimed in with 11 assists, while San Antonio made 11-of-25 3-pointers en route to reaching the 110-point mark in regulation for only the third time since the All-Star break.
They needed that outburst, because Paul again was jaw-droppingly good. He scored 35 points on 15-of-25 shooting, handed out nine assists and committed only one turnover. He also had the highlight of the night when he took contact from both Tony Parker and Tim Duncan on a drive to the hoop, spun in midair and threw a blind shot over his head and in to get a foul-and-one. "I want my MVP vote back," yelled one scribe from courtside after that circus shot.
But two heads are better than one, and with Parker and Ginobili both scoring at will, it was too much for New Orleans to overcome.
"We made shots, and we made better decisions. They only had [six] points off turnovers instead of the 22 they've been averaging," said Spurs coach Gregg Popovich. "We had 28 assists, which is great, so if you can get 28 assists and not make turnovers, that makes your offense look a whole hell of a lot better."
That and a revved-up Parker provided the difference. San Antonio's point man matched Paul shot-for-shot even while guarding him most of the night.
"I probably got [Parker] all screwed up [in Games 1 and 2] trying to get him to make perfect decisions," Popovich said. "We know he's better when he's aggressive and trying to score. That's the approach he took tonight."
He wasn't the only one. With the Spurs' backs to the wall, they were the hungrier, more physical team for the first time this series, winning the rebound battle and blocking seven shots.
"Tonight was like a Game 7 for us," said Ginobili.
Popovich obviously understood the gravity of the situation, too -- famous for limiting his top players' minutes to keep them fresh, he played each of his three stars and defensive ace Bruce Bowen at least 40 minutes (if you round up Manu's 39:37).
Even with all that, New Orleans led by seven points in the final seconds of the first half before a key sequence at the end. Bruce Bowen hit a 3-pointer with 2.8 seconds left, and then Morris Peterson committed a backcourt violation trying to get a shot off before the buzzer. With a chance to score again, Ginobili came free on an inbounds play when David West and Julian Wright botched a switch; Ginobili made a fadeaway jumper at the buzzer to cut the Hornets' lead to two.
That slim edge wouldn't hold for long. For the third straight game in this series, the team leading at halftime ended up losing by double figures.
"Our help-side defense on the weak side was terrible," said Hornets coach Byron Scott. "We didn't stop, we didn't rotate, we just didn't do the things that we had been doing the last couple of games."
Once again, the Hornets bent over backward to take Tim Duncan out of the game, which is one reason Parker and Ginobili were so huge. Duncan finished with only 16 points on 6-of-13 shooting, but it was his initial pass out of double-teams that led to several San Antonio triples.
"We've been moving the ball, I think we just hit more shots tonight," said Duncan. "So we're going to continue to move the ball, and if they want to double me and get the ball out of my hands, we'll make them pay in other ways."
San Antonio had the opposite strategy. The Spurs allowed New Orleans to get big games from Paul and West (23 points, 12 rebounds) but took the Hornets' secondary players out of the game. New Orleans made just two 3-pointers on only 11 tries, partly due to Popovich's strategy of switching Bruce Bowen onto Peja Stojakovic. Only three Hornets scored in double figures.
What had the Hornets even more upset, however, was a stretch in the third quarter when they were in the bonus early but failed to take advantage and instead settled for jumpers.
"We had the advantage and we were in the bonus, and we lost our cool a little bit," said West. "We just can't let them dictate how [we] play, and we didn't do that in the first two games."
Scott also raised a few eyebrows by pulling his starters with the Hornets down 12 and 1:42 still left. While not quite as egregious a surrender as his infamous resignation in Game 4 of the 2002 Finals, teams have come back from such a deficit before.
Nonetheless, the big story Thursday was the defending champs responding with some urgency after getting pasted in the first two games in New Orleans. However, with Paul looking increasingly unstoppable and San Antonio's attack seeming equally resurgent, the series appears to be boiling down to a question of who can outscore whom.
It's an ironic twist for a dynasty built on ironclad defense, but in this case a necessary one. We'll find out on Sunday how well the defending champs have adjusted to this brave new world.
John Hollinger writes for ESPN Insider. To e-mail him, click here.
Playoff Dimes Past: April 27 | 28 | 29 | 30 | May 1 | 2 | 3 | 4 | 5 | 6 | 7 | 8
Allen Heats Up, James Stays Cold

By Chris Sheridan | ESPN.com
BOSTON -- A few extra decibels strengthened a raucous cheer that erupted at the TD Banknorth Garden the moment Ray Allen finally broke his schneid.
It had been 72 minutes and counting -- an 0-for-4 goose egg in Game 1, followed by a scoreless first half in Game 2 -- when Allen missed his first shot attempt of the second half Thursday night. But after Zydrunas Ilgauskas corralled the long rebound, Allen sneaked up from behind and poked the ball away, then turned quickly to the basket and dropped in an easy one.
The place went nuts -- maybe a little overboard nuts.
"I think everybody else was relieved, too. It was like my first time getting out there on the floor, or I just got traded here or something, like it was my first bucket in this building," Allen said.
It wasn't only the home crowd that cheered a little extra for Allen on that play. Every member of the Celtics' bench leaped up from their seats, too, with more than a couple of them pumping their fists in the air.
The basket put Boston ahead by 10 points, and the Celtics -- who rallied from an early 12-point deficit -- never let the lead slip into single digits again in posting an 89-73 victory over the Cleveland Cavaliers for a 2-0 lead in their Eastern Conference semifinal series.
"He hadn't scored last game, and we wanted something to get him going -- a free throw, anything. I wanted to see my man get off," Boston's Leon Powe said. "And he got a loose ball, got to the rim, and that got him going. I saw a boost from that, and that's all a shooter needs. He thinks he's hot now, and that's what happened."
Allen went on to score 11 of his 16 points in that third quarter, the same period in which LeBron James took over sole possession of the title of Player In This Series Most Needing To Break Out of a Slump.
To read the full column, click here.
Struggling LeBron Says All the Right Things

By Brian Windhorst | Special to ESPN.com
BOSTON -- The last time LeBron James' face showed such a mix of confusion and frustration was last June on a hot night in San Antonio.
The Cavs have won five series over the past three seasons with James as the centerpiece. But when the Cavs have failed and broken down, often looking offensively anemic and becoming an easy target of jokes, he's been in the middle of it, too.
James had a second straight poor offensive showing in Game 2 against the Celtics, making just 6-of-24 shots for an inefficient 21 points. He's just 8-of-42 in the two games, a gleaming reminder that the Celtics' greatest strength this season is their defense.
"They have athletic bigs that do a good job on rotation," James said. "They don't allow me to crack the second line of defense."
Last year in the Finals, the Spurs' game plan on James was slightly different. They allowed him to come off screens but put up a road block to hinder his path to the basket and encouraged him to shoot midrange jumpers. In two bad losses in San Antonio, James went just 13-of-37 from the floor as one of his weaknesses was exposed.
James vowed to become a better midrange shooter, and he has. But the Celtics are taking a different tack. When James comes off screens, they are trying to guide him toward the baseline to remove his angles of attack. Plus, the man on the back line is often Kevin Garnett, the Defensive Player of the Year and one of the longest players in the league.
"I'm a little shocked at that [8-of-42], but this is what we work on," said Paul Pierce, who is splitting time on James with James Posey.
"We go to practice and we work on trying to contain him. LeBron is what makes them go -- if we control him, then we can control them. It's not me, it's everybody, it's the big guys stepping up and bringing help."
Whether it is Garnett or Kendrick Perkins or Leon Powe, Boston's big men are approaching LeBron with their arms stretched outward, not upward, to attempt to remove passing lanes. It is part of the reason he's got 17 turnovers in the two games.
As a result, James is feeling crowded and his options seem limited. Not helping is the Cavs' apparent refusal to make major adjustments. Possession after possession, the Cavs ran pick-and-rolls from the same spot on the floor with James, and time and time again the Celtics executed their defense.
"We didn't make a defensive adjustment, we just got to places, quicker, faster, better," Celtics coach Doc Rivers said. "This is how we want to try to force him to play. We're not recreating the wheel, but we have great focus at what we're doing."
That said, James has chosen not to remember the Spurs series but the Pistons series, when the Cavs came back from 0-2 to win the Eastern Conference Finals.
"I am not frustrated," James said. "The shots that I normally make have not fallen. I'm going to stay positive."
Brian Windhorst is a regular contributor to ESPN.com. He covers the NBA for the Akron Beacon Journal.

THURSDAY'S BEST
Tony Parker, Spurs guard
: CP3 is getting all the props, but don't forget there is another All-Star point guard in this series. Parker exploded for 31 points and 11 assists for San Antonio.
---

THURSDAY'S BEST
Part 2: Chris Paul, Hornets guard
: New Orleans didn't earn a W on Thursday, but don't blame the best point guard in the league, who had 35 points and nine assists.
---
QUOTE OF THE NIGHT

"I'm a little shocked that he's 8-for-42, but this is what we work on. We work on trying to contain him."
-- Celtics forward Paul Pierce on his team's defensive approach to slowing down Cleveland's LeBron James
• See Thursday's daily leaders
-- Maurice Brooks

By Marc J. Spears
Special to ESPN.com
BOSTON -- Looking back, it seems like an old bad joke to the Boston Celtics' bench now.
Highlighted by the All-Star trio of Kevin Garnett, Paul Pierce and Ray Allen, the Celtics were expected to have a special season. But one understandably major unknown entering this season was their bench. But now, with the likes of Leon Powe, James Posey and late veteran additions Sam Cassell and P.J. Brown, Celtics coach Doc Rivers is very comfortable turning to his proven bench when it's time for his starters to come out.
In fact, during the Celtics' 89-73 victory over the Cleveland Cavaliers in Game 2 of a best-of-seven East semifinal series at TD Banknorth Garden on Thursday, it was actually the bench that sparked the victory.
"Just be focused and ready when your name is called," said Powe, who had 11 points and seven rebounds. "Just try to go out and play 110 percent, all out. It is the playoffs, you don't have time to rest."
Cleveland shocked the Celtics' starters by opening up a 21-9 lead in Game 2, making 10 of its first 16 shots. Cavs center Zydrunas Ilgauskas nailed five sweet no-rim jumpers for a quick 10 points. The Celtics finished the first quarter down 24-17 after missing 8 of 15 shots while Cleveland shot 52.4 percent from the field.
The Celtics entered the second quarter with Powe, Posey, Brown, Cassell and only one starter on the floor in Pierce. Using mostly reserves in the second, Boston outscored Cleveland 27-12 in the frame to vault to a 44-36 halftime lead and never looked back.
The Celtics' reserves scored 20 points on 9 of 16 shooting from the field in the second, including seven points and six rebounds from Powe. The Cavaliers struggled offensively in the second, missing 15 of 17 field goal attempts (11.8 percent), giving up nine points off four turnovers and going scoreless in the final 4:36 of the first half.
"Their second unit was able to come up with key rebounds and key loose balls," Cleveland coach Mike Brown said.
Make no mistake, the Celtics are led by Garnett, Pierce and Allen. But as good as those three All-Stars are, on occasion they need their bench to be there like an insurance policy. Game 2 against Cleveland was one of those nights when the bench needed to be exercised.
From the beginning of the season to the postseason, the Celtics' bench has gone from questioned to applauded.
"I thought the bench was a real key to why we got the lead and kept the lead," Pierce said. "Of course, you know what Sam Cassell does, what he brings when he comes into the game. James Posey has been tremendous for us defensively and offensively. Leon Powe, P.J. Brown, you know, the guys who contributed, who got in the game, really did a great job for us. It was a total team effort, and this is the way we want to play each and every night."
Marc J. Spears is a regular contributor to ESPN.com and covers the NBA and the Boston Celtics for The Boston Globe.
Celtics lock up LeBron James ... again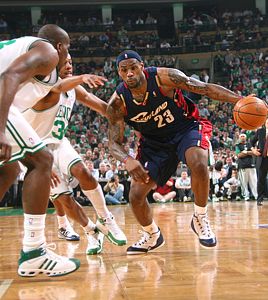 Jesse D. Garrabrant/NBAE/Getty
Cleveland is built around LeBron. King James has struggled offensively, and as a result the Cavaliers find themselves in a 2-0 hole with the series shifting to Cleveland.

By John Hollinger
ESPN.com
SAN ANTONIO -- One reason the Spurs shut down the Hornets' 3-point shooters in Game 3 was because they gave their best defender the assignment of shutting down New Orleans' top marksman.
After spending the first two games defending Chris Paul, ace stopper Bruce Bowen got the assignment of defending Peja Stojakovic on Thursday. After scoring 47 points on 17-of-30 shooting in the first two games, Stojakovic mustered only eight points on 2-of-7 shooting. His only 3-point make came on a transition switch after Tony Parker had fallen down on a drive at the other end.
"[Bowen] was next to me all the time," said Stojakovic.
"With Peja you just have to be aware where he is a lot, and understand his comfort [zone]," said Bowen. "He likes that space, he's got a great shot, he's good shooting 3-pointers so you [have to] take that away."
Stojakovic's frustration became evident even in the first quarter. He'd been on the court for over eight minutes without taking a shot before he forced up a contested 3 with Bowen draped all over him, making it seem Bowen was already in his head ... though Bowen wouldn't admit it.
"That stuff's overrated," said Bowen. "I'm just playing. If he chooses to do something like that, great for us."
With San Antonio more committed to stopping the 3 and letting Paul wreck whatever he could on the drive, the Spurs allowed only two 3-pointers, only one of which came in a half-court setting.
"I think that just opened the lane up for me a little more," said Paul, and he took advantage with 35 points. But Stojakovic and Morris Peterson combined for just 11.
"Peja and Mo, they're great players, and when they get looks they knock them down. We just need to find ways to get them a little more involved in Game 4. I don't think there's [any] cause to panic," said Paul.
"We have to do a better job on the offensive end, too, as far as being more patient and moving the ball," said Stojakovic.
John Hollinger writes for ESPN Insider. To e-mail him, click here.

Most NBA experts felt that the Lakers wouldn't win the NBA title this season because of their defense. In the first round, the Lakers faced the No. 2 scoring offense in the Denver Nuggets and held them more than nine points below their season average. In the first two games of the conference semifinals against the Jazz, the Lakers are holding the second-best shooting team to just 41 percent shooting from the field, down 8 percent from the regular season.
Postseason Intensity

Team
Points per game
Field-Goal Percentage
Nuggets - regular season
110.7
47.0
Nuggets - first round
101.5
42.7
Jazz - regular season
106.2
49.7
Jazz - conference semifinals
104.0
41.3
-- Lisa Brooks, ESPN Research