Chris Graythen/Getty Images
Hornets' Third-Quarter Push Has Spurs On Brink of Elimination

NEW ORLEANS -- Anyone else sense a theme here?
For the third straight time, the San Antonio Spurs took a small lead into halftime and looked poised to get the one road win they needed to take this Western Conference semifinal series.
And for the third straight time, they laid a giant dinosaur egg in the third quarter, and the Hornets ended up rolling to an easy win. This time it was an 11-point stanza that did them in, and the Hornets won 101-79 to take a 3-2 series lead and put the defending champs on the brink of elimination. New Orleans can make its first-ever trip to the conference finals with a win in Game 6 in San Antonio on Thursday.
Playoff Schedule
WEST SEMIFINALS

New Orleans 3, San Antonio 2
Game 6: Thu., 9 ET, at SAS
L.A. Lakers 2, Utah 2
Game 5: Wed., 10:30 ET, at LAL
EAST SEMIFINALS

Detroit 4, Orlando 1
Pistons win series
Boston 2, Cleveland 2
Game 5: Wed., 8 ET, at BOS
"It's a fact, but I don't know [why]," said Spurs coach Gregg Popovich. "I know tonight their defense was the reason why we had so many problems in the third quarter. They deserve credit for that."
For the series, the third quarters have been an ongoing theme regardless of the locale. In two games in San Antonio the Spurs held a 59-41 advantage, helping them even the series.
But it's the three games in the Big Easy where things have really been one-sided. In the first, second and fourth quarters in the three games in New Orleans, the score is relatively even, with New Orleans holding just a 12-point advantage.
And in the third quarters? Would you believe Hornets 93, Spurs 46? No, that's not a misprint -- New Orleans has doubled up the defending champs after the break. It's as though a different Spurs team comes out in the third quarter, one that can't get out of its own way offensively but has no problem getting out of Chris Paul's way at the other end.
"What upsets me, and I think the whole team, is that we made the same mistake again," said Manu Ginobili. "Third quarter we were not ready, we stopped moving the ball, stopped attacking. Of course we give them credit, they were good. But there's no way we can do that again."
The Spurs actually got a wide-open dunk by Tim Duncan to start the quarter before going into a serious funk, netting only two points in the next seven minutes. For the period, they were 5-for-18 from the floor with four turnovers.
Of course, the Spurs weren't out there by themselves. One reason the Spurs keep hitting a wall in the third is because that's when Paul goes into overdrive. This is the eighth time I've seen him in person this season, and all but one have had the same theme: Paul spends the first half getting everybody else involved and then looks for his own offense after the break.
"I definitely try to get my teammates going early," Paul said. "But at the same time, I try to take what the defense gives me. In the third quarter we got stops, and we're at our best in our transition."
That was the theme again Tuesday. Paul had only one basket in the first half, and even that came on a generous continuation call when it appeared he took at least three steps before releasing the shot. Then, in the second half, he pushed the pace and turned up the scoring, and the "woo!"-fest got rolling once again. Paul outscored the Spurs by himself in the third quarter, 12-11.
Additionally, New Orleans clamped down on defense and made some adjustments after one-sided defeats in Games 3 and 4 had tied the series 2-2. Mostly, they used a lot more single coverage on Duncan, with both Tyson Chandler and David West registering spectacular blocks in one-on-one situations while holding the Spurs' big man to 5-of-18 shooting.
"I just felt we had to mix it up a little bit more," said Hornets coach Byron Scott. "We still came and doubled him at times, [but] there were times, especially in the third quarter, where Tyson only had two fouls and we felt we could play him one-on-one a little bit more, and I thought Tyson did a great job."
The Hornets also blitzed the screen-and-roll much harder than in past games, helping limit Tony Parker to 18 points after he torched them in the two games in San Antonio.
And of course, West had a coming-of-age game, dominating at both ends with 38 points, 14 rebounds, five assists and five blocks. But both he and Chandler will need to rest up and get treatment for injuries that could lay them low in Game 6.
Chandler sprained his toe late in the contest after getting tangled up with Ime Udoka and sat out the final 8:47, while West had trouble all game with a stiff back. The good news for the Hornets is that they'll get three days off to recuperate if a Game 7 is needed.
As a result of West's inspired effort and the Spurs' uninspired third quarter, this was the fifth straight one-sided win by the home team in this series. So instead of late-game drama, we had to settle for the early-game fireworks between Popovich and Joey Crawford.
Popovich was furious over a first-quarter delay of game violation -- yes, really -- that he felt was called in error, and he let Crawford know about it in no uncertain terms. Crawford, as is his reputation, didn't back down, and replays seemed to show him poking a finger in Popovich's chest.
The scene ended with Pop getting a technical and several players being needed to restrain him from picking up a second. Crawford also drew a lengthy, Sheed-like glare from Duncan after a late loose-ball call right before the Spurs sent in the scrubs; it's probably fortunate for everyone that Crawford had his back turned.
Nonetheless, the Spurs' issues with this particular referee once again seem very much alive, and it seemed to spread to the other players -- San Antonio invested a lot of time lobbying for calls.
"I think we got worried about the refs way too much," said Ginobili. "We've just got to let Pop do that. That's his job."
Not that the Spurs need to worry about seeing Crawford again if they play like they did in the second half, as the upstart Hornets have two shots at knocking the defending champs out of the playoffs.
After beating the Spurs three times by a combined 59 points in New Orleans, delivering the knockout blow is the final test before their graduation into the league's elite.
John Hollinger writes for ESPN Insider. To e-mail him, click here.
Playoff Dimes Past:
May 1
|
2
|
3
|
4
|
5
|
6
|
7
|
8
|
9
|
10
|
11
|
12
|
13
Future Is Still Bright For Magic

By John Denton | Special to ESPN.com
AUBURN HILLS, Mich. -- Dwight Howard was sitting in the training room all slump-shouldered and sad after the Orlando Magic were eliminated from the playoffs, when a teammate mentioned how it often takes a team getting its heart broken in the postseason before it finally breaks through.
Howard certainly knows a thing or two about playoff pain, having been bounced out of the postseason both this year and last year by the Detroit Pistons. The Magic were embarrassingly swept last spring, so technically this year's 4-1 whipping at the hands of the Pistons reflected a small step of progress. In actuality, the series was much closer, with three down-to-the-wire finishes.
If Howard is looking for a model for the Magic to try to pattern themselves after, all he had to do is look across the hallway of The Palace.
"It's a really big step for us this season, but it just didn't finish the way that we wanted it to," Howard muttered some 90 minutes after Orlando's 91-86 Game 5 loss to the Pistons. "It hurts, but we want to be a great team like the Pistons. We want to be where they are. We want to still be playing in June next season."
To read the full column, click here.
West Shows Off All-Star Form

By John Hollinger | ESPN.com
NEW ORLEANS -- There was a dominant big man on the floor Tuesday, just not the one you expected. While Tim Duncan struggled to a 5-for-18 shooting night, Hornets forward David West was scintillating on both ends.
He needed to be. As the rest of the Hornets struggled to hit shots during a sloppy first half, West lit up the Spurs for 22 points to keep New Orleans in the ballgame. At the break his teammates were 5-for-23 from the field, but the Hornets were in the game because West was 10-for-14. Eventually the rest of the cavalry rode in, and the Hornets cruised to a 101-79 Game 5 win that has the champs on the brink of elimination.
But the outcome would have been very different if not for West's dominant effort. For the night, he finished with 38 points, 14 rebounds, five assists, five blocks and two steals. He shot 16-of-25 from the floor, made 6-of-7 from the line and had only two turnovers, even as the Spurs played musical big men trying to find somebody who could stop him.
"This was a big game for us, this was it," said West. "In our minds we couldn't go to San Antonio down. We just didn't want to go back to the locker room saying woulda, coulda, shoulda."
Hornets coach Byron Scott, who has coached West his entire pro career, said the fourth-year pro has never played better.
He's right. It's hard to come up with an adjective to properly describe how good he was at both ends, so let's describe a few plays instead. Like how he faced up on the right midpost and went one-on-one against Duncan for a baseline drive that ended in a sweet reverse off the board. Or how he took Duncan by himself on defense and made a spectacular block, one of his five on the night; another amazing swat came when a wide-open layup by Ime Udoka was erased when West swooped in.
There's more. Though he was having a career night, West responded maturely to double-teams that came his way in the second half, making kick-outs that led to two Mo Peterson 3-pointers during the Hornets' back-breaking third quarter run. He even found Chris Paul for a layup in a rare reversal of the Hornets' usual pattern. And, of course, he knocked down one short-range jumper after another.
And he did it all on a back that was tightening up on him and giving him trouble -- presumably from carrying the Hornets on it the whole first half.
"He was pretty upset with the way he played in Game 4," said Scott. "We've been around D-West long enough to know he was going to come back and he was going to play a great game tonight, and he carried us, especially in the first half."
"He shot the ball. He shot more jumpers," said Kurt Thomas, who along with Fabricio Oberto took most of the abuse from West. "He came out very aggressive. We've got to help out and try to make somebody else beat us."
For the Hornets, the question immediately moves on to West's back and his status for the next game. West said, "It got pretty stiff there in the second quarter," but added that he'd be fine for Game 6 on Thursday. As with the Lakers' Kobe Bryant on Sunday, the fact that he was able to keep playing with it is a positive sign. The Hornets hope that rest and treatment will be enough to allow him to go again in 48 hours as they try to clinch the series.
"The good thing about them is they're both young," said Scott of West and teammate Tyson Chandler, who also was injured in the game. "Is it going to keep him out of Game 6? Probably not. We just need to make sure that we get some treatment on there, get some rest and get ready for Thursday."
John Hollinger writes for ESPN Insider. To e-mail him, click here.

TUESDAY'S BEST
Robert Horry, Spurs forward
: The clutch shooter won't get into the Hall of Fame, but the 16-year veteran established an NBA record by playing in his 238th playoff game Tuesday. The old mark of 237 was held by Kareem Abdul-Jabbar.
---

TUESDAY'S BEST
David West, Hornets forward
: Playing through back pain, he had the game of his life, setting career playoff highs in points (38), rebounds (14) and blocked shots (5).
---
QUOTE OF THE NIGHT

"Just because I went to a small school doesn't mean nothing. I believe in myself when I step out there. This is why Joe [Dumars] drafted me."
-- Pistons guard Rodney Stuckey, who played his college ball at Eastern Washington
-- Maurice Brooks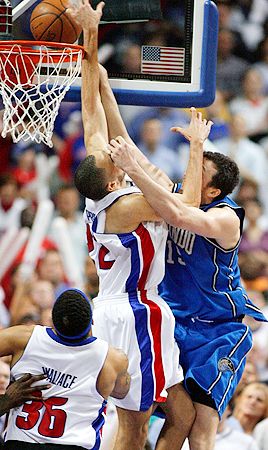 Gregory Shamus/Getty Images
Orlando's Hedo Turkoglu tried to slam home two points in the closing minute of Game 5. Detroit's Tayshaun Prince had another idea.
Pistons headed to East finals ... again

Ethan (Philadelphia): A question for The Numbers Man -- If the Sixers want to go after a free agent like Elton Brand, can they sign him with their $11 million of cap space and then go over the cap to re-sign their own free agents (Iggy & Lou)?
John Hollinger: Yes, but there's a "hold" for those free agents unless the Sixers renounce their rights, and that takes up some of the cap space. Can't recall offhand how much the holds are, but Iggy's will be significant.
Dan (Las Vegas): How do you feel about Doc's playoff rotations? No Tony Allen, no Eddie House. Both major contributors in the regular season.
John Hollinger: Not surprised at all on House -- Sam Cassell makes him expendable. Mildly surprised on Tony Allen, but more so last series than this one -- there's not as much of a defender role for him since he's too small to play LeBron.
John Hollinger: But the one I'm shocked about is Leon Powe. He was monstrously good in the regular season and yet P.J. Brown and, at times, Big Baby, are getting minutes ahead of him, which baffles me.
Phil Jackson (Los Angeles): Don't tell anyone, but I keep playing Jordan Farmar against Deron Williams so we can re-sign Farmar on the cheap this summer ... man is he getting killed ...
John Hollinger: Way to see a glass with one tiny piece of condensation on the rim as half-full. Farmar was great all regular season but has been unbelievably bad in this series, and I have no good explanation for why.
To read the full chat, click here.

Knicks GM Donnie Walsh and new coach Mike D'Antoni talk about Stephon Marbury and how close Mark Jackson was to becoming the head coach.
ESPN radio

By Chris Silva
Special to ESPN.com
AUBURN HILLS, Mich. -- A few minutes after the Pistons had punched their sixth straight ticket to the Eastern Conference finals, rookie point guard Rodney Stuckey walked back onto the court, for an encore of sorts, to give a radio interview.
As Stuckey strolled through the tunnel wearing flip-flops and an untucked jersey, he raised a fist and flashed a wide smile to his buddy, Jordan Dumars, son of Pistons president of basketball operations Joe Dumars.
Clearly, Stuckey was feeling good about himself, and with reason.
The Pistons are winning and Stuckey is thriving.
Stuckey, the rookie out of little-known Eastern Washington, had just taken another major step in his maturation process by filling in for the injured Chauncey Billups for the second straight game. Stuckey finished with 15 points on 5 of 10 shooting to go with six assists in the Pistons' series-clinching 91-86 win over the Orlando Magic.
The Pistons committed just three turnovers and none after the first quarter on Tuesday. Stuckey, meanwhile, didn't commit a turnover in consecutive starts. Impressive?
To many, yes. But to Stuckey, he was just doing his job.
"That's why Joe Dumars drafted me," Stuckey said. "That's why I'm here. I'm not scared. That's what I'm here for. If Chauncey gets hurt I've got to be ready to be in the situations to play just like how I did tonight."
And Stuckey was here in the first place because of the Orlando Magic, who traded the Pistons a future draft pick in exchange for draft day bust Darko Milicic two seasons ago. The Pistons drafted Stuckey with the No. 15 pick in last year's draft.
After a broken left hand forced him to miss the season's first 25 games, Stuckey was put on an accelerated tutorial on how to spell, and play with, arguably the league's most talented backcourt in Billups and Richard Hamilton.
"I said that when Chauncey got hurt that maybe all the time that he [Stuckey] got over the course of the season would pay off," Pistons coach Flip Saunders said.
Saunders was spot on.
Stuckey did what he does best on Tuesday by attacking the rim, drawing contact and getting to the free-throw line, where he made 5 of 6 attempts.
But his success didn't come without some counseling from Billups, Hamilton and veteran Lindsey Hunter, who are always in the rookie's ear.
"The one thing I tell him is when we're all on the floor don't play passive to me, don't play passive to Tay [Tayshaun Prince], don't play passive to anybody out here," Hamilton said.
Stuckey must have taken that to heart, because the 6-5 guard didn't hesitate to storm the rim midway through the third quarter, despite a hulking 6-11 Dwight Howard there to meet him. Stuckey drew the foul and sank both free throws.
Stuckey has been unfazed by the pressures of the postseason, when seldom a rookie has such an impact on his team's success.
"I'm growing up everyday," said Stuckey, who earned all-rookie second team honors. "I'm learning new things every day. But when I'm out there on the court I just try not to think about it and just play."
Chris Silva is a Detroit Free Press sportswriter.