Brian Babineau/NBAE/Getty Images
Pierce's Shining Moment Comes In Duel For The Ages

BOSTON -- "This will go down in history."
The man saying those words had a look of pride, not shame, etched on his face. His eyes were looking upward, glowing really, rather than downward in disgust.
LeBron James didn't seem peeved, but rather proud to have been a part of such an epic, entertaining Game 7. He gave credit where credit was due, and on this late afternoon, when the clock seemed to turn back 20 years, James was the man speaking most earnestly when it came to heaping well-deserved praise on the opponent who had pulled off a rarity, going mano a mano against him and coming out ahead.
That man was Paul Pierce, who until Sunday was defined by what he hadn't done.
No more.
"He was well overdue for a breakout game, he played really well -- and that's why he's going to the next round and we're not," James said.
This was an afternoon that they'll be talking about through the summer here in Beantown, regardless of what the Celtics do in the next round against the Pistons, regardless of whether they make it to the Finals, regardless of whether they win or lose in the championship round.
It was a day when the two best individual talents remaining in the Eastern Conference locked horns in classic fashion, Pierce's 41 points coming up larger in the end than James' 45 as the Boston Celtics defeated the Cleveland Cavaliers 97-92 Sunday in Game 7 of their Eastern Conference semifinal series.
"Now they have something to remember in Boston other than what Dominique [Wilkins] and Larry [Bird] did. They'll remember what Paul and LeBron did," James said, referencing the shootout that took place two decades earlier -- a game that Boston coach Doc Rivers was a part of, playing point guard for the Hawks in a 118-116 loss that still haunts him to this day.
"I'm very aware of the game," Pierce said. "They don't ever let you forget it when you look up to the JumboTron."
This was a coming-out game that Pierce had been waiting an entire career to experience, a performance when Pierce made himself worthy of being mentioned in the same sentence with James, Kobe Bryant and Tim Duncan as one of the game's elite and clutch players.
Pierce did his damage from all over the court and throughout all four quarters, becoming a one-man offensive show on a day when Kevin Garnett deferred to the hotter teammate and Ray Allen disappeared again and was kept on the bench by Rivers for all but 1:39 of the fourth quarter, when this one could have gone either way.
One such teeter-totter moment came with exactly one minute remaining on the game clock, the Celtics clinging to a 91-88 lead that P.J. Brown gave them by knocking down a 17-footer with 1:21 left. (Brown was 4-for-4 with six rebounds, including 3-of-3 with five boards in the fourth quarter, in an effort that showed how important it was for Pierce to have attended the players' party at All-Star Weekend in New Orleans. It was at that party at the Convention Center where he and Garnett pulled Brown aside in the early morning hours and told him how much he'd be needed in Boston sometime around mid-May.)
The Cavs came down and missed, but the rebound was tied up between Zydrunas Ilgauskas and James Posey, and a jump ball was called.
The moment seemed endless as referee Bennett Salvatore waited and waited for both players to get set and hold still, and when he finally tossed it up, it was no surprise when Ilgauskas steered the ball toward James.
The surprise came when Pierce stepped in front of James and got to the ball first.
"That's something I tried to do all season, stealing tips. I went in there headfirst and was able to come up with it," Pierce said.
After Garnett missed a jumper, James drove the left side of the lane and tried to draw contact at the basket from Brown, who stood ramrod straight with his hands high above his head and defended the play perfectly, forcing James into an off-balance attempt that never had a chance -- while also not giving the refs an excuse to blow their whistles for a bailout call.
Two free throws by Allen made it a five-point game with 18.8 seconds left, although Sasha Pavlovic got it down to three on a jumper with 8.6 seconds left.
Pierce was fouled seven-tenths of a second later and went to the line with a chance to ice the game, his knees seeming to knock as he raised his right arm and released the first free throw.
Off the back rim it bounced, and straight up it went.
The entire arena held its breath as the ball began to come down, and the place erupted when it went through the net.
"The ghost of Red [Auerbach] was looking over us," Pierce said. "I think he kind of tapped it in the right direction, and it went through the net. That's just kind of the way it was going."
The game's most important stat: Boston grabbed nine offensive rebounds and converted them all, scoring 18 second-chance points.
James made a beeline for the locker room as the final buzzer sounded, while Pierce stayed behind to soak up the adulation. The two had gone at each other frantically all afternoon, taking time during a couple of timeouts to challenge each other, smiles on each of their faces.
"We were like: 'Who's going to give in?'" Pierce said.
"We were both trying to will our teams, and just like Dominique, I ended up on the short end," James said. "The fans came to see Paul Pierce and LeBron James play, and which guy was going to lead his team to victory, and I said, 'Let's give the fans something to remember.'"
That's what they got, and the Celtics fans got the added treat of a date in the next round with the Detroit Pistons, the winner advancing to the NBA Finals.
That matchup figures to be even tougher for the Celtics than this one was, and there's going to come a time when their 14-game body of work over the course of the first two rounds -- eight victories, all at home, and six losses, all on the road -- will leave their legs tired and their minds fried.
Still, Rivers said, it could be to the Celtics' advantage.
"We haven't been in the playoffs together, ever, and now we've won two Game 7s and two Game 5s. I'd rather have done it differently, but this has to help our team. So there's a negative side to the fatigue, but there's a positive side, too, having been through this," Rivers said.
The Eastern Conference finals will begin Tuesday night in Boston, and James will not be turning away.
Quite the contrary, in fact.
"I'm a fan of the game, and you might even see me at a few games," James said. "Detroit takes a lot of pride on the road -- even more than they do at home. It's going to be a good series, and I'm looking forward to watching it."
Spoken like a man who took no shame in being one-upped by someone who, at least on this day, was able to carry his team to victory.
Despite the loss, James seemed genuinely thrilled to have been a part of this contest. This was Pierce's day, and James seemed to appreciate being a part of it as much as anyone else.
In a way, both of them grew up Sunday. Sort of seems too bad that only one of them could win.
Chris Sheridan covers the NBA for ESPN Insider. To e-mail Chris, click here.
Playoff Dimes Past:
May 1
|
2
|
3
|
4
|
5
|
6
|
7
|
8
|
9
|
10
|
11
|
12
|
13
|
14
|
15
|
16
|
17
Even At Home, Allen Can't Find The Range

By Marc J. Spears | Special to ESPN.com
BOSTON -- If actions speak louder than words, the fact that Ray Allen didn't speak after Boston's Game 7 victory said plenty.
Allen is one of the greatest shooters in NBA history, and he averaged 17.4 points per game during the regular season. But during the Eastern Conference semifinals against the Cavaliers, the eight-time All-Star averaged only 9.3 points per game on 32.8 percent shooting from the field -- even worse, he missed 20 of 24 3-point attempts in the series. Sunday in Game 7, Allen played 29 minutes and scored only four points on 1-of-6 shooting from the field (0-for-2 on 3-point attempts).
His only plus has been an NBA postseason-best 32-of-33 performance at the free-throw line, including two critical makes with 18 seconds remaining to extend a tenuous three-point lead to five.
Allen said before the game that his confidence was strong, but that the Cavaliers had kept him from getting any space for his shots. Throughout the series, the Cavaliers smothered Allen defensively with double-teams every time he caught the ball.
So where did Cleveland get that defensive strategy? Unfortunately for Allen, it came from the Boston's Eastern Conference finals foe, the Detroit Pistons.
The good news for Allen is he will start from scratch in Game 1 against Detroit on Tuesday night. And regardless of what he didn't do against the Cavaliers, the Pistons will respect him and be worried about him breaking out of his shooting slump.
"[Allen] had a couple of open shots but they were few and far between," said Celtics coach Doc Rivers following Game 7. "They trapped him every time he had the ball. You know all he did? He made the next pass.
"I told Ray before the game, 'What happens if you don't take another shot in the entire playoffs and we win the world championship because they're going to double you? You're so valuable if that's what they're going to do, because it's going to open the floor for everybody else.' I thought Ray had no problem with it. He's going to be better."
Marc J. Spears is a regular contributor to ESPN.com and covers the Boston Celtics and the NBA for The Boston Globe.

By Brett Edgerton | ESPN Research
LeBron James had 45 points and Paul Pierce 41, marking only the second time two players each scored 40 or more points in a Game 7. The first time was in 1963, by Boston's Sam Jones and Cincinnati's Oscar Robertson (see chart below). James' and Pierce's performances were compared to the Dominique Wilkins-Larry Bird duel of May 22, 1988. Wilkins finished with 47 points, 16 in the fourth quarter, and Bird had 34, with 20 in the final period.
Two players with 35 or more points in Game 7

Date
Player
Player
Total
April 10, 1963
Sam Jones, Bos, 47
Oscar Robertson, Cin, 43
90
May 18, 2008
LeBron James, Cle, 45
Paul Pierce, Bos, 41
86
May 18,1979
George Gervin, SA, 42
Bob Dandridge, Was, 37
79
May 22, 2006
Tim Duncan, SAS, 41
Dirk Nowitzki, Dal, 37
78
April 18, 1962
Elgin Baylor, LA, 41
Jerry West, LA, 35
76
April 13, 1957
Bob Pettit, StL, 39
Tom Heinsohn, Bos, 37
76
May 18, 1997
Tim Hardaway, Mia, 38
Patrick Ewing, NY, 37
75
May 30, 1987
Larry Bird, Bos, 37
Joe Dumars, Det, 35
72

SUNDAY'S BEST
Paul Pierce, Celtics forward
: Goes for 41 points, the most memorable of which may have been his 40th point, a free throw that bounced high and in, reminiscent of
another big Game 7 shot by a Celtic.
Looks like the spirit of Red is hanging around the rim.
---

SUNDAY'S WORST
Wally Szczerbiak, Cavs forward
: Outdoes even Ray Allen for a disappearing act, going scoreless in 15 minutes of action. There had been moments in this series when it seemed Wally World wouldn't miss, averaging 12.5 ppg against his old team.
---
QUOTE OF THE NIGHT

"Today it was basically get the ball to Paul Pierce and get the hell out of the way."
-- Celtics forward Kevin Garnett, on the Game 7 hero
-- Andrew Ayres
LBJ: Room For Improvement

By Brian Windhorst
Special to ESPN.com
BOSTON -- When last season ended, LeBron James surveyed his surroundings and the situation and decided he needed to improve his game for the Cavs to win a championship. When this season ended Sunday night, his view was more personnel than personal.

After losing to the Spurs in the 2007 Finals, James felt he needed to upgrade numerous areas of his game, especially his midrange jumper. Though he had mixed results against the Celtics -- he shot just 36 percent, though he did average 26.7 points a game in the series -- he has made strides in that area and others, as this regular season showed.

He'll still have an intense summer routine, built around playing for Team USA in the Olympics. But he made it clear following the Cavs' Game 7 loss that while he's away he'll be turning up the pressure on the Cavs' front office. James said he was pleased with the results of February's massive 11-player trade that brought in four key players.

But as he looks around the league, including at the team that just eliminated them, he feels more needs to be done.

"I think what we have is very good, but we need to continue to get better, we know that," James said. "If that means some personnel changes that need to happen, then so be it. The teams around us in the league are continuing to get better."

Despite efforts in the free-agent market and with trades, the Cavs have yet to land another reliable offensive threat next to James. They also have failed to land a difference-making point guard, which James called for in the regular season when he made a public plea for the Cavs to try to trade for Jason Kidd.

Import Delonte West made some strides during the postseason and worked well with James at times. In fact, he was the only Cav on Sunday besides James to elevate his game as he scored 15 points with six assists. But West and fellow young guard Daniel Gibson are restricted free agents, and their futures with the team are a little murky at the moment.

One thing Cavs general manager Danny Ferry has been able to do, even with swapping out nearly half of his roster at midseason, is keep roster flexibility. With the exception of Ben Wallace, the Cavs are not tied down by huge long-term contracts past next season.

They will have more than $30 million in expiring contracts to barter with heading into the summer -- with Wally Szczerbiak's $13 million salary as the largest carrot -- and the stage is set for Ferry to make another impact trade. This time, perhaps, for a reliable All-Star that many feel is the team's biggest missing piece.

Expiring contracts don't always get it done in the summer, but they were a huge part of the trades that brought Kevin Garnett to the Celtics and Pau Gasol to the Lakers over the past year. The Cavs, who rank fourth in overall payroll at more than $81 million, are not expected to be players in the free-agent market.

To read the full column, click here.

By David Thorpe
Scouts Inc.
The most telling matchup of Game 7 might come down to Manu Ginobili vs. Peja Stojakovic. When Ginobili is able to knock down his long two's and 3s, he becomes a matchup nightmare because he's so adept at shot-fake moves when players have to close him out hot. And since he's great at getting to the basket and finishing, he becomes impossible to stop when his midrange jump shot is on.
Defenders can't take away both. We saw this in Game 6 -- oftentimes he's their best offensive player. The Spurs hope, of course, that he is on, so they can spread the floor and let him go to work. If Ginobili can hit his jump shots and rotate toward Parker on ball screen actions, the Hornets will be faced with the classic "pick your poison" dilemma.
If he's not on, Ginobili must find a way to contribute offensively. Layups in transition, steals converted to baskets, offensive rebounds, or just plain hustle plays that end up with him at the free-throw line. In their seven postseason wins, Ginobili is averaging 21.7 points. In their four losses, he's at 15.5. He's at his best when playing creatively and confidently, so look for Popovich to take his hands off the wheel and let him "do his thing."
Stojakovic has a similar impact for New Orleans. He really stretches the floor, drawing his defender tight and leaving Chris Paul to lead a 4-on-4 attack that heavily advantages the offense.
Bruce Bowen might be San Antonio's best help defender, so his attention to staying with Stojakovic limits his ability to shade Paul on dribble drives. Paul is too good to be slowed for long in 4-on-4 games, so ultimately help has to come from the fifth defender. This is where Stojakovic can be such a difference maker.
In their seven wins, he's averaged 17.4 points, but has averaged just 10 in their four losses. Maybe more importantly, he's made 22 3-pointers in those wins, and five in the losses. If Paul can carve up the Spurs' defense early on, using ball screens, then at some point Stojakovic will be needed to finish the deal. Energy from the crowd can carry a team far in Game 7s, so the Spurs must find Stojakovic early in New Orleans transition game, or they'll hear the deafening noise that follows a Stojakovic 3.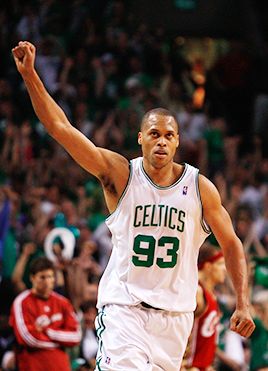 Photo by Jim Rogash/Getty Images
After the Cavs pulled within one point, P.J. Brown sank a jumper with 1:21 left that helped Boston stay in control. Brown made all four field goal attempts and both of his free throws in 20 minutes of action.
Boston rules its court

The Celtics have won two straight series (over the Hawks and Cavaliers) in which the home team won every game. Before this year there had been 18 seven-game playoff series in NBA history in which the home team won every game (most recently Miami over New Orleans in 2004), but there was only one playoff year with two such series (Portland over San Antonio and Detroit over Chicago in 1990).
• More from Elias Sports Bureau