Chris Graythen/Getty Images/NBAE
The More Things Change, the More They Stay the Same

NEW ORLEANS -- They watched Tim Duncan miss his last 10 shots. They squandered almost all of a 17-point lead in the fourth quarter. They struggled to cope with Jannero Pargo and didn't even shoot 40 percent from the field.
You hear all that and you are bound to wonder how the San Antonio Spurs managed to win the first Game 7 on the road of the Duncan Era.
Then you remember: It's the Spurs, silly.
They're getting older, true, but the upside there is that advancing age might make them even more stubborn. Too stubborn to realize how much older they're getting.
It's a theory that made as much sense as anything Monday night, when San Antonio kept grinding through every blip -- as usual -- while also hitting the Hornets with a devastating mix of smothering (and fast-changing) defenses, killer 3s sprinkled in among those many misses and copious doses of the savvy we were expecting from the defending champs in at least one of their three previous visits to New Orleans Arena.
In other words ...
The Spurs were the Spurs.
Finally.
It took until the final game and 17th day of this second-round series for the heartbroken locals to get their first glimpse of them, but the execution masters from the Alamo City duly arrived for this Game 7, snuffing out the Hornets and their storybook season with a 91-82 victory that sends San Antonio into a Western Conference finals showdown with old friends Kobe Bryant, Derek Fisher and Phil Jackson.
It was a prototypical performance from the Spurs' ugly-ball manual. It was the sort of professional clampdown that will inevitably generate widespread shrugs from folks out there that were smitten by the irresistible Chris Paul and hoping for something different: Namely CP3 dueling Kobe for a spot in the NBA Finals.
Not that the Spurs will take offense. They've come to expect a lack of appreciation for their trademark execution ... and it has to be noted that even they were shrugging.
The turnaround witnessed in Game 7 isn't nearly as blasť as the Spurs made it sound -- given how punchless they were in their three blowout losses here and how unreservedly dreadful they were in the three previous third quarters here -- but you scarcely saw a smile from a Spur when it was all over. There were few hugs or high fives or even joyful sighs of relief.
"We haven't done anything," Spurs forward Robert Horry explained. "What did we do? We didn't win a championship."
Added Tony Parker: "It's a great win, don't get me wrong. But I don't think we're going to celebrate because we're in the conference finals."
Perhaps not. Yet you could nonetheless argue that the victory -- essentially sealed by a huge late jumper from Parker after Jannero Pargo missed a potential game-tying triple from the corner -- was among the most significant in franchise history.
After all ...
It has taken the Spurs further than ever before in their chase for back-to-back titles. Team Duncan didn't get out of the second round in each of its previous three attempts to repeat as champions.
The win also sealed the Spurs' first-ever comebacks from series deficits of 2-0 and 3-2 ... and established them as just the 21st team in league history out of 100 to win a Game 7 on the road ... and most importantly put them in the NBA's Final Four opposite a team which actually presents fewer unfavorable matchups than the Hornets did.
I suppose some of you will want to debate that point about the Lakers, but you can consider the Hornets convinced. On so many fronts, they were shell-shocked.
The Spurs made only 30 baskets, but 12 of them were 3-pointers, resulting in a decisive 36-12 advantage when New Orleans could manage only four 3s in response.
The three days off between games might have helped the ailing David West (20 points, nine rebounds) and Tyson Chandler (13 points, 15 boards) heal, but it also charged the Spurs with some crucial energy. That led to 51 rebounds for the visitors, including 13 on the offensive end and five of those in a mere seven minutes from Kurt Thomas.
The Hornets found trouble everywhere, really. They erased San Antonio's first double-digit lead (36-25), only for the Spurs to scramble it back up to nine at the half thanks to a trademark flurry from Manu Ginobili (26 points). They watched Duncan trudge to the bench with his fourth foul with 4:41 to go in the third quarter, only for San Antonio to expand the lead to its peak (71-54) while Duncan was watching helplessly. They slumped when the Spurs kept making their free throws (19-for-21) and had trouble keeping up when San Antonio's Gregg Popovich -- at his best when it mattered most -- started changing his pick-and-roll coverages more often than most coaches, switching things up every few minutes and then shifting Bruce Bowen onto Pargo late.
Even when New Orleans found something, like Pargo erupting for 16 points in the fourth quarter, there was a downside. Pargo taking 13 of the Hornets' 23 shots in the final period meant that the ball, for long stretches, was not in Paul's hands. Which San Antonio naturally didn't mind on a night that Duncan (16 points, 14 boards) started 5-for-7 from the floor and finished 0-for-10.
The Hornets, though, always knew this was a possibility. It was just a few days, before Game 6, that Byron Scott said he ranks the Duncan-era Spurs with "us, Boston and Chicago," referring to Scott's old Lakers teams along with the Larry Bird Celtics and Michael Jordan Bulls. Scott went on to bill San Antonio as "the team of the decade" and openly admits that the Spurs are "what we're trying to emulate."
Said Popovich, responding to one reporter's conclusion that experience had trumped exuberance at the most telling time: "There are no correct answers to that question. They're great questions, but no one will ever know. If New Orleans had won tonight, you'd say it was because of their youth and their athleticism and their fire and all that sort of stuff ... and we would be too old. But since we won, then our experience did it. Who knows? We just played a very good defensive game tonight."
They simply played the Spurs' game, no one more so than Horry. Vilified for his back pick that rattled West's back Thursday night, Horry was suddenly Big Shot Rob again, forgetting that he had made just one 3-pointer in the first six games of this series by draining a couple of 3s and skying for a few emphatic rebounds in 14-plus solid minutes.
It might have been just the third Game 7 of Duncan's career and the first roadie of the three, but Horry is now 7-2 in Game 7s, still alive in the quest for his eighth ring in 16 seasons.
"A lot of times people think that since there's no high flyers on this team and that there's no dunks, people think we're old and we can't play," Horry said.
Old?
Yes.
Too stubborn to lose their confidence after three lopsided losses in the same building?
Ditto.
The Spurs were so unflappable, even in their bad stretches, that it hardly seemed like a Game 7 to them.
"Not really, to be honest with you," Parker said. "We felt like we were in control the whole way."
Marc Stein is the senior NBA writer for ESPN.com. To e-mail him, click here.
Playoff Dimes Past:
May 3
|
4
|
5
|
6
|
7
|
8
|
9
|
10
|
11
|
12
|
13
|
14
|
15
|
16
|
17
|
19
Cold-Shooting Hornets Falter In Game 7

By John Hollinger | ESPN.com
NEW ORLEANS -- David West grimaced, raced out to Robert Horry at the 3-point line and leaped with his hand up. Then he turned, watched the ball go through the net, and rolled his eyes up at the sky.
It was yet another 3-pointer by the Spurs, this one putting them up by 15 late in the third quarter. And on a night when the Hornets enjoyed a massive advantage in points in the paint (46-18), second-chance points (15-6) and fast-break points (13-2), those 12 San Antonio triples made the difference in a 91-82 Game 7 win over New Orleans. The first road win by either team in the series, it sends San Antonio to the conference finals against the Lakers. Game 1 is Wednesday in Los Angeles.
While the 3-pointers gave San Antonio the advantage, it was the third quarter that again proved pivotal. In a series dominated by third-quarter explosions, it was the Hornets' lack of one that was their undoing.
To read the full column, click here.
No Relief Off the Pine For New Orleans

By John Hollinger | ESPN.com
NEW ORLEANS -- A 16-point fourth-quarter explosion by Jannero Pargo nearly led the Hornets to an improbable comeback from 17 down in the Hornets' 91-82 Game 7 loss to San Antonio on Monday. He scored all 10 points in a 10-2 Hornets run that got them within three and then just missed on a 3-point attempt that could have tied it.
While Pargo's play energized a moribund offense, it was also notable for its rarity in this series. The fact that the Hornets finally got some production from the second unit underscored a nagging question -- namely, where the heck had the bench been all this time?
Even on this night, the Hornets got shockingly little from the subs. While Pargo snapped out of a series-long shooting slump with his late burst, only two other Hornets got off the pine, and they combined for just one point. Overall, the bench was 6-for-19 from the floor with just one assist.
To read the full column, click here.

MONDAY'S BEST
Manu Ginobili, Spurs guard
: Although he didn't shoot well from the field (6-for-19), he was the best player on the floor for the defending champs, tallying 26 points, 5 rebounds and 5 assists.
---

MONDAY'S WORST
Peja Stojakovic, Hornets forward
: The 3-point specialist connected on just 1-of-5 from deep and 3-of-11 overall en route to posting seven points. Talk about a bad time for a shooting slump.
---
QUOTE OF THE NIGHT

"You don't go from not making the playoffs to winning a championship. It just doesn't work that way. ... We're headed in the right direction."
-- Hornets coach Byron Scott on his team taking a huge step this season toward winning a title
-- Maurice Brooks
San Antonio 4, New Orleans 3
Scouts Inc.: Pistons vs. Celtics

By David Thorpe
Scouts Inc.
This is the matchup in the Eastern Conference finals that was anticipated when the playoffs began. Although the Celtics were pushed to the limit in both series and the Pistons had some speed bumps and injuries along the way, both teams are right where they were expected to be.
No matter how up and down each team might have been at times in the first two rounds, the important factor to consider is that at the critical moments in each series, both teams held true to form -- with tough team defense and clutch offense from their best players.
Expect this series to mirror the three regular-season games they played -- tough, physical, half-court slugfests that were close in the fourth quarter. Detroit won in Boston on Dec. 19 87-85, then the Celtics won in Detroit on Jan. 5 92-85. On March 5, Boston won at home 90-78 to take the season series.
The NBA's two best half-court defenses have been just that in the playoffs -- Boston has held opponents to 86 points per game on 40 percent shooting, while the Pistons have given up 87 points per game on 44 percent shooting. Both defenses have been suffocating in the half court, and have gotten lockdowns on key players during the most critical possessions of games.
• See the full East finals series preview
On the Outside Looking In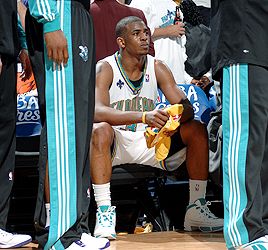 Noah Graham/NBAE/Getty
In a series in which the total score for both teams was 645-645, Chris Paul and the Hornets came up short at home in Game 7.

Richard Hamilton and his Detroit teammates watched Game 7 of Celtics-Cavs together. It was like watching NCAA Selection Sunday, waiting to see who you're going to play.
ESPN radio
Lindsey No Longer A Candidate

By Marc Stein
ESPN.com
NEW ORLEANS -- The Atlanta Hawks' search for a new general manager lost perhaps its most prominent target Monday when San Antonio Spurs assistant general manager Dennis Lindsey withdrew his name from contention.
Lindsey is in his first full season in San Antonio after spending 11 seasons with the Houston Rockets and has been reluctant to entertain outside interest after just 11 months with his new team in a new city. He was also pursued by the Milwaukee Bucks late in the regular season before the Bucks hired longtime Detroit Pistons executive John Hammond as their new front-office chief.
ESPN.com reported Friday that the Hawks had established an initial list of four candidates in their search to replace outgoing general manager Billy Knight. They are Portland Trail Blazers personnel scout John Gabriel, Washington Wizards vice president of basketball administration Tommy Sheppard and Boston Celtics assistant general manager Dave Wohl, in addition to Lindsey.
"Mr. Gearon has been terrific throughout the whole process and I greatly appreciate the Hawks' interest," Lindsey said Monday, referring to Hawks part-owner Michael Gearon Jr.
"Because of family considerations and professional considerations, I've decided to stay in San Antonio."
Lindsey is widely considered future GM material after his long stint with the Rockets and his move to San Antonio as the top aide to Spurs senior vice president/general manager R.C. Buford.
After winning three championships in the past five seasons, San Antonio has been repeatedly raided for executives in recent years. The Spurs moved in quickly for Lindsey last June after Seattle (Sam Presti) and Cleveland (Danny Ferry) had hired away two of Buford's more recent assistants.
Sources close to the process say that Knight -- widely expected to be fired after the Hawks were eliminated from the playoffs -- actually had the opportunity to stay with the Hawks on a one-year contract. But Knight elected to step down effective July 1 and is reportedly a candidate in New York to work alongside new Knicks president Donnie Walsh.
The fast-rising Sheppard -- who works as a lead assistant to Wizards president Ernie Grunfeld and was a finalist in Seattle for the job that went to Presti -- is also believed to be a candidate in New York.
Marc Stein is the senior NBA writer for ESPN.com. To e-mail him, click here.