Jeff Gross/Getty Images/NBAE
As Usual, Kobe Stars In Hollywood Drama

LOS ANGELES -- Maybe Kobe Bryant just wanted to offer the Spurs a fair chance, like giving the outside lanes the staggered start on a 400-meter race.
The Spurs spent Monday night stuck on a grounded airplane after eliminating the Hornets in Game 7, and Wednesday night Bryant spent all but the final 89 seconds of the first half stuck on zero points.
He took five shots and scored four points through the first 2½ quarters, and the Lakers -- the highest-scoring team in the playoffs -- had only 45 points.
There you go, Spurs. A 20-point lead. Sorry you had to sleep on a 727, but maybe that'll make it up to you. Now, if you don't mind, I'm going to score 23 points in the next 17½ minutes, and we're going to come back and win Game 1 of the Western Conference finals 89-85.
Bryant made it look and sound just that easy -- it was a matter of doing what he wanted, when he chose to.
"Just had to pick up the game and get something going," he said afterward, casually. "That was my thinking.
"I knew I could make a push and once I made that push, it felt like it energized us a little bit, get the game back under control, get it under 10 where we knew we could be in striking distance. I just tried to read the flow of the game and tried to manage the game. I can get off at any time. In the second half I did that."
The game played out in a manner that fit the pregame scenario. The still-in-a-rhythm Spurs came out sharper at the start. The Lakers, coming off four days of rest, had more energy at the end. It's just the extreme nature of the swings that seemed so unusual.
Bryant's devotion to teamwork reached the point that it was detrimental to the Lakers. Phil Jackson joked in an in-game interview that he "thought Kobe went on vacation," and he said afterward that, "He was doing some things good, but it had gotten us out of the rhythm during the course of the first half."
Bryant did have five assists at halftime, but it wasn't doing the Lakers much good. The Lakers might benefit from his sharing the ball, but the Staples Center crowd craves Bryant's scoring explosions. You're much more likely to hear cries of "Come on, Kobe!" than "Go Lakers" or "Defense!"
Bryant insisted he was "just managing the game."
"Defensively is where we slipped," he said. "I've had games or halves when I've done that and we had a 15-point lead."
Sounding a little sensitive to how he'll be criticized equally for shooting too much or too little, he said if the Lakers hadn't played better defense to accompany his late scoring burst, "Everybody would be talking about I shot us out of the game. Defense is where it gets down."
The main thing the Lakers can take from this game is their defensive stops down the stretch -- something they had yet to prove they could do regularly in the playoffs.
The Lakers don't want to get in a habit of falling behind by 20, especially when the series goes to San Antonio. But there are a few things that aren't likely to repeat too often in this series, noticeably a 1-for-9 shooting night by Fisher (who was shooting 51 percent in the playoffs) and single digits across the board for Lamar Odom (he was averaging a double-double). So they're in great shape for the rest of this series.
Spurs coach Gregg Popovich didn't see anything out of the ordinary for the first two quarters.
"Kobe was doing the trust-his-teammates thing in the first half," Popovich said. "He was checking it all out to see where his territory was going to be. And the second half he went to work."
The interesting thing was that Bryant didn't try to erase the entire 20-point lead on his own.
He kept going to his teammates, including three times when he went up for a jumper but wound up zipping the ball to Pau Gasol at the rim for layups and tap-ins.
And right after Odom missed a fast-break layup that could have tied the score, Bryant came down and gave him another chance. He threw the ball to Odom on the right block, then held out his left hand to keep his teammates in their places and let Odom go one-on-one. Odom backed down Michael Finley and made an awkward, twisting shot that bounced in.
So the Lakers experimented, stumbled, believed and prevailed. It wound up being the Lakers' largest playoff comeback since Game 4 of the 2002 Western Conference finals against Sacramento. You know, the one that ended like this. The one edge San Antonio had coming in was experience, but the Lakers just gained some.
"We are growing into the team we need to be," Fisher said.
Sorry, Spurs. Can't say you didn't have your chance.
J.A. Adande is the author of "The Best Los Angeles Sports Arguments." He joined ESPN.com as an NBA columnist in August 2007 after 10 years with the Los Angeles Times. Click here to e-mail J.A.
Playoff Dimes Past:
May 5
|
6
|
7
|
8
|
9
|
10
|
11
|
12
|
13
|
14
|
15
|
16
|
17
|
19
|
20
|
21
Spurs Refuse To Play Blame Game

By Marc Stein | ESPN.com
LOS ANGELES -- The Spurs typically refused to blame their fall-from-ahead Game 1 loss on the faulty plane that forced them to spend several hours after their Game 7 victory Monday in New Orleans on the runway waiting for the repairs that could get them here.
Manu Ginobili, furthermore, refused to blame his 3-for-13 shooting struggles in Game 1 on the fingernail on his shooting hand that was apparently torn off Wednesday night ... or the ankle injury that's been bothering him for a while.
"I have a couple issues, but nothing that bad that can justify the way I played today," Ginobili said.
"The hand is all right. It's just a nail. My ankle is bothering me, [but] I don't want to talk about that. That's not the reason I played so bad."
The Spurs can only hope. The schedule for this series certainly won't provide many opportunities to heal up, as Lakers coach Phil Jackson noted beforehand.
"Where we are playing every other day," Jackson said, "I think [L.A.'s lengthy rest after eliminating Utah] is going to work to our advantage, because we'll have a little reserve to work from."
This much we know for certain: San Antonio will no longer use the charter company that it's been flying all season. Champion Air was already scheduled to cease its operations at month's end, but the Spurs have begun making alternate arrangements for their trip home Friday night after Game 2.
"So we stayed on the plane -- big deal," Spurs coach Gregg Popovich said, clearly growing weary of discussing a subject that he initially referred to as "the plane debacle."
San Antonio's players and staffers were forced to try to sleep on the team plane because there was no hotel in New Orleans that could accommodate them at such a late hour. But as Spurs guard Brent Barry said, "We weren't roughing it by any stretch."
Another subject Popovich has quickly grown weary of addressing is his initial reaction to the Lakers' Feb. 1 acquisition of Pau Gasol from Memphis, when he suggested that a league committee should be formed to prevent such lopsided deals.
"It was a joke," Popovich said during his pregame media session Wednesday. "You've got to have a life. I made a joke about it. I wasn't upset about it. I just made a joke."
Tim Duncan then went out and routinely abused Gasol's one-on-one coverage before L.A. eventually mixed in some intermittent double-teams which helped hold San Antonio to just 13 points -- and no assists -- in the fourth quarter.
The Lakers' comeback from 20 points down to take the series opener prompted guard Derek Fisher -- still known as Mr. Point Four in the Alamo City for the shot he threw in at the buzzer to beat the Spurs in Game 5 of the teams' second-round matchup in 2004 -- to offer this disarming reminder: "There is no script to an NBA basketball game."
Marc Stein is the senior NBA writer for ESPN.com. To e-mail him, click here.
Duncan Schools Gasol In Loss

By J.A. Adande | ESPN.com
LOS ANGELES -- On the first day the Lakers really needed Andrew Bynum, he was on the other side of the country, recovering from arthroscopic surgery on his knee earlier Wednesday.
Bynum is eligible for a contract extension this summer, and after the Lakers have rolled on without him, he might want to send them a DVD of Game 1 of the Western Conference finals to remind them of what they're missing.
Things were a lot different from the last time the Lakers played the Spurs. In their final regular-season meeting, Pau Gasol convinced Phil Jackson to give him an extended run at guarding Tim Duncan solo. You wouldn't ask Gasol to be the bouncer at your nightclub, but his long arms can serve as a deterrent -- or maybe just a distraction -- to Duncan. At least they did on that day, when Duncan shot 6-for-19.
It didn't work out that way for the Lakers on Wednesday. The Lakers stuck to their old policy of waiting until the fourth quarter to double-team Duncan, and he had his way with Gasol and his teammates for most of the night, finishing with 30 points on 12-for-25 shooting, plus 18 rebounds.
"He was consistent during the game and he was able to feel a little too comfortable, I think," Gasol said. "Hopefully next time I will give him a little more trouble, make him put the ball on the floor a little more. Don't let him take that easy jumper."
It will all depend on Gasol, because Bynum won't be back in a Lakers jersey until training camp.

WEDNESDAY'S BEST
Kobe Bryant, Lakers guard
: It was another typical night at the office for KB24 -- team highs in points (27) and assists (9) and the game-winning bucket with 23.9 seconds left to play.
---

WEDNESDAY'S WORST
Manu Ginobili, Spurs guard
: Maybe the super sub would feel more comfortable coming off the bench instead of starting like he did in Game 1. He went just 3-for-13 from the field for 10 points and tied for the team high in turnovers with four.
---
QUOTE OF THE NIGHT

"I thought Kobe went on vacation. I thought he went to Bermuda or somewhere. Maybe he went to the Bermuda Triangle instead of the sideline triangle. But we got him back this quarter."
-- Lakers coach Phil Jackson (speaking on TNT after the third quarter) on Kobe Bryant, who scored just two points in the first half but finished with 27
• See Wednesday's daily leaders
-- Maurice Brooks
Postseason Pain For Spurs

By Marc Stein | ESPN.com
LOS ANGELES -- The "plane debacle," as Gregg Popovich calls it, must now be followed by the plain truth.
This is the first time this week that Popovich and his San Antonio Spurs know real misery.
How miserable?
For the first time in these playoffs, San Antonio has an inkling of how Phoenix felt after the very first game of these playoffs.
There was no singular dagger plunged in late Wednesday by Kobe Bryant or anyone else in gold and purple that can compare to the triple hit by Tim Duncan in Round 1 to emotionally slay the Suns.
This, rather, was a form of gradual torture inflicted by Bryant and the Los Angeles Lakers' increasingly sticky defense, making the travel trouble that San Antonio had getting to the Western Conference finals seem almost pleasurable by comparison ... and instantly leading you to wonder about the Spurs' capacity to rebound.
Folding NBA-sized limbs into airplane seats -- even cushy airplane seats -- and spending the night on the grounded team jet is a full-fledged traumatic episode in this pampered universe. Yet none of that comes anywhere close to the sort of discomfort San Antonio found when it finally made it to the Staples Center, where the Spurs crashed from 20 points up with more than half of the third quarter gone to a crushing 89-85 defeat in Game 1.
"Hurts like hell," Popovich admitted.
That's the same guy known for aggressively downplaying his team's grandest successes and revealing little to nothing between grunts when the Spurs lose. On this night, though, not even Pop would try to soften the blow absorbed by his defending champs, who had responded to the disorienting journey that followed their Game 7 triumph Monday in New Orleans with almost 30 minutes of near-flawless basketball.
Which only wound up making the ending considerably more painful.
From a lead of 65-45 with about 5½ minutes to go in the third quarter -- with Duncan outscoring Bryant by a tidy count of 20-4 at that point -- San Antonio uncharacteristically couldn't finish. The Spurs couldn't hold a lead that realistically should have been big enough to withstand L.A.'s inevitable run and the Spurs' equally expected fourth-quarter fatigue, all of which adds up to the larger failure to capitalize on Bryant's way-too-passive start.
Popovich saw it as Bryant "doing a trust-his-teammates thing" in a first half in which No. 24 scored just two points and took only three shots. You could only assume that Kobe was trying to get every other Laker into the series as quickly as possible. But Bryant actually angered his own coach with the unselfishness, prompting Phil Jackson to tell TNT's Craig Sager during Jackson's mandatory in-game interview that "Kobe went on vacation ... to the Bermuda Triangle instead of the sideline triangle."
Which, again, only saddled San Antonio with more regret.
To read Stein's full column, click here.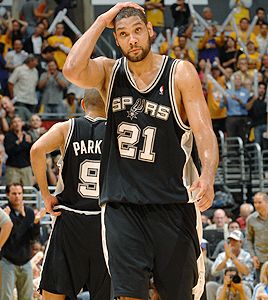 Noah Graham/NBAE/Getty
After blowing a 20-point lead in the second half, Tim Duncan and the Spurs were left scratching their heads Wednesday night.
Mike & Mike In the Morning

Hubie Brown gives us his take on the Michael Beasley vs. Derrick Rose debate, as well as the breakdown of the conference finals and the Celtics' Game 1 victory.
ESPN Radio

The Spurs led by 20 points with 5:32 left in the third quarter, but the Lakers ended the period on a 20-7 run to get back into the game. With the win, the Lakers now have the second-largest second-half comeback in a playoff game dating back to the 1998 postseason.
Los Angeles stuns San Antonio

Year and Team
Opponent
Deficit
Won by
2002 Celtics
Nets
26
4
2008 Lakers
Spurs
20
4
2007 Pistons
Bulls
19
7
-- Michael E. Jackson | ESPN Research