Noah Graham/NBAE/Getty Images
Odom Provides Just What the Lakers Need

LOS ANGELES -- We hear so much about the maturation of Kobe Bryant that we forget about the transformation of Lamar Odom.
It's no coincidence that Odom's return to the standards he set for the past three months in Game 2 came as the Lakers looked like the best team in the Western Conference again, easily dismissing the San Antonio Spurs, 101-71.
People look at Odom's rare combination of 6-foot-10 height and Rucker Park handle and tend to talk in terms of what he doesn't do. Why doesn't he average a triple-double? How come he's never made the All-Star team?
In reality it's hard to think of him as an underachiever. He came from "East Nowhere," and whenever he tried to move up he lost a mother, a grandmother and a baby son. Yet he still continues on, when the cumulative effect of all that pain could cause a normal man to crawl into a hole.
Here he is, not only surviving but flourishing, two victories away from his first trip to the NBA Finals, as important a part of the Lakers success story as anyone.
It's all a credit to his ability to adapt. Four years ago he was the hub of the offense in Miami. When he first got to the Lakers three years ago he struggled to fit his game alongside Kobe Bryant's. Then he was miscast as the Scottie Pippen type when Phil Jackson returned.
Now, after the February arrival of Pau Gasol, he's found his perfect role as the team's third option, even though we're much bigger on duos than trios.
We don't show the DJ the same love as the MCs. We give credit to Lone Ranger's Tonto, but how many celebrated third men are there? We held this discussion at a local radio station where I pitch in and the best comparison we could come up with for Odom is Alfred, the butler at stately Wayne Manor and behind-the-scenes helper to Batman and Robin.
Playing with Gasol in the second half of the season we found out that this is a role that fits Odom perfectly. Just look at how his averages went up: 13.2 points per game to 15.8, 9.9 rebounds to 11.9, 0.6 blocks to 1.2 and 48 percent shooting to 59 percent.
"That's the key to my game, is versatility," Odom said. "And versatile players tend to change their games as their team goes along, and my team has blossomed.
"We have great players. And I just try to fit a role and find my niche and find my lane."
Friday night the Lakers needed him to find his way to the basket. Coming off his second-worst game of the playoffs, in which the Lakers won almost in spite of his eight points and eight rebounds, Odom was 1-for-3 in the first quarter of Game 2.
He wasn't playing with enough energy, Jackson said, so during a timeout his teammates told him he had to go harder to the hoop. "And he did, and he started going with much more determination," Jackson said.
In the third quarter, when the Lakers busted out to an 18-point lead, Odom made four of five shots and three of four free throws, giving him 11 points in the quarter to go with five rebounds. He was throwing down dunks and hitting the open jumper, and he blocked three shots. This was the best-case scenario, people always envisioned.
"I was feeding off my teammates," Odom said. "I was catching the ball, getting scoring position, trying to be as aggressive as possible. You know, finishing plays."
He wound up with 20 points, 12 rebounds and four blocked shots -- and that was with his playing time truncated. The Lakers had such a comfortable lead in the fourth quarter that his services were needed for only three more minutes.
He spent some time guarding Tim Duncan too.
Friday night Odom gave the Lakers more than Gasol did, making him change roles again and play the No. 2 behind Bryant. Now we know it doesn't really matter where you slot Odom because he'll eventually find a way to make it work.
J.A. Adande is an ESPN.com senior writer and the author of "The Best Los Angeles Sports Arguments." Click here to e-mail J.A.
Playoff Dimes Past:
May 8
|
9
|
10
|
11
|
12
|
13
|
14
|
15
|
16
|
17
|
19
|
20
|
21
|
22
|
23
Spurs Heading Home Facing Big Deficit

By Marc Stein | ESPN.com
LOS ANGELES -- You could still make the claim late Friday night, as they slinked wearily out of the Staples Center after a 30-point beatdown, that the NBA's defending champions remain closer to back-to-back titles than they've ever been.
However ...
You'd be relying heavily on a technicality to sell that one.
It's undeniably true that this is the first time in the San Antonio Spurs' four attempts to follow a parade with another parade that they've taken their repeat bid past the second round. Yet even the Spurs, rather suddenly, acknowledge that they barely qualify as participants in the Western Conference finals.
"We're going home and one of two things is going to happen," Spurs forward Tim Duncan said, clearly rocked by the 101-71 rout that the Los Angeles Lakers had just inflicted.
"Either we're going to turn it around and make this thing into a series," Duncan continued, "or we're not."
The Spurs' famously stoic cornerstone forward, like a lot of us, was expecting that about-face in this Game 2. More than once Thursday, as San Antonio soaked in the 20-point lead it squandered in the final quarter-plus of Game 1, Duncan announced -- in fairly racy terms by the standards of his public persona -- how "pissed off" the Spurs were about their uncharacteristic failure to finish off the opener.
The problem? They couldn't stay close enough in the rematch to muster any sort of convincing postgame fury. The Spurs surrendered the final nine points of the first half to snap a 37-37 tie and promptly capitulated, looking increasingly weary and befuddled in the second half ... and making Spurs' coach Gregg Popovich wish he had heeded the voices inside telling him to impose a full night's rest on the hobbled Manu Ginobili.
To read the full Stein column, click here.
For the Lakers, It's A Case Of the Rich Getting Richer

By J.A. Adande | ESPN.com
LOS ANGELES -- Just what the Spurs needed: The Lakers just got a little more athletic.
Trevor Ariza played for the first time since he broke a bone in his right foot on Jan. 20, entering the game with six minutes left in the Lakers' blowout of San Antonio.
Ariza gives the Lakers a swift 6-foot-8 forward who can guard a variety of positions.
"How he is going to help us is yet to be determined," Jackson said. "His energy out there, his ability out there is always nice to have that kind of speed and quickness."
From the way Lakers fans have been wondering about his progress and clamoring for his return, you'd think he would be as important an addition as Pau Gasol. Their questions, if not prayers, have finally been answered. He was greeted with an ovation that rivaled the cheer for Hall of Famer James Worthy when he brought out the ceremonial game ball before tip-off.
Ariza wasn't one to have great expectations.
"I only played six minutes," he said. "I haven't really been in the thick of things. It felt good to be out there, it felt good to be back on the court."
The Spurs are the team that could use a little boost right now. They're looking older and slower by the minute. From the time the Lakers trailed 65-45 with 5:39 in the third quarter of Game 1 until the 5:39 mark in the third quarter of Game 2 -- 48 minutes of basketball -- the Lakers outscored the Spurs 110-68. The total score since the Game 1 comeback began is 145-95.
J.A. Adande is an ESPN.com senior writer and the author of "The Best Los Angeles Sports Arguments." Click here to e-mail J.A.
By Maurice Brooks
ESPN.com

FRIDAY'S BEST
Lamar Odom, Lakers forward
: He reminded everybody watching why he is one of the most versatile players in the league, dropping in 20 points on 7-for-10 shooting, while grabbing 12 rebounds, blocking four shots and giving out two assists.
---

FRIDAY'S WORST
Manu Ginobili, Spurs guard
: For the second straight game, he has said that his injuries aren't a concern, but for the second straight game he finds himself in the same spot on this box. San Antonio needs him to get his act together in a hurry.
---
QUOTE OF THE NIGHT

"We're confident we're a very good home team, but you hate to put yourself in a position where you're down 0-2."
-- Spurs forward Tim Duncan talking about whether or not San Antonio can get back in the series
Lakers Heat Up After Halftime
The Lakers followed up their Game 1 win with a blowout Friday, 101-71 over the Spurs. The teams were tied 37-all late in the first half, but the Lakers outscored the Spurs, 51-23, over the next 18:56 of playing time. Tim Duncan and Tony Parker were held to two points each during the Lakers' surge.
• More from Elias Sports Bureau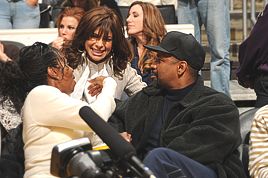 Andrew D. Bernstein/NBAE/Getty
Lakers' fans such as Paula Abdul and Denzel Washington had plenty of reasons to smile as Los Angeles blew out San Antonio in Game 2.

Former Mavericks coach Avery Johnson confirms that he is interested in the Bulls' coaching vacancy with Tom Waddle and Marc Silverman.
ESPN Radio

By Marc Stein
ESPN.com
The Atlanta Hawks, according to NBA front-office sources, have narrowed their search for a new general manager to a single contender.
Sources told ESPN.com on Friday that Cleveland Cavaliers assistant general manager Chris Grant -- who worked under Pete Babcock and Billy Knight in the Hawks' front office before moving to Cleveland -- is the only candidate Atlanta is presently speaking with as it seeks to replace Knight.
Contract negotiations between Grant and the Hawks began this week, sources said, after San Antonio Spurs assistant GM Dennis Lindsey withdrew his name from consideration Monday. It's apparently up to Grant, at this point, whether he wants to make the leap from one of the most stable franchises in the Eastern Conference to a team that just halted the league's longest playoff drought (eight seasons) and is known for feuding factions in its crowded ownership group.
The other main candidates Atlanta has considered, in addition to Grant and Lindsey, are Boston Celtics assistant GM Dave Wohl, Washington Wizards vice president of basketball administration Tommy Sheppard and Portland Trail Blazers personnel scout John Gabriel, formerly GM of the Orlando Magic.
Lindsey cited "family considerations and professional considerations" for pulling out. In his first full season with the Spurs after spending 11 seasons in Houston's front office, Lindsey has been reluctant to entertain outside interest, previously resisting overtures from the Milwaukee Bucks late in the regular season before the Bucks hired longtime Detroit Pistons executive John Hammond as their new front-office chief.
Lindsey is widely considered future GM material after his long stint with the Rockets and his move to San Antonio as a top aide to Spurs personnel chief R.C. Buford. Various members of Buford's staff, most notably Cleveland's Danny Ferry and Seattle's Sam Presti, have been sought to run other teams after the Spurs' run of three championships in the past five years.
The fast-rising Sheppard, who works as a lead assistant to Wizards president Ernie Grunfeld, is also considered a likely future GM. Besides his talks with the Hawks, Sheppard was a finalist in Seattle for the job that went to Presti in 2007.
Marc Stein is the senior NBA writer for ESPN.com. To e-mail him, click here.