Allen Einstein/NBAE/Getty Images
For One Game, Celtics Make Road Playoff Woes Disappear

AUBURN HILLS, Mich. -- A public relations staffer hunted down Celtics owner Wyc Grousbeck at halftime and handed him a box score, to which Grousbeck replied: "Are you gonna bring me one like this when it's a final?"
An 18-point lead wasn't enough to make the Celtics' big money man satisfied, although gratification would come just a little later in the evening.
Ending a road losing streak that encapsulated all six of their previous postseason away games, the Celtics rode an energetic start and a bench-fueled second-quarter rally to a 94-80 victory Saturday night over the Detroit Pistons to take a 2-1 lead in their best-of-seven series.
It was the Celtics' first road victory of any kind since April 14 in New York. Paul Pierce had mentioned the Celtics badly needed to get the monkey off their backs.
What a monkey it was.
"More like a gorilla," Pierce said. "But the whole time throughout this, we didn't feel like we hadn't won a road game. I told the guys beforehand: We were the best road team in the NBA, and everything that happened before is behind us."
And when the ball went up, the Celtics played as though they were looking ahead instead of behind.
The first possession ended in a dunk by Kevin Garnett. The second ended in a dunk by Kendrick Perkins. Less than three minutes in, the Celtics were ahead 11-0 and had the Pistons on their heels.
Yes, Detroit rallied. But those rallies didn't have a lot of juice, and the Pistons were left wondering whether to blame themselves or give credit where it was due -- and the credit belonged to the Celtics for taking the fight to the Pistons right from the get-go.
"What these first three games have shown is that the team that comes out aggressive and sustains that aggression over 48 minutes is going to win the game," Pistons coach Flip Saunders said. "We had a lot of energy sucked out of us from missing shots and not scoring, and we had trouble getting our defense set in transition."
Not only that, but they had trouble -- oh, let's just go ahead and say they failed miserably -- getting off any kind of a good shot on those few occasions in the second half when they made their brief runs. The last of those came when Tayshaun Prince had a dunk in transition to make it 87-78 with 3:05 remaining, and Garnett missed a 12-foot turnaround on Boston's next possession.
The stands already had large swatches of empty seats -- many fans actually booed the Pistons several times during the course of the evening -- by then. Those who remained, though, rose in unison as the Pistons came downcourt with 2:45 remaining and a chance to pull within seven or six. Instead, Chauncey Billups made an ill-advised pass off James Posey's leg, and Garnett picked up the loose ball. The Celtics then grabbed one of their six offensive rebounds of the fourth quarter (Detroit had none), Garnett made a foul shot to restore the double-digit lead and the Pistons' final threat was over.
"They have home-court back, and our game that we're going to play Monday is a crucial game for us. No ifs, ands or buts, that's our biggest game of the year," Saunders said.
The last time Saunders said anything similar, the Pistons were down 2-1 to the Philadelphia 76ers and were trailing by double digits at halftime of Game 4. The urgency of the situation hit the Pistons as they sat in the locker room in Philly that evening, and they've been a fairly well-oiled machine ever since.
Until now.
"It's very disappointing," Billups said. "We had it where we wanted, but the game is over and we have to refocus on the big game Monday night."
Detroit's lack of aggression coming out of the gate is a problem teamwide, but individually ominous signs exist, too. Billups, apparently still hampered by his injured hamstring, made only 1 of 5 shots and scored six points, and Prince was a brutal 2-for-11. Saunders seems to be falling more and more in love with backup playmaker Rodney Stuckey, but he, too, could not get the offense in gear for a quality possession each and every time the Pistons had a chance to make a sustained run and get the crowd behind them.
As it was, the loudest cheers of the night were for the Red Wings (4-0 victors over Pittsburgh in Game 1 of the Stanley Cup finals) and the Tigers (19-3 winners over the Minnesota Twins).
"Scoring 25 in the first quarter, I thought that gave our guys a lot of confidence," Boston coach Doc Rivers said. "The offensive ball movement was terrific all night. We play like that every night, and we like our chances."
But what turned the game decisively in Boston's favor was a stretch late in the second quarter when the Celtics scored on 10 consecutive possessions to turn a 33-27 edge into a 50-32 lead at the half.
That's when Grousbeck was handed the sheet of paper that broke down the first 24 minutes -- and that's also when Grousbeck let his PR assistant know that he'd be happiest if a similar-looking box score came his way at the end of the night.
It did, and a series that could have swung strongly in the Pistons' favor had gone the Celtics' way instead.
No word yet on whether that PR staffer earned a raise by bringing the boss the box score he requested.
Chris Sheridan covers the NBA for ESPN Insider. To e-mail Chris, click here.
Playoff Dimes Past:
May 9
|
10
|
11
|
12
|
13
|
14
|
15
|
16
|
17
|
19
|
20
|
21
|
22
|
23
|
24
Celtics Got Much-Needed Relief Off Bench

By Marc J. Spears | Special to ESPN.com
AUBURN HILLS, Mich. -- With All-Stars Kevin Garnett and Ray Allen both in early foul trouble, the Celtics seemed in trouble again on the road. Just a game earlier, Boston's bench scored a mere eight points in a Game 2 home loss to the Pistons in the Eastern Conference finals.
So with that in mind, why would anyone think the Celtics' reserves would step up their game on the road?
Well, the Celtics' bench flipped the script by stepping up to set the tone in a 94-80 victory in Game 3 Saturday night at the Palace of Auburn Hills. The win gave Boston a 2-1 lead in the best-of-seven series and its first road win of the playoffs.
"That was the biggest part of the game for us," Rivers said, referring to Garnett's and Allen's two quick fouls. "And we called timeout and I said, 'Hey guys, it's not a big deal. I was going to sub them anyway.' Probably not true, but I told them, 'Not a big deal, just run the offense. Just run it and let the ball find the open shooter and we're fine.'"
Garnett picked up his second foul with 7:13 left in the first and his team up 11-4 and was immediately replaced by P.J. Brown. Allen picked up his second foul with Detroit down 15-8 with 4:10 in the first and was replaced by James Posey. Boston's reserves stepped up to score 12 points in the first and helped their team finish the quarter with a 10-0 run to take a 25-17 lead.
The Celtics' bench scored 23 points on 5-of-14 shooting from the field and four made free throws. Posey led the way for Boston's reserves by scoring 12 points and grabbing three rebounds.
"They came in when we really had an opportunity to take advantage of the situation," Pistons coach Flip Saunders said. "Sam [Cassell] had a big 3, hit a 2. Big Baby [Glen Davis] came in and got some free throws. I thought they really withstood things and, like I said, went on a 10-0 run the last two, three minutes and retook charge of the whole situation. That gave not only their bench but their starters a lot of confidence that they could go in there and do what they did."
Said Davis: "When the big fella [Garnett] is on the bench, we need to go out there and somehow bring some energy. And we did that tonight."
Marc J. Spears is a regular contributor to ESPN.com and covers the Boston Celtics and the NBA for The Boston Globe.
Scouts Inc. Update: Spurs vs. Lakers, Game 3

By David Thorpe | Scouts Inc.
San Antonio, for the second straight series, goes home down 0-2 thanks to poor offensive basketball from both its stars and role players. And although there is no question that the role players must start shooting better for the Spurs to have any chance against this terrific Lakers team, their chances to win begin and end with the success of their three-headed monster. Right now, Tony Parker, Manu Ginobili and Tim Duncan are getting their clocks cleaned. But as we've seen before, the Spurs' crowd and brain trust can do wonders for the psyche of the three stars.
Parker's problems begin with his inability to hit open midrange and 3-point shots. Hitting perimeter shots is important against a defense that has players who can go as long as Lamar Odom and Pau Gasol because overpenetration leads to blocked shots or contested shots that are tough to finish. As those guys are forced up the floor to contest shots from the perimeter, the lanes to the rim will open up. But the problem is, none of the Spurs is hitting his shots. If Parker starts making shots, then the Spurs' entire offense can begin to run more smoothly.
No shot was bigger, or more indicative of the night, than the shot Parker attempted with a minute to play in the second quarter. The Lakers had just forged a four-point lead when Parker had the ball in the corner with no one near him. If he were to make it, the lead would shrink to one and the Spurs would have a chance to bounce into the locker room excited to be so close after being outplayed. But Parker didn't just miss; he missed by 2 feet. The ball never came close to hitting the rim.
• See the full West finals preview
By Maurice Brooks
ESPN.com

SATURDAY'S BEST
Kendrick Perkins, Celtics center
: Kevin Garnett wasn't the only player on the floor to notch a double-double. Perkins finished with 12 points (6-for-7 from the field) and 10 rebounds in 29 effective minutes.
---

SATURDAY'S WORST
Tayshaun Prince, Pistons forward
: Although he is known more for playing defense than he is for throwing the ball in the basket, it is hard to overlook the 2-for-11 (four points) stinker he put up in Game 3.
---
QUOTE OF THE NIGHT

"I don't see it as a big thing. It's all about whoever gets to four."
-- Pistons forward Rasheed Wallace on Monday's Game 4
Since San Antonio took a 65-45 lead with 5:54 to play in the third quarter of Game 1, the Lakers have outscored the Spurs 145-91.
Get Well Soon, Mr. Big Shot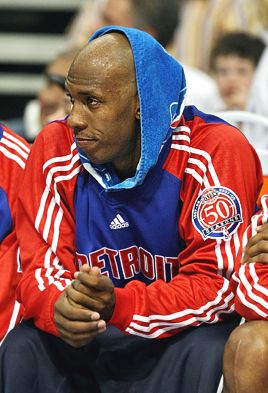 Jonathan Daniel/Getty Images/NBAE
Pistons All-Star Chauncey Billups has gone from the best point guard in this year's East finals to the second-best point guard -- behind Rodney Stuckey -- on his own team.

Shaun (Los Angeles): The sports media like to portray the Lakers acquisition of Gasol as being "stolen" from Memphis, despite the rebuilding Grizzlies getting exactly what they wanted (cap relief, young prospects, draft picks). If they somehow make it to the tough Western Conference playoffs two seasons from now, can we agree that they weren't robbed?
J.A. Adande: Do you really think free agents are going to flock to Memphis when the Grizzlies have cap space? What will those Lakers draft picks be worth when they're coming at the end of the first round? Do you see either scenario leading to Memphis getting an All-Star, like they gave up?
To read the full chat, click here.

By Chris Silva
Special to ESPN.com
AUBURN HILLS, Mich. -- Chauncey Billups is tired of talking about his right hamstring.
"Like I said, it is what it is," he said. "It's not like we have a whole lot of time, so I'm just out there trying to do what I can do … There's nothing I can do about it right now, but just trying to get through it."
And when it came to discussing his performance in Game 3 of the Eastern Conference finals, he really couldn't talk much about that either.
That's because Billups had virtually no game on Saturday.
Billups was completely ineffective, finishing with just six points on 1-for-6 shooting, four assists and two turnovers, both of which the Celtics converted into baskets in their 94-80 win to take a 2-1 series lead and recapture home-court advantage.
Billups didn't make a field goal until the fourth quarter and played the fewest minutes (26 minutes, 55 seconds) of Detroit's starting lineup.
After turning in an admirable performance in Game 2, which teammate Antonio McDyess praised after saying the Pistons' point guard tweaked his hamstring, Billups lacked effort in a game many predicted Detroit would win.
Afterward, the only point-guard play Billups could talk about was that of rookie Rodney Stuckey (17 points, 4 assists, 4 steals).
Pistons coach Flip Saunders pulled Billups 6 minutes, 4 seconds into the game after he picked up his second foul, giving way to Stuckey, who led a brief Pistons charge.
"It wasn't like I was lighting it up, so they made a good decision," Billups said. "He had a great game, so we rolled with him."
Veteran Lindsey Hunter said Billups lacked "bounce," but wasn't sure if that was because of his hamstring.
Boston's Kevin Garnett, a close friend of Billups, didn't think there was anything wrong with the Pistons' captain.
"Chauncey Billups, if you told me he was injured, I wouldn't know," Garnett said. "Only he knows how his health is, but for the most part, as the opposing team watching him, he doesn't look too injured."
Billups, who signed a five-year, $60 million contract last summer, has not been the game-changing player the Pistons have needed this series.
Sore hamstring or not, the Pistons know they'll need an effective Billups if they're to get back in this series.
"He didn't have it, whether he was a little bit slow or sore or whatever from the last game, I don't know," Saunders said. "But I'm sure by his own admissions he didn't play the type of game that he needs to play and keep the pace we needed at the pace we needed."
Chris Silva is a Detroit Free Press sportswriter.