Ronald Martinez/Getty Images
Slowly But Surely, Torch Passes From Duncan To Ginobili

SAN ANTONIO -- Tim Duncan is underrated and Tim Duncan is overrated.
We don't give his career the full respect it deserves, yet sometimes we make the mistake of believing that, in 2008, the San Antonio Spurs are still about him. As Game 3 of the Western Conference Finals demonstrated, Manu Ginobili matters more than Duncan now. Ginobili returned to form, hitting for five 3-pointers and 30 points, and the Spurs got back into the win column with a 103-84 victory.
Duncan had 22 points, 21 rebounds and five assists, showing he's still the steady drumbeat. But now he's more a background percussionist like Ringo Starr than a showcase drummer like Sheila E. It was telling that when Ginobili was clearly off his game in Los Angeles, Spurs coach Gregg Popovich said he needed more from Tony Parker, not Duncan, even though Parker outscored Duncan 13-12 in Game 2.
Duncan's 30 points and 18 rebounds couldn't keep the Spurs from blowing a 20-point lead in Game 1. The Spurs didn't need any more than 16 points from him to beat the Hornets on the road in Game 7. They don't live and die with him anymore.
Other players still show deference to Duncan, as when Bruce Bowen said, "If we didn't have him out there, Tony and Manu and I wouldn't get what we get", but it was telling that the Spurs felt the need to mix up their offense and avoid predictably giving Duncan the ball every time downcourt in Game 3. Almost as telling as what Duncan himself said about Ginobili.
"He's the guy that we need to put the ball in the hole," Duncan said. "He needs to give us points that aren't easy. You can get up in situations where your offense stalls out or situations where you just can't put the ball in the hole. He is the kind of guy that we need to make plays for us."
Ginobili came through like a T1 connection Sunday, especially during a minute-long stretch in the second quarter when he scored nine points on a pair of 3-pointers and a layup-and-one.
Parker led the Spurs in scoring last season, the first time since 1998 Duncan wasn't atop that category. This year it was Ginobili, averaging 19.5 points per game.
"I had a great season this year scoring, so if you score so many points during the season then the team expects you to keep it up," Ginobili said.
He did it against the Hornets last series, leading the Spurs with a scoring average of 21.3 points, but he looked limited in the first two games against the Lakers, hobbling along with a bad ankle and trying to shoot with a torn fingernail that Kobe Bryant described as "nasty-looking" and "disgusting."
Ginobili said there weren't any physical changes this night, just the danger of being down 2-0 in the series, the loud hometown fans and the fact his first couple of shots went down.
The answer reveals why Ginobili doesn't rank higher in NBA lore. The greatest thrive in road playoff games. They can be judged just as easily by the still-high quality of their bad nights as much as their big nights. In these playoffs alone Ginobili has had shooting nights of 2 for 11, 5 for 15 and 5 for 13. In last year's playoffs he had pedestrian numbers of 16.7 points and 3.7 assists per game on 40 percent shooting during the Spurs' championship run.
Where does Duncan rank? How about second to Shaquille O'Neal among active playoff scorers --- and 31 points away from moving past Wilt Chamberlain into 12th place among the all-time playoff scorers. And he'll get there in about 10 fewer games than Big Wilt played.
People talk about the Spurs as four-time champions. Wrong. Tim Duncan is a four-time champion. Every other player from the 1999 team is gone. Only two other players are still in the league (Antonio Daniels and Malik Rose).
Even among the greatest of the greats, not many can say they won championships with an entirely different supporting cast. Ask Bill Russell which rings he prefers to wear from his extensive collection and he'll tell you the first and the 11th, because he's the only player who has both of them. Magic Johnson had Kareem Abdul-Jabbar and Michael Cooper every step of the way. Michael Jordan always had Scottie Pippen.
Here's the list of players who have won multiple Finals MVPs since they gave out the first one in 1969: Abdul-Jabbar, Johnson, Larry Bird, Jordan, Hakeem Olajuwon, O'Neal and Duncan.
Only Duncan and Abdul-Jabbar won the award with completely different support casts.
Looking at all of the names on that list makes you realize we sell Duncan short when we refer to him as the best power forward of all time. He really should be in the conversation of best big man -- period -- part of the argument along with Russell, Wilt, Kareem, Hakeem and Shaq.
The one thing you can't call him, though, is The Man for the 2007 Spurs. That title belongs to Ginobili. In that case, make it El Hombre.
J.A. Adande is an ESPN.com senior writer and the author of "The Best Los Angeles Sports Arguments." Click here to e-mail J.A.
Playoff Dimes Past:
May 15
|
16
|
17
|
19
|
20
|
21
|
22
|
23
|
24
|
25

By J.A. Adande | ESPN.com
SAN ANTONIO -- There aren't many NBA players who can walk out of the arena with their heads held high when their man outscores them 30-5. For Bruce Bowen that counted as a quality day at the office Sunday. Sure, Kobe Bryant got 30 on him. But only one of those points came from the free-throw line, it took 23 field goal attempts for Kobe to get there, none of Bryant's teammates had a big night, and the Spurs won.
"People will look at me like, 'Yeah, Kobe killed you,'" Bowen said. "That's part of the game. He's the MVP. Michael Jordan did it to me early in the league, and look at him. Whatcha gonna do?
"My thing is just not putting him on the free-throw line. That's what I don't want to do …. He's good, but you don't want to give him everything."
In the previous series against Utah, Bryant feasted at the free-throw line, taking 96 attempts in six games. Now the free throws are as hard to come by as food on an airplane these days: six in three games versus the Spurs.
Bowen's thinking is that fewer free throws means more field goal attempts for Bryant. "If he's taking all those attempts, then others aren't getting involved," Bowen said. "Now, some of those guys can't operate on seven shots, especially when they only hit two of them. Now it becomes more difficult, now they get it, it's like 'I've gotta hit this.'"
Think of it as Bowen's version of help defense, even though he has to stay on his man. The better play by the supporting cast this season makes Bowen's job harder, because his teammates aren't free to come double-team Bryant. No complaints from Bowen. Just another night of work.
By J.A. Adande | ESPN.com
The key to the Los Angeles Lakers' better-than-ever chemistry is their increased reliance on foreign players … including Kobe Bryant.
Yes, you can count Bryant among the Lakers' collection of international players that also includes Sasha Vujacic from Slovenia, Pau Gasol from Spain, Vladimir Radmanovic from Serbia and Montenegro, DJ Mbenga from the Congo and Ronny Turiaf from France.
From age 6 to age 13, Bryant lived in Italy while his father played professional basketball in Europe.
Bill Russell once said of Bryant, "I came to the conclusion he's a foreign player. You can't talk to him like he's from L.A. Because if you do, you're going to have difficulty."
Maybe that explains why Bryant is more integrated with this team than with any other Lakers squad in his 12 seasons in L.A. Not only was he a teenager among grown men when he came into the league as an 18-year-old, he also was a cultural outsider on a roster made entirely of Americans. Bryant's curiosity and hunger for knowledge are just as insatiable as his desire to be the best basketball player ever to lace 'em up, and foreign players have something to offer Bryant: new words, new customs and new information. Bryant likes to speak to them in their native languages, showing an ever-increasing vocabulary. It's as if he's adding a new move to his repertoire.
"What we have is a collection of players that come from all over the place; everybody wants to learn about the culture, the language," Bryant said. "It makes things more fun in the locker room."
It's a little counterintuitive. More people from different backgrounds improving unity? Well, that's the way it's working.
"Every guy is bringing something different," Radmanovic said. "Once you put it all together, you get a nice atmosphere and guys just enjoying being around each other. Once you have that, that's one of the biggest and most important parts of playing well.
"You can have the 10 best players in the world on the floor, but if they don't get along with each other, I don't think it's going to work out. What we have right now, it's beautiful."
By Andrew Ayres
ESPN.com

SUNDAY'S BEST
Manu Ginobili, Spurs guard
: Goes for 30 points, sinking five 3-pointers and all seven of his free throws. After Kobe misses a 3 that would have made it 18-8, he drills two 3s to make it 15-14. Momentum? Shifted.
---

SUNDAY'S WORST
Lamar Odom, Lakers forward
: While Pau Gasol lost his touch as the game wore on, Odom never seemed to have it, shooting 2-for-11 in the loss to the Spurs.
---
QUOTE OF THE NIGHT

"I think I can still finish."
-- Spurs guard Manu Ginobili who says recent injuries have slowed him.
By Marc Stein
ESPN.com
SAN ANTONIO -- There was one bit of upbeat news for the Lakers on Sunday night.
Coach Phil Jackson, asked about the torn pinkie tendon in Kobe Bryant's shooting hand that could still require offseason surgery, revealed that the team doesn't think much about the injury any more.
"It is generally in pretty good shape right now," Jackson said before L.A. absorbed a 103-84 loss in Game 3.
Bryant proved it by ranking as the Lakers' only real offensive threat here, sinking 13 of 23 shots from the field to register 30 points … even though San Antonio seemingly had a fresh layer of defense waiting for Bryant every time he turned a corner.
---
Lakers assistant coach Brian Shaw, who has already talked to Chicago about its head-coaching vacancy, continues to draw interest from Phoenix. NBA coaching sources told ESPN.com that the Suns still hope to interview Shaw for the opening created by Mike D'Antoni's departure to New York.
Sources say fellow Lakers assistant coaches Kurt Rambis and Jim Cleamons are not on the Suns' list at present -- either as candidates for D'Antoni's job or as assistants -- but could be in the mix "eventually."
The Suns, in addition to Shaw, are hoping to interview veteran Spurs assistant coach Mike Budenholzer and have already met with numerous candidates, including Detroit Pistons assistant coach Terry Porter, ESPN/ABC analyst Mark Jackson, Houston Rockets assistant coach Elston Turner and Utah Jazz special assistant Jeff Hornacek.
---
Although he played in playoff games in San Antonio last spring as a member of the Utah Jazz, Lakers guard Derek Fisher is still remembered around here as Mr. Point Four thanks to his Game 5 buzzer-beater in 2004 which swung that second-round series in L.A.'s favor mere seconds after Tim Duncan's apparent game-winner.
Sunday's Game 3, then, was Fisher's first playoff game here as a Laker since that famous shot. But Fisher managed only two points in 29 minutes in Game 3 and has only wriggled free to attempt one 3-pointer in the series so far.
"[Tony] Parker has been on him," Phil Jackson said. "He is attentive. He knows what [Fisher] can do."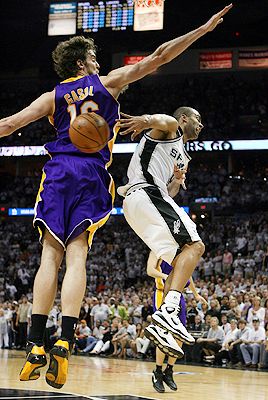 Ronald Martinez/Getty Images
Spurs guard Tony Parker passes the ball around Lakers center Pau Gasol during the Spurs' win in Game 3

By Henry Abbott
TrueHoop
You can make a strong case that Champion Air has played a role in deciding who will be the NBA Champion.
The Spurs spent Tuesday morning -- after a huge game Monday night -- trying to sleep on their Champion plane that was grounded by mechanical issues.
If you were writing a movie script, and wanted to dream up some kind of super-obvious scenario that would make it look like a team was negatively affected by fatigue, you might sketch out something like Wednesday's Game 1 of the Western Conference Finals: San Antonio drastically outplayed the Lakers for much of the night, and had a big lead. But in the late stages of the game, they lost their edge, missed shots they usually make -- while looking exhausted -- and lost to a fresher team by a shot or two at the buzzer.

Manu Ginobili
scored 30 points,
Tim Duncan
scored 22 and
Tony Parker
had 20 in the Spurs win over the Lakers on Sunday. It's the 14th time that those three have scored 20 or more points in the same playoff game, tying them for the second-highest total for any trio in NBA history. The Celtics' Larry Bird, Dennis Johnson and Kevin McHale scored 20 in the same playoff game 15 times; the 76ers' Wilt Chamberlain, Hal Greer and Chet Walker also did it 14 times.
• More from Elias Sports Bureau