Photo by Jonathan Daniel/Getty Images
After Little Shooting Success, Mr. Big Shot Delivers

AUBURN HILLS, Mich. -- They don't call him Mr. Big Shot for nothing, although you'd be excused for wondering how he ever got that nickname if all you were judging him on was his body of work over the first three games of this series and the first three quarters of Game 4.
In fact, Chauncey Billups was such a borderline liability through the first 36 minutes of Game 4, he began the fourth quarter on the bench and stayed there past the midpoint of the period. At that point, whether he'd even get back into the game was a question mark.
But Billups finally peeled off his warm-ups and checked back in with 4:50 remaining, and his 3-pointer with 2:55 left ended up being the biggest shot of the game, extending a seven-point lead to 10 and giving the Pistons the breathing room that had been eluding them all night. Detroit went on to defeat the Boston Celtics 94-75 Monday night to even the Eastern Conference finals at two games apiece.
The final score, with its 19-point margin, was not indicative of how close this game was for the first 46 minutes. The Pistons never trailed, but they also couldn't find a way to put away a Celtics team that stayed within striking distance by going to the free-throw line 39 times and making 32 of them.
Boston shot a shade below 32 percent from the field, went 1-for-9 on 3-pointers and didn't get any sustained offense from its big three as Paul Pierce shot 3-for-14, Kevin Garnett was 6-for-16 and Ray Allen was 2-for-8 and missed two big free throws with 2:04 remaining when Boston had a chance to cut its deficit to eight.
"Well, we do bounce back," said Pistons coach Flip Saunders, whose team improved to 5-0 following losses this postseason. "No one likes it, but it's the way the personality of our team is, and what we've got to do now is go out and win two games in a row. Usually whoever wins two in a row takes control of a series, and neither us nor Boston has been able to win two, so hopefully we'll go in there Wednesday and do what we need to do."
Partly because of foul trouble, partly because of the way some of his starters were playing, Saunders went with an unusual lineup through the middle four minutes of the fourth quarter, using Rodney Stuckey, Lindsey Hunter and Richard Hamilton in a three-guard alignment along with Antonio McDyess (who was huge with 21 points and 16 rebounds) and Jason Maxiell (also huge with 14 points on 6-for-6 shooing and a terrific block of a dunk attempt by Garnett).
Billups remained on the bench for so long, you started to wonder not when, but whether, Saunders would put him back in. He had missed nine of his 11 shots, and the crowd actually was groaning as his misses piled up.
"We were up 10, and we were going to let those guys stay out there and play with their energy unless they got it down to six, which they did. Otherwise, if they could keep it at eight or 10, we were going to let them play it through," Saunders said.
But when Pierce followed his own miss and cut the deficit to 78-73, Saunders brought back Billups along with Tayshaun Prince and Rasheed Wallace (who had gone to the bench with his fifth foul 1:43 into the fourth quarter).
An offensive foul on Hamilton gave Boston a chance to get closer, but Pierce rushed a 16-footer that missed. Garnett blocked Prince's hook shot to give the Celtics another shot, but Rajon Rondo couldn't convert a runner inside. Wallace made two from the line with 3:23 left to restore a seven-point lead, and Allen committed a turnover with an ill-advised forced pass to Garnett.
That's when Billups knocked down the biggest shot of the night, the ball looking good from the moment it left his hand before swishing straight through to make it 85-75 with 2:55 remaining.
"For me, I was looking to get back in there and make plays for the team," Billups said. "Me, my confidence is always high. It's not about me making shots. I was disappointed after last game because I didn't step up and lead when the team needed me. Today I did that, still didn't hit shots, but the game was different and my presence was felt out there."
So the series is now guaranteed to be back here on Friday night, when one of these teams will be playing to keep its postseason alive. Each team has now proven it can win on the other's home court, and both have shown that whichever team comes out of the gate with the most aggression -- and is able to sustain it -- is going to be the victor.
Celtics coach Doc Rivers said the Pistons' aggression was most noticeable through their use of the no-layup rule, which helped send the Celtics to the line so many times and stretched the time of the game to nearly three hours. Billups' 3-pointer took the life out of the Celtics in this one, but in reality they knew they really had no business being in the game as long as they were. Aside from James Posey, no one on the Boston roster played even reasonably well.
If that's the case again Wednesday night in Boston, the Celtics aren't going to be able to defeat an opponent whose experience and confidence is light years ahead of theirs.
That experience and that confidence was what allowed Billups to pull the trigger on that 3-pointer when probably 95 percent of the people in the arena would have preferred he let someone else shoot.
But the ball dropped through, and Mr. Big Shot -- despite his sore hamstring and his sorry shooting percentage in this series (35 percent) -- had lived up to his nickname.
Chris Sheridan covers the NBA for ESPN Insider. To e-mail Chris, click here.
Playoff Dimes Past: May 15 | 16 | 17 | 19 | 20 | 21 | 22 | 23 | 24 | 25 | 26
Only Detroit Starter Without A Ring Plays Like He Wants One

By Chris Silva | Special to ESPN.com
AUBURN HILLS, Mich. -- Antonio McDyess had a hard time getting to his car on Monday night.
A throng of well-wishers lined the Palace concourse walls as McDyess made his way from the postgame news conference to the players' parking lot after Game 4 of the Eastern Conference finals, dishing high-fives, back slaps and hugs to the Pistons' veteran forward. McDyess handled just about everything else with ease on Monday, leading the
Detroit Pistons
to a 94-75 win over the
Boston Celtics
with his 21-point, 16-rebound effort. McDyess, the Pistons' fifth option, made his first four shots from the field in Game 4, scoring eight of the Pistons' first 14 points en route to an 11-point first quarter. After one of his jumpers in the first, McDyess showed a rare display of emotion, spinning around and pumping his fist toward the frenzied home crowd. "I've never seen him with the emotion he has," Pistons coach Flip Saunders said. "…It's like he's got a new personality. He's definitely hungry, I know that. He has just been huge for us and basically carrying us." McDyess has played with a fire in his belly ever since joining the Pistons in the summer of 2004. He missed out on winning a championship by a season, and remains the only Pistons starter without a ring. McDyess might take losses harder than anyone else. This is a man who sat on the bench for nearly 10 minutes after the Pistons lost Game 5 of an East semifinals series against Cleveland in 2006 before driving home in his uniform; a man who paced the streets of his neighborhood after he was ejected in the first quarter of Game 5 against the Cavs in last year's conference finals; a man who played in Game 4 this year against Philadelphia after breaking his nose just two days earlier. On Sunday, the day after the Pistons lost Game 3 to the Celtics, McDyess and teammates
Chauncey Billups
and
Juan Dixon
hung around the team's practice facility and spoke positively about not letting another opportunity slip through their hands. A championship is what McDyess wants to define his career, and he realizes this might be his best -- and final -- opportunity at that. "Well, because I'm me, I'm almost to the end of the road," McDyess said. "You only have so many opportunities, and like I said, they're limited, especially for me. I'm at the end of my career, and I just feel like leaving everything out on the floor. There won't be no excuses. So I just tried to do that this year. Last year I was disappointed, definitely, the way we lost last year. This year I don't want to have no excuse if we lose. I know we left everything out on the floor."
Chris Silva is a Detroit Free Press sportswriter.
Numbers To Weigh For Spurs-Lakers Game 4
By ESPN Research
Some facts to weigh heading into Game 4 of the Western Conference finals between the Spurs and the Lakers on Tuesday (9 p.m. ET):
• San Antonio has won 13 straight and 16 of its past 17 playoff games at home. The Spurs have won 15 of their past 21 playoff games overall.
• The Lakers have lost 8 of their past 11 postseason road games.
• When winning both Games 1 and 2 of a best-of-seven series, the Lakers are 36-1 all time in any round.
• Overall, as the conference No. 1 seed, the Lakers are 155-72 all time in the playoffs. The Lakers are 44-47 in Game 4 of a best-of-seven series all time in any round.
By Andrew Ayres
ESPN.com

MONDAY'S BEST
Antonio McDyess, Pistons forward
: Goes for 21 points and 16 rebounds (both playoff bests for McDyess) in the Pistons' Game 4 win over the Celtics.
---

MONDAY'S WORST
Ray Allen, Celtics guard
: While his shooting goes south (2-for-8, misses all three 3s), Ol' Shuttlesworth doesn't do much to halt his UConn understudy, Rip Hamilton, from dropping 20 points on 8-for-10 shooting.
---
QUOTE OF THE NIGHT

"He's really comfortable right now. We have to get him out of his comfort zone."
-- Celtics coach Doc Rivers on Detroit's Antonio McDyess
By Marc J. Spears
Special to ESPN.com
AUBURN HILLS, Mich. -- With all due respect to Kendrick Perkins, you know it's not going to be a good night for the Boston Celtics when he is their biggest offensive threat.
The Celtics' success has been heavily credited to their All-Star trio of Kevin Garnett, Paul Pierce and Ray Allen. But the big three were minimized during Boston's 94-75 loss to the Detroit Pistons in Game 4 of the Eastern Conference finals Monday night at The Palace of Auburn Hills as they were surprisingly limited to 41 points and 5 assists.
"They didn't play great," Celtics coach Doc Rivers simply said.
Garnett, Pierce and Allen entered Game 4 averaging a combined 53 points during 17 playoff contests. The Celtics' big three, however, were limited to a combined 11-of-38 shooting from the field.
"It's always disappointing," Allen said of the trio's play. "I think we pride ourselves on making our teammates better and allowing them to make us better. There's a point where you just have to make the simple play. … Just too frequently throughout the game, we put ourselves in situations where I think we had some good shots, but I think we could have got better shots."
The biggest surprise of the night was Garnett's struggling offensive performance. The 11-time NBA All-Star torched the league's best defense during the regular season by averaging a team-best 24 points in this series entering Game 4. The all-NBA first-team selection also averaged 24 points in three regular-season games against Detroit. But in Game 4, Garnett made just 6-of-16 shots while nailing his four free-throw attempts to score 16 points in 38 minutes.
"Kevin had shots that he normally makes and didn't make them," Rivers said. "I just thought he didn't have shots when we wanted to get him the ball."
The Celtics cut their deficit to five points on five occasions in the fourth quarter, but couldn't find away to get over that hump.
Boston needed one of its All-Stars to make big plays to get the victory in a winnable game, but no one stepped up. If only Perkins (10 points on 4-of-6 shooting) didn't foul out with 3:23 left in this crucial playoff game that Garnett, Pierce and Allen surely won't forget if they fall short of making the NBA Finals.
Marc J. Spears is a regular contributor to ESPN.com and covers the NBA and the Boston Celtics for The Boston Globe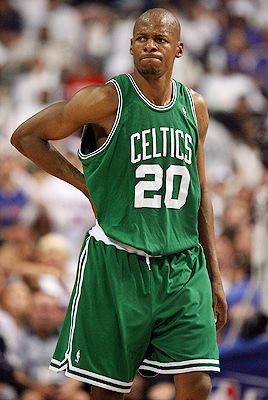 Elsa/Getty Images
Celtics guard Ray Allen feels the pain of a tough Game 4 as Boston heads to defeat in Detroit.

By Lisa Brooks
ESPN Research
Tim Duncan and Kobe Bryant are chasing Wilt Chamberlain on the all-time playoff scoring chart. Duncan is likely to pass Chamberlain in the next two games. Bryant could pass Wilt if the Lakers make it to the NBA Finals. Of note: Michael Jordan was the fastest to 3,500 playoff points, doing it in 103 games.
All-Time Playoff Scoring Leaders

No.
Player
Points
1.
Michael Jordan
5,987
2.
Kareem Abdul-Jabbar
5,762
3.
Shaquille O'Neal
5,121
4.
Karl Malone
4,761
5.
Jerry West
4,457
6.
Larry Bird
3,897
7.
John Havlicek
3,776
8.
Hakeem Olajuwon
3,755
9.
Magic Johnson
3,701
10.
Scottie Pippen
3,642
11.
Elgin Baylor
3,623
12.
Wilt Chamberlain
3,607
13.
Tim Duncan
3,577
14.
Kobe Bryant
3,465
The Celtics made only 21 field goals in their Game 4 loss to the Pistons. In the shot-clock era, only one team has converted fewer field goals in a conference finals or NBA Finals game: Portland was 19-for-77 from the field in an 85-63 loss to San Antonio in the 1999 Western Conference finals.
• More from Elias Sports Bureau