Photo by Stephen Dunn/Getty Images
Lakers Learning How To Be Champions

SAN ANTONIO -- Game 4 of the Western Conference finals was another step forward for the Lakers, who are reaping the benefits of hard work, luck and -- as the blog world most certainly would tell you -- the NBA's conspiracy to get the league's glamour teams to the Finals.
Leave David Stern out of this. This was really about second chances, those the Lakers earned from their aggressiveness, and maybe one or two that came their way through cosmic balance.
The Lakers beat the Spurs to 13 offensive rebounds and cashed in for 26 second-chance points (20 in the first half). Lamar Odom made up for a game-and-a-half of miscues to score eight points in the fourth quarter -- or two more than Captain Clutch himself, Kobe Bryant.
They survived their own mental errors. First a rushed shot by Bryant in the final minute, when the Lakers had a four-point lead and would have been better served by draining the clock. And then, with the Lakers up by two on the final play of the game, the one that's going to get the conspiracy theorists pounding away at their keyboards, Derek Fisher made the mistake of leaving his feet on a pump fake by San Antonio's Brent Barry, landing on him for what should have been a foul and a pair of bonus free throws for the Spurs' best shooter from the line.
"Yeah, he bumped him," Lakers Coach Phil Jackson said. "You know, games go like that."
As a result, the Lakers are up 3-1, with a chance to close out the series Thursday night at Staples Center.
The Lakers thought they were on the wrong side of the call when the officials ruled that Fisher's jump shot didn't hit the rim before going out of bounds off San Antonio's Robert Horry with 5.6 seconds remaining in the game and only two seconds remaining on the shot clock. Replays showed that it glanced off the rim.
"I'm positive Fish's shot hit the rim," Jackson said. "That ball should have been ours with a new 24-second clock."
That would have forced the Spurs to foul the Lakers (barring a turnover) in order to get the ball back, giving them a chance at two free throws that could have iced the game. Instead, Bryant had to rush a jumper off the inbounds pass, and the Spurs had 2.1 seconds to set up the fateful final play that didn't result in free throws.
Actually, the Lakers would like to bring up the issue of not shooting free throws themselves. They're wondering how Bryant, who was as active as ever, couldn't get to the line once.
"It's pretty impossible to take 29 shots and not get fouled," Jackson said. "Tonight was one of those exceptions, I guess."
Most of the 29 were jump shots and two were breakaway dunks, but you would think a guy with the ball in his hands that much would get to the line at least once, even if a ref accidentally exhaled with a whistle in his mouth. The last time Bryant didn't attempt a free throw in a playoff game was Game 5 of the 2004 conference semifinals -- known here and in L.A. as the "0.4 Game." The Spurs actually filed a protest with the league on that one, saying that Fisher could not have had enough time to catch the ball and fling it into the basket in that span.
This time Gregg Popovich and Co. dutifully accepted the ruling on the floor, and the unwritten rule that the officials don't decide the end of games. Perhaps they remembered how they benefited from the same thought process when Bob Delaney didn't blow the whistle when Bruce Bowen grabbed LeBron James at the end of Game 3 in the NBA Finals last year.
Champions tend to get calls like that. The thing is, the Lakers are getting them before they've ascended the throne. The already got away with a Pau Gasol push-off against Mehmet Okur in Game 5 of the Utah series, and now the Fisher non-foul.
Some call it the breaks. The Lakers consider themselves enrolled in the school of hard knocks.
"To look at the stat sheet and see that they never led in the game, I think that says a lot about the focus that we came out with and the commitment to playing defense," Fisher said. "We've said it this entire postseason: We're going to learn how to be champions as we're doing it. There's no script to it, there's no specific way that we have to win games. We just have to do it. And that's what we've been doing."
They're learning. For one thing, it's better to be on the Michael Jordan side of history. Barry can take a number and have a seat next to Bryon Russell, waiting for a call that will never come.
J.A. Adande is an ESPN.com senior writer and the author of "The Best Los Angeles Sports Arguments." Click here to e-mail J.A.
Playoff Dimes Past: May 16 | 17 | 19 | 20 | 21 | 22 | 23 | 24 | 25 | 26 | 27
No Finger-Pointing From the Spurs
By Marc Stein | ESPN.com
SAN ANTONIO -- They can certainly complain about that final, fateful play.
They had pretty reasonable justification to moan about the whistle that wasn't blown.
But you know what?
The San Antonio Spurs passed.
The Spurs resisted Tuesday night when presented with yet another chance to fume about the presence of the referee they dread seeing more than any other, presumably because they know the truth.
Which is to say that they've had too many promising opportunities in these Western Conference finals, too many to bray about one non-call from Joey Crawford, no matter how crucial the timing. The Spurs are down 3-1 to the Los Angeles Lakers because that's where they belong.
Brent Barry definitely did appear to be fouled on the dribble by Derek Fisher just before the Game 4 buzzer sounded, which seemingly should have sent him to the line for two free throws to force overtime. When the call didn't come, Barry's hopeless heave at the horn sealed a 93-91 defeat to L.A. that edged San Antonio to the brink of elimination ... and another failure to win back-to-back championships.
Yet it's instructive to note that Barry -- who had the playoff game of his life ruined by the final score -- was the Spurs' loudest non-complainer.
Bones knows.
"That play," Barry said, "was not where the game was lost."
You could make a strong case that the Spurs shouldn't even have been in the position to tie or win this Game 4 on their final possession. Television replays indicate that Fisher's shot with 6.9 seconds to go grazed the rim before bouncing out of bounds off Robert Horry's leg, meaning that the Lakers should have had a new shot clock instead of asking Kobe Bryant to hurry a fadeaway jumper after the ensuing timeout. A new shot clock would have forced the Spurs to foul Bryant (assuming no turnover) as opposed to getting the ball back off Bryant's miss to draw up a potential game-winning play.
You can then make an even stronger case that the Spurs needn't waste time looking for scapegoats, even after a loss that shoved them into a huge hole, when the Lakers have been consistently charitable in this series, furnishing San Antonio with various openings to be the team with a 3-1 lead.
It's the Spurs who couldn't hold that 20-point lead in Game 1 when they had an immediate opening to unnerve their younger challengers. It's the Spurs who wiped out L.A.'s early 14-point lead in Game 4 but squandered countless opportunities to land a haymaker and snatch the lead, even when the Lakers kept inviting them back ... all the way through to Bryant's brain lock in the final minute and a rushed layup when he should have been dribbling seconds off the clock.
Crawford? Except for that last one, Tuesday's whistles mostly favored the Spurs, who shot 26 free throws to the Lakers' 19 ... and who happily watched Bryant go the line zero times. If anyone appeared to be bothered by Crawford's first San Antonio appearance of the playoffs, it was actually Lakers coach Phil Jackson, who was so enraged by the early fouls called on Fisher and Lamar Odom that he complained about the refereeing during his in-game TNT interview between the first and second quarters.
To read Stein's full column, click here.
Playing Like Dogs Works For the Lakers
By J.A. Adande | ESPN.com
SAN ANTONIO -- To hear Phil Jackson describe his team before Game 4, you'd think the Lakers were in desperate need of Cesar Millan.
In a long response to a question about his young team, Jackson likened it to raising dogs, comparing backup point guard Jordan Farmar to a poodle and describing perpetually injured reserve center Chris Mihm as a Saint Bernard. Kobe Bryant, of course, is "top dog." (If you're wondering where Jackson learned his dog training skills, he made a cameo appearance when girlfriend Jeanie Buss called in the Dog Whisperer to straighten out her pooch.)
I've always thought of Odom as a big puppy. He makes a lot of mistakes but has such a pity-inducing face that it's hard to stay mad at him. Odom needed some time in the crate after Game 3, when he missed nine of 11 shots. He wasn't much better in the first half of Game 4, missing all four attempts.
But in the fourth quarter, when the Spurs kept pushing and pushing, it was Odom who kept coming up with answers. The Spurs refused to let Bryant beat them, sliding defenders at Kobe to supplement Bruce Bowen's outstanding coverage. Someone else was going to have to beat San Antonio, and Odom didn't let his previous woes keep him from applying for the job.
"I just stayed tough, told myself it's a long game," Odom said. "At the four-minute mark I saw them collapsing on Kobe and I knew it was my time to make a play."
Actually it was with four-and-a-half minutes left that Odom made his best play, making a rare drive to the right before extending his long left arm for a scoop shot as he drew a foul on Fabricio Oberto. The three-point play gave the Lakers a seven-point lead that grew to nine when Bryant stole the ball for a breakaway dunk. But the Lakers gave most of it back before surviving by two points. Odom had half of his 16 points and two of his nine rebounds in the fourth quarter.
"It's going to have to take other guys, whether it's defense, offense, loose balls or something for us to get the W," Odom said.
This time the guy was Odom. Call him the Labrador retriever.
J.A. Adande is an ESPN.com senior writer and the author of "The Best Los Angeles Sports Arguments." Click here to e-mail J.A.
By Maurice Brooks
ESPN.com

TUESDAY'S BEST
Tim Duncan, Spurs forward
: According to the
Elias Sports Bureau
, the Big Fundamental -- who led San Antonio in points (29), rebounds (17), steals (3) and blocks (3) -- is just the third player in the past 30 years (Larry Bird in 1981 and Hakeem Olajuwon in 1994) to accomplish that feat at this stage of the playoffs.
---

TUESDAY'S WORST
Robert Horry, Spurs forward
: What is going on with the player formerly known as Big Shot Rob? He is passing up open looks, and when he does pull the trigger the results haven't been good. He is 0-for-9 from the floor in the series and has scored a grand total of two points.
---
QUOTE OF THE NIGHT

"That's not going to get called in the Western Conference finals. Maybe in the regular season. But that call shouldn't be called in the Western Conference finals."
-- Spurs guard Brent Barry who was bumped by Derek Fisher on his last-second 3-point attempt
Stop the Conspiracy Theories

By Marc Stein
ESPN.com
SAN ANTONIO -- The only two Spurs games worked this postseason by referee Joey Crawford before Tuesday night were road games for San Antonio. The Spurs won Game 3 in Phoenix in the first round and lost Game 5 in New Orleans in Round 2, with Spurs coach Gregg Popovich and Crawford barking at each other heatedly in the Hornets' 101-79 triumph.
As anyone down here could remind you, Crawford was suspended for the entire 2007 playoffs after ejecting Tim Duncan -- essentially for laughing at the official from the Spurs' bench -- in a late-season nationally televised game at Dallas.
But Crawford was a lock to get at least one game in this series, with the league down to a pool of its 20 top officials in the conference finals. Popovich, meanwhile, insisted before tip-off that the supposed Crawford Factor would have "absolutely no effect whatsoever" ... to no avail.
None of that was going to stop local fans from whipping themselves into a conspiracy-fearing tizzy all day once word spread that Crawford would be working Game 4 alongside Joe Forte and Mark Wunderlich, with so many folks out there convinced that the league would do anything to deliver a Lakers-Celtics matchup in the NBA Finals.
The biggest flaw in such thinking? The Spurs might represent the best counter that the NBA has to shoot down conspiracy theorists, since San Antonio has overcome its small-market status and supposed "boring" label to win four championships since 1999 and draft lotteries in 1987 (David Robinson) and 1997 (Tim Duncan).
NBA vice president of basketball operations Stu Jackson said Tuesday through a league spokesman: "Assignments are based on an official's ability and not whether a team likes or dislikes an official."
---
Brent Barry's 23 points in Game 4 represent a new playoff best, topping his 22 points in a first-round game against Sacramento in 2006.
"It would have been nice [in a victory]," Barry said, "but nobody cares about that now."
The Spurs' primary concern is Manu Ginobili, who quickly restored doubts about his arthritic left ankle by scoring just four points until the game's final minute, when he threw in a big 3-pointer during the Spurs' unlikely rally from 93-86 with 56.5 seconds left.
Although he was widely proclaimed to be healed by his 30-point outburst in Game 3, Ginobili knew better, realizing that much of his success came from his five 3-pointers in the first half as opposed to rediscovered explosion.
"I don't feel like my last step is as strong as probably a couple months ago," Ginobili had said Sunday, "but it's not a big issue."
The results of Games 1, 2 and 4 -- in which Ginobili has totaled just 24 points -- suggest otherwise.
---
Popovich also said before the game that he has indeed signed a contract extension that will keep him coaching the Spurs through the 2011-12 season, which is the same year Duncan's contract expires. The signature merely formalized a handshake agreement Popovich already had with Spurs owner Peter Holt.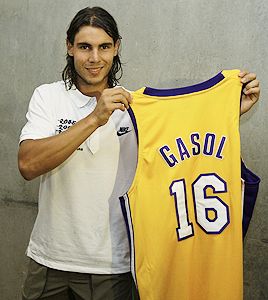 Getty Images
At the French Open on Tuesday, ATP No. 2 Rafael Nadal showed support for his friend and fellow Spaniard Pau Gasol.

"I love basketball and the NBA," Nadal said. "I follow very closely the results of my friend Pau Gasol with his new team, the Los Angeles Lakers. It would be amazing to see him playing the NBA Finals."
Chat With Chris Broussard

Bryan (Huntsville, AL): What is in store for Shaq next season? Will he retire at the end of the season? Will he remain on the Suns or be traded again to another contender? Could he return to the Lakers for one more shot at the title?
Chris Broussard: Bryan, Shaq will play in Phoenix for the next two years. He won't retire before his contract expires because he'd be surrendering whatever money was left on his deal -- $40 million over the next two years. The chances of him being traded are slimmer than Nicole Richie because his production is down and his salary is monstrous. LA?! Are you kidding me? Have you already forgotten about Andrew Bynum?
• To read the full chat, click here.
The Herd With Colin Cowherd

Ric Bucher likes the Lakers in five games because he isn't sold that the Spurs can take it to another level. Also, he talks about how great a job coach Phil Jackson has done.
ESPN Radio