Photo by Noah Graham/NBAE via Getty Images
Pierce Loves Playing The Lakers
Editor's Note: Information for today's Daily Dime was compiled by Lisa Brooks, Kevin Conlon, Michael Jackson, Nick Loucks, Michael Lynch, Vince Masi, Jason McCallum, Pete Newmann, Adam Reisinger and Kareem White and the ESPN Research Department.
Paul Pierce's 57 postseason games played are the most by a Celtic who has never won an NBA title.
A Celtics-Lakers NBA Finals brings many classic memories to mind. Most of these memories are distant, dating back to an era where Michael Jordan was a brash kid and NBA scouts were drooling over the likes of Armon Gilliam and Dennis Hopson.
PIERCE: HIGHEST PPG VS. SINGLE FOE
Opponent
PPG
Games
Lakers
27.9
16
Nuggets
27.3
18
Suns
27.2
18
SuperSonics
25.4
17
Warriors
25.1
17
But in the 21 years since these old rivals have met in the finals, the greatest Celtic of the "down" period in franchise history has also made a name for himself against the Lakers. Pierce, who grew up in Inglewood, Calif., in the shadows of the Great Western Forum, has always saved his best for the Lakers.
Pierce has averaged 27.9 points per game in his career versus the Lakers, more than his average against any other team. In fact, March 13, 2001 could be considered his unofficial entry into the league's elite. Pierce scored 42 points on 13-of-19 shooting in a 112-107 loss at L.A.
Pierce was nearing the end of his breakthrough third season at the time. He averaged more than 20 points (25.1 ppg) for the first time and took the reins from Antoine Walker (23.4 ppg) as the C's leading scorer. What happened after the game is what made it a watershed moment in Pierce's career, though.
Shaquille O'Neal, in the midst of his three-peat and a role as the most dominant force in the game, pulled a Boston reporter aside and offered the following: "Take this down. My name is Shaquille O'Neal, and Paul Pierce is the [expletive] truth. Quote me on that, and don't take nothing out. I knew he could play, but I didn't know he could play like this. Paul Pierce is the truth."
HIGHEST ACTIVE PPG VS. LAKERS
Foe
PPG
Gilbert Arenas
29.1
LeBron James
28.8
Paul Pierce
27.9
Allen Iverson
27.0
Shaquille O'Neal
26.0
Pierce is a unique character in these Finals. He is the one member of the Celtics' big three who has been in Boston through plenty of lean years. He also grew up in Inglewood during the 1980s, where the Showtime Lakers were the hottest attraction in town. And his numbers show that he brings something "extra" when he plays the Lakers.
Despite the tremendous scoring average, perhaps the most impressive aspect of his game against the Lakers is that he has averaged 10.7 free-throw attempts per game, which is proof of his more aggressive approach attacking the basket against LA.
When Pierce has been criticized in the past, one of the main weaknesses that his detractors see in him is a tendency to fall in love with his jumper too much at times. Pierce's ability and willingness to attack the rim could prove crucial in this series.
In his career, Pierce has seven 30-point games and one 40-point game against Los Angeles.
Playoff Dimes Past: May 17 | 19 | 20 | 21 | 22 | 23 | 24 | 25 | 26 | 27 | 28 | 29 | 30 | 31
How Two Teams Dealt Their Way Into Title Contention

They are two teams on opposite coasts, but they faced the same problem: getting back to their championship form. At the end of the 2006-07 season, the
Boston Celtics
and
Los Angeles Lakers
had general managers on the hot seat. Celtics GM Danny Ainge was on the hot seat along with coach Doc Rivers after a miserable 24-58 season. That record landed Boston in the bottom of the Atlantic Division and included a franchise-record 18-game losing streak.
The Celtics would hope to land either Greg Oden or Kevin Durant in the NBA draft with possibly a top-two pick. But the Celtics' luck ran out, and they landed the No. 5 overall pick of the '07 draft. It was beginning to look like 1997 all over again, when they failed to land the top pick (and missed out on Tim Duncan).
But then it happened. Early in the first round, a trade was announced between Boston and Seattle that would change the landscape of the Eastern Conference. The Celtics would receive All-Star guard Ray Allen and the 35th overall pick (Glen Davis) in exchange for Wally Szczerbiak, Delonte West and Jeff Green (fifth overall pick).
But the Celtics weren't done. About a month later, another general manager on the hot seat (Minnesota's Kevin McHale) decided to ship the best player in franchise history (Kevin Garnett) to Beantown for five players and two draft picks, with the most notable being Al Jefferson. McHale unloaded his superstar to his former Celtics teammate, Ainge, and gave him the best assist of his career.
Over on the West Coast, disgruntled superstar Kobe Bryant was demanding several trades. First, it was the trade for Jason Kidd. Then it was a trade for Garnett or Jermaine O'Neal, and then for himself to be traded out of town.
Lakers general manager Mitch Kupchak was on the hot seat because if he dealt Bryant, he would have traded two of the biggest superstars in Lakers' history (Shaquille O'Neal and Kobe Bryant). Bryant demanded a trade publicly. On radio. On YouTube. Bryant also publicly berated his younger teammates (namely Andrew Bynum).
But none of those trades took place, and the Lakers began the season amidst some uncertainty.
But before the 2008 trade deadline, the Lakers pulled off the ultimate coup by landing All-Star forward Pau Gasol for Kwame Brown, Javaris Crittenton, Aaron McKie and Marc Gasol. The trade immediately made L.A. a contender in the Western conference as well as a legitimate title contender. After the injury to Bynum, the Lakers had a huge hole to fill, and Gasol fit the bill.
Notable Games Through History
Here are some notable Finals happenings that occurred on June 5 in NBA history, which this year is opening night for the Celtics-Lakers finals (on Thursday).
2002 -- The Lakers begin their quest for a three-peat at home versus the Nets, and L.A. did not disappoint the home crowd with a 99-94 Game 1 victory. Shaq had 36 points and 16 rebounds, and Kobe Bryant finished with 22 points despite poor shooting from the floor.
1992 -- Portland defeated Chicago 115-104 in overtime in Game 2 of the NBA Finals. Danny Ainge was a key factor for Portland in OT, tying a Finals record set by John Havlicek (1974) and Bill Laimbeer (1990) by scoring nine of the Blazers' 18 points in the extra session.
Tale Of The Historical Tape
Overall, Boston holds the upper hand when it comes to the Lakers-Celtics rivalry. Here's how they stack up:
| | | |
| --- | --- | --- |
| Category | Lakers | Celtics |
| Hall of Famers | 15 | 25 |
| NBA Titles | 14 | 16 |
| NBA Finals appearances | 29 | 20 |
| Playoff Wins | 395 | 300 |
| Head-to-Head Finals wins | 2 | 8 |
The NBA Finals are all set. It's Kobe Bryant's Lakers against Kevin Garnett and the Celtics. Talk about a dream scenario for a basketball fan. Here is the series schedule:
| | | |
| --- | --- | --- |
| Date, Time | Matchup | Network |
| Thursday, June 5 (8:30 p.m. ET) | Lakers at Celtics | |
| Sunday, June 8 (8:30 p.m.) | Lakers at Celtics | |
| Tuesday, June 10 (8:30 p.m.) | Celtics at Lakers | |
| Thursday, June 12 (8:30 p.m.) | Celtics at Lakers | |
| #Sunday, June 15 (8:30 p.m.) | Celtics at Lakers | |
| #Tuesday, June 17 (8:30 p.m.) | Lakers at Celtics | |
| #Thursday, June 19 (8:30 p.m.) | Lakers at Celtics | |
# if necessary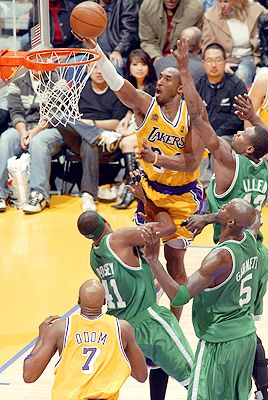 Andrew D. Bernstein/Getty
Kobe Bryant often rises above the competition to find team success.
Bringing home the NBA title when you've just been named MVP can be a daunting task. However, several NBA notables delivered the goods. Here's how several league MVPs fared in the Finals (since 1988).
| | | |
| --- | --- | --- |
| Player | Team | Result |
| '08 Kobe Bryant | Lakers | ? |
| '03 Tim Duncan | Spurs | Won |
| '01 Allen Iverson | 76ers | Lost |
| '00 Shaquille O'Neal | Lakers | Won |
| '98 Michael Jordan | Bulls | Won |

Kobe Bryant's production rises noticeably in the second half of this year's playoff games.
Take a look:
| | | |
| --- | --- | --- |
| Category | First Half | Second Half |
| Points | 196 | 278 |
| FGM-FGA | 73-141 | 95-184 |
| FTM-FTA | 41-51 | 74-91 |