Photo by Joe Murphy/NBAE via Getty Images
Lakers The Pick For Almost All Our Experts
Editor's Note: Here's how our experts called the Lakers-Celtics series.

Henry Abbott, TrueHoop:
Predictions do not sit well with me: One of my favorite things about sports is that I enter the arena not knowing what will happen. I don't want to predict! But I do, and I did. I have already been on ESPN.com saying I think the Lakers will win in five. That was when I was high on having seen L.A. beat the Spurs, however. Now I have sobered up. I don't think it'll be in five anymore. I think it'll be in seven, and I have no idea who will take it ... and I love it that way.

Chris Sheridan, ESPN.com:
I see the Lakers winning at least one of the first two games in Boston, then getting two at home and closing it out back in Boston with a vintage performance by
Kobe Bryant
. Biggest statistical factors: The Celtics' rebounding and the Lakers' 3-point shooting. Lakers in six.

David Thorpe, Scouts Inc.:
The Lakers will win in six games or fewer by taking one of two on the road and either sweeping at home or finishing things in Game 6.
Their superior offense and system gives them more margin for error from any individual player. They have two answers for Boston's terrific defense, Kobe and the triangle offense.
Title series experience and Phil Jackson help, too.

John Hollinger, ESPN.com:
Lakers in six. The Lakers have been on fire since acquiring
Pau Gasol
-- they're now 34-7 in the 41 games he's played, including 12-3 in the playoffs against a trio of 50-win teams. Obviously, Boston is no slouch, either, with 66 wins and home-court advantage, but one gets the impression the Celtics peaked too soon. L.A. is right on time.

J.A. Adande:
Normally experience is worth one game in the Finals, and with two starters who have been there before (Kobe and Derek Fisher), the Lakers should have the edge in Game 1. They won't sweep the middle three at home, but if they can mature at the rate they did the past two series, they will be able to finish in Boston in Game 6.

Tim Legler, ESPN:
The Celtics have been the most complete team in the NBA all season and KG's heart cannot be overstated.
The game inevitably will slow down in the fourth quarter, and I will put my money on the team that defends, rebounds and is more physical. Celtics in seven.

Jalen Rose, ESPN:
Lakers in six. One reason is Phil Jackson. The guy who has won nine championships is going to press the right buttons at the right time.
Also, Kobe Bryant. The motivation to win without Shaq is huge.

Marc Stein, ESPN.com:
Lakers in five. Kobe and Co. just have too much in their favor.
They're deeper, fresher, younger, more versatile -- and they have a crucial experience edge in this series of Finals newbies with Kobe "The Closer" and Derek Fisher's savvy. They've already won huge games in hostile environments like Utah and San Antonio, so I see L.A. winning at least one of the first two games in Boston, then really hurting the Celts at home.
Playoff Dimes Past: May 24 | 25 | 26 | 27 | 28 | 29 | 30 | 31 | June 2
Who's Clutch? The Numbers Story

How did the Lakers and Celtics perform in the clutch this season?
Defining clutch as the last five minutes of a game, with neither team ahead by more than five points, 82games.com used 48-minute averages to help quantify this category. Overall, 188 players in the NBA qualify for ranking in these clutch statistics by playing at least 50 minutes during "clutch" conditions this season. Here's some of what the stats showed:
Kobe Bryant
was No. 2 in clutch scoring per 48 minutes (51.8), behind
LeBron James
(56.0). Kobe was also No. 2 in clutch free throws attempted (23.3).
Pau Gasol
's Lakers stats show he would have had the No. 1 clutch plus/minus per 48 minutes in the league, but he just missed meeting the 50-minute threshold. Not surprising: Lakers guard
Sasha Vujacic
(12.6) and Celtics guard
Ray Allen
(12.1) were both in the top ten in 3-point attempts. Surprising: Lakers forward
Luke Walton
is No. 1 in steals (4.2). Also: Boston point guard
Rajon Rondo
was a very good rebounder in the clutch, ranking 24th overall (14.2), a better rate than even
Kevin Garnett
(13.2).
Rambis: Clothesline Worn Out

By J.A. Adande | ESPN.com
If there's one man who's already suffering hype fatigue from a certain replay of the Lakers-Celtics rivalry, it's Kurt Rambis.
He was on the receiving end of a Kevin McHale clothesline in Game 4 of the 1984 NBA Finals, the play that signified the Celtics had had enough of the Lakers' fast-breaking ways and were ready to turn the series into a rugby match. And while there were other MMA-type moments during their three meetings in the 1980s (James Worthy and Greg Kite scrapping on the floor, or Bob McAdoo and Magic Johnson treating McHale like a human pinball, for example) the McHale takedown of Rambis remains the go-to clip for TV producers who need to summarize the rivalry's animosity.
"When you see things over and over again, the redundancy gets tiring," said Rambis, now an assistant coach for the Lakers. You could tell he already was tired of talking about it, and the Lakers hadn't even traveled to Boston to face the full media contingent yet.
"I would say it's sickening," Rambis said. "Ad nausea right now."
One thing that reflects well on him: He popped right back up after getting knocked to the deck.
"You don't have time to sit around and cry," Rambis said. "I was fortunate I didn't get hurt."
When retired players say they could deliver more vigilante justice back in the day, they weren't kidding. The only penalty on McHale was an ordinary personal foul.
If it had occurred today, "It clearly would be a flagrant foul," Rambis said.
Notable Games Through History
By ESPN Research
Here are some notable Finals happenings through NBA history that occurred on June 5, which is opening night this year for the Celtics-Lakers finals.
1991 -- Michael Jordan of the Chicago Bulls drove the lane against the Los Angeles Lakers in Game 2 of the 1991 NBA Finals. As he moved past Byron Scott with the ball in his right hand, Jordan took off for the basket intending to dunk. The Lakers' Sam Perkins came over to try to contest the shot, but Jordan switched the ball into his left hand while in midair and gently flipped it in off the glass. The vintage Jordan effort helped the Bulls beat the Lakers 107-86 en route to their first title. Chicago set a Finals record for team shooting percentage at .617 (50-for-81). Bulls guard John Paxson also tied a Finals record by shooting 1.000 (8-for-8) from the field, tying Scott Wedman, who was 11-for-11 for Boston in Game 1 of the 1985 Finals against the Lakers.
1986 -- The Celtics lose Game 5 of the Finals in Houston 111-96. This game was marred by a brawl started by the Rockets' Ralph Sampson, who began swinging wildly at Celtics reserve guard Jerry Sichting. The Rockets rode the charged-up crowd to the victory, avoiding elimination and sending the series back to Boston.
1985 -- The Celtics beat the Lakers in Game 4 of the Finals 107-105 at the Forum. Dennis Johnson hit a buzzer-beating 19-foot jumper to win the game and even the series at 2 apiece. The Lakers would go on to win the next 2 games to capture the title -- the first time they'd defeated the Celtics in nine Finals meetings.
1977 -- The phenomenon known as Blazermania reached a peak as Bill Walton blocked eight shots, a record for an NBA Finals game (since tied by four players), and Portland beat Philadelphia 109-107 in Game 6 to win its only NBA Championship.

By J.A. Adande
ESPN.com
BOSTON -- There's a paradox to the NBA Finals. Those who have been there before say the key for the newcomers is to approach it the same as any other game. But the fact they feel the need to tell them that shows that it isn't just another game.
All week, the words from the more experienced players have sounded like those of Sam Cassell on Wednesday. "I told my young guys, just don't overdo what you've been doing," said Cassell, who won championships with the Houston Rockets in 1994 and 1995.
"If you shot 100 jump shots before the game, continue to do that. Don't go shoot 500. You're putting so much pressure on yourself to make the shot. Just go out there and play relaxed and just be yourself. Kevin [Garnett], Ray [Allen] and Paul [Pierce] have been through numerous games. It's a game, it's just on the biggest stage. That's all it is."
Still, there's no test drill for the transformation of the court and the arena, the extra layers of media, the new sensation of playing competitive ball into June, when your body has been accustomed to switching into vacation mode.
The mantra of three-time champion Kobe Bryant has been, "You have to execute. You can want it worse than anybody on this planet, but if you don't have a group of guys or a team that collectively executes well enough to win, you're not going to win."
Who will execute when it matters most? That's what makes it impossible to give an accurate prediction of what's to come. It's not simply a matter of the matchups. It's mental makeup. With the exception of Bryant, Cassell, Derek Fisher and James Posey, we haven't seen these players at this highest hoop level.
"I've never been in this position," Boston's Ray Allen said. "I don't know what the moment is going to present."
Neither do we, which is what makes it so compelling.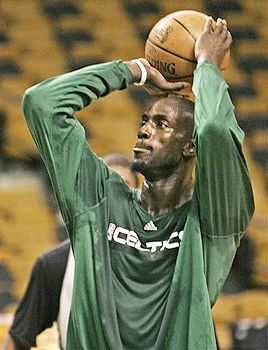 Mark Duncan/AP
Kevin Garnett breaks a sweat the day before his first NBA Finals.
NBA Hall of Famer Bill Walton tells ESPN Radio's Mike Tirico and Scott Van Pelt about his time with the Celtics and his son Luke's role on the current Lakers team. Walton also discusses the history of Lakers-Celtics and previews this year's NBA Finals.
Plus, Boston fans are looking for every edge. They have been e-mailing Bill asking for cell phone numbers for Luke and Kobe Bryant.
•Walton's returns to mic

By ESPN Research
In the history of the NBA Finals, the home team has a .738 winning percentage in the first game of the series (45-16). Coincidentally, the Game 1 winner went on to win the title in 44 of the 60 previous NBA Finals. Series won by team with home-court advantage, since 1983-84 ...
| | | |
| --- | --- | --- |
| Round | W-L | Win Pct. |
| First Round | 154-46 | .770 |
| Conf. Semis | 79-21 | .790 |
| Conf. Finals | 35-15 | .700 |
| NBA Finals | 18-6 | .750 |
There have been 377 completed best-of-seven postseason series in NBA history. Here is how teams have done in those series ...
| | |
| --- | --- |
| Status | W-L |
| Up 1-0 | 297-80 |
| Up 2-0 | 202-14 |
| Up 3-0 | 85-0 |
| Up 2-1 | 238-53 |
| Up 3-1 | 173-8 |
| Tied 1-1 | 122-39 (Game 3 winner) |
| Tied 2-2 | 121-24 (Game 5 winner) |
| Tied 3-3 | Home team in 81-19 Game 7 |