Photo by Jesse D. Garrabrant/NBAE/Getty Images
The Lakers Know Powe's Name Now

BOSTON -- If you've never heard much about Leon Powe, you're in good company. The Lakers obviously didn't know all that much about him, which is a huge reason why the NBA Finals are heading to Los Angeles with the Celtics holding a 2-0 lead.
When Phil Jackson came to the postgame interview podium, he mispronounced Powe's last name and called him "Pow" (or "Pau").
When Kobe Bryant took his turn on the podium, he admitted the Lakers have "got to do a better job focusing on personnel."
So who is this Leon Powe, the 24-year-old power forward who came off the bench to score 21 points in just 15 minutes Sunday night in Game 2 of the NBA Finals, leading Boston to a 108-102 victory over the Los Angeles Lakers?
Well, for starters, his nickname, "The Show," rhymes with his last name, and was given to him when he was in AAU ball because people talked about going to see Powe the Show.
For another thing, he was acquired by the Celtics by the very same person -- former general manager Chris Wallace -- who gift wrapped Pau Gasol and sent him from the Memphis Grizzlies to the Lakers at midseason.
"He is one of my all-time favorite players. He comes in every day with an upbeat, cheerful attitude, no sense of moodiness, no sense of entitlement," Wallace told ESPN.com by phone early Monday after getting filled in on the details of Powe's performance, which helped the Celtics build a 24-point lead that they ended up needing every bit of to hold off the Lakers' late rally. (Powe's final point, on a foul shot, made it 96-73 with 7:27 remaining.)
Powe was selected in the second round of the 2006 draft by the Denver Nuggets (with the 49th overall pick), and his rights were acquired by the Celtics on draft night in exchange for a future second-round pick. The Celtics decided to pull the trigger on the deal for the Nuggets' pick between the first and second rounds because they liked their chances of landing either Powe or Paul Millsap (who went 47th to Utah).
Wallace recalled meeting Powe for the first time after Powe flew from Oakland to Boston and arrived late at night on the Fourth of July. He took Powe and his traveling companion, Bernard Ward, to a drive-through window at Burger King, telling them along the ride how the Celtics had a pretty nice practice facility, and how the original championship banners were actually hanging at the suburban facility -- not at the arena downtown.
Powe and Ward wanted to have a look, so Wallace drove out to Waltham, Mass., unlocked the facility and watched the two of them shoot jumpers and play H-O-R-S-E for the next hour, staying until 2 a.m., "like two kids in a candy store."
After Game 2 Sunday night, when Jackson mispronounced Powe's name, it should be noted that the coach quickly corrected himself and apologized. Jackson pointed out that Powe shot more free throws (13) in his 15 minutes of playing time than the entire Lakers team attempted all game (10).
Jackson's mispronunciation was relayed later to Powe, who chuckled at it and said his teachers used to do the same thing. ("I let them get away with it," he said.) That would have been back when Powe was growing up in Oakland, becoming homeless, then going into foster care before losing his mother to heart disease and being looked after by Ward, who is now 40.
Powe played at Cal and was a star his freshman season, but injuries to both knees knocked him out of action for a season and helped contribute to his drop to 49th in the draft -- 28 spots after the Celtics got Rajon Rondo (who was a huge part of this victory, too, with 16 assists and just two turnovers). Powe's points and minutes per game increased every month during the regular season, and he has shown flashes -- but not much consistency -- over the course of Boston's march through the first three postseason rounds.
"I thought the first six minutes of the game, we established no post game," Boston coach Doc Rivers sad. "We actually had to go to Leon to establish a post game."
The Lakers did not front him and ended up having to foul him, and Powe ended up having his coming-out night.
From here on out, it's highly unlikely anyone is going to underestimate the player Jackson referred to as "Pow."
"I'm not worried about people not pronouncing my name right. I ain't tripping off that," Powe said.
No, he was too busy trippin' on success, a kid from Oakland whose life of adversity and air of humility led him to the NBA's biggest stage, where he put on a show. And remember, as we're sure Phil Jackson will: Show rhymes with Powe.
Chris Sheridan covers the NBA for ESPN Insider. To e-mail Chris, click here.
Whistles Didn't Go In Favor Of Lakers

By J.A. Adande | ESPN.com
BOSTON -- There are two game stories I hate to write: the almost-comeback and anything to do with the officiating. Game 2 of the NBA Finals was both.
It's hard not to mention the refs when one team shoots 38 free throws and the other shoots 10, which is what happened with the Celtics and the Lakers. Lakers coach Phil Jackson was itching to talk about it, but knew it could lead only to trouble. So he came out to address the media and said he had no opening statement. Then he used the first question as an excuse to make a statement.
To read the entire column, click here.
Lakers Escort Powe To the Rim
By John Hollinger | ESPN.com
BOSTON -- From the Celtics' side, Leon Powe's coast-to-coast dunk was the play of the game. From a neutral observer's perspective, however, it was quite possibly the single worst defensive play of the playoffs.
With Boston up 93-71 and 8:35 remaining, the Lakers decided to make one last push and trap the Celtics in the backcourt. Rajon Rondo saw the trap and lofted the ball over two defenders to Powe, who was a harmless 60 feet from the basket when he caught it. (Side note: In a brazen act of hometown scorekeeping, Rondo got an assist on this play. I've seen some dodgy assists handed out this year, but that one may take the cake.)
Powe began dribbling up court ... and dribbling ... and dribbling. Remember, rule No. 1 in basketball is simple: Stop the ball. But as Powe gained speed and crossed half court, it became apparent that nobody on the Lakers seemed interested in halting him. In fact, the middle of the defense opened like the Red Sea as the Lakers stayed glued to the other three Celtics.
Once Powe reached the free-throw line, Pau Gasol finally made a halfhearted effort to close the gap. But by then it was too late. Powe went in for the easiest two of his 21 points, the crowd exploded and the Lakers were cooked.
"That was a situation where [Vladimir Radmanovic] did a trap in the backcourt and opened it up," said Lakers coach Phil Jackson, "and Gasol was afraid to leave [Kevin] Garnett for an easy basket. But it was a poor play, an awful play."
Jackson then tried to make our jobs easier with a play on words, saying his team was so at ease on defense it was "at disease."
"It was a really bad read on our side," said Radmanovic.
The silver lining was that the Lakers rallied from that point, outscoring Boston 31-9 over the next 7:20 to briefly pull within two points. But it was too little, too late, and Powe's play was emblematic of a Lakers team that didn't show enough mettle at the defensive end in either of the first two games.
"We just can't play any worse than this," said Jackson of his team's defense in the first three quarters.
He'd better hope he's right.
John Hollinger writes for ESPN Insider. To e-mail him, click here.
By Maurice Brooks
ESPN.com

SUNDAY'S BEST
Leon Powe, Celtics forward
: In a game featuring Boston's big three and the league MVP, it is hard to imagine that Leon Powe was the one getting his name chanted inside TD Banknorth Garden at the NBA Finals.
---

SUNDAY'S WORST
Los Angeles Lakers
: Kudos to the Lakers for the made-for-television rally, but they can't expect to fall behind by 24 points -- especially against a team like the Celtics -- and still come away with a victory.
---
QUOTE OF THE NIGHT

"Our mind-set is to get Game 3 and try to take away their confidence and win this series in L.A."
-- Celtics All-Star Paul Pierce on the Finals shifting to Los Angeles
Poor Rotation Hurts Lakers

By Dr. Jack Ramsay
ESPN Radio
BOSTON -- NBA games can change at the drop of a hat ... or if group substitutions don't work out. The Lakers frequently go to their bench at the start of the second quarter and have gotten good results from the change in lineup. But I have never seen them use five reserves at the same time. Coach Phil Jackson usually keeps one of his starters, either Kobe Bryant or Lamar Odom, in the mix.
At the beginning of the second quarter of Game 2, with his team up 22-20, Jackson started the second quarter with five reserves: Jordan Farmar, Sasha Vujacic, Ronny Turiaf, Luke Walton and Trevor Ariza. Over the next two minutes and 20 seconds the Celtics had run off 10 straight points to give them an eight point lead that they never relinquished.
Give the Lakers credit for a spirited fourth-quarter rally to close the gap from 24 to just two points, but that 160 seconds at the start of the second quarter was the turning point of the game.
Legendary coach and Hall of Famer Dr. Jack Ramsay serves as lead game analyst for the NBA on ESPN Radio.
By Henry Abbott
ESPN.com
The NBA Finals. Two-point game. Forty seconds left. The Celtics desperately need a bucket to stave off what would have been a historic comeback by the Lakers.
Boston works the ball to the guy who, a few days ago, was taken off the court in a wheelchair. It's an obvious choice. Paul Pierce has been an alpha dog tonight. He has been moving well -- and in this moment works himself into a good look and is fouled with 22.8 seconds left.
Even on his healthiest days, Pierce has creaky-looking free throw form. But the shots are both good, and the Celtics take a four-point lead.
The Lakers call timeout, and Doc Rivers tells the Celtics in the huddle to switch on every pick. Upon inbounding, the Lakers are picking and cutting like crazy, but no one's getting open.
There are mismatches all over the floor. The Lakers, flustered, waste precious seconds deducing what's happening.
To read the TrueHoop blog, click here.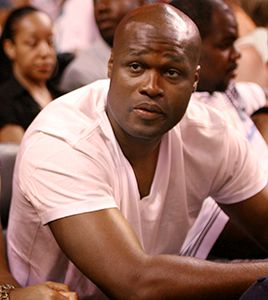 David Sherman/NBAE/Getty Images
What is going through the mind of Timberwolves forward Antoine Walker? 'Toine played with the Celtics for seven-plus seasons and was seated next to Red Sox slugger David Ortiz during Game 2.

Elias Sports Bureau
Rajon Rondo's total of 16 assists was the highest for any player in a Finals game since Magic Johnson had 20 in a losing cause in Game 5 against Chicago in 1991. The Bulls claimed their first championship that night, winning 108-101 in Los Angeles.