Photo by Andrew D. Bernstein/NBAE/Getty Images
Who's On A Course For Remorse? Not Necessarily The Lakers

The most intriguing possibility left in the NBA Finals is the chance it might be the Celtics who lost the Regret Game.
The Regret Game is the one that comes back to haunt you for years after the series ends. The one that represented your best or last shot to win it. The one that was tantalizingly within reach.
LAKERS VERSUS CELTICS
NBA FINALS
Boston 3, L.A. Lakers 2
Game 6: Tuesday at BOS
Coverage begins 8:30 p.m. ET (on ABC)


For now and quite likely forever that game is Game 4. The Lakers had a 24-point lead in their building and couldn't bring it home, couldn't refresh the series at 2-2 and couldn't keep the historical odds from stacking up against them.
But Boston had just as good an opportunity to finish off the series in Game 5 -- the Lakers won 103-98 -- and now the Celtics have left the door open for all of their little things to turn into one big problem.
Kendrick Perkins, whose absence from the middle because of a left shoulder injury allowed the Lakers to act all tough in Game 5, is a game-time decision for Game 6.
If you looked at the in-between moments during Paul Pierce's spectacular 38-point effort, you saw him limping down the court. A cross-country flight and quick turnaround for Game 6 Tuesday aren't the best prescription for the injured cartilage in his knee. When he played after such a scenario in Game 3 it was his worst night of the series (six points on 2-for-14 shooting). Every minute he plays makes the knee worse, not better.
Ray Allen rushed out of Staples Center after the game to attend to a health issue with his son. He is expected to play in Game 6, but where will his mind be?
Either Rajon Rondo's ankle won't allow him to explode to the basket or he's losing the confidence to try. What other explanation could there be for the way he passed up close shots in Game 5?
Then there's Kevin Garnett. He missed 3-of-4 free throws and a point-blank tip try in crunch time Sunday night. We thought he had learned his lesson and quieted the critics with his fourth-quarter play in Game 4, but he reverted to the old KG the next time out.
Garnett is like Kobe Bryant in that his greatest asset is also his weakness. In Kobe's case, it's his fearless attitude that instills a belief he can do the impossible -- so he tries it. Garnett has a tremendous inner drive. Except he doesn't know how to tone it down. Watching Garnett do a TV interview on Saturday, he looked just as intense as when he steps on the court. You know how blenders have different settings like whip and puree? Garnett has only one button: ice crusher. Imagine what he'll be like as the end of the series draws closer.
The Celtics have been the superior team throughout the series, but now they're the ones with more ancillary issues that need to be addressed. Just getting back to Boston was a challenge for the Celtics, who were stuck at the airport Monday afternoon because of a mechanical problem with their plane.
A victory Sunday and it wouldn't have mattered. Maybe they would have been late or a little groggy for the parade, that's all. The fans wouldn't have minded.
Ask the Spurs what happened when their plane kept them from getting to Los Angeles after they won Game 7 against the Hornets in New Orleans. Their mushy legs couldn't keep a 20-point lead standing in Game 1 of the Western Conference finals. It was their Regret Game. The Spurs never really got over it.
The Celtics could reach that point. Every time something goes awry, they'll have that nagging feeling that they didn't have to be doing this, that they could already be on their way to vacation.
They're back home for Game 6, and it's asking a lot for the Lakers to show confidence and aggression that far from L.A. Winning Game 6 wouldn't make the task any less daunting for them; the Celtics are 16-3 in Game 7s at home. The only good thing for the Lakers when it comes to TD Banknorth Garden is they scored 41 points in the last quarter they played there.
It couldn't have felt right for the series to end in five. Eight of the 10 Finals meetings between these teams have gone at least six games. It's starting to get ... appropriate.
Pau Gasol, who's new to playing in June, let alone playing in a Lakers uniform against the Celtics, said he was motivated by his desire to keep the Celtics from popping the champagne bottles in Staples Center. That's how it should be in this rivalry. Seeing the other team lose should feel just as good if not better than winning yourself.
And missed opportunities should torment you. We'll see who has the greater lament.
J.A. Adande is an ESPN.com senior writer and the author of "The Best Los Angeles Sports Arguments." Click here to e-mail J.A.
NBA Finals Dimes Past: June 2 | 5 | 6 | 7 | 8 | 9 | 10 | 11 | 12 | 13 | 14 | 15 | 16
Distant Mirror: How This Series Echoes 1987
By John Hollinger | ESPN.com
With all the hype over the Lakers and Celtics re-enacting their great rivalries of the '60s and '80s, it's surprising that nobody has pointed out yet how similar this series is to the last time to these two teams met in the Finals, in 1987.
Perhaps that's because the two sides have switched roles.
The most eerie similarity, though, comes with Game 4. In '87, it was the Celtics kicking away a 16-point lead at home to lose on Magic Johnson's hook shot; in '08 it was L.A. who punted a big advantage (24 points) en route to a shocking home defeat that put them down 3-1.
• To read the full blog, click here.
The People's Choice: Celtics ... Or Is It Lakers?

If SportsNation ran an Electoral College, then the people's will is quite clear: The Celtics will win Game 6 and later hoist banner No. 17 to the rafters.
However, Jordan Farmar, right, and the Lakers appear to have the majority of votes nationwide, bolstered by voters in California and elsewhere, including Michigan, home to Pistons fans who might be peeved Detroit did not get its chance at another title banner.
By ESPN Research
The Celtics, who endured three road losses against both the Hawks and Cavs in the first two playoff rounds, nearly set the record for most road losses in a playoff season.
However, losing on the road isn't the end. The Lakers' 1987 title team dropped eight games on the road. The Celtics finished 3-9 away from TD Banknorth Garden, good for a share of the playoff road record.
| | |
| --- | --- |
| Team | Losses |
| 2008 Celtics | 9 |
| 1994 Knicks | 9 |
| 2004 Lakers | 8 |
| 1987 Lakers | 8 |
By ESPN Research
Kobe Bryant and the Lakers earned their first win when facing elimination since 2002 when they defeated the Celtics on Sunday night in Game 5. Here's a look at Kobe's recent performances when his team was facing elimination.
| | | |
| --- | --- | --- |
| Year | Opp. | Pts. |
| 2008 Finals | Celtics | 25 |
| 2007 First Round | Suns | 34 |
| 2006 First Round | Suns | 24 |
| 2004 Finals | Pistons | 24 |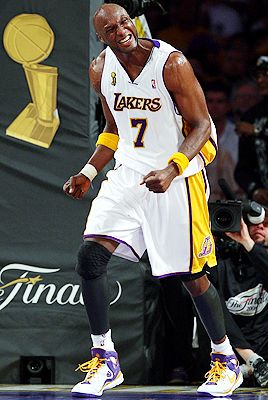 Lisa Blumenfeld/Getty Images
Lamar Odom had 20 points in Game 5. If the Lakers hope to capture two wins in Boston, Odom's play likely will be a vital factor.
In the history of NBA Finals in which the Celtics have led the Lakers 3-2, they have yet to drop the final two games to the Lakers.
| | |
| --- | --- |
| Year | Results |
| 2008 | ? |
| 1984 | W, 4-3 |
| 1968 | W, 4-2 |
| 1966 | W, 4-3 |
| 1963 | W, 4-2 |
No Staples View For Game 6
ESPN.com
The Lakers won't be opening up Staples Center for public viewing of Games 6 or 7.
Why?
According to the Lakers, "After meeting with law enforcement and city representatives, we have agreed to not open Staples Center for a public showing of any upcoming playoff games from Boston."
Maybe this Game 2 video will explain the decision.
Yes, that appears to be a chair thrown in the direction of the man in a Celtics jersey.