Photo by Jim Rogash/Getty Images
The Celtics raised their championship banner to the rafters Tuesday.

Photo by Jim Rogash/Getty Images
KG's Celtics came out on top of LeBron's Cavs.

Photo by Lisa Blumenfeld/Getty Images
Greg Oden locking up with Andrew Bynum.

Photo by Gary Dineen/NBAE/Getty Images
Derrick Rose takes the court as a pro for the first time.
Celtics Opener: Tears From Pierce, Hunger Pangs From LBJ

BOSTON -- There are several snapshots we'll walk away with from the night the Boston Celtics raised their 17th championship banner to the rafters -- a night, unlike ring ceremonies we've witnessed in recent years, in which the focus on what happened last season seemed to dissipate before the evening was even halfway over.
Yes, the Celtics came to get their rings. Yes, there were the requisite jokes about whether commissioner David Stern flashed a gang symbol at Paul Pierce before handing him his jewelry. And yes, there was the game finishing the same way so many Celtics home games ended last season -- the C's on the winning side of the final score, this one a 90-85 victory.
But the focus Tuesday was not on how much bling was in each ring. It was on what the Celtics -- and the Cavs, for that matter -- were ready to bring. Which players had improved most over the summer? Which team appeared more polished? And most importantly, which team was hungrier?
And after one game, the check mark in all three categories went to Boston.
"After halftime, emotions got out of the way and we started to play our brand of basketball," said Pierce, who led all scorers with 27 points after giving a prolonged, teary-eyed, crackly-voiced speech to the crowd following the raising of the championship banner. "We're going to learn from this game."
They'll need to, because this was an oddity of a night in which the best player on the court in the fourth quarter was not a member of Boston's big three, nor was it LeBron James, who gave a somewhat quizzical answer beforehand when asked whether winning the gold medal with the U.S. Olympic team had sapped him of some of his hunger to succeed.
In a final 12 minutes in which Boston's trio of Ray Allen, Pierce and Kevin Garnett combined for only eight points, the champs let Tony Allen (seven points) and second-year pro Leon Powe (four points) handle most of the heavy lifting, while the team in wine-and-gold got its biggest boost not from James, who missed two of four crucial free throws in the final seconds, but from Anderson Varejao, who was even more effective on the boards (seven in the quarter) than he was in shutting down Garnett (only one shot attempt in the final 7½ minutes).
"It was an emotional night, and I know I'm sounding like a broken record, but it was hard to step back from it," Garnett said. "The second half was better once we settled in, and when teams come in here they know our defense will be up to par, and that's what we'll hang our hats on."
The emotions were flowing in the moments prior to tip-off, tears filling Pierce's eyes as he tried to spew out exactly how meaningful this moment was for him. John Havlicek was holding the championship trophy and had led a procession of Celtics greats out of the tunnel, and Garnett was the unofficial winner of the race to see who could put the ring on his finger quickest after the commish handed it over.
Predictably, the Celtics were flat over the first 24 minutes, but they seized control with a 12-2 run to begin the second half, went ahead by four entering the fourth and never let the Cavs catch them. James had two chances to keep Cleveland within striking distance late in the fourth, but he missed the first of two free throws with 10.6 seconds left, blowing a chance to pull the Cavs within one, then missed the first of two with 4.8 seconds left when a pair of makes would have gotten the deficit down to two.
The misses contributed to James' 4-for-8 showing from the free-throw line, prompting ESPN.com to ask him afterward what his goal was for the season in terms of free-throw percentage (his free-throw percentage dropped in each of his first four seasons, from .794 to .698, before rising to .712 last season.)
"Eighty percent," James answered, "but I didn't start too well tonight."
We should expect James to be up around 80 percent by this point in his career, trending upward in his accuracy rather than in the opposite direction. But free throws are one of those little things that have tested James' concentration and confidence over the years, tests that he had continually failed to ace until this past summer in Beijing. So satisfying was winning the gold, especially after being a part of Team USA's failures in Athens in 2004 and in Japan in 2006, that it made one wonder whether James still feels the same level of hunger that he carried with him 12 or 24 months ago.
"I think it's impacted my hunger a lot. To set out to accomplish something, and to have it happen over a four-year time, and to also do it with guys that all had the same dream -- to win a gold medal -- it was everything and more. I think the next step for me is winning an NBA championship," James said, "but it's tougher to put the same challenges on this team as the USA team -- 11 of the greatest guys in the world. But we have high expectations here, and when you have success at doing something you set out to do, it helps you motivate yourself for your next challenge."
The first step of that challenge was spoiling the Celtics' celebration, and the Cavs weren't up to the task.
Yes, it's only one of 82, and yes, it will matter not one iota come late May or early June. But Tuesday night set a tone for these two teams to carry with them until they see each other again on Jan. 9, and the first 48 minutes of the 2008-09 season showed us that the edge in this matchup still goes to the Celtics. At least for now.
Chris Sheridan covers the NBA for ESPN Insider. To e-mail Chris, click here.
Disappointing Debut for the Trail Blazers' Oden
By Eric Neel | ESPN.com
LOS ANGELES -- The trainer's room in the visiting locker room was packed. Reporters climbed onto padded tables and cameramen stood on chairs. They craned for a look at the boot on Greg Oden's right foot and strained to hear his whispered explanation of what happened. He thought it was a rough landing on Derek Fisher's foot. He would be back in the gym tomorrow, he promised, staring at the blank wall in front of him. As the brief question-and-answer ended, and the crowd filed out of the room, Oden heaved a heavy sigh and reached for his size-18 right shoe on the table beside him.
The cart sat in the hallway outside the Trail Blazers' locker room for almost half an hour. Finally, after all his teammates and most of the Portland coaching staff had showered and walked to the team bus, Oden came through the door on crutches, headphones around his neck, and lowered himself into the small vehicle. You hear people talk about how old he looks for his age, about how mature he is, but he looked like a little kid in that cart.
Athletes are supposed to wear their faces like masks, never revealing their true feelings, never hinting at weakness, but his face was full of fear and frustration and sadness. A baller is supposed to keep an even keel, no matter how the game went tonight, no matter what the challenge is tomorrow, but Greg Oden was down, shaken, dizzied by the fall from what he had hoped this night would be to what it had become.
Maybe Wednesday's MRI reveals a mild sprain. Maybe he's back on the floor in no time. (Everyone hopes that's the case.) But the X-rays Tuesday night were inconclusive, and it looked mighty hard for a 21-year-old with a tender ankle who is just coming off a year of rehab to take any kind of comfort in that news.
As a driver moved the cart down the hallway past the Lakers locker room, Los Angeles guard and league MVP Kobe Bryant reached out to the rook. "You good, big fella?" Oden managed a weak smile and a wave and rolled on toward the bus.
Derrick Rose and Greg Oden: First Impressions

By David Thorpe | ESPN.com
As the NBA season opened on Tuesday, we got the rare chance to see the last two No. 1 overall draft picks play on the first night. The last time we saw them play a "real" game, they were the best players on their respective teams in NCAA title-game losses.
Portland Trail Blazers center Greg Oden, playing the physically toughest position in the NBA, is working to bounce back after undergoing microfracture surgery and missing last season. Chicago Bulls point guard Derrick Rose, who started Game 1 in the mentally toughest position on the court, is trying to help resurrect the once-mighty Bulls.
Both fan bases are highly energized, but only one set of fans is still smiling this morning. Still, both guys have the talent to live up to their reputations, but the ride this season is sure to be a bit wild. I watched both Oden and Rose play and made notes on some of the things they did on the court and what they may be doing as they adjust to the NBA game.
Oden, who played 13 scoreless minutes and pulled in five rebounds before leaving with a foot injury in a 96-76 loss to the Lakers, appears very advanced as a defender in the low post. He's excellent at keeping his man in front of him and cutting off angles to the rim. And his feel for what's happening down there is very good.
To read the full story, click here
By Maurice Brooks
ESPN.com

TUESDAY'S BEST
Paul Pierce, Boston forward
: After receiving his championship ring and watching banner No. 17 get raised, he scored a game-high 27 points to move ahead of Hall of Famer Bob Cousy for fifth on the Celtics' all-time scoring list.
---

TUESDAY'S WORST
Scott Skiles, Bucks coach
: Facing the team that let him go last December, he was unable to get a small bit of revenge as Milwaukee dropped a 13-point decision to Chicago.
---
QUOTE OF THE NIGHT

"It's moments like these that you cherish. Whenever you can raise that banner and grab that ring, and be there in front of the people closest to you, it's very emotional."
-- Celtics forward Paul Pierce, who teared up during the championship ceremony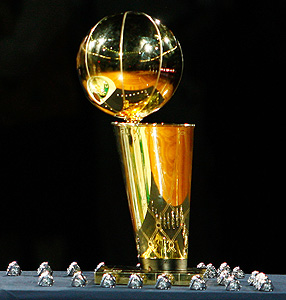 Jim Rogash/Getty
The Celtics received their championship rings Tuesday night after winning the NBA world championship trophy in June.
Cavs Fall Short to C's ... Again
By Brian Windhorst
Special to ESPN.com
BOSTON -- The new Cavs, same as the old Cavs. At least on opening night.
As they licked their wounds following last season's Game 7 loss to the Celtics, the Cavs became determined to make some fixes to their offense to prevent the late-game freeze-ups that plagued them in four losses at TD Banknorth Garden.
That included trading for point guard Mo Williams and moving Delonte West to shooting guard, thus creating a quicker and more dynamic backcourt that could push the ball with two de facto point guards on the floor. The second was to play LeBron James more at power forward, forcing some mismatches and making it harder to double team him without consequences.
In theory, it may work over the long haul. On Tuesday night, all they got was a stiff reminder of their weaknesses in another loss to the Celtics, this one 90-85.
Once again the Cavs' offense became stagnant and ineffective when the Celtics started getting physical in the second half. And once again, on possessions when they had to have baskets, they often ended up doing lots of dribbling with little movement or passing.
After putting up 50 points in the first half -- when they had 11 assists on 15 baskets and moved the ball so well that the Celtics often were caught out of position and had to foul -- the Cavs managed just 35 in the second. They had just five assists and shot 38 percent after halftime, getting to the foul line 11 times after making 22 trips in the first half.
Williams' first foray was not memorable. He scored 12 points but had just two assists and four turnovers. After a good first half, West didn't have a point or an assist in the second half; Daniel Gibson, their other offensive-minded guard, went 0-of-5 shooting after intermission.
Overall, the Cavs gave away the ball 22 times, as the half-court offense turned disjointed down the stretch. It was exactly the sort of effort they've focused on eliminating, especially against defensive-minded teams like Boston.
James wasn't great and he wasn't terrible, scoring 22 points on 9-of-21 shooting with seven rebounds and six assists. The problem was the Cavs needed James to be great to win this game, a habit they are desperate to kick.
"The effort was there, there's some things we could change," James said. "This is something we can learn from."
Brian Windhorst covers the Cavs and the NBA for The Plain Dealer.
TrueHoop Live Blog: POR-LAL
By Henry Abbott
ESPN.com
Trying to think how to describe my feeling as a Blazer fan, heading into my first Oden game ever. Here's what it is: It's Christmas, and somebody has just handed me an enormous wrapped gift. Not sure what's in it, but I am sure it's unwrapping time, and it feels kind of fun knowing that I got the biggest present of all.
Click here to read the entire live blog

Elias Sports Bureau
Michael Redd scored 30 points for the Bucks on Tuesday night, the third time he scored at least 30 points in a season opener. That ties a franchise record. Kareem Abdul-Jabbar also had three 30-point games for Milwaukee in season openers.