Photo by AP Photo/Mary Altaffer
D'Antoni and the Knicks spoiled the debut of No. 2 pick Michael Beasley, who scored nine for the Heat.

Photo by Jesse D. Garrabrant/NBAE/Getty
Elton Brand notched a double-double in his Philadelphia debut.

Photo by Jarrett Baker/Getty Images
Jermaine O'Neal scored 17 and grabbed eight boards in his first game as a Raptor.

Photo by NBAE/Getty Images
Ron Artest was a winner in his first game as a Rocket, while Baron Davis wasn't as fortunate in L.A.
Knicks Score 120 As Marbury, Curry Sit For 48 Apiece

NEW YORK -- Your ears perked up the first time you heard it because, truthfully, you really couldn't believe your ears.
"We want Steph. We want Steph," a small portion of the crowd at Madison Square Garden chanted as New York was comfortably ahead late in the third quarter of what would eventually become a near collapse as the Mike D'Antoni era kicked off with a 120-115 victory Wednesday over the Miami Heat.
The chant broke out again early in the fourth, and your ears really perked up this time because of the way most of the crowd responded to the chant -- by drowning it out with boos.
D'Antoni never once called down to the end of the bench for Marbury, who was also booed in pregame introductions but did not brood during his 48 minutes of pine time, debunking one broadcaster's theory that Marbury would end up with a towel over his head looking like a dead ringer for Lawrence of Arabia by the end of the night.
"Nah, I didn't expect that," Marbury said afterward of the DNP, refusing to express any kind of overt displeasure. "This is a business, and I understand the decision. If that's the way they want to go, I'm fine with that."
Marbury was not alone in the category of highly paid DNP-CDs for the Knicks, as D'Antoni also kept Eddy Curry benched for the entire 48 minutes -- the final 24 of which he spent in the locker room icing his knee after he had it drained earlier in the day to reduce swelling caused by a collision in practice several days ago.
"I want to stay here. I'm happy in New York. I just think it'll take some work, but I'm happy staying," Curry told ESPN.com.
But the length of Curry's stay could be brief. The Knicks are one of several teams that have contacted the Golden State Warriors about disgruntled forward Al Harrington, though the Warriors are said to be more interested in a package built around David Lee (16 points, 11 rebounds, 5 assists against the Heat).
One source told ESPN.com that Golden State's best offers were coming from two Western Conference rivals, but that management would prefer to ship him to the East. A straight up Curry-for-Harrington deal would appear to fill needs for both clubs, although Golden State would be taking on an extra year of salary and making a risky investment in a player viewed by many around the league as too undriven emotionally to ever be an impact player on a contending team.
But aside from the oddity of the Marbury chant and the mystery of Curry's second-half whereabouts, there was a long-missing electricity inside Madison Square Garden as yet another new beginning got under way. The sellout crowd ate up the fast-tempo pace that played to the strengths of Lee, Jamal Crawford (29 points) and late-game saviors Wilson Chandler (17 points) and Nate Robinson (13 points, nine assists), whose timely plays down the stretch helped the Knicks hold off the Heat after a 21-point lead with 6:43 remaining had dwindled to three points with 13.5 seconds left.
Only once last season, in the final game of the 2007-08 campaign, did the Knicks eclipse 120 points.
"I liked the overall play, but the last five minutes it was just a matter of us pulling back. We kind of shut it down. We can't do that. We're not that good," D'Antoni said.
It was one of several times over the course of the evening that D'Antoni made a point of setting the expectations bar low. The coach reminded everyone that this rebuilding process will at times be a lot more slow and painstaking than what we'll see on the hardwood itself, since the Knicks are trying to change on the fly into a team that's capable of 48 full minutes at breakneck speed.
Marbury probably would have been a better fit than Mardy Collins in the 10:21 in which Collins did little more than take up space on the floor (0-for-1, one assist, two turnovers, three fouls), and the DNP-CD was a crystal-clear signal from D'Antoni that Marbury probably will have no place whatsoever in the equation going forward.
And for a night, Marbury said he could live with it.
"If this is what it is, there's always next year. I'm not going to harp on this," Marbury said. "Obviously, me not playing tonight, he felt that rebuilding in whatever direction they're going in is the right direction."
Marbury said those words to a throng of reporters that was easily five times larger than the media crowds around any of the other players' lockers. Even on an opening night when he shouldn't have been the story, he was still a big part of the story, a piece of the past that doesn't fit in with the new furniture but is still adorning the middle of the living room, distracting everyone from the other refurbishments.
And until he leaves or blows up (the smart money is on the latter happening before the former), there will be a distraction surrounding this team that'll continue to take some of the glow off what hopefully, for long-suffering Knicks fans, will be a long, enduring parade of 120-point scoring nights.
Chris Sheridan covers the NBA for ESPN Insider. To e-mail Chris, click here.
Dimes Past: October 28
Spurs Turn To Hack-a-Shaq Early ... Sort Of
By Ric Bucher | ESPN The Magazine
SAN ANTONIO -- Spurs coach Gregg Popovich showed exactly how fearful he was of Shaquille O'Neal's threats to "make the Spurs pay" for intentionally fouling him during last season's first-round playoff loss.
Popovich had Michael Finley bear hug O'Neal on the game's very first possession, prompting a ripple of laughter from both benches.
"Loved it," said Steve Nash. "Classic Pop. We expect that out of him."
Shaq, in turn, said the world by now should expect bombastic comments such as the ones he made over the summer about Popovich being "cowardly" for intentionally fouling him, a strategy that helped the Spurs send the Suns home in five games.
"When I do things and say things, it's all about marketing," he said. "Don't forget, I've got my master's and I'm working on my doctorate. I've been doing it for a long time."
He wasn't sure about Popovich's intentions Wednesday night, however, until he looked down at the Spurs' bench and found Popovich grinning at him and flashing two thumbs-up, all of which Shaq returned.
"Life's too short not to have fun," said Popovich tersely, in a less lighthearted mood after the Spurs' 103-98 season-opening loss.
The Spurs, trailing 44-40, legitimately went to the Hack-a-Shaq strategy for the final 97 seconds of the first half with limited effectiveness; Shaq made 5-of-8 from the line to help the Suns to a 49-46 halftime lead.
Suns coach Terry Porter, anticipating the same strategy with the Suns protecting a three-point lead with less than three minutes to play, sent Boris Diaw to the scorer's table to sub in for O'Neal, but San Antonio didn't try it again and Porter pulled Diaw back.
"You may win a game or two using a mathematical strategy, but in the long run it will never work," Shaq said.
Considering the strategy did work last spring, perhaps it's best that Shaq stick to marketing and leave the laws of probability to someone else.
Ric Bucher covers the NBA for ESPN The Magazine.
By Maurice Brooks
ESPN.com

WEDNESDAY'S BEST
Joe Johnson, Atlanta guard
: Orlando is supposed to have a cakewalk to the Southeast Division title. Apparently, the Hawks -- who received 25 points from Johnson in Wednesday's 14-point win over the Magic -- don't plan to make it quite that easy. This was Atlanta's first season-opening road win in 21 years.
---
WEDNESDAY'S WORST
Oklahoma City starters
: Playing in the first game in franchise history, the Thunder's starting five combined to score just 36 points on woeful 14-for-40 shooting from the field in a 98-87 home loss to the Bucks.
---
QUOTE OF THE NIGHT

"It's the start of my dream, to tell you the truth. It was a dream to play in college, but this is something I've been working on my whole life, to get into the NBA in big arenas like this, big crowds, and getting our first win."
-- Rookie Kevin Love, who had 12 points, nine rebounds and two blocks in Minnesota's season-opening 98-96 victory over Sacramento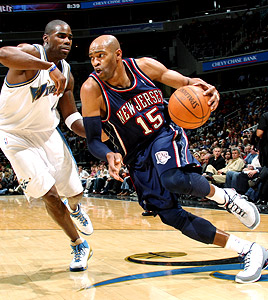 Ned Dishman/NBAE/Getty
After being named captain by his teammates, Vince Carter played like a leader, scoring 21 in New Jersey's 10-point victory in Washington.

Chuck (Chicago, IL):
Tyrus Thomas is a much-improved player, but his biggest point for development *right now* appears to be finishing on non-dunks around the rim. What type of drills can you do to improve that facet of your game? Thanks!
David Thorpe: He shoots too many short shots with his palms up, almost finger rolling it, instead of fingers up and palms to the rim. I'm sure he will work on it, but he's never been a great scorer. Remember, he's younger than Al Horford.
James (England): What did you think of Rudy Fernandez's debut? How far do you think he can go in the NBA? Future All-Star?
David Thorpe: Not sure he'll be an All-Star. That's a loaded spot. But solid starter and a game-changer is in the works.

Two-time MVP Steve Nash says despite bringing in a new coach, the Suns will continue to push the ball up the floor.
Different Result For Pop, TD
The Spurs had won 11 straight season openers, which was tied for the longest such streak in NBA history. Coach Gregg Popovich and Tim Duncan lost a season opener for the first time in their careers.
Duncan and Tony Parker led San Antonio with 32 points each. It was the first time the Spurs had two players score at least 30 points in a season opener since 1988. It was also the first time this happened in the NBA since 2005 when Allen Iverson and Chris Webber did it for the 76ers.
• The Grizzlies lost their eighth straight season opener, matching the longest season-opening losing skid in NBA history (Hawks from 1999-2007). Darrell Arthur's 15 rebounds were three shy of the Grizzlies' rookie record, set by Bryant Reeves in 1996.
• Samuel Dalembert took care of the glass with 17 rebounds. It was the most rebounds in a season opener by a 76ers player since Moses Malone grabbed 18 boards in the 1984 season opener.
• DeMarcus Nelson, a former Duke shooting guard, started at the point for the Golden State Warriors. He is the first undrafted rookie to start for the Warriors since 1962.
-- Lisa Brooks, ESPN Research