Brian Babineau/NBAE via Getty Images
Deep Thoughts With The Big Aristotle

"Are you gonna miss me when I'm gone?"
That's the greeting I got from Shaquille O'Neal when I saw him for the first time this season.
Shaq quickly insisted that he said it simply to get this media pest buzzing, reminding me that he likes "to throw stuff out there sometimes to see what kind of response I get." No, really?
Turns out, though, that it's Greg Oden whom we're missing first. On this opening weekend of the season, Saturday night in Phoenix was supposed to be the first-ever showdown pitting Shaq against Oden, which couldn't happen last season because of Oden's knee surgery and won't happen now because of Oden's twisted ankle.
It was thus decided to devote the season's maiden Weekend Dime to the 36-year-old who's still here, who's admittedly starting to feel his mortality in his first full season with the Suns after last spring's disheartening first-round exit, sometimes even harking back to his days as a 20-year-old.
"I haven't really seen him play much," Shaq said of Oden, which for once makes O'Neal just like the rest of us. "He looks like a pretty skilled defensive player … but he's got a long way to go to get the shogun level. By the time he gets to the shogun level, I'll be long gone."
O'Neal, remember, has only this season and next season left on his contract. Asked if he's as antsy to line up against Oden as so many are to see it, Shaq said: "It ain't really fun when you're on the way out. I caught [Patrick] Ewing at the end and Chief [Robert Parish] at the end. When I was young, I tried to kill all those guys … Ewing, [David] Robinson, [Rony] Seikaly, Chief. I guess it's like they say, 'What goes around comes around.'"
The rest of our recent back-and-forth:
Stein: Are you really starting to see the end? That's the vibe I'm getting.
Shaq: It's not that I'm starting to see the end. It's sort of like a lease. You always keep up on your lease. So I've got two years left on my lease and I'll either renew my lease or I'll just do something else.
MS: So if you had to a put a percentage on it, what are the odds that you'll play after your contract runs out?
SO: I don't know. You never know. I always like to play at a high level. I really wouldn't like to be one of these guys to be out there draggin' or coming off the bench.
MS: You still feel like you're far away from being one of those guys?
SO: I'm all right. I don't feel 18, 19, but I think I can still go out there and make people better. I don't think [the Suns are] looking for me to put up 20-17 or 27-20, but I know I can make Amare [Stoudemire] and those guys better.
MS: If you won a championship in the next two years, how much easier would that make it to leave? Would you just walk away?
SO: Scriptwise it'd be nice. I always felt that the way Michael Jordan went out [with Chicago in 1998] was the greatest. Made the last shot, held [his hand] up there high as he pushed Bryon Russell. I would like to have a little script like that.
MS: But then he came back.
SO: Yeah. Then he came back.
MS: I'm guessing you won't be coming back after you do retire.
SO: I don't know. I really don't know. When I made the comment [in the summer] that I had 735 days left, I wasn't saying that I was retiring. I was saying, 'Hey, I got 735 days left on this lease, and we'll see what happens next."
MS: If you don't win another championship, can you live with four rings? Did you do enough? Do you need to break that tie with Duncan?
SO: Coming up, [with] my father … it was Russell, Kareem and Wilt in my face every day. Bill is a guy with 11 championships, so there's no way I'll catch him. Kareem has six. I'd love to tie him or pass him up, but right now I'm like in third when it comes to championships, tied with the great Tim Duncan. I would love to get to five before [Duncan] gets five, but he's a great player on a great team. But he's not a center, either. He's a forward.
MS: You really believe that?
SO: Yeah. Is he a center? I don't think he is. He's not a center. Does he play 5? No, he's just tall.
MS: When you play [the Spurs] in the fourth quarter, who do you guard?
SO: I guard him.
MS: And who guards you?
SO: Not him all the time.
MS: In the fourth quarter.
SO: Sometimes. … But, hey, he's a great big man. He's a tall 4 that can play 4 and 5, but most of his career he's been [a] 4 and they had another guy that was taller out there.
We're different type of shoguns. We never really had a rivalry with each other. It's never like it was with me and [Alonzo] Mourning or me and David [Robinson]. Great dude.
MS: How do you respond when people say that the Shaq trade didn't work?
SO: I'm used to that. I have to live with that harder and harsher than everybody. … I've played 16 years and it's been my fault 12 times [when my teams didn't win the championship]. When we lose, it's my fault. [I've] accepted that all my life. That's fine with me. But last year I think I did everything I was asked to do. I just think we met each other too late. We tried to change something at the end of the season and the Spurs were just the better team. This year we started from the beginning, and by the time the playoffs come we will know each other.
MS: So how do you respond when people say that the Suns' window has closed?
SO: We've got a chance. I've been on less talented teams. I've been around many years to know whether it's a good team or a terrible team. It's a new system for everybody, but we'll be fine. We have all the pieces.
MS: Will Phoenix be your last stop as a player?
SO: That's cool. That's fine with me.
MS: You know you're going to get questions about your Kobe rap every time you guys play the Lakers.
SO: I'm ready for that. I've talked to him. It was something, in this world we live in now, everybody becomes the media. Everybody can take a clip or take a picture and throw it up there [on the Internet].
MS: Because it is that way, do you wish now you didn't do it?
SO: No. No. Because I was having fun, everybody in the club was having fun. It was all done in fun, the same way me and Kobe used to rap against B-Shaw [Brian Shaw] and J.R. Rider. For those who don't understand freestyle, watch Eminem's movie "8 Mile" and watch my dance-off against LeBron James and Dwight Howard and watch my freestyle about Vlade Divac in the Western Conference finals. I've done that s--- in Dallas with Mark Cuban in the club, having a good time, messing around with him on stage.
MS: So you won't live your life any differently now when someone shoves a cell-phone camera in your face?
SO: Nooooo. Nope. I try not to commit harsh misdemeanors and I try not to commit felonies. I try to live my life as a model citizen. I'm a real model. What you see is what you get. I don't try to play a role and I think it's better that way. I'm not one of these guys who has 20, 30 guys telling them what to do. Everything I've done in my career has been done and designed by me. Do I live my life different? Nope.
I don't live my life trying to win things back. In this world we live in, they either like you or they don't. But I'm not going to be the one trying to go out of my way to get you to like me. Nothing in the world that someone can say or do will make me go into a depression and drink rat poison.
Marc Stein is the senior NBA writer for ESPN.com. To e-mail him, click here.
Dimes Past: October 29 | 30 | 31

A prediction/tip/whatever you want to call it from one helpful team exec: "Keep your eye on the Millers. They will be traded if their teams start slowly."
He's referring to Minnesota's Mike Miller and Sacramento's Brad Miller.
If the Wolves do reach the point when they're willing to part with their recently acquired sharpshooter, interest is bound to be higher in Mike Miller, who was so highly coveted at last season's trade deadline. But Brad Miller did have a decent bounce-back season in 2007-08 at 32 by averaging 13.4 points and 9.5 rebounds in Sacramento.
And both of them, like Golden State's disgruntled Al Harrington, have contracts which expire after the 2009-10 season, enabling (the many) teams hoping to make a free-agent splash that summer to preserve some flexibility. Mike Miller makes $9 million this season and $9.75 million next season; Brad Miller earns a corresponding $11.4 million and $12.3 million.
---
Sam Bowie calls himself "the biggest Greg Oden fan in the world."
"And the tallest," Sam says.
Perhaps you heard Bowie expressing his sympathies for Oden earlier this week on ESPN's "First Take," just as Bowie did last September when Oden suffered the knee injury which required microfracture surgery and cost him his entire rookie season.
Bowie doesn't deny that "jinx is a word that obviously pops up" because of the Blazers' history with the big men they've taken in the upper reaches of the draft.
"I followed in the footsteps, literally, of a guy named Bill Walton … and now Greg," Bowie said.
But he's also urging Oden, from afar, to come back slowly, impatient as Oden must be to play after his third successive season (don't forget the wrist at Ohio State) interrupted by injury. Bowie has spoken repeatedly of the guilt he felt after getting hurt in Portland and rushing back in an attempt to justify his salary and Portland's commitment to him after the Blazers' decision to draft Bowie one spot ahead of Michael Jordan in 1984.
"The best advice I can give is to fight himself to prove to others that he's not injury-prone," Bowie said.
---
Interesting sidebar reminder courtesy of longtime Blazers watcher Dwight Jaynes: Anyone fearing that the Blazers have drafted "another Bowie" should be advised that Oden would do well to match Bowie's rookie numbers in Portland. In 1984-85, Bowie played 76 games and averaged 10.0 points, 8.6 rebounds and 2.7 blocks in 29.2 minutes per game.
"I covered the Blazers that season and I can tell you for sure that Bowie moved up and down the floor faster than Oden, had better hands and more explosiveness than Oden," Jaynes wrote on his blog this week. "That's not to say Oden doesn't have a bigger upside and won't someday turn out to be better than Bowie would have been. It's way too early to write off Oden in any way, in regard to talent, injuries or anything else. Bowie came to the NBA off a full college career. Oden is 20 years old with just that one season in college. It's going to take him a while. Making any definitive judgments about him at this point would be foolhardy.
"I just want to make sure people remember that Sam Bowie was not in any way a stiff. … The late Kevin Duckworth was twice an All-Star and Bowie, when healthy, was a better player at both ends of the floor than Duckworth. … With the kind of fast-paced, unselfish game the Blazers played under Rick Adelman, he would have been the perfect center for that team."
When the season began Tuesday night, there were 436 players under contract and a mere 14 empty roster spots in the league. Phoenix and Toronto were the only teams carrying the minimum 13 players, which in the Raptors' case is allowing them to stay just over a thousand bucks -- $1,106, to be exact -- under the luxury-tax line of $71.15 million.
Nine teams are over the luxury-tax line, led by New York at nearly $27 million, Dallas at $23.2 million and Cleveland at just over $20 million. The total luxury tax owed by those nine teams, as of today, is a tidy $105,141,770.
But it's conceivable that two more teams will manage to get under the line before June 30, 2009, which is the date used by the league to calculate each club's official tax bill. The Rockets and Heat both possess two modest expiring contracts -- Steve Francis ($2.6 million) and Luther Head ($2 million) in Houston, Joel Anthony and Jamaal Magloire on minimum deals in Miami -- that shouldn't be tough to move.
And if the Rockets do find a way to shed either Francis or Head, they are expected to re-sign Dikembe Mutombo later this season at a prorated cost that should keep them out of tax territory. During training camp, Houston general manager Daryl Morey referred to the concept of bringing Mutombo back as "our P.J. Brown move."
Mutombo's old locker at Toyota Center still belongs to him -- and remains filled with promotional foam fingers handed out to fans on a night to honor Mutombo's longevity last March -- and sources close to the 42-year-old say that he has no interest, at this point in his career, in playing for anyone else. Rockets coach Rick Adelman likewise sees size behind Yao Ming as the biggest void on the Rockets' roster, but it remains to be seen if other needs, through injury, materialize to complicate Mutombo's return.
Available Roster Spots
Team
Players Signed
Open Roster Spots
Owed Tax
New York
15
0
26,776,228
Dallas
14
1
23,155,853
Cleveland
15
0
20,049,399
L.A. Lakers
14
1
10,696,783
Boston
15
0
9,634,135
Denver
14
1
7,127,476
Phoenix
13
2
5,609,826
Houston
14
1
1,652,238
Miami
15
0
439,832
Toronto
13
2
-1,106
Chicago
14
1
-518,696
Orlando
15
0
-695,564
Sacramento
14
1
-803,062
Portland
15
0
-1,089,684
Milwaukee
15
0
-1,188,872
Washington
15
0
-1,506,793
Indiana
15
0
-2,131,142
Detroit
15
0
-2,134,722
Minnesota
15
0
-2,256,687
San Antonio
15
0
-2,288,161
Atlanta
15
0
-2,453,566
Golden State
15
0
-3,123,530
Philadelphia
14
1
-3,907,478
New Orleans
14
1
-4,279,619
Utah
15
0
-5,303,392
New Jersey
15
0
-8,483,774
Charlotte
15
0
-9,037,496
L.A. Clippers
14
1
-12,334,723
Oklahoma City
15
0
-13,279,209
Memphis
14
1
-21,672,419

The Pacers are among the teams, sayeth NBA front-office sources, with interest in trading for Golden State's Al Harrington, who went public this week with a request to be traded that he's been voicing privately to the Warriors for about eight months, according to one informed estimate.
Sources say, however, that Harrington is rooting for a different destination, less than thrilled with the idea of a third stint in Indiana. I'm told that the Warriors, furthermore, are highly unlikely to consider taking on Jamaal Tinsley, no matter how much they need a veteran point guard after losing Baron Davis in free agency.
Although there's suddenly considerable chatter around the league about Harrington -- who can play multiple positions, shoot with range and carries a contract with only this season and next season to go at a sum of $19.2 million -- it doesn't appear that Golden State is in any rush to part with him. Yet.
Our own Chris Sheridan reported earlier this week that New York is seriously interested as well. That shouldn't be too surprising given that Harrington, as another team executive notes, certainly looks like "Mike's kind of power forward," referring to new Knicks coach Mike D'Antoni. The Warriors, though, are understandably uninterested in the players New York wants to peddle: Eddy Curry and, of course, Stephon Marbury.
---
If you were drawing up a list of the NBA's foremost floppers, Cleveland's Anderson Varejao would surely figure up high. Chicago's Andres Nocioni would, too, along with San Antonio's Manu Ginobili and inevitably some Americans.
As recent Boston part-timer P.J. Brown memorably said a couple of years back: "We're all floppers. We're all out there flopping. Some of us are better actors than others."
The practice of exaggerating contact to draw an offensive foul has rankled NBA commissioner David Stern as much as anyone in the game, which is a big reason why this was supposed to be the season when the actors, for the first time, would be punished financially. As covered here back in May, teams were informed at the annual pre-draft camp that 2008-09 would bring fines for clear cases of flopping.
"What was clearly expressed to the [league's competition] committee is that we would begin imposing fines next season for the most egregious type of flops," NBA executive vice president of basketball operations Stu Jackson said at the time. "When players are taking a dive, for lack of a better term."
Those intentions, however, have been scrapped, or at least placed on hold. With numerous questions immediately raised about how a fining system for such offenses would even work -- no definitive plans have materialized to determine when and how flops would be ruled upon by the league or how substantial the fines would be -- plans to implement the new edict quietly faded.
"I think that we sort of made our point that we're going to be watching it," Stern told ESPN.com on Thursday. "The teams rushed in and said, 'OK … we get it, we get it, we get it.'
"We'll see what happens. There's no official rule. We're keeping an eye on it, but we don't want to make it more important than it actually is."
---
I suppose it's an understandable question I've received from a few Hawks fans: Are you going to take it out on us because the Hawks didn't keep training-camp invitee Frank Robinson from (you guessed it) Cal State Fullerton?
Honest answer: No.
C'mon. You don't think I'm a bit more mature than that?
However …
Even if Flip Murray proves to be an able, consistent replacement off the bench for the departed Josh Childress, Hawks fans can expect a lot of I-told-you-sos when Robinson returns from a successful Euroleague stint in Slovenia with Union Olimpija. The lefty swingman who was known for his defense in college -- but who also has an underrated perimeter touch -- will be coached over there by former Timberwolves assistant Aleksandar Dzikic after Atlanta made Robinson its last cut in training camp.
Among this season's favorites at Stein Line HQ: Boston in the East over Cleveland, San Antonio over the Los Angeles Lakers in the West, San Antonio in a surprise over Boston for its fourth championship in a span of seven seasons and Greg Oden over Michael Beasley for NBA Rookie of the Year.
Of course, in our first visit of the season with the NBA on ESPN Radio, we were naturally asked to explain all those picks by studio host Marc Kestecher.
• Listen to the interview

For a more West-centric look at the 82 games ahead, checking in on the likes of Phoenix, Denver and Portland -- and naturally the hometown Mavs -- click below to hear Marc Stein's first visit of the new season with his old friends at Galloway & Company on ESPN Radio in Dallas (103.3 FM).
Galloway & Company

Five questions with Rockets guard Tracy McGrady:
Q: How frustrating is it to be less than 100 percent healthwise when the season is just starting?
A: It's tough, but I feel pretty good. Coach [Rick Adelman] is monitoring my minutes. I can't get no lift when I'm shooting the ball [after offseason knee surgery]. Everything is so flat. But I'm about 80, 85 percent. Just got to ease into it.
Q: There's a lot of hype around this team, but there was a lot of hype last season and the season before that. Ron Artest makes it feel that much different?
A: C'mon. C'mon. Are you serious? Of course. You gotta think back to a lot of teams that I've been on. We didn't have the athleticism. We really didn't have depth like this. This is the most talented team that I've been on in my 12 years.
Q: What were you thinking back in July when you heard that the Rockets had traded for Artest?
A: I was excited. I was very excited. It was something in my mind even during last season.
Q: For real? You wanted him last season?
A: I just had a feeling. Every time we played [Sacramento], Ron would go all out. And some of those games he didn't play the night before, but he suited up when he played us. I kind of felt like Ron wanted to be here. So it really wasn't a surprise when we pulled the deal off.
Q: But doesn't Ron's arrival put even more pressure on you than you were already carrying?
A: I don't really believe in no pressure. It is what it is. I understand where you guys are coming from [with criticism]. I haven't made it anywhere [in the playoffs]. Also, not to really take my side, but you gotta look at all the teams I was really dealt with and the teams I was faced against in the first round. Better teams, more talented teams. But my time will come. I know when that time comes, it'll all be worth it.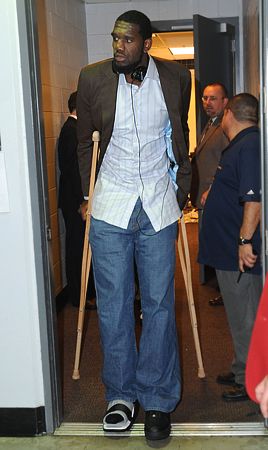 Andrew D. Bernstein/NBAE via Getty Images
A visit to the left (in Box 2) will explain why maybe no one in basketball is sadder to see this picture of Greg Oden than Sam Bowie, Portland's previous injury-tortured center.

''I think we can be a good defensive team. Call me crazy.''
Suns forward Grant Hill, putting his craziness on record even before Phoenix scored a 103-98 victory Wednesday night at San Antonio in Terry Porter's first official game as Suns coach, which came with the bonus of inflicting the first opening night defeat for Gregg Popovich and Tim Duncan in their 12 seasons together.

Chuck (Youngstown, Ohio):
Will Mo Williams really help the Cavs or will he be another Jeff McInnis, Ricky Davis, Larry Hughes type of player?
Marc Stein: Don't think there's any doubt Williams will make an impact and I've yet to encounter a personnel man or scout who disagrees. Mo is a better shooter and more of a fit next to LeBron than any of those guys you mentioned. He's a younger version of the Mike -- Bibby -- whom Cleveland chased for two years before making this deal.
Can't sit here and say that he and LeBron have a great chemistry yet, or that Williams has Bibby's playoff résumé, but you need a point guard next to LeBron who can shoot the ball and threatens to score consistently because LeBron is going to have the ball so much and attract so much attention.
Mo qualifies more than anyone Cleveland has fielded previously in the LeBron era and there is some definite promise in a three-man unit of Williams, Delonte West and Boobie Gibson as LBJ's perimeter sidekicks.
Will (Denver, Colo.): I hear a lot of talk about trading Odom for Marion. It would obviously make a lot of sense for LA, but why would Miami even consider it? They're both free agents next season and I can't see them moving forward with Odom and Beasley on the wings.
Stein: Couple reasons.
1. Miami has already had Odom, knows him and likes him as a post threat, which is something that the Heat don't have right now.
2. Because they're both last-year contract guys, Miami would preserve its flexibility in case it wants to go after someone else in free agency next summer. But I honestly don't think that the Lakers are going to give serious thought to moving Lamar without taking a good look at this team first.