Photo by Nathaniel S. Butler/NBAE/Getty
The Bucks pulled away from the Knicks to win 94-86 in MSG, but lost Michael Redd to an ankle sprain.

Photo by Garrett Ellwood/NBAE/Getty
The future is bright in Oklahoma City.

Photo by Layne Murdoch /NBAE/Getty
The Thunder dominated the boards 50-38 vs. the Wolves, including seven rebounds by Chris Wilcox.
Marbury Limbo, All-Around Badness Envelop Knicks

NEW YORK -- One of two things happened Sunday night at Madison Square Garden:
• The Stephon Marbury limbo situation became such a distraction, it sucked the life out of the Knicks in just their third game of the season.
• The Marbury mess was not a factor at all, and the Knicks simply established themselves as a lifeless, bad team in game No. 3 of their '08-09 campaign.
Looks like Larry Brown will recognize the place even more than he would have imagined when he makes his return to the Garden with the Charlotte Bobcats on Wednesday night. The franchise he left two years ago is looking every bit as dysfunctional and de-energized as it has been for most of this decade.
"We got down 12 points, and literally we weren't doing anything," coach Mike D'Antoni said after a particularly morose 94-86 loss to the Milwaukee Bucks on Sunday.
We'll give D'Antoni a pass on his misuse of the word "literally," excusing it as a momentary lapse into mindless hyperbole that was bound to manifest itself after five full weeks of D'Antoni trying to focus his attention on the 12 guys in uniform instead of the player with the new head tattoo whose No. 3 Knicks jersey may never be worn again.
The point of what D'Antoni was saying was valid, but there was no reasonable explanation as to why New York got so little from Jamal Crawford (one point, 0-for-6 shooting) and David Lee (three points, two rebounds). The seven seconds or less offense was a no-show, and the Knicks were content to chuck away from the 3-point line late in the shot clock. New York scored only four fast-break points and attempted 36 3-pointers in a 94-86 loss to the Milwaukee Bucks.
The matter of Marbury's uncertain future with the franchise continued to hang over the Knicks. He was deactivated for a second straight game, and team president Donnie Walsh said he planned to have a sit-down with Marbury and D'Antoni in the next day or two to discuss the best way to proceed forward.
Asked by ESPN.com if waiving Marbury was an option, Walsh replied: "I don't know yet. We'll see."
That is a departure from the tune Walsh was singing at the start of training camp, when he said he was philosophically opposed to the notion of a buyout (which would precede placing Marbury on waivers) and had never done one in nearly three decades as an NBA executive.
For his part, Marbury again refused to stir the pot.
"Whatever they think is best for me, that's what I'm going to go with," he said. "I'm patient. I'm patient. I'm going to stay still."
Marbury has been steadfast in his statements that he would not accept a reduction in his salary through a buyout, and he used his favorite non-answer -- "Next question" -- when he was asked whether he'd accept 99 percent of his salary to walk away.
"I signed the contract, and in the contract it says this is how much money I'm going to make this year," he said.
D'Antoni has handed the playmaking duties to Chris Duhon, who managed only six points and three assists in 37 minutes against the Bucks, dropping his three-game averages to 6.3 points and 4.1 assists on 30 percent shooting. Duhon's backup, Mardy Collins, went 0-for-3 in 6½ minutes.
At some point, the question should be asked whether the Knicks would be a better team with Marbury running the show. But the Knicks clearly seem to have moved beyond that point by now, and prudence would dictate that they move toward a resolution of Marbury's status in the next several days. Either way, Sunday's game showed that Marbury or no Marbury, sideshow or no sideshow, the Knicks can still be mind-bogglingly bad on any given night.
D'Antoni has argued that it would not be fair to Marbury, given his stature as a former All-Star and Olympian, to be given spot duty as a backup to Duhon.
Still, the argument can be made that it is not fair to Knicks fans to have to endure the pedestrian play of Duhon and Collins when a better option is sitting behind the bench in street clothes. It's an untenable situation for everyone involved, which is why Marbury's limbo status figures to be resolved sooner rather than later. Clearly, the Knicks can't afford to have him and his status lurking over their shoulders for another 79 games.
Chris Sheridan covers the NBA for ESPN Insider. To e-mail Chris, click here.
Dimes Past: October 28 | 29 | 30 | 31
Despite Big Line, Sessions Will Remain Ridnour's Backup
By Chris Sheridan | ESPN.com
NEW YORK -- Flirting with a triple-double got coach Scott Skiles' attention, but it didn't get Ramon Sessions a permanent spot in the Milwaukee Bucks' starting lineup.
Skiles said Sunday night that Luke Ridnour would remain ahead of Sessions on the Bucks' depth chart at point guard despite Sessions' 18-point, eight-assist, seven-rebound performance Sunday night in a 94-86 victory over the New York Knicks.
Ridnour stayed behind in Milwaukee due to back spasms, and the Bucks are targeting Wednesday night for his return. Sessions had 12 points and nine assists Saturday when he filled in for Ridnour against the Toronto Raptors.
"What Ramon has done the last two games is play very, very well. He's obviously earned some playing time, but we're not ever going to be in the business of if a guy misses a couple games, all of a sudden he's out of there. To me, that shows tremendous instability for me and for the team. But Ramon has definitely earned further playing time, no question," Skiles said.
Sessions had two of the best back-to-back lines of last season, going for 20 points and 24 assists in a late-season loss to Chicago and posting a 25-point, 14-assist game against the Timberwolves two nights later.
Elias Sports Bureau
Chris Paul's 24 points and 15 assists led the Hornets over the Cavaliers on Saturday, 104-92, their third straight win to start the season. Paul has reached 20 points and 10 assists in each game. Only one other player in NBA history has started a season on a team that won three straight games and has contributed at least 20 points and 10 assists in each game: Oscar Robertson with the Cincinnati Royals in 1968.
By Maurice Brooks
ESPN.com

SUNDAY'S BEST
Nick Collison, Thunder
: The big man did a bit of everything to help OKC get a feel-good win over Minnesota, with 10 points, 10 rebounds, three steals, two assists and two blocks. His layup with 16.4 seconds left to play made it a three-point game.
---

SUNDAY'S WORST
Jamal Crawford, Knicks
: Stephon Marbury wasn't in uniform and he still almost equaled Crawford's point total of one. The shooting guard missed all six of his attempts from the floor, including three 3-pointers, and managed just a single free throw in 32 minutes.
---
QUOTE OF THE NIGHT

"We never attack almost until we get in desperate situations, and that's offensively and defensively. It's like we're on our heels the whole game and we're kind of waiting for something bad to happen to us. And we're going to have to get over that."
-- New York coach Mike D'Antoni on his team's tentative play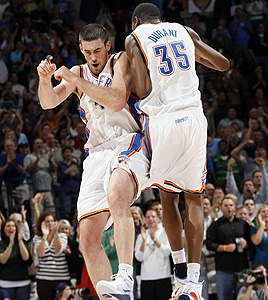 Layne Murdoch/NBAE/Getty
The Thunder are hoping this is the first of many victory celebrations at the Ford Center.
Who Has the Hardest New Gig?
By Jon Barry
ESPN
Of the eight new coaches in the NBA, here is how I rank them in terms of who has the toughest challenge this season:
1. Michael Curry, Pistons: Detroit has made six straight trips to the Eastern Conference finals and their coaches keep getting ousted. Seemed as if this team tuned out Flip Saunders, but will Curry have the respect of this aging group?
2. Terry Porter, Suns: Regular-season success hasn't translated into postseason success for this ancient group. Time is running out for this core collection of stars, and Porter must convince them that playing defense is the only way to win in the playoffs.
3. Rick Carlisle, Mavericks: When you work for Mark Cuban, the pressure is on daily. First-round exits the past two years hasn't sat well with Cuban. This also is an aging group that has imploded since blowing the Finals in 2006, and Carlisle can't make them any younger.
4. Vinny Del Negro, Bulls: A surprise choice takes over the most disappointing team in the East last year. They have loads of talent (maybe too much in the backcourt), and Del Negro will have a tough time keeping this group happy.
5. Mike D'Antoni, Knicks: It's New York! Need I say more?
6. Scott Skiles, Bucks: Basically a free run for Skiles here. This team has struggled for years.
7. Larry Brown, Bobcats: No expectations here. LB is one of the best of all time, so he will put the pressure on himself to get this ship heading in the right direction.
8. Erik Spoelstra, Heat: Total freebie for rookie coach down in Miami. Just let Michael Beasley go and hope Dwyane Wade doesn't bail when he can opt out.
ESPN analyst Jon Barry is a regular contributor to the Daily Dime.