Photo by NBAE/Getty
Billups gives the Nuggets a floor leader, while Iverson brings his high-scoring ways to the Pistons.

Photo by Glenn James/NBAE/Getty
Despite acrobatic shots like this one from Josh Howard, the Mavs couldn't keep pace with the Cavs.

Photo by Andrew D. Bernstein /NBAE/Getty
Baron Davis returned to the lineup (hip) but couldn't do enough to get the Clippers in the win column.
Two weeks ago, our writers foretold the season for each team. But what they couldn't foresee was the huge Detroit-Denver trade during the first week of the season.
Now that Allen Iverson is headed to the Pistons, and Chauncey Billups is joining the Nuggets, we asked several writers to take a fresh look at each team.
Here are the original previews: Detroit Pistons | Denver Nuggets
And below are the revised forecasts:
ANALYST
PISTONS PREDICTION
J.A.
Adande
ESPN.com

CENTRAL: 2 | EAST: 3 (Pre-trade prediction -- Central: 2 | East: 3)
Iverson gives them star power, but will he cast a shadow on ascending Rodney Stuckey? Or will he take time away from dependable Rip Hamilton at SG?
Jon
Barry
ESPN.com

CENTRAL: 1 | EAST: 2 (Pre-trade prediction -- Central: 1 | East: 2)
Dumars wasn't joking about shaking things up. First, Flip Saunders is relieved of his duties, and now the unquestionable leader of the most consistent team in the East is gone. It is a risk bringing in AI, who needs the ball and isn't as good as Billups on D. They must feel like Stuckey is ready.
Ric
Bucher
ESPN Mag

CENTRAL: 1 | EAST: 2 (Pre-trade prediction -- Central: 1 | East: 2)
AI gives them the go-to scorer who can create his own shot they've always needed, but their title hopes still depend on how much Sheed has left to give.
Chad
Ford
ESPN.com

CENTRAL: 2 | EAST: 5 (Pre-trade prediction -- Central: 1 | East: 2)
Iverson will keep the Pistons in the hunt in the East, but the Cavs should be better-positioned to bring home the Central Division crown.
Marc
Stein ESPN.com

CENTRAL: 2 | EAST: 4 (Pre-trade prediction -- Central: 2 | East: 3)
The long-term financial implications are irresistible. But I like it for the Pistons' present, too. Stale? AI changes that and, in a contract year, has to show all the skeptics he can fit into an ensemble cast. And if they get Dice back, too...
ANALYST
NUGGETS PREDICTION
J.A.
Adande
ESPN.com


NORTHWEST: 2 | WEST: 8 (Pre-trade prediction -- Northwest: 3 | West: 10)
Instant upgrade over Anthony Carter at point guard and solidifies a defense that was already looking better, amazingly. Billups should be a better fit with Melo, allowing the Olympian to flourish.
Jon
Barry
ESPN.com

NORTHWEST: 2 | WEST: 9 (Pre-trade prediction -- Northwest: 3 | West: 9)
The Nuggets got just what the doctor ordered -- a point guard who isn't concerned with numbers but is all about winning. They are still one of the most talented teams in the league, and Billups will be the leader on and off the floor that they haven't had in years.
Ric
Bucher
ESPN Mag

NORTHWEST: 3 | WEST: 8 (Pre-trade prediction -- Northwest: 3 | West: 10)
Their focus on D was never going to pay off as long as they had two suspect defenders (AI and Melo) playing 40 minutes. Billups improves their D and has the presence to orchestrate their O. Too bad McDyess isn't coming, because that would turn this from a good deal to a great one.

Chad
Ford
ESPN.com

NORTHWEST: 2 | WEST: 8 (Pre-trade prediction -- Northwest: 2 | West: 9)
Adding Chauncey Billups at the point should help balance out their roster to the point that the Nuggets should be able to eke past either the Mavs, Suns or Blazers for a playoff spot.

Marc
Stein ESPN.com

NORTHWEST: 2 | WEST: 8 (Pre-trade prediction -- Northwest: 3 | West: 9)
I thought Denver could snag No. 8 in the West even before this. Now? That's likely with the Nuggets getting the veteran PG so badly needed in Portland ... though just getting to the playoffs ain't going to be enough to justify the money committed to bringing Chauncey home.

Dimes Past: October 29 | 30 | 31 | November 1-2 | 3
Chicago's Offense Not Firing On All Cylinders

By John Hollinger | ESPN.com
ORLANDO -- Derrick Rose isn't having a problem fitting in with the Bulls. Actually, a better question is whether the other guys are fitting in.
The top overall pick had another solid game, with 14 points and four rebounds in a 96-93 loss to the Magic on Monday. But Chicago's offense sputtered, especially early, as the guards continue to be the only source of scoring.
Actually, Rose was a bystander for big chunks of this game, as Chicago went to a three-guard lineup that often had him spotting up in the far corner while Ben Gordon or Kirk Hinrich went to work up top. That unit, along with some head-scratching plays in the final minute by the Magic, helped the Bulls rally from 17 down and nearly steal a win at the end.
But when his turn came, Rose showed some serious flashes. The most obvious displays were in his finishing ability around the basket. On one play, Rose caught the ball on the left side below the low block with both feet outside the paint. From a standstill, he took one step and threw down a two-handed dunk, and it was clear he could have gone much higher than 10 feet if the need had arisen.
It was more than that one dunk, though. Rose made short floaters with both the left and right hand, and drove to the basket with enough speed and power to get his shot away before Orlando's Dwight Howard could come over and return it to sender. He showed little of his passing flair as Chicago mostly played a one-on-one game, but his one dime -- a sweet little bounce pass between two players to a cutting Aaron Gray for a layup -- was a beaut.
The latter point is indicative of the biggest problem facing Chicago. The Bulls took a point guard many compared to Jason Kidd with the top overall pick and yet are using him more as a scorer than a passer. In his past three games Rose has only six assists, including the lone dime against the Magic.
New coach Vinny Del Negro is essentially running a European-type offense, with the middle normally vacated and virtually no post play. Either Rose, Gordon or Hinrich works up top or off a ball screen to create a shot, while the other players stand away from the play and space the floor. And I do mean stand -- there was shockingly little movement off the ball.
The result is that the three guards are getting theirs, and floor spacers like Andres Nocioni are, too. But slashers such as Luol Deng, Tyrus Thomas, Thabo Sefolosha and Joakim Noah have been neutralized to the point of irrelevance -- and players like that comprise a big chunk of the Chicago roster.
Deng, the Bulls' second-leading scorer a year ago, had only one point on Monday and has made just 6-for-31 shot attempts over the past three games. After the game, Del Negro said Deng needs to learn where the shots come from in his offense, but that responsibility cuts both ways -- the coach needs to learn how to get his best player some better looks.
The others have been even more marginalized. Thomas shot 3-for-7 and is now 10-of-39 on the season, while Noah played only 4:55 and has fallen behind Aaron Gray in the Bulls' big-man rotation. Sefolosha, meanwhile, has started four games but has taken only 16 shots.
It probably doesn't help that they're all starting games together. With Rose, Sefolosha, Deng, Thomas and Drew Gooden as the starting five, opponents are packing in the middle and inviting the Bulls to beat them from outside. It's why the small lineup with Hinrich, Gordon and Rose seemed so startlingly effective in comparison -- Chicago would probably be best off starting either Hinrich or Gordon and bringing the other off the bench with Sefolosha.
In the meantime, Rose should have no problem putting up decent numbers in a system where he'll have frequent opportunities and freedom. Right now, the biggest obstacle to his success is his jumper -- a line-drivey, off-the-shoulder release that allows opposing guards to go under the screen on pick-and-rolls and play him for the drive. But given that he's only 20 years old and possesses tremendous physical skills, one has to be fairly optimistic that this will come around.
In fact, the scariest thought for future Bulls opponents may be that Rose needed half a season to get acclimated to the college game last season before he really began overwhelming with his combination of speed and size. If the same holds true at this level, the second half of his rookie year could be something special.
Alas, if the Bulls don't figure out how to cater to his skills while still getting production from the likes of Deng, it also could be irrelevant.
John Hollinger writes for ESPN Insider. To e-mail him, click here.
Williams Gives A Glimpse Of What He Can Do
By Marc Stein | ESPN.com
DALLAS -- Mo Williams swears that he hasn't been pressing.
"I don't think I've pressed," he said.
And I don't think this was the night to argue with him.
Williams impressed here Monday evening more than his seemingly modest stat line (14 points and six dimes) would ever tell you. After the Mavericks had erased all of an early 16-point deficit, with Cleveland having restored a six-point lead entering the final period, Williams provided the first glimpse this season of the difference-maker so many pundits (hello!) thought the Cavs were getting when they acquired him from Milwaukee in August.
In the Cavs' first six possessions of the quarter, Williams freed himself to drain four long jumpers for a quick nine points and set up baskets for Wally Szczerbiak and Zydrunas Ilgauskas as Cleveland reeled off 13 straight points ... all of it coming with LeBron James watching from the bench.
It was the run that destroyed Dallas in Cleveland's eventual 100-81 triumph, after Williams endured 9-for-25 shooting in the Cavs' losses at Boston and New Orleans.
"I told y'all it would happen," Williams said. "This is what they expect."
P.S. James wasn't bad, either, with 29 points and eight boards in a bit of an offensive breakout after three quiet scoring games (by his lofty standards) to start the season. Best of all, LeBron attacked the rim relentlessly and made his free throws when he got to the line, sinking 13-of-15 shots from the stripe to gain some distance from those late opening-night misses in Boston.
Gasol (Not Pau) Stars In Win
Elias Sports Bureau
Memphis rookie Marc Gasol, in his fourth career game, had 27 points and 16 rebounds in the Grizzlies' victory over the Warriors on Monday night. Gasol is the first NBA player with a 25/15 (points/rebounds) game within the first five games of his career since Shaquille O'Neal did that in November 1992.
By Maurice Brooks
ESPN.com

MONDAY'S BEST
Paul Millsap, Jazz
: Talk about saving your best for last ... the rugged forward popped in 15 of his 24 points in the fourth quarter as the Jazz pulled away for the win against the Clippers. The reserve also pulled down nine boards.
---
MONDAY'S WORST
Sacramento Kings
: They can't really be this bad, can they? The Kings (0-4) trailed by as many as 40 before dropping a 125-91 decision to the Sixers. On the bright side, at least all their defeats have happened on the road.
---
QUOTE OF THE NIGHT

"I guess we have to find somebody else to go to who will not turn the ball over. Those two guys are not taking care of the ball. It's tough to go to post-ups late, because they're going to send Dwight to the line."
-- Orlando coach Stan Van Gundy on the sloppy play of Jameer Nelson and Hedo Turkoglu down the stretch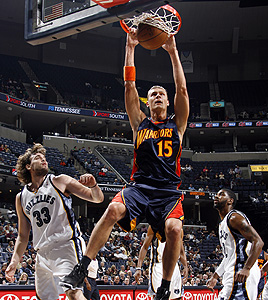 Joe Murphy/NBAE/Getty
The Warriors came up short against the Grizzlies, but don't blame big man Andris Biedrins, who fired in 16 points and pulled down a Moses Malone-like 22 rebounds.
Mavs Looking For Right Combo
By Marc Stein
ESPN.com
DALLAS -- You could sense what kind of night this was going to be for the Dallas Mavericks on the very first possession.
For real.
OK, OK: If you want to get technical, it was the Cleveland Cavaliers' first possession, after Dirk Nowitzki drove in for a deceptively easy layup. The Cavs came up with three offensive boards on their first trip down court, failed to score and then proceeded to dominate anyway.
The Cavs pounded Dallas, 52-35, on the boards in what wound up a 100-81 road rout. They somehow managed to turn 18 offensive rebounds into just five second-chance points -- something you can achieve only by missing a lot of putbacks, which Cleveland certainly did -- but the relentless board work helped prevent the new Mavs from doing what they want to do these days.
Run.
"We got embarrassed in our own building," Nowitzki said, stunned to be held to just eight points and six rebounds -- his first single-digit scoring game in nearly a year -- after such a quick start.
The Mavs' embarrassment, though, stretches far beyond the 0-2 record they suddenly sport at American Airlines Center. The rebound disparity was a killer, sure. But Dallas also looked lifeless defensively, especially in transition D, and continues to get little from a bench that is supposed to be an asset. Jason Terry is struggling mightily and Jerry Stackhouse, who struggled even worse in Week 1, received the first "DNP-Coach's Decision" anyone here could remember. Rick Carlisle -- his former coach in Detroit when Stack was the Pistons' go-to guy -- started him in Saturday night's win at Minnesota.
Carlisle has been searching in vain for some consistency at shooting guard but hasn't been close to finding any from Terry, Stackhouse or Monday's starter, Antoine Wright. At this early stage? The Mavs, after consecutive fourth-quarter collapses at home, look like a team that wants to run but doesn't know how.
Until they figure it out, Dallas will apparently need huge scoring games from Nowitzki (hounded impressively in this one by Ben Wallace and Anderson Varejao) and Josh Howard to have a chance against teams like Houston and Cleveland, even at home. Yet that also made me wonder why Nowitzki was tethered to the bench for such a long rest -- more than nine minutes from the end of the first to midway through the second quarter -- on a night that the hosts had pretty much no one going.
"Hey, we all own it," Carlisle said. "I'm as much at fault as anybody because it was clear that I didn't have these guys ready to play."
"...We all own this thing and we've got to bounce back. San Antonio is sitting there waiting for us [Tuesday] night and they are 0-2 and they are desperate for a win. So there is not a lot of time to mope about this one."
Marc Stein is the senior NBA writer for ESPN.com. To e-mail him, click here.