Bill Baptist/NBAE/Getty
The Celtics enjoy their road games against the Rockets, having won five of their past six in Houston.

D. Clarke Evans/NBAE/Getty
Tony Parker and the Spurs are off to their worst start (0-3) since the 1973-74 season.

NBAE/Getty
The Lopez twins, Brook (Nets) and Robin (Suns), played against one other for the first time as pros.
Boston's Big Three Edge Houston's Big Three

Heading into its showdown with Boston on Tuesday, everything seemed to be in Houston's favor.
The Rockets brought a 3-0 record into the game and were playing at home, while the Celtics were coming off a 16-point loss to the Pacers.
It was the perfect stage for Houston's big three of Ron Artest, Tracy McGrady and Yao Ming to show Boston's big three of Kevin Garnett, Ray Allen and Paul Pierce that they were on their level.
The result: Celtics 103, Rockets 99. While Houston's stars are great, Boston's proved to be just a little bit better.
The biggest difference between the trios is that you have to give Houston's time to come together. McGrady didn't play much in the preseason, so obviously, they haven't been together that long. Boston's big three came together almost instantly a year ago, but that was very unusual. Now, they have a season together under their belts, and they complement each other well.
Even in a game in which they gave up 99 points, the Celtics found a way to get it done defensively. There aren't going to be too many nights when Yao (4-for-14 from the floor) gets only eight points. He missed a lot of shots he normally makes, and the same could be said for Artest (3-for-16, 3-for-10 on 3-pointers), although his misses came a lot farther away from the basket.
Despite the poor shooting of Yao and Artest, Houston was able to stay in the game thanks to the play of McGrady, who scored a team-high 26 points and gave out six assists.
The Celtics' answer to McGrady was Allen, who fired in 11 of his 29 points in the final quarter and seemed to make a clutch basket every time the Rockets got close. Garnett notched his third straight double-double (14 points and 11 rebounds), and Pierce had 13 points, nine rebounds and four assists.
Houston missed out on a golden opportunity with 10 seconds remaining when McGrady was able to make only two of three free throws after drawing a foul on a 3-point attempt with his team down four.
The Rockets -- whose big three came into the game averaging almost 13 points per game more than the Celtics' big three -- know they have the weapons to compete with the elite teams in the league. If they stay healthy, they are the greatest challenge to the Lakers in the West. It is going to take some time for them to figure this out, but there aren't too many teams that can throw an Artest and a Shane Battier at Kobe Bryant. The key for them is keeping Yao and McGrady healthy.
Meanwhile, what makes the Celtics so special is how they always play with intensity and how they hold each other accountable. That is something a coach can't do. A coach can bark as much as he wants, but it's not the same as hearing it from a player.
Houston doesn't have that. T-Mac is a super-talented player but he feeds off the intensity of others. He needs intensity from his teammates to raise his level. The Celtics don't need someone to provide that for them.
And for one night, at least, that kept the Celtics a step ahead of their latest challenger.
ESPN analyst Jon Barry is a regular contributor to the Daily Dime.
Does Trade Mean Change In Role For Hamilton?

By Ric Bucher | ESPN The Magazine
The Detroit Pistons acquired a bona fide superstar scorer, an element they have not had in nearly a decade, by landing Allen Iverson. The trick, for coach Michael Curry and GM Joe Dumars, is to make sure everyone on the Pistons agrees with that statement.
So if you see Curry and Dumars spending more time chatting up Rip Hamilton in the ensuing weeks, chances are it's not because they are making dinner plans or have entered some new business venture together.
Actually, on second thought, maybe they have done that, the venture being: making the trade for Iverson pay its highest dividends.
For now, a team source said, Iverson will start in the backcourt with Hamilton, and point guard Rodney Stuckey will continue to come off the bench. But that is not likely to work for very long. No championship-minded starting lineup with two undersized shooting guards ever has. (Look no further than Iverson's last team, the Nuggets, for proof of that.) After enough slow starts, Stuckey will ascend to his rightful place as the starting point guard, Iverson will slide over to shooting guard and Hamilton will have to embrace the idea of being a sixth-man-of-the-year candidate.
Getting Hamilton comfortable with that role might explain in part why the Pistons just gave him a fat, three-year, $34 million extension. The message being: "We know we're asking you to give up something. Just in case you're worried this could reduce your numbers and thereby your bargaining position for your next deal, we'll take care of that right now."
That said, it's still a sizeable adjustment for someone who has played in three consecutive All-Star games and has started every game he's played in a Pistons uniform, 580 and counting. As primarily a catch-and-shoot scorer, Hamilton depends on the unit around him to get his quota more than most 18-point scorers. That unit goes from being Rasheed Wallace, Tayshaun Prince, Chauncey Billups and Antonio McDyess or Amir Johnson to Walter Herrmann, Kwame Brown, Jason Maxiell and Will Bynum.
On second thought, maybe $34 million wasn't enough.
Ric Bucher covers the NBA for ESPN The Magazine.
Three Things I Have Learned So Far
By Jalen Rose | ESPN
1. The Hornets are legit: They are showing us that all the success they had last season wasn't a fluke. Chris Paul is an MVP candidate again, and they are beating teams even though they are not at full strength.
2. Billups for AI trade: I love when teams make moves to put themselves in position to win games right now. This is a good deal for both teams. Chauncey Billups stabilizes Denver's lineup and lets everyone play his normal position. He plays O and D, will get guys involved and isn't afraid to take the big shot. On the Detroit side, the top teams in the East don't have great point guards and shooting guards, so Allen Iverson and Richard Hamilton have the ability to cause a lot of damage. Iverson is a prolific scorer, and he will have the advantage against the other guards in the conference.
3. Calderon and Bosh: As of right now, Jose Calderon is the best point guard in the East. Combine that with the fact that Chris Bosh is the most productive power forward in the league, and the Raptors' one-two punch is awfully tough to beat.
ESPN analyst Jalen Rose is a regular contributor to the Daily Dime.
By Maurice Brooks
ESPN.com

TUESDAY'S BEST
Jason Terry, Mavericks
: Maybe he should start more often. Making his first start of the season, he exploded for 29 points on 13-for-21 shooting from the field and added six assists.
---

TUESDAY'S WORST
Ron Artest, Rockets
: Memo to Ron: When your jumper isn't falling, why don't you try moving in a few feet? He missed 13 of 16 shots, including seven of 10 3-point attempts.
---
QUOTE OF THE NIGHT

"Probably one of my worst games of all time."
-- Rockets center Yao Ming, who went scoreless in the fourth quarter and finished with just eight points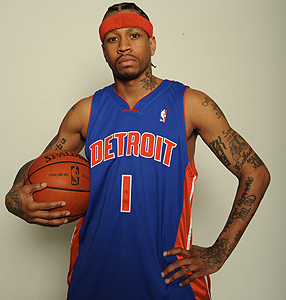 Allen Einstein/NBAE/Getty
Recently acquired Allen Iverson will wear No. 1 in Detroit instead of No. 3 (worn by Rodney Stuckey). Chauncey Billups, who was shipped to Denver for AI, previously wore No. 1.

Richard Jefferson says it's tough when you get traded, especially after helping build and change the atmosphere of a team.
Elias Sports Bureau
The Suns made 13 of 14 shots (.929) in the second quarter in their win over the Nets on Tuesday night. It was the highest field goal percentage in a non-overtime quarter for any NBA team since Seattle made 16 of 17 field goal attempts (.941) in the second quarter at Dallas on Nov. 21, 2000.
• Raja Bell made all six of his 3-point attempts in the Suns' win in New Jersey. It was the third time in his career that he went 6-for-6 from 3-point range in a game. Only one other player since the NBA adopted the 3-point shot in 1979-80 shot 6-for-6 or better at least three times in his NBA career: Sam Perkins (three times).