David Sherman/Getty Images
After starting 0-3, it took two overtimes and a double nickel from Parker for the Spurs to get a win.

Layne Murdoch/NBAE/Getty
In a battle of unbeatens, Josh Smith's Hawks stayed perfect with a win against David West's Hornets.

Victor Baldizon/NBAE/Getty
Dwyane Wade led the Heat in points (29), blocks (3), steals (5) and assists (6) in a rout of the Sixers.
Breaking Down Special Nights By Amare and Parker

I watched nearly all the Suns' 113-103 victory over Indiana, in which Amare Stoudemire scored 49 points while missing only four shots, and while it was happening I was thinking that this might go down as the best performance all season. Within a matter of hours, however, it was debatable whether it was even the best performance of the night.
San Antonio's Tony Parker, who entered the game leading the league in PER, didn't appear intent on giving up his lead anytime soon. He pumped in 55 points and threw in 10 assists to help San Antonio get off the schneid with a 129-125 double-OT win in Minnesota, capping a night that saw several star players blow up. In addition to Parker and Stoudemire, LeBron James (41 points, nine boards, six assists, four steals) and Dwyane Wade (29 points, and two blocks shy of a rare "five by five") also had impressive evenings.
So where do all these performances stand in relation to each other -- not to mention the other top performances of recent seasons?
Glad you asked. It turns out we have just such a tool for measuring a player's single-game performance, and we'll be launching it in the coming weeks.
In the meantime, Wednesday's unusual outpouring of impressive individual efforts makes it a perfect time to offer a sneak preview. What I've done is modify my original game-score formula -- a back-of-the-envelope means of evaluating a player's single-game performance -- to adjust for pace, leaving us with a more advanced metric that more closely mimics the PER formula while having the benefit of being far less complicated. I call it adjusted game score, or AGS.
Thanks to the wizardry of the crew back in Bristol, we have the AGS of every player in every game over the past seven seasons. Not surprisingly, the best AGS score of that period (dating to the start of the 2001-02 season) belongs to Kobe Bryant, thanks to his 81-point explosion against Toronto on Jan. 22, 2006; for that effort he earned a 63.37. No other player has come within 10 points of that mark (see chart), though Bryant has occasionally come close -- he has three of the top four marks and five of the top 14. The only other player with more than one top-20 performance is James, with five, though most of his rank lower than Bryant's.
Top AGS since 2001-02

Rank
Player
Date
Pts.
FG-FGA
FT-FTA
Reb
Ast
TO
AGS
1,
Kobe Bryant
1/22/06
81
28-46
18-20
6
2
3
63.37
2.
Manu Ginobili
2/13/08
46
15-20
8-9
5
8
1
52.58
3.
Kobe Bryant
4/15/07
50
18-25
11-13
8
3
1
50.91
4.
Kobe Bryant
3/16/07
65
23-39
11-12
7
3
2
50.42
5.
S. Abdur-Rahim
11/23/01
50
21-30
8-8
12
5
2
50.35
15.
Amare Stoudemire
11/5/08
49
17-21
15-15
11
6
4
47.21
43.
Tony Parker
11/5/08
55
22-36
9-10
7
10
4
43.63
OK, enough about the history -- where do Wednesday's efforts rank?
Let's start with Parker. In raw terms, his performance was amazing -- nobody had hit the milestones of 55 points and 10 assists since Michael Jordan did it 16 years ago, and Parker was three rebounds shy of a triple-double. Until Wednesday, only Bryant has managed to post a raw game score (the old formula) over 50; he did it in his 81-point game, of course, and again in his 65-point effort against Portland in March 2007. Parker's 50.1 became the third.
However, once we adjust for the two overtimes and the game's generally fast pace, Parker's effort loses some of its luster -- at least relative to other recent great performances. His AGS of 43.63 ranks 42nd, which is still impressive ... but not the night's best.
The more impressive performance belonged to Stoudemire. He didn't have quite as gaudy a point total, getting downgraded to 49 after scorers removed a field goal, but he was devastatingly efficient. Stoudemire piled up his points while missing just four shots from the floor and shooting a perfect 15-of-15 from the line, and he added 11 boards, six assists, five steals and two blocks. He became just the seventh player in the past two decades to have a 40-10-5-5 game, and the first in seven years.
Amare's raw game score isn't as strong as Parker's, but because he did all his damage in regulation, his AGS of 47.21 ranks much higher. It places him 15th on the list and is easily the best of his career; his previous mark was the 29th-rated game (he rang up the Hawks for 43 in 2007).
To really put what both Parker and Stoudemire did in perspective, though, it's helpful to check out what Wade and James did. Both players played extremely well, and on any other night their performance would have been the lead story. But neither player's AGS cracked the top 200 of the past seven seasons.
There's a reason for that -- it takes an extremely strong game just to get at the back of the list once you're dealing with so many games. In an average year, we'd expect only seven games or so to crack the top 50.
The fact that two of them happened on one night is amazing, and even moreso this early in the season. Since offense tends to improve sharply as the season goes on, most of the top AGS marks come later in the season. Six of the top 11 AGS scores were in March or April; prior to Wednesday, only six October or November games were even in the top 50.
Any way you slice it, both performances were incredibly impressive. Using AGS, however, shows us that Stoudemire's was the more dominating of the two.
John Hollinger writes for ESPN Insider. To e-mail him, click here.
Lakers Getting It Done With Defense
By Kevin Arnovitz | ESPN.com
The Lakers sported a defensive deficiency rating of 73.8 per 100 possessions coming into Wednesday night's game against the Clippers. Who does that? And how?
By running frenetic traps at opponents on the wing. If at any point an offensive player holds the ball for longer than a nanosecond, gold jerseys will converge on him like a swarm of locusts. Kobe Bryant hasn't let up a bit on his defensive rededication that began last season. Pau Gasol and Andrew Bynum have length and mobility. They're able to step out on those traps and still drop down low if need be ... though the need hasn't been there because the Lakers' pressure is keeping opponents out of the paint.
The results are showing up for the Lakers not only on the defensive end. That nasty D is also what's powering their highfalutin offense.
Kevin Arnovitz is an NBA editor for ESPN.com.
Brown's Bobcats Edged By Knicks In His MSG Return
By Chris Sheridan | ESPN.com
NEW YORK -- Larry Brown's revisionist history seemed so appallingly inaccurate in his return to Madison Square Garden that he actually claimed he never had a problem with Stephon Marbury.
Yes, the same Stephon Marbury who engaged in a full-blown, four-day verbal tete-a-tete with Brown back in the late winter of 2006, long before Marbury had his falling out with Isiah Thomas and eons before he got involved in his current controversy with Mike D'Antoni.
The Charlotte Bobcats' coach -- who was terminated by the Knicks in 2006 -- also expressed his love for New York, his understanding of James Dolan's decision to fire him, his high hopes for new team president Donnie Walsh and his admiration for the young talent Thomas brought aboard over the past few years.
To read the full Sheridan column, click here
By Maurice Brooks
ESPN.com
WEDNESDAY'S BEST
Sacramento Kings
: After opening the season with four straight road losses, the Kings made the most of their first home game, riding 33 points from Kevin Martin to a five-point victory over the Grizzlies.
---
WEDNESDAY'S WORST
Los Angeles Clippers
: They added Marcus Camby and Baron Davis in the offseason, but so far that hasn't been a formula for success. After losing to the Lakers, they are 0-4 and the only winless team in the Western Conference.
---
QUOTE OF THE NIGHT

"Mayor of Akron? I'm already mayor of Akron. I've been that for about 10 years now."
-- Cavaliers star LeBron James after being asked if he would consider a future in politics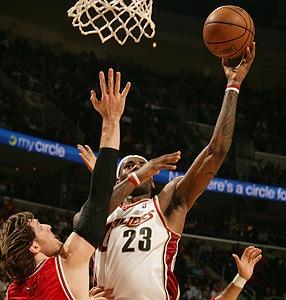 David Liam Kyle/NBAE/Getty
In what has become routine for him, LeBron James filled up the stat sheet against the Bulls, tallying 41 points, nine rebounds and six assists in a 14-point Cavaliers victory.

Growing up, Orlando's Dwight Howard had the dream of becoming the first black president. Instead, he chose the NBA and Barack Obama stole his thunder.
Amare Stoudemire stole the show against the Pacers, scoring 49 points -- one shy of his career high -- to go along with 11 rebounds, six assists and five steals. It is the second-most points scored by a player this season. He had 21 of the Suns' first 27 points and also hit his first 10 shots. No player in Suns' history has reached those totals in points, rebounds and assists in a single game. Amare was 17-of-21 (80.9 percent) from the field, which is the best field goal percentage in a 45-point, 10-rebound, 5-assist game over the past 20 years.
Top FG percentage (45 pts, 10 reb, 5 ast)

Player (Percentage)
Date
Amare Stoudemire (.809)
November 2008
Larry Bird (.760)
November 1989
Sam Perkins (.731)
April 1990
Antawn Jamison (.724)
December 2000
Michael Jordan (.714)
January 1989
45 pts, 10 reb, 5 ast, 5 stl NBA history

Player
Year
Amare Stoudemire, Suns
2008-09
Larry Bird, Celtics
1984-85
Adrian Dantley, Jazz
1979-80
Rick Barry, Warriors
1973-74
(Steals became NBA statistic in 1973-74 )
-- ESPN Research
Parker's Unstoppable Night
The Spurs' Tony Parker went off against the Timberwolves, posting 55 points, 10 assists and seven rebounds. He is just the second player ever to top the 55-point, 10-assist, five-rebound mark in a single game. Cincinnati's Oscar Robertson posted 56, 12 and nine in 1964.
• Mario Chalmers set the Heat franchise record for steals in a game with nine. That is the second-most in NBA history by a rookie, ranking only behind Ron Harper's 10 during the 1986-87 season.
• The Hornets' Chris Paul had 22 points and 11 assists, his fourth straight game of at least 20 and 10. Paul is just the third player in NBA history to start a season with four straight 20-point, 10-assist games. Gary Payton also had four in 2000 and Oscar Robertson had five in a row in 1961.
-- ESPN Research