Sam Forencich/NBAE/Getty Images
Roy, who had 17 points, seven rebounds and five assists, scored his final five in under two seconds.

AP Photo/Reinhold Matay
Orlando's Rashard Lewis (20 points, 8 rebounds) won the matchup against the Sixers' Elton Brand.
Roy Refuses To Let the Trail Blazers Lose

PORTLAND -- Call it divine intervention. On a night the Blazers honored the late Kevin Duckworth, Brandon Roy's prayer of a shot with 0.8 seconds remaining handed Portland a 101-99 overtime win that capped off one of the best finishes you'll ever see.
If you didn't stay up until 1:45 a.m. ET to see it, shame on you: We got three, count 'em, three lead changes in the final 1.9 seconds of OT, a flurry of scoring capped when Roy's turn-and-shoot 30-footer at the buzzer fell straight through the net to give Portland the victory.
"Big Duck was looking down on us," said Blazers coach Nate McMillan. "He didn't want us to lose on his night."
It didn't seem likely just a split second earlier. Yao Ming made a turnaround while Roy fouled him with 0.8 seconds left and then converted the foul shot to give Houston a 99-98 lead, just moments after Roy's turnaround jumper over Ron Artest had put Portland ahead with 1.9 seconds left.
"I was so disappointed that I fouled [Yao] on the last play," said Roy. "I told the group whatever you do, give me the ball and I'm gonna try to make the shot. We always talk in practice that with 0.8 you can catch and shoot. You still can get a shot."
The Rockets wondered if he had some favorable timekeeping as well; though four different people (all three officials and the clock operator) can start the clock, it appeared it started late.
However, on Friday the league office -- with sophisticated tools at its disposal -- said its review concluded the shot took just under 0.8 seconds. To be exact, it took 23 frames, with three frames equaling one-tenth of a second.
Perhaps, then, he did get it off in time, but it sure seemed he had more time than expected. As long-time Portland columnist Dwight Jaynes told me after the game of the clock operator, "I want that guy to time the rest of my life."
The irony for Houston was that Yao's three-point play enabled Roy's game-ending theatrics. Had Yao not been fouled to stop the clock, the buzzer would have gone off as his shot dropped through the net and the teams would have played a second overtime.
Instead, Portland got a much-needed win to stem the bleeding from its 1-3 start -- and the Blazers' 2-3 record suddenly looks awfully respectable, given that each of their first five opponents won at least 54 games a year ago.
Meanwhile, Roy got to redeem what had been a horrific evening for him. Prior to the final two seconds, he was 4-of-16 from the floor with five turnovers. Two shots later, he was the hero.
And it's hard to overestimate the degree of difficulty of both shots. On the first, Portland eschewed using one of its two remaining timeouts to push the ball upcourt after a Houston miss -- one of the few times they went quickly all night -- and Roy drove up the right side before quickly spinning back to his left. As a surprised Artest slipped, Roy calmly knocked in a 15-footer for the lead.
The game-winner was perhaps even more impressive. Roy caught the ball out high near the left sideline, with his back to the basket and sprinting away from the goal. He stopped all his momentum with a jump stop, rose straight up vertically, and cleanly launched the victorious shot; somehow, a mix-up between Artest and Tracy McGrady had left him open without the benefit of a screen.
"I was anticipating a switch between myself and Ron," said McGrady. "We inverted so that if he was going to come up, Ron was going to take him. But there was no screen set.
"It was just a hell of a shot."
If the glass-half-full takeaway from this contest is that the Blazers seem to have preserved some of last season's magic dust, the glass-half-empty question is how long they can subsist solely on these types of shots. Once again, the majority of the offense came from 15 feet or beyond. Portland had only four fast-break points -- none after the first quarter -- and mustered only 17 free-throw attempts. Every key offensive player on the roster is primarily a jump shooter, which makes it doubly difficult for those shooters to get the clean looks they crave.
But the hope in Portland is that they won't need to deal with those questions for long. Instead, Portland can celebrate another win that helps keeps its head above water until Greg Oden's expected return in another two weeks or so. The Blazers can't breathe easy quite yet -- not with six of their next eight games on the road -- but they're feeling a lot better about their situation now than they were with 0.8 seconds left.
John Hollinger writes for ESPN Insider. To e-mail him, click here.
Three Things That Have Disappointed Me So Far
By Jalen Rose | ESPN
1. Chalmers, Arthur and Beasley getting in trouble at the Rookie Transition Program: Beyond his production, a rookie's job is to carry luggage, pick up the tab at dinner, be early, stay late and bring the donuts and orange juice. Basically, they should be seen, not heard. Mario Chalmers, Darrell Arthur and Michael Beasley made headlines for the wrong reasons.
2. Marbury and Tinsley situation: They are healthy and under contract but not allowed to play. I understand Indiana is disgruntled with Jamaal Tinsley and the Knicks want to move on from Stephon Marbury, but ultimately those decisions should have been made in the offseason. To come into the season with those guys on the roster and for them to not even dress is a disappointment.
3. Injuries: Getting hurt is part of the game, but I hated coming into a season with players like San Antonio's Manu Ginobili, Golden State's Monta Ellis and Washington's Gilbert Arenas on the sidelines for long periods of time. Then, Portland's Greg Oden got hurt in his first game.
ESPN analyst Jalen Rose is a regular contributor to the Daily Dime.
What Billups and Iverson Bring To the Table
By David Thorpe | ESPN.com
There are two main questions that jump to the forefront when considering the Allen Iverson-Chauncey Billups trade:
1. What do they have left in the tank?
2. How will they fit on their new teams?
Billups has an "old man's game" in many respects, and I mean that in a very complimentary way. He doesn't beat his man with ultra-quicks or pure athleticism. He does so with craft, strength and size. He still has terrific ball skills, is a lights-out shooter from deep, and his decision-making with the ball tends to be in the superlative category.
Thus, it is a mistake to assume he will start tailing off anytime soon as an offensive player. He should be close to his peak numbers (offensively) for at least another season or two.
Iverson is the opposite type of player, a blur of an athlete his entire adult life with the understanding of how to utilize his physical gifts. Players like him always age more quickly than their slower and stronger counterparts. But this is where Iverson represents a category of one. He is unlike anyone who has ever played.
He is still able to get to the rim against most defenders and defenses and is perhaps the best finisher ever for a player his size. He is just as crafty as a successful slower player, so he's still a very difficult guy to defend even though his athletic advantages have (slightly) eroded over time. With just one year to spend in Detroit, there's every reason to believe he'll be just about the same A.I.
How the two stars will fit on their new teams is a more intriguing question. Each brings a needed skill set to their respective teams, yet we're talking about the catalysts for an incredibly fast-playing team and a very methodical-playing one, switching teams. In the half court, Billups is, perhaps, the best point guard in the league to execute George Karl's offense.
However, we don't know how Billups will fit into Denver's vaunted running game. Is he willing to push the pace with quick hit-ahead passes (think Andre Miller)? My guess is yes, he is. Maybe the Nuggets won't be as fast as last season, but they should be much better in the half court, and a better offensive team overall.
To read the full Thorpe column, click here
By Maurice Brooks
ESPN.com

THURSDAY'S BEST
Brandon Roy, Blazers
: On a night he shot just 6-for-18 from the floor, he still ended up being Portland's hero ... twice. He drained a jumper with 1.9 seconds left in overtime to give his team a two-point lead. And after Houston's Yao Ming put his team in front with a three-point play, Roy drained another jumper -- this one a 30-footer at the buzzer -- to give the Blazers the win.
---

THURSDAY'S WORST
Elton Brand, Sixers
: He was doubled throughout, but that doesn't excuse the lack of production from Philly's franchise player. He shot 3-for-8, finishing with six points and one assist. He was the only starter on either squad not to score in double digits.
---
QUOTE OF THE NIGHT

"He was in attack mode all night. That was the best game he's played all year."
-- Orlando coach Stan Van Gundy on guard Jameer Nelson, who had a season-high 16 points and nine assists
Way To Hold It Down, Fellas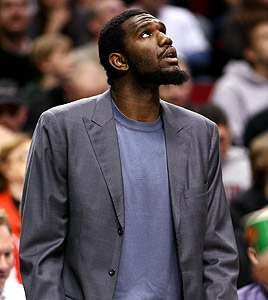 Jonathan Ferrey/Getty Images
Even though the Trail Blazers didn't have injured center Greg Oden in uniform to slow down the Rockets' Yao Ming, they were still able to squeak out the two-point victory.

Jon Barry weighs in on the quickness of LeBron James and thinks the Atlanta Hawks are flying under the radar.

When Allen Iverson suits up for the Pistons on Friday, he will be teammates with the immortal Kwame Brown. Both Iverson and Brown were once No. 1 overall picks. Brown will be the sixth different No. 1 overall pick Iverson has played with in his career -- Derrick Coleman, Chris Webber, Glenn Robinson, Joe Smith and Kenyon Martin were the others.
The only other No. 1 overall pick to be teammates with six different No. 1 overall picks is Joe Smith, who has taken the floor with Coleman, Webber, Iverson, Martin, LeBron James and Andrew Bogut.
-- ESPN Research