Ned Dishman/NBAE via Getty Images
Getting A Line On LeBron's Future

There was a definitive declaration about the future earlier this week from LeBron James. You probably just haven't heard about it yet.
The official decree from King James: "22, 10 and 10."
That's how LeBron replied when someone in Dallas asked him what his ideal, every-night line in the box score would be.
I think I can safely predict the response, too: All of the fans in all of the cities whose teams fantasize about signing James away from the Cleveland Cavaliers in the summer of 2010 will inevitably seize on the fact that LeBron didn't specify where he dreams of racking up all those triple-doubles.
Of course, even had he pronounced himself a Cav For Life in the same sentence, who outside of Ohio would hear him? No. 23 could clearly state his intentions to stay with his home-state team -- and he pretty much did in October at a Barack Obama rally when no one was expecting it -- and it wouldn't discourage anyone in the basketball mecca of New York … or the Nike capital of Portland, Ore. … or now Detroit.
Clevelanders, I'm afraid, will just have to accept that this is going to be their lives for the next 589 days or so. It really has little to do with the usual torture they expect to absorb from their Cavs, Indians, Browns and weather. Cursed as Clevelanders believe themselves to be, they simply have the most coveted young talent in the game and maybe all of American sport in their midst -- after winning a draft lottery, don't forget -- and lots of teams are planning to have spending money in LeBron's free-agent summer. What else are we going to talk about?
Doesn't matter that LeBron could be heard at that Obama rally announcing to a downtown crowd: "I love Ohio and I ain't goin' nowhere." If the other teams in the NBA aren't listening, why would their fans be?
The line for LeBron, as you've undoubtedly heard by now, got one team longer this week when the Pistons traded for Allen Iverson and a huge chunk of financial flexibility that might just hold up until July 2010. If the cash does stay stashed that long, Detroit won't merely try to sign James, either. We're sittin' here talkin' about Joe Dumars, so trust us: If the Pistons' uber-aggressive president can keep enough cap space to afford two max players in 2010, I'm reasonably sure that his A-1 scenario would be trying to sign James and Chris Bosh.
But try not to tax your brain with too many hypotheticals this far out.
Common sense says that there certainly is a scenario in which LeBron would swap Lake Erie for the, uh, glamour of Motown, crazy as it sounds. If the Pistons are clearly set up better than any other team at that point for LeBron to win multiple rings -- since rings are the thing, as much as anything, that could make him a Global Icon -- how could he ignore Detroit?
Yet you should also be able to work out that there are too many variables, too many things that can happen over the next two years, to start throwing out absolutes here or anoint favorites in the LeBron Sweepstakes. Yes: I've spoken to smart, well-connected folks around the league who have relayed what appear to be highly credible "LeBron's gone" whispers. Yes: I've heard trusted sources say the Cavs are privately but legitimately worried they won't be able to keep him away from a sexier market … even though trying to sign Bosh away from Toronto, to put him next to James, is believed to be Cleveland's A-1 scenario as well.
However …
Why would LeBron decide anything now?
What possible benefit could there be to committing this soon to definitely relocating to storied Madison Square Garden to go play for Mike D'Antoni? Or to promise he'll stay and try to be the guy who lifts the Cleveland curse?
Things change too fast in this league to lock in any plans.
Look at Detroit, for starters. How can we be so sure, given all the trade and free-agent possibilities that will inevitably present themselves to the Pistons over the next 20 months, that Dumars will be able to pass on them all to wait on a LeBron maybe?
Look at New Jersey, which seemingly had the ultimate LeBron recruiting tool -- his mentor Jay-Z as part-owner -- and which now can't be sure if it will ever be able to offer James the lure of Brooklyn home games.
Just look at the Lakers. Before the thoroughly unforeseen Pau Gasol donation -- er, trade -- remember how bleak and tenuous L.A.'s future with Kobe Bryant looked at this time last year?
Things change fast in this league, friends.
No fewer than 15 teams -- including the Cavs -- have less than $40 million in committed salaries on their books for the 2010-11 season, hoarding cap space for a free-agent class so deep that we don't even talk about Amare Stoudemire, Dirk Nowitzki and early Eastern Conference player of the month favorite Joe Johnson. Among those teams are Chicago, Houston, Miami, Phoenix, Portland and Bosh's Toronto Raptors. I also fully expect the likes of San Antonio and Dallas to be major bidders by the time LeBron and Co. hit the open market, which is to say that the Pistons, between now and the NBA's Free Agent Frenzy of 2010, won't be the last team to be mentioned as a new threat to steal LeBron away from Cleveland. Far from it.
The Cavs, though, are still in a pretty good spot. James, for starters, is a certifiably proud Ohioan, which has to help. What happens if they make one more trade for one more difference-making sidekick this season or next? What happens if they actually manage to win it all once before LeBron's contract expires? The Cavs better have a convincing championship plan to hit James with when he's free to leave, because the closest thing to a sure thing in this whole process is what we were told this week by one source close to LeBron: "He knows that championships will determine his legacy." Then again, they're not that far off with what they've got right now to surround their potential 22, 10 and 10 guy.
We're convinced that this could all be much worse for Clevelanders, too, no matter how much they've suffered for decades in various stadiums and arenas. Lusting after their LeBron isn't personal, or even original. Orlando lived with the same panic and insecurities every day of Shaquille O'Neal's first four seasons, except for one crucial difference.
The Magic Kingdom's Hall of Fame-bound, larger-than-life superstar, if my recollections are right, sure seemed more determined to leave than LeBron does.
Marc Stein is the senior NBA writer for ESPN.com. To e-mail him, click here.
Dimes Past: Oct. 29 | 30 | 31 | Nov. 1-2 | 3 | 4 | 5 | 6 | 7

Another news flash from
LeBron James
: "I can do a lot of things."
"I can play the 1, I can play the 2, I can play the 4," he continued. "But I will always be more comfortable at the 3 spot."
This was James' way of saying that his new part-time gig -- regularly playing some power forward -- doesn't exactly feel natural yet. But Cavs coach Mike Brown isn't worried. In Brown's view, LeBron is adapting nicely to his twice-nightly shifts as a 4 man.
Although Brown has always held the option of going small and playing James there, since LeBron is merely the most hulking perimeter player we've ever seen, this is the first time in Brown's four seasons that it's an element of Cleveland's regular rotation. Brown explained this week that his plan most nights is to play LeBron at the 4 for about four minutes each in the first and third quarters, typically around the six-minute mark when teams start going to their bench and inevitably get smaller.
Yet the most significant LeBron-related strategic development with the Cavs can be found in the offensive changes Brown is trying to implement. He's been rapped for years for a lack of ingenuity at that end, but there is clearly more movement and variety in Cleveland's sets this season, with the minutes at power forward only one element of Brown's apparent intent to get his 23-year-old hulk to spend more time playing inside the 3-point line. LeBron's scoring limitations in the low post have been well-documented, but it looks as though he's starting to develop a feel for running the game out of the elbow area. James is also clearly benefiting from the fact that Mo Williams and Delonte West can get the ball up the floor.
Given that this is a transitional phase for the Cavs after the offseason acquisition of Williams -- and considering that they opened the season with a flurry of tough roadies at Boston, New Orleans and Dallas -- coach and superstar sound understandably encouraged. Especially since Cleveland is off to a decent start despite the fact James has struggled mightily with his shot so far, shooting a combined 7-for-41 (just 17 percent) -- on 2- and 3-point jumpers entering Friday's play.
"Preseason can only do so much," James said, "because you don't play as much with each other during the games."
(An aside: Regular readers know that fantasy hoops hasn't been my thing since college, but team owners with LeBron on their rosters can thank the Weekend Dime for prodding some more scoring out of their franchise player. Since we expressed some tongue-in-cheek concern to James on Monday that his first three games were on the quiet side, he's rumbled for 70 points in the past two. LeBron's 3-point drought to start the season, furthermore, isn't all bad when you think about it. At 0-for-13 from behind the line entering the weekend, James is averaging less than three long-range attempts per game.)
---

For all the well-documented financial benefits in the long term for Detroit, acquiring Allen Iverson will be somewhat costly for the Pistons this season.
Before the trade, Denver was $7.1 million over the luxury-tax threshold of $71.15 million and Detroit was $2.1 million below. The Nuggets' projected tax bill for this season now rests at $4.8 million, but the Pistons have suddenly nudged $131,336 over the tax line, with no easy way to get under because they're carrying 13 guaranteed contracts and are soon expected to re-sign Antonio McDyess.
If that's where the Pistons stay, they will have to forfeit the estimated $3.4 million tax rebate paid to all teams which land under the luxury-tax line as of June 30, 2009, which is the date used by the league to calculate each team's tax bill for the 2008-09 season.
---
If you were to assemble an All-Star team from the 22 former first-round picks from the draft class of 2005 who did not receive contract extensions before the Oct. 31 deadline, most of that team would come from the Eastern Conference.
Atlanta's Marvin Williams (No. 2 overall pick), Charlotte's Raymond Felton (No. 5), Milwaukee's Charlie Villanueva (No. 7) and New York's David Lee (No. 30) are the East notables who will proceed to restricted free agency next summer along with Denver's Linas Kleiza (No. 27). (Portland, incidentally, has two top-10 picks from that draft who couldn't be more available via trade: No. 8 Channing Frye and No. 9 a href="http://www.espn.com/nba/players/profile?playerId=2750">Ike Diogu.)
Not getting an extension wasn't such a bad thing as recently as last season, when Charlotte's Emeka Okafor, Chicago's Luol Deng, Golden State's Andris Biedrins, Philadelphia's Andre Iguodala and Atlanta's Josh Smith all rejected their teams' October offers, then managed to land more lucrative deals this summer. That also applies, of course, to Hawks alumnus Josh Childress, although Childress had to go to Europe to get his raise.
The only player who has to have some regret over not taking an extension offer back in October 2007? Chicago's Ben Gordon.
Yet it's hard to imagine the trend continuing in the summer of 2009 amid fears that the salary cap could actually go down slightly next season because of the nationwide economic downturn, and given that we're talking about a lesser crop of players.

Antonio McDyess
to the Thunder?
It seemed to be a reasonable question earlier this week when ESPN.com spies reported seeing McDyess in Oklahoma City after the trade went through which packaged Dice with Chauncey Billups to Denver for Allen Iverson.
Due diligence, however, revealed that McDyess has some very close family in OKC, which makes a lot more sense than suggesting the 34-year-old would consider signing with the years-away Thunder after completing his expected buyout with the Nuggets.
NBA front-office sources reiterated Friday that it would be a seismic shock at this point if McDyess didn't return to the Pistons, even though roughly half the league has registered interest in signing him once he becomes a free agent. "Dice only wants to play in Detroit," one source said, upholding what we reported from the start Monday.
If he sustains that refusal to budge, as expected, McDyess apparently is going to be leaving some money on the table, given that his forthcoming buyout from the Nuggets will almost certainly include a noticeable cut from the $6.8 million he's owed next season after earning $6.8 million this season. The Pistons, furthermore, don't have the financial flexibility to pay McDyess as much in a new deal as, say, Cleveland, with the Cavs still possessing $5.1 million of their midlevel exception. Detroit can't even match what Boston ($2.4 million) or San Antonio ($2.1 million) could offer immediately unless McDyess signs for the rest of the season and then winds up signing a more lucrative one-year contract for next season, which wouldn't conflict with the Pistons' plans in the 2010 free-agent market.
Yet it's also true that McDyess appears to be motivated by the thought of getting back to Detroit more than money. And his likely deficit upon returning would be lessened somewhat by a trade-kicker in his original contract triggered by the Iverson trade, which will net him a payoff over the next two years of $1.3 million.
One last note here: Don't forget that McDyess, assuming he clears waivers, will have to resist other offers for 30 days from the time the buyout is completed before rejoining the Pistons, as seen last season with Brent Barry going back to San Antonio after the Spurs dealt him to Seattle for Kurt Thomas in February.
---
The Warriors, sources say, are not interested in absorbing the contract of Charlotte's very available Gerald Wallace, seeing little need for Wallace (and the four seasons left on his contract after this one at a cost of $38 million) when they have Corey Maggette and the soon-to-be-extended Stephen Jackson. (For the record, I was indeed told Friday that Jackson's contract extension is still coming sooner rather later.)
The Knicks continue to seriously covet Golden State's Al Harrington, but Charlotte, offering Wallace, won't work as a third-team facilitator. One source indicated that the Bobcats indeed have some interest in an Eddy Curry-for-Wallace swap, but taking on Wallace would run completely counter to New York's hopes (prayers?) of freeing up the salary-cap space to get into the bidding for LeBron James and the rest of the amazing 2010 free-agent class.
The most consistent trade chatter these days, besides anything involving Harrington or Wallace, maintains that no team in circulation is more motivated to deal than Portland … as long as you don't ask the Blazers for Brandon Roy, LaMarcus Aldridge or, yes, Greg Oden.
---
Trivia time: How many players, in the Nuggets' NBA history, were born in Denver?
Answer: The new guy is the only one.
It's true: Billups is the lone Denver native ever employed by the Nuggets since the 1976 NBA/ABA merger. The Elias Sports Bureau says that the Nuggets, in fact, have had only employed three Colorado natives, with Glen Gondrezick and Chuck Williams hailing from Boulder.

Five questions with the Celtics' Paul Pierce:
Q: Larry Bird's teams never went back-to-back as champions. How much are you guys thinking and talking about what back-to-back titles could do for your place in Celtics history?
A: That's our motivation. We see the banners every day when we walk in. We realize it's been 40 years since any [Boston] team has gone back-to-back. If we want to make our legacy as one of the great Boston teams, that's something we're going to have to try to accomplish. That's the goal and that's the motivation.
Q: Doc Rivers says you've lost almost 10 pounds since the end of last season. What made you feel that you needed to do that?
A: I just figure I'm going to be an important piece to this team defensively. I wanted to know that I can guard the quicker guys this year, 2 guards and 1 guards as well as my position. That's just my goal to become better defensively and I knew I'd probably have to become a little quicker than I was a year ago. And I'm just trying to do something to improve each and every year.
Q: I've heard you talk a lot recently about how you believe that lots of people perceived you as "selfish," and I'm sure you haven't forgotten that you were made to be one of the scapegoats for the Team USA squad that finished sixth in the World Championships [in Indianapolis in 2002]. Has that all changed now? Can you sense that people are looking at you in a different light?
A: Of course people look at you differently, but that's what happens when you win a championship. You earn that respect. That's what you play for. You play for the respect of your teammates and your peers and everyone around you. It definitely means a lot to me.
Q: When I saw you guys in the preseason giving a beatdown to the Knicks, I think I had more fun watching everything that was happening on your bench than the game. You guys looked so into it as a group, especially for an exhibition game. Can chemistry be worth a few extra wins?
A: I keep trying to tell you guys.
Q: Tell us what?
A: That's our greatest strength. The greatest strength of our team is our togetherness.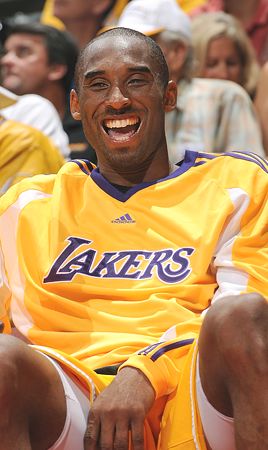 Andrew D. Bernstein/NBAE via Getty Images
Kobe Bryant's glee in L.A. is a handy reminder that the NBA landscape changes quickly. Which makes it tough to predict LeBron James' future 20 months before free agency.
One coach winning 1,000 games with the same team has never happened before, and might never happen again. Red Auerbach, for example, won a mere 795 games coaching the Boston Celtics.
That should explain why NBA Today podcast host Jason Smith wanted to get some Stein Line perspective on Utah's Jerry Sloan -- who has kept his job coaching the Jazz since Dec. 9, 1988, while the NBA's other 29 teams have made 219 coaching changes -- before asking about anything else.
Other topics include Tony Parker's 55-point, 10-assist, 7-rebound masterpiece before Parker got hurt Friday night against Miami, long-term implications of the Allen Iverson trade in Detroit and the immediate future for another player in that deal: Antonio McDyess.
NBA Today

"You're always going to have a chance as long as I'm in uniform."
Cleveland's LeBron James, assessing his team's worthiness as a title contender in a week when Detroit made a bold move to try to stay with the Cavs and Celtics in the East's elite.
Q:
What does Stephon Marbury have in common with Allen Iverson?
A: Both are making the exact same salary in the 2008-09 season, which comes in at $20,840,625.
The difference? Instead of dealing with a half-season of trade speculation between now and February, Iverson has a new home after Denver's megatrade Monday which sent AI to Detroit.
Marbury, meanwhile, doesn't appear close to leaving his purgatory with the Knicks, as Marc Stein and ESPN.com teammate J.A. Adande detailed on this week's edition of "NBA Coast to Coast."
The team believed to have the most interest in signing Marbury if he eventually did get waived was Denver, but that's obviously no longer the case after the Nuggets' acquisition of Billups.

Thanksgiving is still almost three weeks away, but I didn't want to wait that long to show my gratitude for another blockbuster trade.
For those of us who put big deals and the corresponding speculation/anticipation up there with anything the NBA can deliver -- everyone we know, in other words -- Allen Iverson-to-Detroit merely extends an amazing, historic string of transactions that began with the Iverson-to-Denver deal in December 2006.
I, for one, consider this to be the most epic run of trades, in a two-year span, that we've ever seen.
A certain self-proclaimed hoops genius on staff (name rhymes with Zimmons) naturally disagrees, hitting me with a lecture in the early hours of Thursday morning in which he insisted that a similar patch from 1968 to 1970 had a bigger impact on the league's landscape, given that swaps headlined by six undeniable legends affected numerous championship races between 1970 and '73: Wilt Chamberlain, Dave DeBusschere, Oscar Robertson, Lenny Wilkens, Jerry Lucas and Rick Barry (in the ABA).
It's a compelling counterargument, true, but I refuse to concede, believing that our modern-day trade frenzy tops it comfortably.
Not even the league office would try to deny this: Fans in this millennium care as much (or more) about the transaction game as the games themselves. The sad reality, by contrast, is that very little about the NBA was big-time in the '60s and '70s, painful as that is to admit.
It also had to be worlds easier to make major moves back in the day, without the dizzying complexities of the salary cap to intervene … and without the current level of fan and media scrutiny that would never allow deals such as the one seen April 21, 1970, when Cincinnati surrendered the Big O in exchange for, uh, Flynn Robinson and Charlie Paulk … and trading simply couldn't have been as much fun without ESPN.com's Trade Machine, blogs and HoopsHype.com.
It seems pretty safe to say we're not done with the blockbusters, either, since the Celtics -- by winning a championship in their first season after slapping together Kevin Garnett and Ray Allen with Paul Pierce -- have apparently convinced numerous rivals that you're only one home run (or maybe two) away from title contention in a league with no singularly dominant franchise at the moment.
So clip and save the following list for next time, just in case you're losing track:
Date: Nov. 3, 2008
Deal: Denver trades Allen Iverson to Detroit for Chauncey Billups, Antonio McDyess and Cheikh Samb
Date: Feb. 19, 2008
Deal: New Jersey trades Jason Kidd, Malik Allen and Antoine Wright to Dallas for Devin Harris, DeSagana Diop, Keith Van Horn, Trenton Hassell, Maurice Ager and two first-round picks.
Date: Feb. 6, 2008
Deal: Miami trades Shaquille O'Neal to Phoenix for Shawn Marion and Marcus Banks.
Date: Feb. 1, 2008
Deal: Memphis trades Pau Gasol and a second-round pick to the Los Angeles Lakers for Kwame Brown, Javaris Crittenton, Aaron McKie, the draft rights to Marc Gasol and two first-round picks.
Date: July 31, 2007
Deal: Minnesota trades Kevin Garnett to Boston for Al Jefferson, Ryan Gomes, Gerald Green, Sebastian Telfair, Theo Ratliff and two first-round draft picks.
Date: June 28, 2007
Deal: Seattle trades Ray Allen and the draft rights to Glen Davis to Boston for Wally Szczerbiak, Delonte West and the draft rights to Jeff Green.
Date: Dec. 12, 2006
Deal: Philadelphia trades Allen Iverson and Ivan McFarlin to Denver for Andre Miller, Joe Smith and two first-round picks.

Which do you rank as the bigger surprise?
Allen Iverson getting traded just six days into the season?
Or the fact that Iverson isn't one of this season's five highest-paid players?
THE NBA's TOP 20 SALARIES IN 2008-09

Player
Salary
1. Kevin Garnett (Boston)
$24,751,934
2t. Jason Kidd (Dallas)
$21,372,000
2t. Jermaine O'Neal (Toronto)
$21,372,000
4. Kobe Bryant (L.A. Lakers)
$21,262,500
5. Shaquille O'Neal (Phoenix)
$21,000,000
6t. Allen Iverson (Detroit)
$20,840,625
6t. Stephon Marbury (New York)
$20,840,625
8. Tim Duncan (San Antonio)
$20,598,704
9. Tracy McGrady (Houston)
$20,370,437
10. Ray Allen (Boston)
$18,388,430
11. Dirk Nowitzki (Dallas)
$18,077,904
12. Paul Pierce (Boston)
$18,077,903
13. Shawn Marion (Miami)
$17,810,000
14. Rashard Lewis (Orlando)
$16,447,871
15. Michael Redd (Milwaukee)
$15,780,000
16t. Pau Gasol (L.A. Lakers)
$15,106,000
16t. Andrei Kirilenko (Utah)
$15,106,000
18t. Amare Stoudemire (Pho.)
$15,070,550
18t. Yao Ming (Houston)
$15,070,550
20. Mike Bibby (Atlanta)
$14,983,603
Editor's note: These and all other official NBA salaries for the 2008-09 season can be found, player by player, by using ESPN's Trade Machine.