Allen Einstein/NBAE/Getty Images
After two games together, Prince, Iverson and the Pistons are still trying to figure out what works.

Rocky Widner/NBAE/Getty
Kevin Martin scored 27 points as the Kings beat the Warriors for their third straight victory.

Noah Graham/NBAE/Getty
Despite Ron Artest using all of his tricks, Houston couldn't come up with a way to stop Kobe Bryant.
Even With Iverson, Pistons Still Don't Match Celtics

DETROIT -- After Detroit's 88-76 loss to Boston -- and really it wasn't that close -- the tendency will be to look at the Allen Iverson trade and wonder whether the Pistons would have won if Chauncey Billups were still here.
Here's the answer: no.
Remember, Billups was here the last time Boston came to town. He was on the floor as the C's outscored the Pistons 19-4 in Game 6 of the Eastern Conference Finals en route to the title.
No, the outcome of this game had very little to do with the play of A.I. or the absence of Billups.
It was about Boston's frontline manhandling of the Pistons' mostly undersized bigs.
It was about a suffocating defense that held Detroit to 10 points in the second quarter and 34 percent shooting for the game, prompting a chorus of boos from the frustrated sellout crowd.
It was all about Boston, and the statement the team made as the final seconds ticked away on what was supposed to be a glorious homecoming for Iverson: repeat.
"Don't put this on the trade and Allen," Pistons coach Michael Curry said afterward. "This is a team that gets up into you."
And with the same intensity as last season.
Glen Davis yelled an expletive out of frustration after not being able to corral a loose ball in time for Boston to get a decent shot up before time expired in the third quarter. The Celtics had to settle with a 20-point lead.
At the 7:03 mark in the fourth, Boston's Doc Rivers yelled at his backcourt about execution.
"Two times in a row a shot went up within six seconds," he yelled. "You have to control the ball."
Boston was up 76-56 at the time.
I understand it's early, and Detroit has to adjust to A.I. and vice versa. Unlike most, I don't believe the Pistons have taken a step back with Iverson. One could argue it was the inconsistent play of Billups against the likes of Cleveland's Boobie Gibson and the C's Rajon Rondo that led to their earlier-than-expected exit the past two seasons. Truth is, Detroit could still go on to win 55 games and find itself back in the Eastern Conference finals for a seventh consecutive year.
It's not like Orlando has improved or LeBron James has consistent help.
But as much as I love my Pistons, they're fooling themselves if they believe Sunday's game was just about missing shots, as Rip Hamilton suggests.
"As we get our chemistry together and some time to play together, guys will start hitting shots," he said.
Not likely.
Not against Boston, anyway.
All of those hard picks and cutesy curls that usually free Hamilton on the baseline against squads like Toronto don't work against Boston. The Celtics' bigs pop out and aggressively trap him, forcing the ball into the wide-open hands of Jason Maxiell and Amir Johnson 15 feet from the basket. Not once do I recall a defender scrambling to cover them. Not once did Rivers yell at his players because they were wide open. That's by design, and Detroit has yet to figure out a counterpunch outside of Rasheed Wallace shooting 3s.
The result? An ugly 7-for-29 shooting performance for the 3 on Sunday. This, following the 5-for-16 shooting in Game 6 from Sheed and Maxiell (Johnson didn't play).
No, the truth is, barring injury, you'd be hard-pressed to find a team in the East that will get past Kevin Garnett's defense in the middle in a seven-game series. Sure, Andrew Bynum will give the Lakers more beef in the middle if the Finals repeat, but unless Pau Gasol undergoes a heart transplant between now and June, Leon Powe, Glen Davis and Kendrick Perkins will once again have their way down low.
"Our bench has been phenomenal [and] has been the reason we've won games," Rivers said. "They play together, they share the ball and they've done all the things as a group that makes them a good group. There is no one guy that can carry them, but when they play together it makes them a really good basketball team."
Funny.
They use to say that about the Pistons. But it seems Boston has taken its rival's formula for success and put it on steroids. I'm not saying the Celtics are going to dominate the East for the next five years, but certainly they should book a hotel in Washington, D.C., for June.
And if free agent Antonio McDyess wants a chance to meet Barack Obama -- a motivator for the team, according to Rondo -- he may want to strongly consider Boston's offer to don green. The way the champs have been playing this season, the only place Detroit is going next summer is Heartbreak Hotel.
Again.
That's not a knock on the Pistons.
It just a reflection of Boston.
LZ Granderson is a senior writer for ESPN the Magazine and host of the ESPN360 talk show "Game Night."
Dimes Past: Oct. 29 | 30 | 31 | Nov. 1-2 | 3 | 4 | 5 | 6 | 7 | 8-9
Jazz Lose First Game, Sloan Blames New York City
By Chris Sheridan | ESPN.com
NEW YORK -- Undefeated no more, and thereby still stuck on 1,000 career wins with the Utah Jazz, coach Jerry Sloan needed someone or something to blame. He chose the latter.
"New York," Sloan said. "I've got to attribute it to something. Maybe they saw too much of it. I'm disappointed our energy level was not higher than what it was coming into this game."
Several Utah players attended the light-heavyweight boxing match Saturday night at Madison Square Garden between Roy Jones Jr. and undefeated Joe Calzaghe, and there were about eight zillion late-night options for them to choose from after the bout.
Whether or not thy explored those additional late-night options, the Jazz did appear to be noticeably lacking in intensity as they started a four-games-in-five-days trip by dropping a 107-99 decision to the New York Knicks to lose for he first time after a 5-0 start.
Utah was again without Deron Williams, who has yet to play this season while he recovers from a sprained ankle. There is a possibility -- although it's certainly not a certainty -- that Williams will return to the lineup sometime during the current trip that takes the Jazz to Philadelphia, Washington, Charlotte and Cleveland. Without him, the Jazz were a step slow in trying to cover Jamal Crawford (32 points), Chris Duhon (16 points, nine assists, five rebounds, three steals) and Nate Robinson (10 points, four steals), especially on the perimeter as the Knicks shot 11-for-24 on 3-pointers.
On offense, the Jazz repeatedly failed to take advantage of matchup advantages as they went with big lineups against coach Mike D'Antoni's frequent three-guard alignments.
"We were dead in the water. Our guys didn't even jump for the ball a couple of times," Sloan said. "They wanted the game a lot more than we did."
The Jazz will close this trip Saturday night at Cleveland before returning home to play Phoenix, but their next nine games after that will be against teams that currently have records of .500 or worse.
Utah will not play the Houston Rockets until Dec. 27, the Lakers until Jan. 2 and the Hornets until Jan. 7 -- although there is a potential hiccup along the way, just over a month from now, when the Jazz are back in the New York metropolitan area to face the New Jersey Nets. Don't be surprised if Sloan goes into his old book of tricks and institutes a curfew the night before that one.
Chris Sheridan covers the NBA for ESPN Insider. To e-mail Chris, click here.
Ariza Does A Lot Of the Behind-the-Scenes Work in L.A.
By J.A. Adande | ESPN.com
LOS ANGELES -- In a Lakers-Rockets game with no shortage of big names you had to dig deep through the box score to find the real star, the guy Phil Jackson calls a "stealth player."
Six of his teammates scored more points. Pau Gasol grabbed nearly twice as many rebounds. But Trevor Ariza was the guy secretly responsible for an astounding 45-point swing, from a 16-point Rockets lead early in the second quarter to a 111-82 Lakers victory.
For all the stat geeks, Ariza had a plus/minus of +34 Sunday night. Put that in your web browser and click it. Good things happen when Ariza's on the court, even if he doesn't always get his name called over the loudspeakers when the play is finished.
"He's like a ghost out there," Jackson said. "Like a shadow. Just all of a sudden he shows on a screen, he's gone. He's a blip and he's away."
Ariza even tried to slip out of the postgame locker room, waiting until a crowd gathered around Andrew Bynum before moving around the reporters and flashing a "peace out" sign to the big center, until Lakers public relations director John Black reeled him in.
"Come here, Trevor," Black said. "You can't play that well and leave."
No, you can't have eight points, eight rebounds, three steals and three assists in 25 important minutes without coming in to explain yourself, even if it's just elaborating on Jackson's stealth description.
"I'm the type of player, I like to be sneaky," Ariza said. "That's how I get most of my steals, hiding behind guys and at the last second jumping in front. I try to be a team player. Whatever the team needs me to do to help us win."
To read the full column, click here
By Maurice Brooks
ESPN.com

SUNDAY'S BEST
Jamal Crawford, Knicks
: He fired in a game-high 32 points on 10-for-17 from the field, including 5-for-7 on 3-pointers, as New York handed Utah its first loss of the season. At 4-2, the Knicks are two games over .500 for the first time since the 2004-05 season.
---

SUNDAY'S WORST
Tracy McGrady, Rockets
: His teammate Ron Artest, who shot 2-for-11, could have gone in this spot but at least he played defense (four steals, a block). T-Mac did little else besides shoot and miss, making just 1 of 11 shots en route to three points.
---
QUOTE OF THE NIGHT

"We just had to get back to believing in ourselves. We kind of stopped talking about being a good team. We stopped demanding perfection from ourselves."
-- Toronto forward Chris Bosh on why the Raptors played so well Sunday
Mavs Search For Solutions
By J.A. Adande
ESPN.com
LOS ANGELES -- So the Los Angeles Clippers finally got their first victory of the season. The question is, how much should it count for? After all, it did come against the Dallas Mavericks.
It took seven games, but the Clippers found a team with an equal number of issues -- if not more. While the Clippers are incorporating four new players into their main rotation, the returning group of Mavericks is having trouble adjusting to the coaching style, terminology and substitution pattern of new coach Rick Carlisle.
When a team doesn't know its identity or direction, it's easiest to tell during crunch time. So it was that a game tied at 79 with 8:10 left got away from the Mavs with 13 consecutive Clipper points and an eventual 98-84 victory for Los Angeles.
"Like us, they're trying to get everything into the flow," said Clippers forward Paul Davis, who scored 10 points. "At times, they're pushing the ball on the fast break great. But at times they seemed out of whack."
You don't want any Clipper to talk about your team and say "like us," unless it's something as generic as, "like us, they play in the Western Conference." But like the Clippers, Dallas has a losing record, even if 2-4 is slightly better than 1-6.
Dallas was without the injured Josh Howard, but Gerald Green was an adequate replacement with 13 points and 12 rebounds. There just wasn't enough of a secondary scoring threat to go with Dirk Nowitzki's 33 points.
The Mavericks didn't run consistently, scoring only 10 fast-break points. They don't have a low-post game. They're not a great outside shooting team, and missed 15 of 18 3-pointers. In short, they're about equal to their record.
"I'm not going to make any excuses about, 'Hey, I don't know these guys,' or anything like that," Carlisle said. "We've got a veteran team here. We expect all these guys to go out and play and play well. We're behind where we want to be."
The Clippers have been delayed by training camp injuries to Marcus Camby and Baron Davis, then suffered again when Davis landed hard on his hip in the second game. So the Clippers have wasted the early part of a favorable schedule that took them out of Staples Center only once in the first 10 games.
"Last year the team I was on [Golden State] started 0-6," Baron Davis said. "The same feeling, a feeling of frustration. A feeling of we let a couple of games get away that we had control of. Once you get that first one, it just takes a monkey off your back and you realize that you know how to win. There's going to be games coming up down the stretch that we know we're going to be able to pull out because we have this experience."
Coming into Sunday's game, the Clippers were the lowest-scoring team in the league, at 84 points per game. Then they went out scored the way the Mavs used to, back when Dallas was one of the NBA's top teams. That label doesn't fit right now.
"We can't take anybody lightly," Jason Kidd said. "Because we're in no position to do that."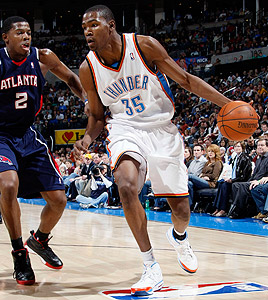 Layne Murdoch/NBAE/Getty
The Thunder's Kevin Durant shook loose for 20 points, but it was Hawks -- led by Joe Johnson -- who rallied in the fourth quarter for a four-point win that improved their record to 5-0.

The Pistons' Richard Hamilton (three points) missed all eight of his attempts from the field. This is only the second time in his career that he started a game and didn't make a single shot.
-- ESPN Research