Gary Dineen/NBAE/Getty Images
With Josh Smith out of the lineup, Al Horford did more than his part to pick up the slack for Atlanta.

D. Clarke Evans/NBAE/Getty Images
Tim Duncan showed the Knicks the Spurs are dangerous even without two members of the big three.

Jesse D. Garrabrant/NBAE/Getty
His shooting touch was off, but Deron Williams contributed seven points and nine assists for the Jazz.
Lakers and Hawks Laying Foundation For Successful Seasons

Contrary to popular belief, the regular season does matter in the NBA, which is why we should pay close attention to the 6-0 starts by the Atlanta Hawks and Los Angeles Lakers. Don't say it's only November. Take note because it's November.
The NBA's November is like Iowa and New Hampshire in the presidential primaries. Campaigns are made and/or broken by those two early states. (Has anyone ever provided a good explanation about why they play such a role in determining our presidents even though they have only 11 electoral votes between them and are incapable of generating news in the three non-election years?) Twice New Hampshire has delivered CPR to John McCain after he was pronounced dead. Iowa is where a Barack Obama presidency went from dream to possibility.
Last year the Celtics used November to end all questions about whether Kevin Garnett, Ray Allen and Paul Pierce could mesh their games -- and if Doc Rivers would be around to coach them. They went 13-2 in November and bought themselves 4½ months of freedom from speculation, their fate a nonissue until playoff time.
On the flip side, last November the Bulls dissolved from a playoff team into a puddle of worries about contracts and trade. They never did recover.
It probably isn't a coincidence that teams off to the best start this season were sent into the summer with humbling defeats at the hands of the Celtics. They have reputations to refurbish and new identities to establish.
The Hawks didn't take the 2007-08 regular season seriously enough. They played hard only when they felt like it, which is why they beat the Lakers, Phoenix and Utah but also lost to Charlotte twice and Seattle at home. They crept into the playoffs with a 37-45 record.
This season, with only 7 percent of the precincts reporting, we can already project them finishing in the upper half of the Eastern Conference. Good teams win on the road when they're at less than their best. That applied to the Hawks on Tuesday, when they beat Chicago without Josh Smith and with Joe Johnson shooting 4-for-16. Every win they rack up while Smith is out for up to a month with a high ankle sprain will only make them more formidable when they get him back. And every victory they get playing the way they did Tuesday will only reinforce the good basketball habits they displayed. Players aren't looking for their own shots, they're looking for the best shot.
Bulls coach Vinny del Negro had a good take on the Hawks before the game, when he told reporters: "They've been together and they've had some success last year, getting in the playoffs and pushing Boston. When you keep your team together and you add a piece like a [Mike] Bibby and everybody kind of falls in and [Al] Horford improves a little bit and Marvin Williams does and Joe [Johnson] does, and you keep your pieces together and you start working and you start believing ... and now they have a little bit of a swagger to them. Confidence plays a big part in this game."
They don't have a superstar, but they do have an All-Star in Johnson, and Horford is looking like he could join him in Phoenix in February. He had 27 points, 17 boards and six blocked shots Tuesday. He kept beating the Bulls' big men down the floor, Bibby kept finding him and he wound up taking most of his shots right at the rim.
The Hawks are committed to defense now, which is why in the first five games they went from one of the worst scoring-against averages in the league last season to second this season ... right behind the Lakers.
The Lakers have yet to allow an opponent to score 100 points this season. They clamped down Tuesday night after an energized Mavericks team spurted to a 36-23 lead in the first quarter. But the Lakers clawed back, using Trevor Ariza's energy and Pau Gasol's length to bother the Mavericks, and held Dallas to only three field goals in the final 7½ minutes. The swing play came on defense, when the Lakers led by two and Ariza blocked a Jerry Stackhouse 3-pointer out-of-bounds with one second remaining on the shot clock. At the other end, Gasol rebounded a Derek Fisher miss and got a layup-and-one to put the Lakers up by five points with 23 seconds remaining.
The Lakers' defensive inefficiency was a latent problem that the Celtics exposed in the Finals. It turns out that it was more a matter of missing personnel than anything else. Now that Andrew Bynum and Ariza are back at full strength, the Lakers have the right combination of height inside and length and athleticism on the perimeter. They spent more time on defense in training camp, and as a result the players are maintaining better positions on the weak side, as opposed to constantly scrambling due to being out of place.
One or both of these winning streaks could end Wednesday when the Lakers play at New Orleans and the Hawks play at Boston. The second game of a back-to-back is never a good time to judge a team.
The month of November is, though. It gives you all the evidence you need to see which rookies can play at his level, or which offseason transactions will work.
Teams that have won championships recently can afford to hang back and draft at the start of the race. The Hawks and Lakers don't have that luxury. They hit the ground running, and so far they've racked up the votes for most improved teams.
J.A. Adande joined ESPN.com as an NBA columnist in August 2007 after 10 years with the Los Angeles Times. Click here to e-mail J.A.
Dimes Past: Oct. 29 | 30 | 31 | Nov. 1-2 | 3 | 4 | 5 | 6 | 7 | 8-9 | 10 | 11
Nowitzki Fails To Follow His Own Orders
By Marc Stein | ESPN.com
DALLAS -- Dirk Nowitzki has said so for years. He wants to be known as a shot-maker, not a speech-giver.
It worked out the other way this time.
The Dallas Mavericks certainly responded to Nowitzki's weekend blast about his team's repeated, inexplicable and unpardonable lack of passion through the season's first two weeks. Even without the injured Josh Howard -- and in spite of its 2-4 start -- Dallas delivered a game that threatened Tuesday night to take down the team that hasn't even come close to losing lately.
The problem?
The speech worked on everyone except Dirk.
Erick Dampier legitimately was a bigger presence than L.A.'s Andrew Bynum with 11 points and 16 rebounds, 12 of those boards on the offensive end. Jason Terry had a 17-point first half, and Jason Kidd mustered his 101st triple-double: 16 points, 11 boards and 10 assists. Most crucially, Jerry Stackhouse emerged from the worst run of his career with a monster fourth quarter in which he tossed in 10 of 17 points ... while also ushering Kobe Bryant to zero points in the final 6:08 of regulation as the Mavs' primary Kobe defender.
Nowitzki?
He missed all five of his shots in the final period and finished 5-for-17 from the floor in a punchless 14-point, eight-rebound showing in the Mavs' 106-99 loss to the Los Angeles Lakers.
"I've got to do a better job, obviously, [of] closing," Nowitzki said glumly.
Yet you can't shortchange the Lakers' role in Nowitzki's misery, as they surged from 10 points down late in the third quarter to improve their record to 6-0, duplicating what Houston and Cleveland had done previously on the Mavs' floor by dominating the fourth.
Pau Gasol guarded Dirk more than he ever has -- in the NBA or internationally -- and used his length to consistently deny Dirk clean looks. It wasn't just Gasol, either. Every time Nowitzki managed to turn a corner, more length was waiting from Lamar Odom (L.A.'s usual Nowitzki man) or Trevor Ariza.
Nowitzki, consequently, found himself winding up with mostly contested jumpers in crunch time, low-lighted by an air-balled 3-pointer with 1:21 to play and the Lakers up 99-97. Then, in the final minute, Gasol compounded the misery by beating Nowitzki to Derek Fisher's air ball and converting a putback that became a three-point play when Nowitzki was called for his sixth foul.
"There's probably not too many guys Dirk has to play that are as quick as him and longer than him," Odom said of Pau.
Said Gasol: "I enjoyed the challenge. I usually guarded Dampier or [DeSagana] Diop when I was in Memphis, but I don't have to [burn] as much energy offensively as I did in Memphis, so I have more energy to use on defense."
Not such good news for the rest of the league, huh?
Marc Stein is the senior NBA writer for ESPN.com. To e-mail him, click here.
Lakers Make All the Plays Down the Stretch
By Marc Stein | ESPN.com
DALLAS -- It sounded as though even Phil Jackson wanted to see the Los Angeles Lakers scrambling.
"We haven't seen those types of games yet," Jackson conceded in his pregame address Tuesday night.
Although that's not entirely true -- L.A. did have to exert some fourth-quarter energy in a win at Denver in its third game of the season -- Dallas did wind up giving the Lakers their first extended push of the season. The most feared team in the West, however, gradually choked off a Mavs running game that was rolling early to rally in crunch time for a 106-99 triumph, securing a 6-0 start.
The Mavs' Gerald Green took off early in the final period for a memorable soar and slam that put Dallas up by five… only for that jam to jolt the Lakers instead. The visitors' vaunted second unit, which had wiped away most of Dallas' 11-point lead late in the third quarter, reeled off the next seven points, capped by Trevor Ariza's own drive and dunk along the baseline after emerging as the winner in a loose-ball tangle.
Kobe Bryant then sauntered in for a flurry of nine fourth-quarter points, giving the Lakers enough of a cushion to survive Bryant's unexpectedly quiet finish against the D of Jerry Stackhouse.
"[Bryant] was really fresh at the end of the game," Mavericks coach Rick Carlisle lamented, crediting L.A.'s bench for that freshness and other disruptions that have saddled Dallas with its first 0-3 start at home since 1993-94, when the Mavs went 13-69.
Now we'll see how the Lakers respond to their first legit back-to-back of the season. They faced the Trail Blazers and the Clippers on the first two nights of the season, but both games were at Staples Center. After its gaudy average margin of victory took a mild hit -- from 22.4 points per game to 19.8 after this victory -- L.A. visits Chris Paul's New Orleans Hornets on Wednesday night.
Not that Jackson, 63, seems too concerned about the immediate or long-term future, with a team that looks so stacked and knowing that his boss -- Lakers owner Jerry Buss -- wants him to stay on beyond this season.
"I'm just going one season at a time," Jackson said. "That's all there is to do in this situation. We have a talented team this year, we want it to work well and stay away from injuries and measure out the season the right way so that we can go to the playoffs with the best possible chance.
"This is what we wanted to do, get the Lakers back to a competitive spot. Last year we were able to reclaim that position Laker fans expected. Laker people kind of anticipate being there every year."
By Maurice Brooks
ESPN.com

TUESDAY'S BEST
LeBron James, Cavaliers
: What is going on with LBJ and the No. 41? For the third time in the past four games, he scored exactly 41 points. He also had six assists and five rebounds as Cleveland won its fifth straight.
---

TUESDAY'S WORST
Brad Miller, Kings
: At least the Kings know that their center doesn't suffer from a lack of confidence. Despite the fact that his shot was off, he continued to fire, missing 14 of his 16 attempts from the field.
---
QUOTE OF THE NIGHT

"Coach [Popovich] says this is the way it is and that's that. Coaches have a reason for doing those things. It's important for you to have trust in those things that they're trying to get accomplished."
-- Spurs forward Bruce Bowen, who didn't start for the first time in 550 games -- while being on the active roster -- with San Antonio
Spurs Turn To Finley, Bowen
By Jalen Rose
ESPN
Not often in recent years have the New York Knicks come into San Antonio carrying the better record.
It happened Tuesday, but the result was more of the usual between these two teams. The Spurs controlled the pace and took a 92-80 win over the still above-.500 Knicks (4-3).
With Manu Ginobili and Tony Parker out of action, two players who normally play smaller roles provided some big production. Bruce Bowen and Michael Finley combined to make all five of their 3-point attempts, helping the last healthy big three member, Tim Duncan (23 points), carry the load.
At this point in their careers, relying on Finley (age 35) and Bowen (37) like this is not playing to their strengths. You like Finley coming off the screens and Bowen for his defense. But the Spurs (2-4) will take these big nights, because with two of their big three out, they can't afford to dig themselves a big hole that will cost them at the end of the schedule when the West race is finished. They are going to need continued solid play from new addition Roger Mason.
Since drafting Duncan, this team has consistently been one of the top defensive clubs in the league. This is the first year that I can remember that most people legitimately felt the Spurs couldn't win the championship.
That opinion has been widely held about the the Knicks for quite some time now. But under new coach Mike D'Antoni, they at least have a puncher's chance on a given night. Wilson Chandler has shown he can make plays, and Zach Randolph is a 20-10 waiting to happen. The Knicks are almost certainly going to shoot a team record number of 3-pointers this season -- Jamal Crawford made 6-of-8 in this one.
Still, the Knicks were held to a season-low 80 points by the Spurs. When they win, the Knicks hit three digits; when they lose, they are in double figures.
And when it comes to getting stops and getting to the free-throw line, that's where they are going to struggle. In this one, the Knicks actually took more 3s (20) than free throws (19).
I don't see the playoffs in the Knicks' future, but at least they should be fun to watch.
Jalen Rose is an NBA analyst for ESPN and a regular Daily Dime contributor.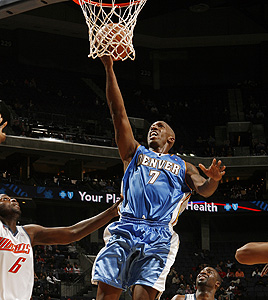 Brock Williams-Sm/NBAE/Getty
Chauncey Billups dropped in 16 points for the Nuggets, who ran past the Bobcats 88-80 to improve to 3-0 since acquiring the point guard in a trade with the Pistons a week ago.
George Karl's Nuggets overcame a 10-point Charlotte lead to defeat Larry Brown's Bobcats in a meeting of head coaches who both played collegiate ball at North Carolina.
In the 37th regular-season meeting of those coaches, the tide tipped in Karl's favor: He now has 19 wins to Brown's 18 in their regular-season meetings. Karl has won five of the past six meetings; the teams are slated to meet again on Jan. 30 in Denver.
• There have been five 40-point games in the NBA this young season -- three by LeBron James and only two by the rest of the players in the league combined (Amare Stoudemire and Tony Parker). The last NBA player to reach the 40-point mark at least three times in his team's first eight games of a season was Michael Jordan in 1991.
• The Pistons won 100-92 in Sacramento, in a game in which Detroit made 30 of 36 free-throw attempts while the Kings made only 10 of 17 from the foul line. That's the second game this season in which the visiting team made at least 20 more free throws than the home team; Phoenix made 44 free throws to the Bucks' 17 in a game at Milwaukee on Saturday night.
-- Elias Sports Bureau

ESPN editor Maurice Brooks updates this week's NBA Awards Watch. For the third straight week there's a change at the top of the MVP race.