Chris Graythen/Getty Images
Andrew Bynum's play in the paint is a reason the Lakers are 7-0 for the first time since 2001-02.

Ned Dishman/Getty Images
After opening the season with five consecutive losses, Caron Butler and the Wizards beat the Jazz.

Ron Turenne/ Getty Images
Andre Iguodala had 18 points, nine rebounds and 10 assists as Philly ended its three-game skid.

Elsa/Getty Images
Marvin Williams made four 3-pointers in four tries, including a corner trey to put the Hawks up 102-101 with seven seconds to play. Then came the heroics of Celtics star Paul Pierce.
Bryant's Jumper Punctuates Big Victory By Lakers

NEW ORLEANS -- It was the perfect metaphor for the Lakers' perfect start: a dagger 3-pointer by Kobe Bryant, with James Posey right in his grill, that staved off a New Orleans comeback and gave the Lakers a 93-86 win over the Hornets.
The win pushed the Lakers to 7-0, and with Atlanta's loss in Boston it made them the league's sole undefeated team. It's a status they may hang on to for a while -- seven of L.A.'s next eight games are in the friendly confines of Staples Center, starting with Friday's contest against Detroit.
And although Bryant denied flashing back to the Finals while draining the shot over Posey, it symbolized the motivation for L.A.'s awe-inspiring start. The Lakers were exposed as soft, mentally and physically, in that six-game defeat to Boston last year, and their start has been a response to that discovery. What better way to cap it than by nailing a shot over the former Boston defensive stopper who so frustrated the Lakers in last season's Finals?
For that matter, an earlier Posey-related episode helped symbolize L.A.'s newfound toughness. It all started when Chris Paul used a first-quarter stoppage in play to take exception to a blow from Pau Gasol underneath; Gasol, notorious as a shrinking violet in such situations, made sure to respond. When Posey -- who hadn't even checked into the game yet -- came off the bench to intervene, Gasol would have none of it, and each earned a tech for his troubles. It never got physical, but it showed L.A.'s resolve.
"[Paul and I] were just talking," said Gasol, "James came in, and I was just trying to go back to the bench because there was a timeout. [But] you gotta do what you gotta do out there."
Just to make sure where they stood, Andrew Bynum did get physical with Posey later -- earning a technical foul for shoving him after a Hornets score when the two were fighting for position underneath. While we don't typically celebrate technical fouls, this play was indicative of an edge to the Lakers that was missing last season.
However, this win was impressive for much more than just a few displays of machismo. Most notably, the Lakers' defense suffocated the Hornets for three quarters, holding them to just 30 points in the first half.
That's impressive in any environment, but to do so on tired legs in a back-to-back game, in a hostile venue, against a contender that had four days of rest and had circled the date on the calendar when the schedule came out ... folks, that was simply awesome. Especially since, as Phil Jackson pointed out before the game, early-season back-to-backs tend to be more difficult since not everyone has their sea legs yet.
L.A.'s defense is the main reason it is the unquestioned top dog in the NBA hierarchy at the moment, and Wednesday's first three quarters showed the biggest difference from last season: Bynum. It's not just that he's back -- it's that he's in shape, active and engaged. He was, in my estimation, far better defensively than he'd been before the injury last season.
"We have a shot-blocker [now]," said Lakers coach Phil Jackson, "and Andrew makes our abilities different from what they were before. Last year, we had to play spaces when he wasn't in the lineup, and now we can funnel people towards him."
It showed when he rejected consecutive shots by Paul in the first quarter, but even more impressive than the four shots he rejected was his constant presence in the paint. Bynum was always lurking on the help side, and it effectively closed off most routes to the basket and turned the Hornets into jump shooters.
"They're really loading up [on the strong side]," said the Hornets' David West. "You're not going to be able to beat them on one side of the floor. You have to get the ball to the other side."
Jackson didn't use Bynum as much after the break because he felt Bynum was tiring after playing nearly the entire first half, and you could see how different the Lakers looked defensively without him. Paul shredded L.A.'s screen-and-roll defense down the stretch en route to his seventh straight 20-point, 10-assist effort -- putting him halfway to Nate Archibald's league record of 14 -- but when Bynum was on the floor the Lakers were plus-20.
Bynum also had a nice effect on Gasol, who is much more comfortable defending the power forward spot. He was able to use his length to bother the jump shooting of West, who finished 9-of-19, and the combination of the two on the floor meant there was always a shot-blocker around the rim.
So dominant were the Lakers through three quarters, in fact, that it appeared they'd cruise to an easy win with a very limited contribution from Bryant. Kobe had just 13 points on 4-of-14 shooting when L.A. found itself clinging to an 83-80 lead with 1:07 left and the shot clock winding down -- after New Orleans had scored on nine straight trips. That's when he sized up Posey, let it rip and extinguished any hope of a Hornets' comeback.
"I just backed him up and I knew [Posey] had help behind him," said Bryant. "I knew it was going to be a tough shot and he was going to be draped all over me."
"You can't defend much better than what Posey did," said Hornets coach Byron Scott. "Pose was right in is face, and that's what great players do -- they make big shots."
And what great teams do, he might add, is win big games. So far, nobody has been greater than the Lakers.
John Hollinger writes for ESPN Insider. To e-mail him, click here.
Dimes Past: Oct. 29 | 30 | 31 | Nov. 1-2 | 3 | 4 | 5 | 6 | 7 | 8-9 | 10 | 11 | 12
Celtics-Hawks: Playoff Atmosphere In November
By Chris Sheridan | ESPN.com
BOSTON -- Paul Pierce screaming in delight. Kevin Garnett punching at the air. The Atlanta Hawks walking off looking forlorn, but certainly not dejected. Not after the way they stuck with the defending champs all night, not with the way they had this one in their grasp until Pierce rose over 6-foot-10 Al Horford and buried a 20-footer from the right side with a half-second left to give the Boston Celtics a 103-102 victory Wednesday night over the previously unbeaten Atlanta Hawks.
"It was the NBA at its highest level tonight, and we just happened to come up on the short end," Hawks coach Mike Woodson said. "We've grown a lot since last season, thanks to the Celtics. They put us in that frame of mind that you've got to come out every night and dig in and play, man. I told our guys before the game it was going to be a dogfight, and it was one of those games where somebody had to grind it out."
Prior to Pierce's game winner, Marvin Williams put the Hawks ahead on a 3-pointer from the corner with 7.4 seconds left (he was 4-for-4 on 3s, and it should be noted that he was defended most of the night by the reigning Defensive Player of the Year, Garnett). After a timeout, the Celtics got the ball into the hands of their go-to guy, and Pierce put the finishing touch on a superb 34-point effort.
And, of course, we'll see where the Hawks are by the time they make their next trip to Beantown, which won't come until April 3. By then, it'll actually feel like spring outside. And there's no doubt that either of these teams will have trouble remembering the night in November when it sure did feel like winter had already passed.
To read the entire Sheridan column, click here
Knicks' Chandler Has Career Shooting Night

Wilson Chandler went 11-for-12 from the floor on Wednesday, and they weren't all high-percentage shots: he was 4-for-4 from behind the 3-point line. Only three other players in NBA history have gone 11-for-12 or better from the field while making as many as four 3-pointers: Larry Bird in 1986, Reggie Miller in 1992 and Jim Jackson in 2004.
Chandler had the best shooting game for a Knicks player since Tony Campbell had a 12-for-13 game in 1993 (minimum: 10 field goals).
• Miami's Dwyane Wade scored 36 points, giving him at least 30 points in each of his past four games, a career-best streak. Before this, Wade had scored 30 or more points in three consecutive games 13 times.
-- Elias Sports Bureau
By Maurice Brooks
ESPN.com

WEDNESDAY'S BEST
Dwight Howard, Magic
: The 30 points and 19 rebounds have become somewhat routine for him, but the 10 blocks turned this into one of the best nights of his career -- and gave him his first triple-double.
---

WEDNESDAY'S WORST
Roger Mason, Spurs
: With Manu Ginobili and Tony Parker both out of the lineup, Mason was expected to step up and carry more of the offensive load. He hasn't been up to the challenge lately, shooting 2-for-10 from the field for the second straight game.
---
QUOTE OF THE NIGHT

"I got to get on coach and tell him to talk to the guy to pad the stats for me a little bit."
-- Pacers guard T.J. Ford after falling one assist and two rebounds short of a triple-double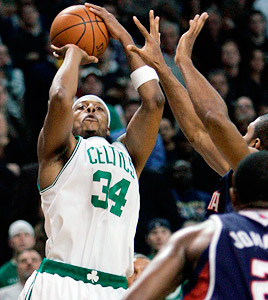 AP Photo/Michael Dwyer
Paul Pierce handed the Hawks their first loss of the season by hitting this game-winning shot over the long arms of Al Horford.

By David Thorpe
Scouts Inc.
Portland rookie Greg Oden looked better, physically, than he did a few weeks ago. I noticed that a few days ago in person, and I still feel that way after seeing him on television.
He is about 7 to 10 pounds lighter. His early energy was good. This guy has some agility, despite being so large and away from the game for so long. In time, that agility will triple in impact on the game. I liked his aggression from the post when the Heat doubled him, twice passing out and getting the pass deflected, only to see him hustle to regain possession.
As the game wore on, his bounce and reaction time suffered. It's important to remember that there is so much going through his mind; defensive responsibilities, awareness to help on finishers (he had two power blocks), block-out duties, etc. As the game slows down for him, he'll clear his head and get back to being a beast on the glass. That's his natural instinct. He may have looked rough in the post Wednesday night, but as he learns what NBA teams will do to stop him, he and his teammates and coaches will come up with strategies to counter those actions.
He is a very cerebral player with a good feel for the game, so I expect that learning curve to be both steep and fast.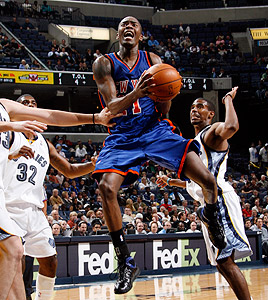 Joe Murphy/NBAE/Getty
Jamal Crawford had 25 points, and the Knicks set a franchise record by nailing 19 3-pointers en route to a 132-103 rout of the Grizzlies.