AP Photo/Jeremy York
Fallout From Rockets-Suns Suspensions

The next appearance David Stern makes at an open-to-the-public function in Phoenix will be the first since his twin suspensions of Amare Stoudemire and Boris Diaw.
You'll recall that those punishments were handed down back in the spring of 2007.
That means more than 18 months will have elapsed by the time All-Star Weekend arrives, when Stern has to be in Phoenix for what figures to be a pent-up shower of boos in the desert that I think we can safely say just got louder.
Friday's suspension of Steve Nash pretty much guarantees that time will have done nothing to soften the noise Arizonans have been saving up for the commissioner. Not when their Suns, believe it or not, somehow sound even more enraged by this suspension of Nash than they were by the far more damaging penalties Stoudemire and Diaw received in that unforgettable series with San Antonio in '07.
The Suns, if not all of the Phoenix public, eventually learned to accept that Stern had little choice in the playoffs because Stoudemire and Diaw violated the league's ironclad rules about leaving the bench. Angry as many Suns fans still are with Stern about that double whammy, recent NBA history says that they have no grounds for protest, no matter how unjust the absences of Stoudemire and Diaw might have seemed initially and no matter how much those absences changed the crucial Game 5 of a second-round classic. Other teams, most notably Patrick Ewing's New York Knicks in 1997, have been similarly stripped of star players for big playoff games.
But this time?
The Suns certainly have a much stronger case, which might explain why they seem even more miffed than last time. The stakes are way smaller, not even a month into the regular season, but you could have found more than a few folks around the league Friday night wondering why Nash was suspended and Tracy McGrady only fined.
"I've never been so mad in my career," Nash said by phone from Sacramento upon learning he wouldn't be able to play against the Kings, after venting similar frustrations at the Suns' morning shootaround.
That anger stems from the fact that Nash was deemed by the league to have escalated this conflict -- no matter how strenuously Nash insisted that he was merely trying to act as a peacemaker -- and that McGrady was purely a peacemaker until the Nash-inspired escalation.
Putting all my purported Nash biases on the table from the start, I can see why the Suns are having trouble accepting that final suspension tally. If Nash had to be suspended for a game, fine. But why wasn't McGrady due a one-game suspension if Nash got one?
T-Mac instead escaped with a $25,000 fine, with the league apparently convinced that McGrady and Yao Ming had virtually extinguished the tension by the time Nash joined in. And that will only feed into the persecution complex, on what they like to call Planet Orange, that the league office hits the Suns harder than anyone else.
There's zero issue here with two-game suspensions for the two main protagonists: Houston's Rafer Alston and Phoenix's Matt Barnes. There was very little day-after chatter about possible penalties in the wake of the shoving match at US Airways Center, but we were all asleep there. We all should have realized that this was the first notable skirmish of the season, meaning that the NBA would naturally want to use it as an opportunity to send a strong message of deterrence to the rest of the league.
Yet I contend that it's difficult not to sympathize with Nash, whether or not you're a fan of his, because what he did -- and deeming it more egregious than the McGrady follow-up -- is open to interpretation. Unlike, say, leaving the bench.
The scuffle materialized in the final few seconds of Wednesday night's third quarter, after Barnes plowed through an Alston screen. Alston soon confronted Barnes, with McGrady and Yao in the vicinity. Nash then ran over, but insists that he did so only because Barnes was "attacked" and then "surrounded" by three Rockets. McGrady responded by quickly throwing Nash to the ground and briefly standing over him, which prompted the Suns' Shaquille O'Neal to shove McGrady and Yao.
The league office is certain that Nash had other intentions. The league office is convinced, in the words of NBA executive vice president of basketball operations Stu Jackson, that Nash "ran to the scrum not to make peace but to engage Alston" just when things seemed to be calming down.
That's why I'm saying that I'm sympathetic to the Suns' frustration. Because I'm not sure how the league can be sure that Nash wasn't trying to enter the fray as a defuser, just like he told league officials before the suspension was announced. Nash said all he could see from his vantage point was a teammate outnumbered and "arms flailing."
"I think his actions were fairly clear if you look at the tape," Jackson told ESPN.com in a phone conversation Friday night. "He ran over to engage Rafer Alston at a time when he should not have. And he came a pretty healthy distance to get there."
Turns out that Stern, on his last visit to town in early November 2007, explained that he wants his league doing everything possible to dissuade players from running into the fray -- without even trying to guess their intentions -- because he can't forget what happened to Rudy Tomjanovich in 1977. That's when Rudy T. ran toward a fight in a Rockets-Lakers game and wound up having his face shattered by Kermit Washington's punch.
Sensible as Stern's words were, what the locals remember most about those comments is that they were uttered at a private breakfast for corporate sponsors and media types -- while the Suns were on the road -- as opposed to at a grandiose news conference to announce that the city would be hosting the 2009 NBA All-Star Game.
Call it another glimpse into a Phoenix psyche that suggests All-Star Weekend in mid-February, even in the Valley of the Sun, might be frostier than anyone imagined.
Marc Stein is the senior NBA writer for ESPN.com. To e-mail him, click here.
It's early, true.
Yet for the long-suffering residents of the Eastern Conference, it's never too early to pass on a chance for a little gloating, given that they've come away with a losing record in cross-conference games against the West (and innumerable Leastern Conference jokes) in every season of this millennium as well as in the 1999-2000 season.
This season? As the Elias Sports Bureau helpfully points out, East teams were 24-12 in games against the West after Thursday night's three-game sweep: Cleveland over Denver, Chicago over Dallas and visiting Detroit over Golden State.
And the reason you can get away with bringing this up so soon is because it might not be a temporary trend this time. Although it certainly figures that the West's eight playoff teams, as a group, will wind up being more potent than the East's top eight, there's no denying that the West Lakers aside -- is currently in a serious state of flux. The West also houses most of the league's weakest teams, while the East has witnessed the arrivals of Elton Brand, Derrick Rose, Mike D'Antoni ... and the return of that Dwyane Wade chap.
Stay tuned.
---

There is a downside in Toronto to Chris Bosh playing the best basketball of his life: Bosh is gaining on (or maybe even surpassing) LeBron James as the guy every team with cap space hopes to steal in the heavenly free-agent summer of 2010.
As the biggest Canada-lover in the American hoops media -- and I might have to include my Canadian brethren -- I can't help feeling for Raps fans, who will be as understandably edgy as Clevelanders for the next 580 days or so, digesting countless reports about Teams A, B and C plotting their Bosh pitches. You can make the argument that the Canadians actually have it worse than Cavs fans, given some of the unfortunate and ill-informed reservations some players have about playing in the only NBA city outside the United States, as well -- you know where we stand on the awesomeness of Toronto -- as well as the fact that Bosh, unlike Ohio-born LeBron, doesn't have the same lifetime connection with the place to offset the fallacies about a supposedly inferior market.
I'm quite sure that the Raps, with Bryan Colangelo running things and with plenty of projected salary-cap space that summer to re-sign Bosh and add another quality piece or two, have a far better chance of re-signing Bosh than we all think down here in the States. The reflex is to to remember that Damon Stoudamire, Tracy McGrady and Vince Carter all eventually barged their way back to the States and assume Bosh wants to do the same.
What I will concede is that the corresponding free agencies of James and Dwyane Wade could muddle things because it's not hard to imagine James and Bosh imagining out loud what it would be like to hook up full time -- or Wade and Bosh, who share agent Henry Thomas -- after their gold-medal success at the Olympics in Beijing.
"All these players want to play with each other in the NBA," said one source close to the Team USA scene.
---

You're undoubtedly aware of the idea Shaquille O'Neal tossed out in October to my man Scott Howard-Cooper of The Sacramento Bee about Shaq and Grant Hill someday buying the Orlando Magic.
For the record, Shaq swears that is not one of those times that he was just "throwing stuff out there to see what kind of response I get," as he likes to say.
"No joke," O'Neal told us recently. "I'm serious."
Be advised that a serious discussion about the matter is at least 18 months away, with O'Neal contracted to play through the 2009-10 season and Hill having registered roughly zero interest in retirement lately ... even as his role has been reduced somewhat under new Phoenix coach Terry Porter. The Magic also have to be for sale for a group headed by O'Neal and Hill to buy them, which team officials insist won't be happening any time soon.
Yet I can't resist asking how denizens of the Magic Kingdom would react to Shaq -- who famously left them for the Los Angeles Lakers after spending just four seasons in Orlando -- coming back as an owner or general manager.
Asked about his relationship with the locals, as he continues to make Orlando his offseason home, Shaq said: "I think they're over it. Hopefully."
Asked whether he has any regrets about leaving the Magic as a 24-year-old, O'Neal continued: "No. Not at all, because it was a business decision on both sides. Everyone has to take care of their business. At the time, I was a young guy. I had other things going on [in my life] that I could capitalize on, and those other things were easier living in L.A. I went out there and luckily got three [championships]. Then I had to take care of business again and go to Miami and won another one. Business is business. Never take it personal."
O'Neal, though, has to know that some of his neighbors in central Florida still blame much of the Magic's interminable injury misery with Hill and an overall decade-plus of woe after his departure in the summer of 1996 on the so-called "Curse of the Shaquino."
"As a player, I took them to the Finals [in 1995]," Shaq said. "Maybe as a president or a GM, I could help them win it all. I've got great people skills, and I know I got the eye [for talent]."
What happened the first time Shaq presented this scenario to Magic management?
"[Team president] Bob Van Der Weide stopped me in my tracks and said, 'I'd rather have Grant as a president,' " O'Neal said. "Grant is more of the presidential guy. I'm the GM type of guy."
It's a November tradition around here. As soon as the All-Star ballot is released, we scour it immediately to try to identify the most glaring snubees.
Not this November, though.
That's because a call from the league office came into Stein Line HQ late in the summer inviting us to be part of the ballot panel for the first time. I was truly honored to be named to this committee (of six) along with TNT studio legend Ernie Johnson, Sports Illustrated's venerable Jack McCallum and three of my longtime newspaper colleagues: Paul Coro (Arizona Republic), David Moore (Dallas Morning News) and Marc Spears (Boston Globe).
So how did we fare?
I'd say we pretty much nailed it, given the relatively limited amount of Snubs Talk that I've read and heard so far. (Putting five Atlanta Hawks on the ballot, for example, looked fairly clever when the Hawks got off to their 6-1 start.)
That said ...
What I understand better than I ever did before is that making all these decisions before the season starts -- which has to happen so the ballots can be printed on time for mid-November distribution -- opens you up to what I'd call wholly unintentional flubs as opposed to snubs. Don't forget, furthermore, that each team has to have at least three representatives on the ballot, according to league rules.
So that should explain why, say, Oklahoma City's Nick Collison is one of the 12 choices at center for the West when Denver's Nene is averaging 15.1 points, 8.1 rebounds and 2.0 blocks for the Nuggets after being restricted to just 16 games last season in his comeback from testicular cancer. As a purely personal second guess -- I repeat, speaking only for myself and not the committee at large -- Marc Gasol would have worked for me as the third rep from the Memphis Grizzlies over Mike Conley.
I'd argue that the category of East center should be the only source of any serious second-guessing out there. With 20/20 hindsight -- and, yes, speaking purely for myself again -- I wish we'd known then that no fudging would be necessary to classify Miami's Udonis Haslem (6-foot-8 on a good day) as a 5 man. New York's Eddy Curry suddenly has a better chance of starting in the All-Star Game than he does of ever starting a game Mike D'Antoni coaches, and it increasingly appears that Washington's Brendan Haywood won't be back on the floor for the Wiz until after we all convene in Phoenix for the annual mid-February extravaganza. So Haslem has an undeniable gripe because neither Curry nor Haywood makes much sense on the ballot now. With hindsight? We would have looked smarter naming Zach Randolph and Haslem as centers and giving Randolph's forward slot to someone else, such as Philadelphia's Thaddeus Young.
Stephon Marbury's presence, by contrast, is easier to explain.
There was simply no way to know back when these selections were made that Steph would be banished for an extended period to the purgatory of the inactive list, although that stay might finally be coming to an end now that he apparently realizes that the Knicks have almost all of the leverage in this era when it's permissible for teams to suspend players with pay.
I can tell you that Steph essentially was placed on the ballot to guard against what seemed at the time to be the most plausible scenario: Marbury's realizing fairly quickly that he almost certainly would have to surrender some of his $20.8 million salary in a contract buyout for the opportunity to be released, parting ways with the Knicks in an angry October divorce and then doing just enough with his new team to be ballot-worthy.
Any other questions?

Don't dare compare
Stephon Marbury
to
Stephen Jackson
.
Just because Jackson was not your typical, reserved Spur back in 2003 when he helped San Antonio win a championship -- and just because Marbury did a little lobbying this week for consideration from the injury-ravaged Spurs if he becomes a free agent -- that doesn't mean you should expect to see Marbury's name on a list of potential fill-ins for the sidelined Tony Parker.
Gregg Popovich got a lot out of Jackson in '03 and expressed interest in reuniting with Latrell Sprewell in recent years after coaching Spree in the early 1990s as a Golden State assistant. But I think we can safely say that Marbury is in a different category, which should explain why, based on everything I've heard, Steph won't be considered by the Spurs no matter how thin they seem while waiting for Parker and Manu Ginobili to heal.
If you're looking for a Texas team that will give Marbury a real look, NBA front-office sources say it's Dallas. Not only does Mavs owner Mark Cuban have a friendly relationship with Marbury, but Cuban's team clearly needs more scoring off its punchless bench. With Jason Terry operating primarily as a shooting guard these days, J.J. Barea is Dallas' primary backup to Jason Kidd at the point.
At this point, though, club sources say that the Mavs have merely resolved to talk with Marbury and consider the option if Steph continues to progress toward a buyout with the Knicks. There will be inevitable hesitations about what Marbury would do to the Mavs' chemistry --which already looks shaky under new coach Rick Carlisle -- and louder questions about how he'd fit as an understudy to Kidd after those two were swapped for each other in the summer of 2000, after which Kidd led the Nets to back-to-back appearances in the NBA Finals in 2002 and 2003.
---
As dominant as they've been against the East this whole century, Western Conference teams aren't likely to panic about their 12-24 start in cross-conference games that we referenced in Box 2.
How dominant?
For your review:
WEST'S RECORD VS. EAST
Season
G
W
L
Pct.
2007-08
450
258
192
.573
2006-07
450
257
193
.571
2005-06
450
252
198
.560
2004-05
450
256
194
.569
2003-04
420
266
154
.633
2002-03
420
250
170
.595
2001-02
420
232
188
.552
2000-01
420
259
161
.617
1999-00
420
227
193
.540
---
Speaking of ill-advised comparisons …
Neither Phil Jackson nor Kobe Bryant is prepared to portray the Lakers' current bench bunch as their best in Jackson's nine seasons in L.A.
Jackson, in particular, says he sees the supporting cast around Shaquille O'Neal, Glen Rice and Bryant on his first Lakers title team in 1999-2000 as the standard, as it featured the likes of Robert Horry, Derek Fisher, Rick Fox, Brian Shaw and rookie Devean George in addition to frequent starters A.C. Green and Ron Harper.
That said ...
Jackson, Bryant and Fisher -- all holdovers from the team of three-peaters that was dismantled after a loss to Detroit in the 2004 NBA Finals -- are loving the game-changing they're getting from the new crop of Lakers subs, fronted by Lamar Odom as a first-time sixth man and fortified by the athleticism and peskiness of Trevor Ariza, Jordan Farmar and Sasha Vujacic.
"Two different styles," Bryant said. "[The benches on] our championship teams could change games with their toughness. This [bench] does it by being so explosive."
Said Fisher: "We always had a good bench back in the day, but I don't know if it was ever this athletic and versatile."
To hear one one theory about what jolted LeBron James out of his slow start, updates on Chauncey Billups' return to Denver and Antonio McDyess' sudden foray into free agency as well as some bonus Power Rankings chatter involving the Celtics and Lakers, click below for Marc Stein's visit with NBA on ESPN Radio studio host Marc Kestecher.
NBA on ESPN Radio

Five questions with Kings guard Kevin Martin:
Q: Seems like there's an epidemic of ankle injuries around the league right now. How frustrating is this injury for you so early in the season?
A: It's awful. I expected to play every game this season. … Hopefully I'll be back in a few days and not miss another game this season.
Q: Will it be a huge disappointment if you're not an All-Star this season?
A: Making the All-Star team would be amazing because it would mean the Kings are winning. I think it would mean more to our franchise and Mr. [Geoff] Petrie, who took a chance drafting a skinny kid from a small school. It would mean the Kings would be earning some respect. But it doesn't validate my career so far. I've been outperforming some other All-Stars for two years now. It is a goal of mine. [But] playing great and leading this team to lots of victories is what drives me to work as hard as I do.
Q: I'm sure you're seeing more attention from opposing defenses than ever before now that you're the Kings' veteran scorer. What can you do to counter being the focus of every team's defensive game plan?
A: Every year gets tougher and tougher, but that's why I just try to study the game, study how the teams' defenses are playing and make my adjustments. It's going to be a challenge. I'll have my ups and downs, but I think I'll be fine.
My ballhandling's a lot better this year. I think I can keep the ball alive [better], even though defenses will be loading up to one side. I can keep the ball alive and just wait for the man in the middle of the key to move in and out, so I don't have to [take] one dribble … and hurry up and get rid of it.
Q: It's pretty clear that the Kings are in the midst of a youth movement. Does management keep you in the loop on what the plan is?
A: I totally understand what they're trying to do. Me and Geoff Petrie and the organization, we have a close relationship. We're going in a positive direction, that's all I can say.
Q: Do you approve of these new electric purple uniforms on the road?
A: Definitely. Much better than last year. I think we had [Sacramento's previous uniform style] for seven or eight years. I wasn't feelin' those.
With the 70-win talk already starting for the Los Angeles Lakers -- at least on ESPN.com's NBA Today podcast -- Marc Stein tries to keep the expectations of co-hosts Joe Mead and Frank Dale somewhat reasonable … after they discuss what's happening in Texas (with struggling Dallas and banged-up San Antonio) and the past and present teams coached by Mike D'Antoni (Phoenix and New York).
• Listen to the interview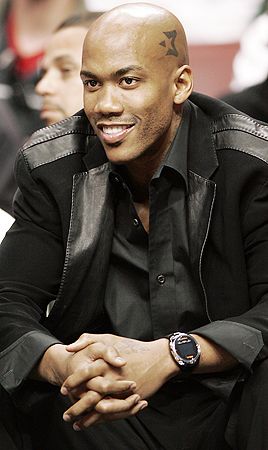 AP Photo/Tom Mihalek
The state of Texas might be where Stephon Marbury lands if he can complete a buyout with the Knicks, but don't expect to see him in the Spurs' silver and black, as noted in Box 4.

"I think that rule is because of me."
Houston's Ron Artest, offering up a theory to explain why Allen Iverson was not allowed to take the Pistons' No. 3 away from Rodney Stuckey after Iverson was dealt from Denver to Detroit.
Iverson was eligible for any available new number with the Pistons after switching teams, but league rules precluded Stuckey from switching numbers during the season, even though Stuckey had announced that he was open to surrendering No. 3 in a nod to Iverson's veteran status and the fact that A.I. has worn No. 3 since his Georgetown days.
The problem?
The NBA requires players to file a formal application in March of the preceding season to change numbers without being traded. The player must have worn the same number for at least four seasons and keep the new number for at least four, with the league obviously intent on trying to protect its fans and teams from getting stuck with outdated gear.
Artest's new No. 96 in Houston is his fifth number in 10 NBA seasons. He wore No. 15 throughout high school and college and at the start of his NBA career, but then sported three numbers in Indiana -- No. 15, No. 23 in honor of Michael Jordan and No. 91 in tribute to Dennis Rodman -- before choosing No. 93 in Sacramento.
He explained in training camp that he chose No. 96 with the Rockets because the digits, to Artest, look like a lower-case Q and lower-case B, letters synonymous with the Queensbridge section of New York where he grew up.

Kris (Krakow, Poland): You know the Spurs and are also their staunchest defender. But could Parker's injury, even at this early stage, signal the end of the Spurs' season and, dare I say it, for this team as currently assembled?
Before Parker's injury, it already seemed that Duncan and Parker would have to play out of their skins for the Spurs to beat even the weaker teams. It will take a LOT of effort from Duncan and the supporting cast to just stay afloat now while TP and Manu are out, meaning that a monumental effort will be required just to make the playoffs. Even if they manage that, what kind of shape are they going to be in if they've had to play at 100 percent for two-thirds of the season?
For some reason, this team increasingly reminds me of the 2002-03 Lakers. Capable of getting it done on a given night but undermined by early-season injuries, an aging and increasingly unproductive supporting cast and too much to do over the second half of the season.
Stein: Can't completely agree with you, although I hear what you're saying on the 2002-03 comparison. Going four weeks without Parker and who knows how much longer without Manu, I agree, can't be good for Duncan and (to put it politely) a supporting cast, uh, in transition. But as bleak as the Spurs' current predicament looks, it's also true that Tony and Timmy were looking as good as they ever have before Parker's injury.
It's a touch early, then, to be writing off the now or the later. Tony has clearly found a way to raise his game another notch. Duncan looks far more fresh and spry than many skeptics expected now that he's 32. With a big free-agent score in 2010, why couldn't the most successful trio in the league today go on a new run?