Nathaniel S. Butler/NBAE/Getty Images
In a dream come true, Hakeem Olajuwon led the Houston Rockets to the 1994 NBA championship.

Brock Williams-Smith/Getty Images
Raymond Felton and the Bobcats couldn't take advantage of an off game by Dwight Howard.

Nick Laham/Getty Images
The Mavs' Dirk Nowitzki and Josh Howard combined for 70 points and 29 rebounds against the Knicks.
Rocket Launch: Smith On the 1994 NBA Champions

When reached by phone Friday afternoon for comment on the Lakers possibly challenging the NBA record for consecutive wins to start a season, TNT NBA analyst Kenny Smith had this to say.
"They have a long ways to go to 15," Smith said. "So many things can happen. There are too many variables."
Approximately 10 hours later, the Lakers' perfect season was dead -- killed by the Allen Iverson-led Pistons -- eight victories short of tying the 1948-49 Washington Capitols and Smith's 1993-94 Houston Rockets, who both began their seasons with 15-game winning streaks.
So after a tiny scare from Kobe Bryant's Lakers, Smith and the rest of the stars from that Rockets squad -- one of most underappreciated NBA championship teams ever -- can rest a bit easier knowing that their record has withstood 15 seasons.
When a team gets off to as hot a start as this year's Lakers or Smith & Co.'s Rockets did, it always gets the opponent's best effort because everyone is gunning to hand out loss No. 1.
"Guys pay extra attention to detail," Smith said. "They are looking at every little thing on the scouting report. There is less room for error."
Houston opened the 1993 season with a 22-point win against the Nets on Nov. 5 and didn't taste defeat until almost a month later -- Dec. 3 -- against the Atlanta Hawks.
With Hakeem Olajuwon, who would be named NBA MVP and Defensive Player of the Year that season, in the middle, the Rockets didn't allow an opponent to reach the 100-point mark through the first 15 games. Against the Hawks, they gave up a whopping 133 points in a 22-point loss.
"When our streak got to 11 or 12, we really started to think about it," Smith said. "It was difficult. When we got to 13, we woke up and started realizing how well we were playing. Our streak ended when we got blown out by Atlanta. They weren't that good. We had started worrying about the streak."
After the hiccup against the Hawks, Smith, Olajuwon, Otis Thorpe, Vernon Maxwell, Robert Horry, Sam Cassell, Mario Elie and the rest of the Rockets went to work on another streak. They strung together seven more victories in a row to begin the season with an unimaginable 22-1 record.
That start laid the foundation for what would turn into a 58-24 regular season. The Rockets went on to defeat the Knicks in the Finals, bringing home the franchise's first championship.
"What made us special was the trust and respect we had for one another," Smith said. "We had a lot of different personalities and egos on and off the court and we made it work. It didn't matter if you were a Muslim or Christian, we let everyone be themselves. We didn't look down on each other. We had no team meetings during the season. We had one meeting at the beginning of the year and that was it."
If you have ever listened to Smith on TNT, you realize how much he likes to share his opinion. He says he played a similar role with the Rockets.
"I was the verbal organizer of everything," Smith said. "I was the communicator. I would be the one to go to talk to Vernon or Hakeem or anyone else that had a problem and try and fix it. I was also the hype man."
Smith pointed out something special about Houston's streak coming to an end after 15 games.
"Once the playoffs started, 15 is the number of wins we needed to win a championship," Smith said.
This year's Lakers have a lot of similarities to Smith's Rockets. Both teams are well coached and led by a Hall of Fame player who competes just as hard on the defensive end as he does on the offensive end. Also, from the starting five to the players on the bench, both teams feature players willing to make sacrifices (e.g. Lamar Odom coming off the bench) if it means more Ws in the win column.
"Derek Fisher probably has a role like the one I had in Houston," said Smith, who averaged 11.6 points and 4.2 assists during the 1993-94 season. "Kobe is like Dream who was our horse or someone who could just dominate a game. Both of our teams have a bunch of guys who weren't franchise players but could start for just about any team -- guys who play intricate parts and are going to have solid 10- to 15-year careers."
Smith thinks the Lakers are going to win quite a few more games than his Rockets did.
"Phil Jackson is a mastermind and he knows how to keep his team from being complacent. He keeps the guys on their toes. Andrew Bynum is still finding his way. He is not where he was last year. His size and length help them on defense although offensively he hasn't hit his stride yet.
"I think they will probably win in the high 60s during the regular season and obviously are championship contenders."
Maurice Brooks is an NBA editor for ESPN.com.
Dimes Past: Nov. 1-2 | 3 | 4 | 5 | 6 | 7 | 8-9 | 10 | 11 | 12 | 13 | 14 | 15-16
Chatting With J.A. Adande

Horace (Flowery Branch, GA): Who has the highest ceiling: Joe Johnson, Al Horford or Josh Smith?
J.A. Adande: Interesting question. I think the highest ceiling is Josh Smith ... but I don't think when it's all over we won't say he got as much from his talent as Horford did from his. Seriously, what more could you ask from Horford at this point? And if Johnson keeps doing things like a superstar, eventually we might just have to say he is a superstar.
Ray (San Antonio): Stephon Marbury to Spurs. Good idea or bad idea?
J.A. Adande: Did you read Mike Monroe of the Express-News? Impossible idea. Not a Pop kind of guy.
To read the entire Adande chat, click here
Suns: Fans Burned By History
By Henry Abbott | ESPN.com
There was that fight on Wednesday night, which didn't get all that much attention even though it involved names like Shaquille O'Neal, Tracy McGrady, and Steve Nash.
Now that the suspensions have been handed out, though, my inbox is lighting up big time.
No one is too surprised to see that Matt Barnes and Rafer Alston will be sitting out two games apiece. Barnes clearly started the whole thing with a cheap shot, and Alston was the gasoline that fueled the fight as it chugged along.
But Nash ...
People in Phoenix will forever feel stung by the NBA after those suspensions in the 2007 playoffs. Their victim complex is ripe. And the Nash suspension predictably has them all angry. ('An overly aggressive Canadian?' they seem to be saying. 'Really?')
Me? I love me some Suns, but I'm tired of the whining. Not only were the 2007 suspensions fair -- the rules were clear and the players knew they should have stayed by the bench -- but I'm not at all convinced that Steve Nash's intentions in this current scuffle were above board.
To read the entire TrueHoop blog, click here
By Maurice Brooks
ESPN.com

SUNDAY'S BEST
Dirk Nowitzki, Mavericks
: Although he had to work late, the forward brought Dallas' five-game losing streak to a halt in New York. Nowitzki went off for a season-high 39 points and pulled down 15 rebounds in the Mavs' 10-point OT win.
---

SUNDAY'S WORST
Allen Iverson, Pistons
: He was the only Detroit starter not to score in double digits in their 18-point loss to the Suns. A.I. shot just 4-of-17 from the field on the way to nine points. He also had five turnovers and didn't attempt a free throw.
---
QUOTE OF THE NIGHT

"We've been close almost every night. We've had five losses of under six points. It is tough. It's time to get a win."
-- Minnesota forward Kevin Love after his team's eighth consecutive defeat

The Magic defeated the Bobcats 90-85, despite a horrendous performance by Dwight Howard, who fouled out after scoring only four points (all from the foul line).
Only one player in NBA history has fouled out of a game without scoring a field goal who had a higher scoring average than Howard's 23.2 points per game. James Edwards of the Cavaliers scored 25 points in the opening game of the 1982-83 season and fouled out of the second game of the season without making a shot.
-- Elias Sports Bureau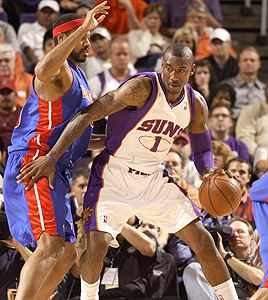 Barry Gossage/Getty Images
On his 26th birthday, Amare Stoudemire and the Suns shoved aside Rasheed Wallace and the Pistons, 104-86. Stoudemire tallied 29 points and 11 boards. Nice way to celebrate.

David Stern's 25th anniversary as NBA Commissioner is on Super Bowl Sunday. What are his plans? He thinks the hurting economy will soon hurt gate revenue. He also talks Knicks and officiating.