AP Photo/Douglas C. Pizac
It's not easy being a harassed Shaquille O'Neal -- fortunately, Amare Stoudemire is nearby to help.

Sue Ogrocki/AP Photo
Not even the power of Robert Swift's old Sonics tattoo could halt Yao Ming.

Hector Mata/AP
Roger Mason launches the 3-pointer that lifted the Spurs past the Clippers.
Stoudemire At The Center Of Suns' Hopes

Watch the Phoenix Suns for a game or two. You'll probably see a team that certainly could have a home-court series in the Western Conference playoffs, and go even further.
But then you might have to think about an 82-game schedule and having core players whose best days are behind them. Great players like Steve Nash, Shaquille O'Neal, Grant Hill and NBA all-defensive performer Raja Bell likely have seen their best days already.
That makes you think again. So then you consider the Suns' chances of getting that home court, and you know the younger core players must produce. In particular, Amare Stoudemire needs to play like an MVP and Leandro Barbosa must play like a Sixth Man of the Year.
At the center of this is Amare.
The level of excitement that LeBron James brings to the perimeter -- that's what Stoudemire gives us with the inside game. He can run the floor and make plays in the open court. He can be a presence on defense. And this season could become his most impressive of all when it comes to putting up numbers.
And this is exactly what his team needs from him. Right now, right here.
I still put Tim Duncan and Kevin Garnett as the top power forwards in the game, with Stoudemire and Chris Bosh right behind. KG does not deliver the numbers that Stoudemire is likely going to be posting, but that's because Garnett's team does not need him in that role.
O'Neal's presence in the middle should help Stoudemire reach these new levels. Amare/Shaq, on paper at least, is the best 1-2 power forward/center combo in the league.
But from an overall production standpoint this season, it's going to be an uphill climb. You could see that in the Suns' 109-97 loss to the Jazz on Monday night. Shaq had nine points and one rebound in 32 minutes -- playing his second night of a back-to-back -- while Stoudemire had 30 points and eight rebounds in 41 minutes. Over 82 games, that production imbalance up front is going to happen.
That's why they've got to make sure Amare is the go-to guy -- in a few games that hasn't been so clear.
Here's what he said to the Arizona Republic after being held to a season-low 11 points in the Suns' fight-filled loss to the Rockets last week.
"You got Luis Scola, Chuck Hayes, Carl Landry," Stoudemire told the paper. "Scola, it's his second year in the league. Chuck Hayes and Carl Landry, they're OK players, but I definitely need to dominate those guys early -- anytime. Nothing against them, they played well tonight. But just from a fact of wanting to dominate and wanting to take over the ballgame, that's what I wanted to do. Wasn't quite able to do it tonight."
Nash is still one of the best at getting the ball to his guys, so feeding Amare shouldn't be a problem, if they remember where the ball needs to go.
Suns coach Terry Porter also knows the importance of resting Shaq, because a healthy Shaq in the middle allows Stoudemire to flourish at the 4.
(By the way, it appeared Shaq might be on his way to earning one of those rests after his flagrant foul of Rodney Stuckey on Sunday. If he fouls like that again, he should get a suspension. He's been that size for 15 years -- he knows what kind of force he delivers.)
Change has come to Phoenix. When Amare is the focus, Phoenix has its best shot to stay in the upper crust of the West and keep its title hopes alive.
Jalen Rose is an NBA analyst for ESPN and a regular Daily Dime contributor
Dimes Past: Nov. 1-2 | 3 | 4 | 5 | 6 | 7 | 8-9 | 10 | 11 | 12 | 13 | 14 | 15-16 | 17
Stu Jackson on KG and Shaq

By Marc Stein | ESPN.com
The angry swipe Kevin Garnett took at Milwaukee's Andrew Bogut on Saturday night suggests that Garnett didn't consider the downward swing of Bogut's left arm on a shot follow-through -- which nailed KG in the mouth -- to be unintentional.
Yet Garnett's response to the contact guaranteed that he wouldn't be able to avoid a one-game suspension from the league office ... even if he had a way to prove such suspicions.
NBA executive vice president of basketball operations Stu Jackson reiterated Monday night that league rules make a suspension automatic "when a player swings or punches with a fist or open hand, regardless if it makes contact or not."
On the play in question, after Bogut's left arm caught Garnett as Bogut drew a shooting foul at the rim, Garnett swiped back with an open-handed shove to the forehead. KG thus will be forced to sit out Tuesday's home game against New York and surrender more than $225,000 in salary. Bogut's initial hit also was upgraded Monday to a flagrant foul 1 for contact made during a dead-ball situation.
As for Phoenix's Shaquille O'Neal avoiding a suspension for his hard foul Sunday night on Detroit's Rodney Stuckey -- Shaq emerged from Wednesday's scuffle with Houston with just a $35,000 fine -- Jackson told ESPN.com that the $25,000 penalty assessed to O'Neal on Monday was purely "for his actions following the automatic ejection after committing a flagrant foul penalty 2.
"He verbally abused the officials and failed to leave the floor immediately following an ejection," Jackson said. "The [foul] was called correctly but does not warrant further action."
O'Neal argued afterward that the foul looked a lot worse than it really was because of the size differential between him and Stuckey and because of Stuckey's hard landing.
"The laws of physics say that a body in motion stays in motion," Shaq told reporters after the game. "So if you have two objects meet in the air, the smaller object is going to fall much harder. I've never been the type of player to take anybody out, so I obviously went to the ball. The little guy ran into a brick wall."
It appears that the league agreed with that theory.
Noting that suspensions are not automatic after a flagrant foul 2, Jackson said: "The contact on Stuckey's arm and wrist was not sufficient to warrant a suspension, as opposed to an example where there's a wind-up, follow through and hard contact above the shoulders."
Mavs' Playoff Chances Sink
Chatting with John Hollinger ...
Dan (NY): Does Dallas kind of suck now? I know the Jason Kidd trade was abysmal but are they even going to make the playoffs?
John Hollinger: Kidd-Harris is looking worse every day, isn't it? Harris just carved up Atlanta. ... That said, Dallas' role players are a much bigger problem than Kidd at this point. They're getting nothing from them, and the D has been substandard too. I'll give you odds on their making the playoffs on Thursday, when the Playoff Odds launch, but I'd put them well south of 50 percent.
A. Bargnani (Toronto): How did I look starting at SF on Sunday? Do you think coach will keep me there or will BC trade me for a wing?
John Hollinger: I actually thought he was more comfortable there than in the frontcourt -- seemed like he didn't feel pressured to do "big guy" things and could just play his perimeter game. There are going to be games when this alignment doesn't work (can't imagine playing Orlando and putting him on Turk, for instance), but it's a decent way to get the most out of Bargnani.
Brett (Charlotte, N.C.): How has Adam Morrison looked to you? He seems to be flourishing (relatively speaking) as a scorer off the bench, where he can guard the opponent's backups. Did people write him off too soon?
John Hollinger: He's played like a reasonable NBA backup so far, and his shooting has been a helpful skill on this roster. I doubt he'll ever justify being the third pick, but if he keeps this up, he's at least useful.
Paul (Trenton, N.J.): Should I be alarmed in Philly at how sloppy they are playing against any kind of good competition or just swallow hard and give them more time?
John Hollinger: The thing that would worry me would be the uneven start for Brand, but even that may be a question of shaking off some of the rust following the Achilles injury. The blown leads have been frustrating but I'm actually not that worried about Philly big picture, especially if they can get Lou Williams untracked.
To read the full Hollinger chat, click here
By Andrew Ayres
ESPN.com

MONDAY'S BEST
Tim Duncan, Spurs
: Going for 20 points, 15 rebounds and six blocks is one way to keep the wolves at bay. The Spurs are .500 with their 86-83 win over the 1-9 Clippers. Total margin of victory in those 5 W's? Twenty-three points.
---

MONDAY'S WORST
Shaquille O'Neal
: One rebound in 32 minutes? Hey Shaq, tell us how the glass tastes. Big Aristotle probably just needed some rest, not the second game of a back-to-back in the SLC terrordome.
---
QUOTE OF THE NIGHT

"My game is really based on athleticism, and that's something that I don't have right now."
-- Rockets guard Tracy McGrady, whose surgically repaired knee caused him to leave early in the second half of Houston's win over Oklahoma City

By ESPN Research
Federal regulators have accused billionaire Dallas Mavericks owner Mark Cuban of insider trading for allegedly using confidential information on a stock sale to avoid more than $750,000 in losses.
Mark Cuban became the owner of the Mavericks on Jan. 4, 2000. Since that time, he has re-energized the team, which has won at least 51 games every season since 2000-01, his first full season of ownership.
Mark Cuban's Reported NBA Fines

Date
Fine
Reason
11/14/00
$5,000
Comments regarding officials
11/20/00
$15,000
Comments regarding officials
11/22/00
$25,000
Comments regarding officials
1/4/01
$250,000
Comments and actions regarding officials
1/11/01
$100,000
Sitting in TV/photo area on court
2/16/01
$10,000
Entering court with 3.3 seconds remaining
4/13/01
$100,000
Derogatory gesture at officials
1/8/02
$500,000
Repeated public criticism regarding officials
11/21/03
$100,000
Comments regarding officials
3/17/04
$10,000
Inappropriate public comments
10/8/05
$100,000
Comments regarding preseason changes
5/9/06
$200,000
Being on court after game; criticizing NBA in blog
6/20/06
$250,000
Several acts of misconduct
Total
$1,665,000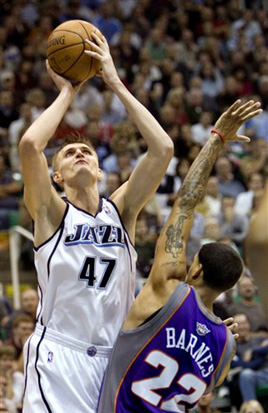 Barry Gossage/Getty Images
Andrei Kirilenko had 19 points off the bench for the shorthanded Utah Jazz, whose 109 points against the Suns were a season high.

Lakers coach Phil Jackson tells ESPN Radio's Colin Cowherd about his team's first loss and discusses the roles of Luke Walton and Lamar Odom. Jackson compares the 1995-96 Bulls team to this year's Lakers team.