Jesse D. Garrabrant/Getty Images
LeBron James can become a free agent in 2010. Until then, we're left speculating about his intentions.

Fernando Medina/Getty Images
Toronto's Chris Bosh was unstoppable (40 points, 18 rebounds), but Dwight Howard's Magic got the W.
James Clarifies 'I Ain't Going Nowhere' And Leaves Door Ajar

"Thank you, Cleveland. Of course, you know I love you all, of course. I love Ohio, and I ain't going nowhere. I'll be here." -- LeBron James on Oct. 4 at a voter registration rally in downtown Cleveland
"I'm from there, and so home is home for me. And that's the way I was feeling at that time. Home is -- no matter where you go or if you ever move somewhere else, it don't matter -- home is always going to be home, and that was what I was basically letting them know." -- LeBron James on Tuesday night in the visitors' locker room at the Meadowlands
EAST RUTHERFORD, N.J. -- It took 45 days, but LeBron James finally provided some clarification on what initially appeared to be his most definitive statement ever on his long-term career plans.
When James said, "I ain't going nowhere," what exactly did he mean?
That was the question posed to James by ESPN.com some 70 minutes before the Cleveland Cavaliers won their eighth straight game with a 106-82 victory over the New Jersey Nets.
James can become a free agent in 2010, and his intentions have been the subject of intense speculation in Cleveland, the New York area and elsewhere. As he responded to the question Tuesday, his answer once again gently moved the needle on the state of his future.
On that sunny day in October, upon hearing James' comments, Cleveland fans felt the needle moved forcefully in their direction, since his statement sounded pretty definitive. But since then, James had not clarified what he meant.
In the locker room Tuesday, he elaborated:
"You do what's best for you and your family; you do what's best for your career. Loyalty definitely has a big part to do with it … and every night I go out and play hard, and that's loyalty," James said.
"But it's hard, because it's a business. A franchise is going to do what's best for the franchise, and the players, for some odd reason, when a player does what's best for the player, it comes back and almost looks bad. But when a franchise decides to give up on a player, then it's OK. So we've got to do what's best for us."
James went on to say he thinks this is the best Cavs team he's been a part of since being drafted by the team in 2003 and that he doesn't think he or anyone else could duplicate Oscar Robertson's feat of averaging a triple-double over the course of an 82-game season. (Even during another MVP-type performance Tuesday, he didn't get much closer to Big O's standard, recording four assists to go along with his 31 points and eight rebounds.)
But the statements that might carry the most weight are the ones about his future -- a future which, if he chooses, can begin July 1, 2010.
"When I decide to make that decision, it's going to basically put me in a position where I feel I can win multiple championships," James said. "If it's staying here, I'll be here, and if it's moving elsewhere, then I'll have to look at all my options."
Chris Sheridan covers the NBA for ESPN Insider. To e-mail Chris, click here.
Dimes Past: Nov. 1-2 | 3 | 4 | 5 | 6 | 7 | 8-9 | 10 | 11 | 12 | 13 | 14 | 15-16 | 17 | 18
Chicago's Bigs Have Room For Improvement
By J.A. Adande | ESPN.com
It's nice any time your starting backcourt can outscore your opponent's 48-30 and extra-nice when that opposing backcourt features Kobe Bryant. But it doesn't mean a thing if an opposing big man can outscore your entire starting frontcourt 34-20, the way the Lakers' Pau Gasol did against the Bulls on Tuesday night.
Guard play isn't the issue for the Bulls, even without the injured Kirk Hinrich. They won't be going anywhere as long as their frontcourt gets dominated the way it did. Andrew Bynum added 18 points, and Lamar Odom had 10 more off the bench.
"We didn't come out and double-team in the first half, trying to stay on some of the perimeter guys," Bulls coach Vinny Del Negro said. "[Gasol] got in deep and gave us a lot of trouble. He was real effective in the first half. I thought we were more aggressive in the second half, but their length definitely bothered us."
The Bulls have to see the Lakers only once more this season, but back in the Eastern Conference, they still will have to deal with the length of teams such as the Celtics and the Magic.
Drew Gooden, who was overmatched inside, said the Bulls can use their smaller size to their advantage if they play it right.
"We've got power forwards that can stretch the defense," Gooden said. "We've got quick 5s. They have to guard us, too. But we have to do a better job exploiting that."
Gooden executed the strategy for a while in the first quarter, hitting jump shots when Bynum refused to come out on him, then driving for a hoop and a foul when Bynum did leave the paint.
But he didn't score again after his nine-point first quarter, racking up more fouls than field goals the rest of the way. Joakim Noah was another foul-plagued Bulls big man, with three personals in 11 ½ minutes. When asked what Noah can do to keep out of foul trouble and give the Bulls more, Del Negro exhaled and said, "We've just got to get more consistent production, not only from him but from other guys."
Aaron Gray has the size but not the mobility. Tyrus Thomas has the athletic ability but not the well-rounded game -- even though he's improving.
Derrick Rose, who had 25 points and nine assists, looked worthy of the No. 1 pick. But another, much older basketball theory was proved Tuesday. It's still a big man's game.
J.A. Adande joined ESPN.com as an NBA columnist in August 2007 after 10 years with the Los Angeles Times. Click here to e-mail J.A.
James Weighs In On Brooklyn

By Chris Sheridan
|
ESPN.com
On Tuesday, LeBron James commented not only on his future (see Box 1), but also on the state of the New Jersey Nets.
The Nets have a proposed new home in Brooklyn, the opening of which now has been pushed back to 2011 at the earliest. Meanwhile, they await the outcome of an eminent domain lawsuit filed in state court by a Brooklyn resident who opposes being bought out to make way for the Nets.
"I haven't been hands-on about what's the problem," James said. "We've all seen the cutting of the ribbon, but that's the last we've seen of anything going on with the Nets moving to Brooklyn, so I'm not sure. I don't know if it's still in the works, but that's not my problem. I'm not invested in the team or anything like that, so I can sleep good at night."
One guy who is invested in the team, of course, is James' good friend Jay-Z, and their relationship is presumed to be one of the primary factors James might consider joining the Nets if he declines his player option for the 2010-11 season and becomes a free agent two summers from now.
The Nets appear to be poised to have enough salary cap space to offer James a maximum contract, and the New York Knicks are actively trying to clear cap space.
The James-to-New York speculation heated up over the summer when he hammed it up to the crowd at a Team USA function at Rockefeller Center, then said later that day that New York was his favorite city (his hometown of Akron, Ohio, ranked fifth) and Brooklyn was his favorite borough.
By Maurice Brooks
ESPN.com

TUESDAY'S BEST
Pau Gasol, Lakers
: Big scoring quarters by a player in a Lakers uniform is not unusual. What is different is that it was Gasol, not Kobe Bryant, who scored 18 of his game-high 34 points in the first period.
---

TUESDAY'S WORST
Raymond Felton and Gerald Wallace, Bobcats
: If Charlotte is looking for a direction in which to point fingers following its 17-point loss to the Mavericks, it can start here. Felton and Wallace shot a combined 6-for-27.
---
QUOTE OF THE NIGHT

"I'm just real curious to see what those guys will be saying if we weren't in a basketball league and didn't have referees."
-- Knicks forward Quentin Richardson on the talkative Boston Celtics
By Elias Sports Bureau
With a loss to the Pacers on Tuesday, the Hawks have lost four straight after starting the season 6-0. The only other team in NBA history to win at least six in a row to start a season immediately followed by a losing streak of four or more games was the Philadelphia Warriors in 1960. They won their first nine games and then lost four straight.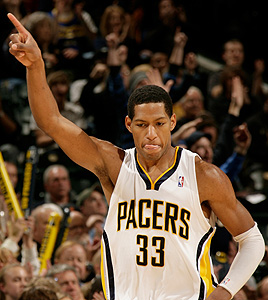 Ron Hoskins/Getty Images
Indiana's Danny Granger had the hot hand again Tuesday, erupting for 34 points -- the third time this season he has scored at least 30 -- as the Pacers beat the struggling Hawks.

NBA Awards Watch writer Maurice Brooks tells why he bumped LeBron James into the No. 1 spot in this week's most valuable player rankings.