Allen Einstein/Getty Images
After halting the Lakers' seven-game win streak Friday, the Pistons stopped the Cavs' winning ways.

Larry W. Smith/Getty Images
The Clippers' Chris Kaman was a force, banging his way to 25 points, 14 rebounds and six assists.
Pistons Effectively Use Iverson Against Cavaliers

AUBURN HILLS, Mich. -- It's hard to picture May and June when it's just November, especially in Detroit, where winter temperatures have already arrived. But in the Pistons' 96-89 victory over the Cavs on Wednesday night, their second impressive streak-breaker in less than a week, the Allen Iverson effect started to crystallize.
The Pistons were an offensive juggernaut down the stretch against the Cavs, racking up 30 points in the fourth quarter by making 12 of their first 13 shots. That factoid may not be unprecedented, but this is: All of it happened with Richard Hamilton and Tayshaun Prince on the bench.
Iverson's presence and the trust being put in Rodney Stuckey made it possible, the offensive infusion Joe Dumars intended when he made the big trade. With Stuckey permitted to run the point in crunch time, Iverson is able to shift to his natural position of shooting guard and set up away from the ball. It opens up so many opportunities for the Pistons.
In their game-defining run against the Cavs, Detroit basically ran a series of pick-and-rolls. But because Iverson was able to start off the ball, it was hard for the Cavs to defend them because they could not set up against Iverson. During one stretch, Iverson twice drove to the basket and got hoops and followed that by dishing to Rasheed Wallace for a jumper on the third trip when the Cavs collapsed. Iverson scored seven of his 23 points in the fourth.
"Any time we have Allen attacking from the weak side, that is a bonus for us," Pistons coach Michael Curry said.
At other times, Stuckey ran a two-man game with Wallace, still one of the best shooting big men in the NBA. He drilled two 3-pointers to bury the Cavs as he scored 10 of his 21 points in the fourth. It was almost identical to the two he nailed in the fourth quarter last week at Golden State running pick-and-rolls with Iverson. And it gave the Pistons their second huge win in a week, following Friday's convincing wipeout of the Lakers in L.A.
This against a Cavs defense that ranked third in the NBA in field goal defense and fifth in scoring defense. Over their previous three games, the Cavs had allowed an average of just 17.3 points in the fourth quarter. Two of those games were against Denver and Utah, hardly NBA castoffs.
Doing it without contributions from Hamilton and Prince isn't going to be a nightly occurrence, of course, but it does illustrate some new teeth in the Pistons' offense.
"It's simple basketball," Wallace said. "They cannot stop all of [us] ... there will always be someone open."
ESPN.com contributor Brian Windhorst covers the Cavaliers for the Cleveland Plain Dealer.
Dimes Past: Nov. 1-2 | 3 | 4 | 5 | 6 | 7 | 8-9 | 10 | 11 | 12 | 13 | 14 | 15-16 | 17 | 18 | 19
Wizards Digging Themselves Into A Hole
By John Hollinger | ESPN.com
ATLANTA -- It all seemed like old times. DeShawn Stevenson made a tough fadeaway from the corner and did his "I can't feel my face" routine, the Wizards took an 87-83 lead with 1:05 left, and it appeared Washington might once again be ready for a season-turning win in Philips Arena -- just as the Wizards did a year earlier when they used a win in Atlanta to launch their recovery from an 0-5 start.
Alas, those would be the Wizards' final points of the evening, and after consecutive 3-pointers by Atlanta's Joe Johnson and Marvin Williams and a pair of game-icing free throws by Ronald "Flip" Murray, Washington once again found itself on the short end, losing 91-87.
Even with Gilbert Arenas opening the season on the shelf (more on that in a minute), Washington expected to be in the playoff hunt -- just as it was last season. Instead, the Wizards find themselves mired at 1-8 thanks to numerous breakdowns down the stretch.
The most glaring was their inability to get the ball to Antawn Jamison on their last meaningful possession, trailing 89-87. Jamison had the 6-foot-3 Murray on him, giving him a 6-inch edge, but Murray fronted and Juan Dixon couldn't or wouldn't loop a pass over the top, instead settling for a contested midrange J that missed the mark. Nick Young got the offensive board but immediately hurled a wild fadeaway that also missed, and Washington's fate was sealed.
It was one of several times Jamison had a smaller man on him in the second half and didn't get the rock. "We're just not playing smart," said Jamison. "It's frustrating. You gotta find a way to get a guy the ball."
"[The play] was for Antawn on the box," said Wizards coach Eddie Jordan. "If we'd have delivered it quicker, they had some confusion and they got a small on Antawn. But Juan took a shot that he can make."
The play underscored Washington's ongoing problem at the point in the absence of Arenas, especially since super sub Antonio Daniels is also on the shelf with a knee problem, and last year's ace fill-in, Roger Mason, left for San Antonio as a free agent. The Wizards started journeyman Dee Brown, who scored only one point, and went most of the way with converted 2-guards Dixon and Stevenson initiating the offense.
Jordan was kicking himself afterward for not calling timeout after the offensive board, but he would have had to have hair-trigger reflexes to get it called before Young's fling. Besides, it may only have led to another botched entry inside.
What he may really be lamenting is not having Arenas in crunch time, where his knack for taking the clock down to the buzzer before launching game-winners might have made the difference.
"It's rough [to watch] because we know what kind of team we're capable of being," said Arenas, who was traveling with the team. "We're playing hard, we're just not getting it done at the end of the game."
Speaking of which, Agent Zero forecasts his return sometime next month and is hoping the Wizards can tread water long enough to allow him to lead the playoff push upon his return.
"I'm feeling good," said Arenas. "It's the best I've felt since I got injured. Right now, we're trying to buy time, buy time and hope we don't get into too deep of a hole. I can play now, but [I would] play eight games, sit out eight games.
"We're trying to wait to a point where I can play all the way through. They might hold me to December or they might hold me to January 1 and just release me, just say, '40 minutes, go.' They think it's pointless right now for me to play 20 minutes, 10, 15, so they want me to be 100 [percent] and just go."
And while the schedule turns favorable -- 11 of the next 16 games are at home -- no game can be considered safe when a team is 1-8 and has already lost at home to both the Knicks and Nets. Washington is likely to have 25 games or so in the books by the time Arenas takes the court, and if they can't eke out W's in at least a few of them, the playoffs are going to be too far gone for Agent Zero to lead them back. Wednesday was one more lost opportunity to claw their way to a rare win in his absence.
John Hollinger writes for ESPN Insider. To e-mail him, click here.
Battle Of Top Overall Draft Picks

Elias Sports Bureau
The players selected at the top of the 2007 and 2008 NBA drafts were on display on Wednesday night in Portland. Greg Oden (still officially a "rookie" because he didn't play last season) and Derrick Rose were only the second pair of players, both selected first in an NBA draft, to oppose each other as rookies. The previous instance was in 1989-90, when Pervis Ellison (the No. 1 pick by Sacramento in 1989) and David Robinson (No. 1 by San Antonio in 1987) met three times during the regular season. Robinson's NBA debut was delayed by two years of service in the U.S. Navy.
The game itself was no contest. The Trail Blazers' 116-74 win over the Bulls provided the largest margin of victory in an NBA game this season. It was Portland's most lopsided win since Nov. 17, 1997 (120-75 vs. Dallas) and the largest margin of defeat for Chicago since March 28, 2003 (140-89 at Indiana).
By Maurice Brooks
ESPN.com

WEDNESDAY'S BEST
Dwyane Wade, Heat
: Normally this spot is reserved for players from winning teams, but it is hard to overlook the 40-point, 11-assist, 5-block performance that D-Wade turned in. Is there anyone in the league playing as well as him?
---
WEDNESDAY'S WORST
Chicago Bulls
: Playing on national television should have been all the motivation the Bulls needed for their matchup against the Blazers. Since they trailed by 21 points after one quarter on the way to a 116-74 loss, I guess it was not.
---
QUOTE OF THE NIGHT

"That's how I play. I've done it all my career. I don't mind taking the big shots. I like that pressure."
-- Kings guard Bobby Jackson, who hit a pair of big shots against the Hornets
Thunder Perfect From the Line
By Lisa BrooksESPN Research
The Thunder hit 23-of-23 from the line, which is the most free throws made without a miss in franchise history. The last NBA team to hit at least 23 free throws without a miss in a loss was the Mavericks (29-of-29 against the Wizards on Nov. 26, 2007).
• Dwyane Wade led the Heat with a season-high 40 points (12th career 40-point game) and 11 assists (third career 40-point, 10-assist game). He also had five blocks. The only other player in NBA history to have a 40-point, 10-assist, 5-block game was the Suns' Alvan Adams on Feb. 22, 1977 at Buffalo. Phoenix also happened to lose.
---
ESPN Stats & Analysis
Next Level: Houston's Tracy McGrady Video Analysis vs. Dallas

Defender
Field Goals
Points
Unguarded
0-for-5
0
Gerald Green
0-for-2
0
Jason Kidd
4-for-6
9
Shawne Williams
1-for-1
3
Double Coverage
0-for-0
4 free throws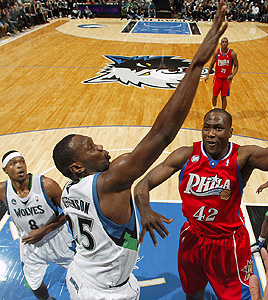 David Sherman/Getty Images
Al Jefferson powered his way to 25 points and eight rebounds for the Timberwolves, who stopped an eight-game losing streak with a 102-96 victory over the visiting Sixers.

NBA Insider John Hollinger gives his thoughts on all of the action that has taken place during the first few weeks of the season.