Barry Gossage/Getty Images
Kobe Bryant's Lakers have now won 31 of 37 regular-season games with Pau Gasol in the lineup.

Brian Babineau/Getty Images
Kevin Garnett and the Celtics outscored the Pistons by a combined 20 points in the middle quarters.
Shaq and Kobe: All Grown-Up

PHOENIX -- The irony, of course, is that if Kobe Bryant and Shaquille O'Neal had reached this stage sooner, they wouldn't have had so many problems and they would have raised another championship banner or two in Staples Center together. You no longer hear O'Neal barking about the need to feed the big dog anymore, and Bryant is perfectly willing to do less if it helps the team do more. Thursday night, the new-look Kobe prevailed over the new-look, older Shaq, as the Lakers outclassed the Suns in their own building, 105-92.
Bryant wasn't even on the court when the Lakers took control of the game by scoring the first six points of the second quarter to go ahead by eight. Yeah, Bryant made his mark, with a team-high 24 points, but the star of this game was the Lakers' depth, the variety of assets that is unmatched in the league.
"He goes 8-for-23, he let the other guys step up," Suns coach Terry Porter said. "That's why they're so good this year."
Bryant's greatest strength, his cold-blooded performances in the clutch, has rarely come into play as the Lakers have cruised by an average margin of 13.6 points per game. It was another one of those nights Thursday, as Bryant played only two minutes in the fourth quarter.
"It's amazing," Bryant said. I was telling Luke [Walton] this might be the first season where I average 31 minutes, because we've been blowing teams out and I've been sitting the fourth quarter."
Fewer minutes means fewer shots and fewer points, meaning Bryant won't top the league's scoring leaders anymore.
"I don't really think about that," Bryant said.
It's the opponents who have to do the thinking and plotting now, worrying about how to stop Bryant and Pau Gasol and Andrew Bynum and Lamar Odom and on and on. For one night, much to Porter's chagrin, the Suns didn't rotate out to stop Vladimir Radmanovic, and he drilled five 3-pointers.
Meanwhile, the Suns need to rethink what they're doing on offense. The days of zipping up and down the court and leading the league in scoring and shooting are done. And even though O'Neal describes himself as an "older" guy who takes "lesser shots," the Suns still force-fed him the ball (29 low-post touches by the coaches' count). Steve Nash looks lost and confused, unsure of when he should look for his own shot, not certain of where to expect his teammates, not allowed to push the ball at his whim. Stuck in a half-court game, the squad that used to make half of its shots connected on only 44 percent Thursday and committed 15 turnovers (more than twice as many as the efficient Lakers).
O'Neal made half of his 12 shots and half of his six free throws for 15 points to go with nine rebounds. But he had only one assist to four turnovers, and one reason is that the Suns still don't seem to know how to play off him, how to cut or space the floor to take advantage of his ability to pass out of the low post.
O'Neal no longer demands the ball at all times.
"I'm not really the first option on the team," he said. "Amare [Stoudemire] is the first option."
Stoudemire would readily agree. He did lead the Suns in scoring with 21 points. But none of the Suns' points came as easily as they used to.
This was the first meeting for Bryant and O'Neal since Shaq requested a backside flavor report from Kobe in a freestyle rap that popped up on the Internet this past summer, and there were apparently no hard feelings. They high-fived and hugged before the opening tip, and every subsequent conversation, whether it was at a halftime rules check with official Bob Delaney or a chat in the backcourt during free throws, was conducted with smiles.
There was love for Phil Jackson, as well, following a retraction of O'Neal's accusations that Jackson had fostered the Kobe-Shaq feud in his own passive-aggressive way. Jackson was in the midst of answering a stream of Shaq-related questions in his pregame media session when O'Neal himself emerged from the Suns' practice court, stepped through the reporters and gave Jackson a hug and a kiss on the cheek.
"We had a great time," Jackson said. "We had a great run of four years, five years."
You can't have Shaq, Kobe and Phil in the same building and not have the past come up. Their time together was too historic and too turbulent, their individual and collective places in the game's history too significant for it not to provide the backdrop to any meeting.
Jackson said if O'Neal had been willing to sign for the $20 million annual salary he wound up taking from Miami, he could have stayed in L.A. Then again, the Lakers never offered five years at $20 million per, which is what the Heat gave O'Neal.
"It was purely an economic situation," Jackson said. "It wasn't anything about their personalities. It was purely economics."
Now the finances appear solid, but it didn't make economic sense to break up the decade's most successful duo, not when it cost the Lakers lucrative playoff games at the Staples Center. Someone, somehow, would have made a financial compromise to keep it together if they had been enjoying themselves along the way. But it all became too stressful and the whole thing fell apart.
They're all older and wiser now. But Bryant and Jackson have emerged the best off for it. These days, Shaq's problem with Kobe is that Bryant plays in his division, meaning O'Neal can forget about landing one of the top three seeds in the Western Conference playoffs. The Suns already trail the Lakers by four games in the loss column.
Maybe it was because the game was so uncompetitive, but there was no sign of rancor afterward. Bryant wasn't asked to relive the past. O'Neal balked when his past beefs with Bryant were referenced.
"He's playing excellent ball," O'Neal said. "Can't say nothing bad about him now."
Well, at least not until the next time he takes the stage with a mike in his hand.
J.A. Adande joined ESPN.com as an NBA columnist in August 2007 after 10 years with the Los Angeles Times. Click here to e-mail J.A.
Dimes Past: Nov. 3 | 4 | 5 | 6 | 7 | 8-9 | 10 | 11 | 12 | 13 | 14 | 15-16 | 17 | 18 | 19 | 20
George Karl Talking Cancer

On Thursday, Denver Nuggets coach George Karl talked to Henry Abbott about his experience with cancer.
Here's an excerpt of what Karl had to say:
When you get the cancer diagnosis, it shakes you. You wake up one day worrying about death. It's very heavy.
Then a year later my son [Coby Karl] gets cancer. I'll remember that moment more clearly than any win or loss or anything that ever happened on the basketball court. Those are days when time stood still for my family.
When your son calls you to say it's cancer ... he's in Boise, I'm in Denver. You feel like a piece of s---, frankly.
To read the entire interview, click here
Celtics Get Physical In Rout Of Pistons

Chris Sheridan | ESPN.com
BOSTON -- The same word kept coming out of Detroit Pistons coach Michael Curry's mouth, over and over again until the count got up to nearly a half-dozen.
The word was "smashmouth," and Curry wasn't using it to describe his own team's play.
"This is the only team that really physically plays smashmouth basketball against you, and we're not as sharp in our coverages as we were," Curry said. "To beat them we have to be a more physical team."
To read the entire Sheridan column, click here
By Maurice Brooks
ESPN.com

THURSDAY'S BEST
Rajon Rondo, Celtics
: Paul Pierce, Boston's leading scorer at 20.2 points per game, connected on just 2-of-9 attempts from the floor. But Rondo was there to pick up the slack, tallying game highs in points (18), assists (8) and steals (3).
---

THURSDAY'S WORST
Tayshaun Prince, Pistons
: He went 2-for-9 from the field, finishing with four points, and has made just 10 of his last 32 attempts during a mini three-game slump.
---
QUOTE OF THE NIGHT

"They're the best team. They're 9-1. They're playing good. Kobe's playing team ball, keeping everybody involved. He's got a lot of shooters around him. They're a very dangerous team."
-- Suns center Shaquille O'Neal on the Lakers' hot start to the season
Mavericks Are Not Done Yet
By John Hollinger
ESPN.com
From John Hollinger's daily Insider Gems:
Let's ease up on those Mavericks epitaphs. Dallas' 96-86 win in Houston on Wednesday made it three straight for Dallas, and upped the Mavs to No. 12 in Thursday's Power Rankings.
In fact, the Playoff Odds give the Mavs a 32.4 percent chance of winning the Southwest Division -- nearly on par with New Orleans or Houston -- in what has been, dare I say, the weakest of the league's six divisions thus far.
Thanks to the win, the Mavs also moved ahead of Houston into the No. 7 spot in the projected final standings; in fact, if there's a candidate for "What's Wrong with Team X?" status, the Rockets make a better case than Dallas at the moment. The best argument you can make in Houston's favor right now is what happened last season, when a similarly slow start was followed by a torrid finish that included a 22-game winning streak.
• For all five Insider Gems, click here
Barely Above-Average Results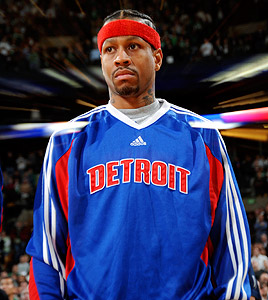 Brian Babineau/Getty Images
Allen Iverson was able to score 16 points, but it wasn't enough to keep the Pistons from falling to just 4-3 since acquiring The Answer.
TrueHoop: Oden and LeBron

TrueHoop blogger Henry Abbott talks about the play of Portland's Greg Oden and the potential LeBron James sweepstakes setting up for 2010.