Nathaniel S. Butler/Getty Images
How LeBron Could Kick Off Knicks' Shopping Spree
Just LeBron James?
Why do the New York Knickerbockers have to stop there?
The Knicks made two payroll-slashing trades Friday that suggest they have far more grandiose ideas about the delicious free-agent summer of 2010. When I ran this past a few people who would know how they think in the executive suite at Madison Square Garden, I wasn't exactly dissuaded from the following claim: Donnie Walsh and Mike D'Antoni are brazen enough to think they'll have enough flexibility to try to sign LeBron, Chris Bosh and Steve Nash for Nash's last hurrah when the bidding opens, oh, about 586 days from now.
And here's the thing: That might just be mathematically possible now.
It is often said that those of us in the media tend to get a bit hysterical when we start talking about the NBA signing frenzy that looms in July of Twenty-Ten. To which I can only say: Us?
We're really only taking our cue from the teams we cover.
Seriously. Thanksgiving 2008 is still days away, and we've already seen Detroit and New York combine to push through three league-shaking trades, each of them with a run at LeBron that can't start for more than 19 months accounting for most, if not all, of the trigger-pulling motivation.
No one seems terribly interested in that famed cautionary tale which reminds us that Shaquille O'Neal is the only max-contract free agent in league history to switch teams and win a championship, racking up three rings with the Lakers (and one after being traded to the Heat) after leaving the Magic.
As noted in our LeBron opus earlier this month, no fewer than 15 teams -- including the Cavaliers -- awoke Friday morning with less than $40 million in committed salaries on their books for 2010-11, hoarding salary-cap space for a free-agent class so tantalizing that we scarcely talk about folks such as Amare Stoudemire, Dirk Nowitzki and Joe Johnson.
Yet that list has a new A-Team after the Knicks managed to shed their long-term salary obligations to Zach Randolph and Jamal Crawford in a matter of hours in separate deals with the Clippers and Warriors. Doing what Walsh has vowed to do since he arrived -- but doing it faster than even he could have dreamed -- leaves only four current players on the payroll beyond 2009-10: Eddy Curry (scheduled to earn $11.3 million in 2010-11), Jared Jeffries (unlikely to opt out of the $6.8 million he's due), Danilo Gallinari ($3.3 million) and Wilson Chandler ($2.1 million).
So …
Although it'll take ongoing personnel diligence to keep that many spots open for the summer of truth, starting with the decisions that certainly have to be made soon on extensions for David Lee and Nate Robinson, it's suddenly presumed all over the league that the team in the most irresistible market to James will look even more attractive than expected with room to sign two elite players ... just as it is instantly presumed that the Knicks will have too much money, too much big-city appeal and too much fun potential with D'Antoni coaching not to come away with top talent no matter what happens with James.
"Imagine how sick Danny Ferry must be feeling right now," one top executive said, referring to the Cavaliers' GM.
Imagine, too, what happens if the Knicks find a way to move Curry in the next 19 months and create more flexibility.
Remember that warning we ran last week from our Team USA insider about the likes of James and Bosh or Bosh and Dwyane Wade wanting to play together full-time? "All of these players," he said, "want to play with each other in the NBA."
Nor should it be too difficult, if Curry goes, to envision D'Antoni urging Nash to finish his career on a short-term deal as a Stockton-esque sage who plays less than 30 minutes a night in a city where the 34-year-old spends his offseasons playing soccer. Especially if the Suns don't start to rediscover the fun that clearly has drained out of some Phoenix faces since D'Antoni left.
I haven't budged from the belief that it's still way too soon for anyone to state with certainty that James is leaving Cleveland, or that Cleveland has lost its status as the favorite to keep him, even with teams such as San Antonio, Miami, Detroit, Portland and Dallas also expected to making pitches to the likes of LeBron, Bosh and Wade. I will likewise continue to say that the Cavs have much greater hope for re-signing their would-be Global Icon than Orlando ever had of keeping O'Neal, given LeBron's lifelong connections to Ohio, their owner's willingness to spend to keep James in perpetual championship contention and Shaq's thirst at the time to go Hollywood.
You're going to hear it ad nauseam until LeBron actually signs that next contract -- King James to the Knicks is a done deal! -- and we're going to keep countering with this: Why would LeBron, even if he's leaning one way or another, commit to anything so soon?
We repeat: Things change fast in this league. Take Friday, for example. Years of wasteful spending in Gotham, which gradually sucked the life and hope out of the greatest basketball arena in the world, were seemingly undone by one afternoon of heavy New York trading.
Isiah Thomas, incidentally, does get an assist here. The Knicks plummeted so far on Zeke's watch that Walsh could interrupt an unexpectedly positive 6-5 start by dumping D'Antoni's top two scorers on the fourth Friday of the season and still immediately convince his fan base that waiting 586 days to see whom the Knicks finally land with all that spending money is the right play.
LeBron?
And Bosh?
And Nash?
OK, OK. It's going to be a long time before we get any of those answers, so we'll try to show some restraint from here.
At least we'll try until Tuesday night. That's when LeBron's Cavs visit MSG … and when the media pests swarm James with those uncomfortable questions that Bron-obsessed teams such as the Knicks won't allow us to save for a later date.
Marc Stein is the senior NBA writer for ESPN.com. To e-mail him, click here.

Half of the 30-day window that teams have to convince Antonio McDyess not to return to Detroit has expired.
The overwhelming consensus in NBA front-office circles remains that McDyess will be back with the Pistons on Dec. 7, which is the first day they're eligible to re-sign the 34-year-old after his buyout from the Denver Nuggets. But sources say two teams are being told by the Dice camp that they still have a shot to sway McDyess away from his beloved Motown.
They would be Cleveland and Charlotte.
The Cavs, depending on how much luxury tax they're willing to pay, have enough of their midlevel exception available to offer a multiyear deal starting at $5.1 million. That would help McDyess recoup some of the $9 million he gave back to the Nuggets in his buyout for the right to pick his next employer, although it's debatable how much McDyess would boost Cleveland's title chances beyond weakening the Cavs' foremost Central Division rival.
The Bobcats, meanwhile, typically don't get a sniff when it comes to coveted free agents, but Charlotte has the full $5.6 million available to throw at McDyess after its exception went untouched in the offseason … as well as the lure of Larry Brown. There was no sarcasm intended in that last bit; McDyess' deep fondness for Brown from their time together in Detroit has resulted in a very rare sliver of hope for the Bobs.
Yet it must be noted that more than one team exec has wondered aloud whether McDyess' apparent consideration of his non-Pistons options is merely intended to convince the league office that his return to Detroit wasn't a done deal even before the Denver trade was completed.
We haven't heard a word from McDyess throughout this process, which should come as little surprise after Dallas' Jerry Stackhouse publicly acknowledged his intent to re-sign with the Mavericks before the Mavs' initial deal with New Jersey for Jason Kidd in February was completed. The Mavs and Nets were ordered to remove Stackhouse from the trade before it could go through.
Detroit is the only team in the league that had to wait 30 days to sign McDyess once he became an unrestricted free agent after packaging McDyess with Chauncey Billups and Cheikh Samb in a Nov. 3 deal for Allen Iverson. But you have to be skeptical about any team besides Detroit landing Dice if it hasn't already happened in the first 15 days of that window. Don't you?
As Pistons coach Michael Curry has repeatedly acknowledged, "The longer it goes, the better chance we have."
---
The East continues to hold the advantage in cross-conference play this season -- after posting a losing record in games against Western Conference opposition in every season of this millennium -- with a record of 34-22 after Friday's play.
The East is also coping better than the West with this season's ankle plague.
Nine All-Stars (or guys close enough to that level) are currently unavailable because of ankle injuries, with six of them coming from the West: Golden State's Monta Ellis, Utah's Deron Williams, Sacramento's Kevin Martin, Dallas' Josh Howard and San Antonio's Tony Parker and Manu Ginobili.
The East's list stops at Milwaukee's Michael Redd and the Atlanta duo of Josh Smith and Al Horford.
The numbers would be even worse if Miami's Dwyane Wade and Houston's Ron Artest hadn't played through ankle injuries of their own in the past week.
---
The Clippers insist that they are not trading Chris Kaman or Marcus Camby after acquiring Zach Randolph.
Let's see if the Bobcats, who still covet Kaman, are dissuaded by that message. Or let's see if they revisit their recent unsuccessful attempts to trade for Kaman, figuring that L.A.'s desperation for a competent swingman is only going to grow from here … and recognizing that the addition of Randolph isn't exactly going to speed the Clips up as much as Baron Davis would undoubtedly prefer.
Gerald Wallace is the swingman Charlotte has been shopping, but the Bobcats also have Baron's good friend Jason Richardson with a contract in Kaman's range.
The Clips have also maintained long-standing interest in New Jersey's Vince Carter, but even if they wound up talking to the Nets, trying to convince them to take back Kaman's long contract would appear to run counter to the Nets' own hopes of being a free-agent player in the summer of 2010. Especially since Kaman's contract contains a 15 percent trade kicker, which, as of Friday, would have resulted in an extra $6.3 million in salary.

Editor's note: The Weekend Dime, including the following item, was published in the same time frame that the Thunder fired P.J. Carlesimo as coach after Friday night's home loss to New Orleans. Scott Brooks was named interim coach.
The rising word in NBA coaching circles is that no coach is facing more immediate peril than the Thunder's P.J. Carlesimo, especially after Timberwolves owner Glen Taylor publicly insisted this week that Randy Wittman's job has not been threatened by a 2-9 start.
Perhaps no team in the league began the season with a lower win-total expectation than Oklahoma City, but pressure is nonetheless mounting on Carlesimo -- who nearly lost his job after last season's 20-62 farewell to Seattle -- because the young Thunder are rarely even competitive these days. The sight of a double-digit lead turning into a 20-point loss to the struggling Clippers on Wednesday prompted Oklahoma City's famously loyal fans to briefly boo their new team, which never happened when the Hornets were in town for two seasons.
After getting trounced Friday night on ESPN by the last team to inhabit OKC -- with New Orleans in the midst of its own struggles -- Oklahoma City's per-game point differential dropped to minus-12.3. No other team in the league is losing by a double-digit average.
Sources say Thunder assistant Scotty Brooks -- pretty much the only UC Irvine alumnus who can drag a complimentary word out of me -- is the obvious interim successor if (when?) an in-season change is made.
---
Who loves the Knicks' trades most in the West?
Probably Utah.
Not only do they hope to see LeBron stay in the East, but the Jazz also own New York's draft pick in 2009 or 2010. The Knicks will retain the pick in the 2009 draft if it falls between No. 1 and No. 22 in June, but the pick is fully unprotected in 2010, which means it could be a very good one, given the Knicks' clear intent to keep their roster as frills-free as possible until the league's free-agent bonanza in July 2010.
---

The Mavericks, according to NBA front-office sources, indeed had the option to bid for Zach Randolph before the Clippers acquired Randolph on Friday.
Dallas, though, is among the many teams trying to maintain financial flexibility for the summer of 2010, which gave the Mavs pause because Randolph's contract calls for him to be paid $17.3 million in 2010-11.
The Mavs continue to make out-of-favor veteran swingman Jerry Stackhouse available in trades, as they have since the offseason, but Stackhouse's virtual expiring contract -- worth $7 million this season and partially guaranteed for $2 million next season -- would have needed to be packaged with Erick Dampier in exchange for Randolph and Mardy Collins. The Knicks wouldn't have welcomed that, since Dampier's contract is partially guaranteed in 2010-11, whereas the contracts of Tim Thomas and Cuttino Mobley, acquired in the Randolph deal, expire sooner.
And the Mavericks, not surprisingly, were not prepared to substitute Josh Howard for Dampier, even though they lack a low-post scorer of Randolph's caliber.
For a big-picture look at the Lakers, Suns, Pistons and Nuggets, as well as an update on how the Mavericks might be impacted by the recent allegations levied against owner Mark Cuban, NBA on ESPN Radio host Marc Kestecher rings into Stein Line HQ.
• Listen to the interview

The Truth About Pierce's Deal

Our recent compilation of the
NBA's top 20 salaries
led to a discovery that initially made zero sense.
Dirk Nowitzki, according to official NBA numbers, will be earning one dollar more than Paul Pierce this season and six dollars more over the life of a three-year extension that kicked in this season.
There had to be some kind of story here, because Nowitzki and Pierce have been on the same salary scale -- and linked in many other ways -- since they were selected as the ninth and 10th overall picks in the 1998 draft. In the summer of 2006 -- Pierce in July, Nowitzki in September -- they signed what were believed to be identical three-year maximum contract extensions.
So what happened?
Some fact-checking revealed that the Celtics, presumably with no malice intended, simply failed to round up on the final digit when filling out the contract before submitting it to the league. Nowitzki and Pierce had identical salaries in 2006-07 ($15,101,625) and 2007-08 ($16,360,094), with their extensions calculated using the '07-08 figure as a starting point.
Nowitzki's three-year extension, which includes an option to become a free agent in the summer of 2010, totals $59,387,142. That's $18,077,904 this season, $19,795,714 next season and $21,513,524 in 2010-11 if he doesn't opt for free agency after Year 2.
Pierce has the same early termination option after the 2009-10 season -- as well as an 8 percent trade kicker Nowitzki doesn't have in the highly unlikely event that the Celtics move him -- but his year-by-year totals are ever-so-slightly lower. Pierce is at $18,077,903, $19,795,712 and $21,513,521, which computes to a total of $59,387,136.
So …
Somebody in Boston owes Pierce six bucks.
Pierce, after all, only happens to be threatening to surpass Kobe Bryant as the NBA's pre-eminent clutch player after his NBA Finals MVP performance and a run of big fourth quarters already this season, highlighted by Pierce's buzzer-beating jumper that took down then-unbeaten Atlanta.
And in this economy? Six bucks is six bucks.
On the latest edition of ESPN's NBA Today podcast, host Jason Smith asks Marc Stein to attempt to interpret recent musings from two of the NBA's most provocative talkers -- Shaquille O'Neal and Gilbert Arenas -- before making an unsuccessful attempt to coerce a sneak preview of Monday's NBA Power Rankings out of his guest.
NBA on ESPN Radio

Five questions with seven-time NBA champion Robert Horry:
Q: We miss you, Big Shot Rob. So can you tell us we're going to see you in a uniform again before the season is over?
A: To be honest with you, I doubt it. It's a trend in the NBA right now to go with youth. I don't think anybody is going to be going for a wily, 38-year-old veteran such as myself. … You never know. It would have to be something I really want for me to even think about it.
Q: What about the trend of signing veterans late in the season that Boston started with P.J. Brown? I hear that Sam Cassell is already trying to convince the Celtics to bring you in after the All-Star break.
A: Sam actually called me about a month ago. I was down in San Diego training, just trying to do something to stay in shape. Sam said: "I talked to Doc [Rivers]. He's thinking about bringing you in at the end of the season, so make sure you stay in shape." I said, "That's fine about Doc, but who is that GM in Boston?" I don't think that's gonna work out.
[Editor's note: Horry was obviously referring to longtime nemesis Danny Ainge]
Q: Were you actively looking for a team in the summer and just couldn't find any takers?
A: I really wanted to keep playing. But for me it's kind of hard because I don't have an agent calling around for me. … I'm still trying to stay in shape the best I can. I'm shooting about once every three days. I do a lot of pool work to stay off my joints; I get out early in the morning with all the 60-year-old women. But once the holidays come, if I'm still around the table at Thanksgiving and Christmas, it might be time to just eat and enjoy life.
Q: If you really have played your last game, can we assume you're leaving happy with what you've accomplished?
A: It was a tremendous run. I'm kind of upset the way it ended having a DNP in my last playoff game. My very last game, I don't even get off the bench … it's not the way you really want to go out. But I guess I've had enough on-top moments, probably more than anybody in the league right now. If you told me I'd be able to get seven [rings], I've either been very lucky or I've done a great job helping these great players. I don't think there's been a luckier guy, not being a superstar or even a star.
Q: I know you're trying to downplay it here, so I'll say it: If this turns out to be the end, shouldn't you retiring be a bigger deal with a little more hoopla, even though you've always told us you're a low-key guy?
A: That's happened a lot of times. For as much as I accomplished, I think there's been times I got screwed over in some way, like the way I was treated by some of the refs. Even Nike. I've been a Nike guy for 16 years, and once I looked at their Web site … I'm in the league and I didn't even know some of the guys who were on there instead of me. So looking back, I got screwed over sometimes as far as being recognized. But at the end of the day, you can ask any of the players that I played with or any of the coaches that I played for -- except Danny Ainge -- and I bet they say, "I loved that guy." Overall I didn't get some of the things I wanted to get recognition-wise, but I got the respect of my peers.
Q: What do you think of all of us experts who've anointed James Posey as the new Robert Horry?
A: No, no, no. He ain't no Robert Horry. Posey is a good friend of mine, I love him as a person. But he can't play as many positions as me. I think he plays D almost as good as me, even though he doesn't block shots like I did. He's a great player, but until he reaches that seven mark, he's no Robert Horry.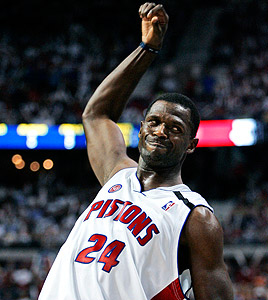 AP Photo/Tom Mihalek
Antonio McDyess' return date and destination are still unknown, but his former team looks more and more like the unchallenged favorite.

"The Lakers."
Lakers forward Lamar Odom, asked which team in the West worries him most, nominates his own team.
Four weeks into the 82-game schedule, who can argue?
Using the evidence available to us at this juncture, L.A. looks poised to distance itself from a pack of Western Conference contenders which was amazingly bunched up last season. You'll recall that only nine victories separated the West's No. 1 seed (Lakers) from the No. 9 seed (Golden State with 48 wins) in the 2007-08 season.
This season?
After the Lakers went to the desert and dusted the Suns on Thursday night, it's no stretch to suggest that Denver and perhaps Portland might be the only other teams in the West pleased with their starts, whether we attribute the widespread discontent to injury-induced angst (as seen in Utah and San Antonio) or the myriad issues afflicting presumed contenders such as New Orleans, Houston, Phoenix and Dallas … or the complete collapse seemingly under way in Clipperland.
The Lakers, apart from one bad night at home against Detroit, have been imperious, entering the weekend with a spotless 5-0 road record. They might still be vulnerable against teams (like Boston and even Detroit) that can guard their big men without double-teaming, which gives them a better chance of slowing Kobe Bryant, but the biggest concerns so far have been Odom's long-term willingness to accept a sixth-man role and finding minutes for everyone given such a deep roster.
"It's cool," Odom insists, accustomed by now to questions probing for discontent about his new gig. "This is a championship team. It's not really about me. I still get looks and touches. I have fun running up and down with that second group."
Pressed further about his future -- and well aware that his name will continue to pop up in trade scenarios since he's carrying an expiring contract with a salary-cap number of $14.1 million -- Odom says he's trying to ignore all that.
"This is where I want to retire," Odom said. "Yup."
Bonus short-answer quote from the 29-year-old, when it was suggested that the Lakers, given how they've started the season, should be considered title favorites now: "Nope. Boston."
Mark (Orlando, FL):
It seems like there are a lot of teams in need of help at point guard. What movement do you see happening in the next month or so? Stephon Marbury? Jamaal Tinsley? One of the Memphis guys?
Stein: The reflex is to say that Marbury won't be out of work long if he indeed completes the buyout he's begun to discuss with the Knicks. As noted in last week's Weekend Dime, Dallas has some legit interest, and there will be a few others (Miami is always assumed given its lack of a proven PG) who give it some consideration if Marbury indeed becomes available at the league-minimum wage. That said … no buyout in the near future might tell us that Marbury doesn't have an immediate landing spot. The Knicks are allowing Marbury to talk to other teams in hopes that he'll quickly find another job and thus finally show some willingness to give back a fraction of his $20.8 million salary in a buyout. If he can't find that job, Marbury has more incentive to just collect his full salary and wait 'til next year.
Tinsley is an even more complicated case because the Pacers have steadfastly said they don't want to buy him out. They insist on trading him and there's just no market for Tinsley right now. Given Tinsley's rep -- worse than Marbury's as a teammate, according to some league observers -- teams like him a lot better as a potential low-wage free agent compared to the idea of trading for him.
As for Memphis and all its point guards, it would help if the Grizz could get one or two of them playing well. So far? None of them has. I do keep hearing that Marko Jaric is convinced that he's getting traded soon, but that could just be wishful thinking on Marko's part -- some would call it greedy thinking for a guy who has already shocked the world by landing a fiancée named Adriana Lima -- given that he has a contract which strays past the summer of 2010 and thus can't be easy for the Grizz to move.