Evan Gole/Getty Images
No, Kobe didn't score 81 against the Raptors again, but his 23 points and seven assists were plenty.

Barry Gossage/Getty Images
In the battle between the rookie Lopez twins, the Nets' Brook outscored the Suns' Robin 12-2.
Kobe Teaching A New Kind Of Math

LOS ANGELES -- You might want to double-check the numbers because I never was very good at math, but I'm pretty confident that 23 points is better than 81 points.
It's impossible to see Bryant wearing the Lakers' white jersey against Toronto and not think of that Sunday night, Jan. 22, 2006, when he went Wilt and scored 81 against the Raptors. But it was also impossible to watch Bryant rack up 23 points and seven assists Sunday and not believe this version of Bryant is better and these Lakers are better for it, even if the NBA doesn't crank out a bunch of T-shirts to commemorate the occasion.
Here's some more counterintuitive logic: If you care one bit about winning, you don't want to be on the NBA's Top 10 single-game scoring list. None of the players on it -- Bryant, Wilt Chamberlain, Elgin Baylor, David Thompson and David Robinson -- made it to the NBA Finals in the same season in which they set their marks. Chamberlain's name pops up three times for the 1962-63 season and that San Francisco Warriors team didn't even make the playoffs.
It's obvious that any team so dependent on one player can't be very good. It goes against the basic elements of the sport. Not that it kept Bryant from trying in the past. But if you're going to channel Chamberlain it can lead you off the championship parade route and isolate you from the NBA's circle of winners. Unless you learn the lessons: The first time Chamberlain's scoring average dropped below 20 points just so happened to coincide with the first time an NBA team won 69 games in a season.
Another test came this weekend, a measure of Bryant's progress and priorities. He had a chance to surpass Chamberlain in the scoring section of the NBA record book, a place Chamberlain's name appears so frequently you'd think he kept buying property there and naming it after himself, like Donald Trump. If Bryant could get to 38 points Sunday he would have reached 22,000 at the age of 30 years and 99 days, beating Chamberlain by one day to become the youngest to achieve that mark in league history.
Lakers coach Phil Jackson didn't like that the Los Angeles Times made a note of it, calling it akin to dangling "a carrot in front of the donkey."
"Who did that?" Jackson demanded in mock anger. "What a stupid thing. That could really mess up the game."
He was joking. Kind of.
"Kobe does have agendas at times," Jackson said. "He could get into that. We hope that he stays focused on what the overall plan is."
Bryant seems almost overdue for an outburst -- be it scoring or verbal. He doesn't often allow too much time to pass without somehow inserting himself into the headlines. He managed to upstage the NFL conference championships with his 81-point performance in '06. And it was only last year, when LeBron James was staking a claim to be the new face of the league by hauling his Cavaliers into the NBA Finals, that Bryant hijacked the summer with his public trade demands.
Hmm, LeBron sure seemed to be stealing a lot of attention in his last visit to New York to play the cap-clearing Knicks. How would Kobe respond?
As it turns out, with a whisper. The only thing loud about him and the Lakers is their neon 14-1 record after beating the Raptors.
Bryant had the chance to usurp Wilt. And he passed. Again and again and again, setting a tone that led to a season-high 34 assists for the Lakers.
He had as many assists as field goal attempts (three) in the first quarter, but still managed to score nine points thanks to five free throws. That's the thing. He still gets his points, just not in huge quantities. He cruises along, then takes an "early offense" turnaround jumper before the Raptors can get back on defense, runs out to get a long pass from Luke Walton for an easy basket, then gets out on the fast break and catches a feed from Lamar Odom for another bucket and all of a sudden Bryant's sitting on 21 points at halftime.
"You pick your spots a little bit," Bryant said, "which I'm able to do with this ballclub, as opposed to the past where you start the game and you've got to have your foot on the gas for 48 minutes."
It was only 30 minutes Sunday night, as the reserves had things in hand well enough for him to sit out the entire fourth quarter. He didn't check back in to knock out 15 quick points to dethrone Chamberlain.
If anyone took the bait, Bryant said, it was the reporters.
"Phil likes giving you guys quotes just to mess with you guys and you guys bite that stuff all the time," Bryant said. "At some point you guys have to figure out that he does that just to mess with you.
"I never concerned myself with milestones or any of that. Honestly, if I cared about that I would have went to college and came in the league and averaged 30 and got my scoring up."
Well, he did seem to notice when he had a string of 40-point games that reached seven in 2003, or the time he just happened to score 42 points in the first half (55 for the game) the last time he went up against Michael Jordan in 2003.
But he did sit out the fourth quarter with a comfortable lead against the Dallas Mavericks when he was sitting on 62 points in 2005 -- and actually caught a little criticism for not going back in and scoring more. And he has certainly made scoring secondary throughout this season. He's down four points from last season's average of 28 per game. In fact, the top nine scorers from last season's team have lower averages than last season (except Jordan Farmar, who is the same).
The lessons, clearly, have been about moving the ball around and playing better defense. And Bryant is the primary pupil.
"He knows that he is on a better basketball team," Raptors coach Sam Mitchell said. "He understands that he doesn't have to try to score every time down the court, that he has guys he can defer to and get the ball to."
The word Bryant kept using was easier. Fewer forced shots, fewer attempts to take on entire defenses on his own.
"You get in the lane I can kick it out to shooters and we have great shooters and great playmakers," he said. "It makes it a lot easier for me to penetrate and kick and the defense is scratching their head because they don't know what to do. As opposed to in the past where I had to get in there and pull up and shoot the shot."
Jackson doesn't think we've seen the last of Bryant's scoring outbursts.
"If we need it and he has to unleash it, he may have a game like that, where he has to take a big part of the game scoring on," Jackson said.
But Bryant is being realistic. Most defensive game plans against the Lakers contain some variant of the phrases "swarm Kobe" or "blitz Kobe" at the top of the to-do list. It isn't worth the fight anymore. He tried it and kept winding up at home in June.
Lakers fans still hunger to see Bryant score. In the third quarter a long rebound came out to Bryant beyond the 3-point arc. He settled everyone down, drove into the lane, leaped ... and passed. The crowd groaned as the ball flew into the hands of Vladimir Radmanovic. But Radmanovic drilled a 3-pointer.
New math or old math, three is better than two.
J.A. Adande joined ESPN.com as an NBA columnist in August 2007 after 10 years with the Los Angeles Times. Click here to e-mail J.A.
Past Dimes: November 15-16 | 17 | 18 | 19 | 20 | 21 | 22-23 | 24 | 25 | 26 | 27 | 28-29
TrueHoop: Blazers Are A Pleasant Surprise
By Henry Abbott | ESPN.com

Thanksgiving weekend has been fantastic. The eating, the family, all those things we all count on ... I'm loving it. But also, as a fan of the Portland Trail Blazers, it has also been a little bit like Christmas.
Why? Yes they have won nicely at home. But more importantly ... have you seen John Hollinger's power rankings?
To read the entire TrueHoop blog, click here.
Fernandez: Counting By Threes
By Lisa Brooks | ESPN Research

Rudy Fernandez has now made at least one 3-point field goal in all 18 games he has played this season. He becomes only the third rookie over the past 12 seasons to make a 3-pointer in 18 consecutive games. The other two rookies to do that since 1997-98 are Gordan Giricek in 2002-03 (24 straight games) and Kirk Hinrich in 2003-04 (29). Hinrich's streak is the NBA record for a rookie.
By Maurice Brooks
ESPN.com

SUNDAY'S BEST
Devin Harris, Nets
: After his 47-point, 8-assist, 7-rebound gem against the Suns, he should hold off on making Valentine's Day plans unless they include activities in Phoenix -- the host city for the 2009 All-Star Weekend.
---

SUNDAY'S WORST
Lou Williams, Sixers
: It is never a good thing when you have the same amount of turnovers (3) as field goals made (1) and points (2) combined. The reserve went 1-for-9 from the field.
---
QUOTE OF THE NIGHT
"I'm sitting more right now than I ever have in my career, and my rhythm isn't there. I'm missing shots that I normally knock down 110 percent of the time, and that's all on me."
-- Pistons guard Allen Iverson on his 2-for-9, nine-point outing in a loss to the Blazers
Harrington Gets His Revenge
Elias Sports Bureau

Al Harrington, who was traded by the Warriors to the Knicks on Nov. 21, scored 36 points for New York against Golden State on Saturday night. That tied the second-highest point total in NBA history by a player in his first game against a team he had played for earlier that season. "Super John" Williamson had 38 for the Nets against the Pacers in 1978. Stephen Jackson (Warriors versus Pacers) in 2007 and Dominique Wilkins (Clippers versus Hawks) in 1994 also dropped in 36 points.
• The Pistons' 96-85 loss to the Trail Blazers on Sunday was their third home loss this month by 10 or more points. Detroit suffered only two double-digit losses at home during the entire 2007-08 season.
• On Saturday, Beno Udrih led the Kings with 13 points in their 107-87 loss to the Mavericks. That matched the lowest "high score" for the franchise since the shot clock was instituted for the 1954-55 season. Mike Bibby led Sacramento with 13 points in a 103-73 loss to the Spurs on Jan. 23, 2005. And on Feb. 11, 1955, Bobby Wanzer and Don Henriksen scored 13 for the Royals in a 91-83 win over the Fort Wayne Pistons in Rochester.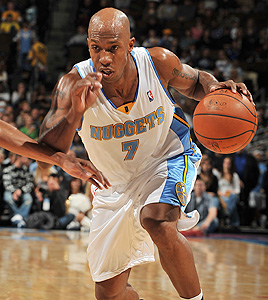 Garrett W. Ellwood/Getty Images
With leading scorer Carmelo Anthony slowed by a bad elbow, Chauncey Billups stepped up, scoring a season-high 28 points and giving out 10 dimes as the Nuggets beat the Rockets.
Economy and NBA Attendance
ESPN Research

Last season at this time, the economy was booming. This season, it is in the tank. Are NBA teams feeling consumer withdrawal? More than twice as many NBA teams have had a decrease in attendance as have had an increase in attendance this season.
Led by Oklahoma City (39.4 percent) -- which played last season in Seattle as the SuperSonics -- there are eight teams that have seen an increase in attendance this season entering Friday. The others are the Hornets, Pacers, Blazers, Hawks, Nets, Rockets and Bucks.
Four teams -- the Celtics, Pistons, Lakers and Suns -- are averaging the same amount of fans as a season ago.
The Clippers (15.2 percent) lead 18 teams that have suffered a decrease in attendance.