D. Clarke Evans/Getty Images
Will Iverson and the Pistons, who topped the Spurs on Tuesday, earn a top-three postseason seed?

Glenn James/Getty Images
Jose Barea knocked down a 3-pointer in the final minute to cap the Mavs' rally against the Clippers.
Eastern Conference Playoff Predictions: Cavaliers Rule

We know it's early and there are still trades to be made, players to be injured (most likely) and coaches to be fired (almost certainly). But if folks are already talking about the summer of 2010, is it really too soon to talk about the spring of 2009?
We think not. That's why, less than a quarter into the season, we're about to make some Eastern Conference playoff predictions.
It's actually more challenging to make them now than it was in the preseason, since some supposedly strong teams have started like pretenders (Toronto, Philadelphia) while other left-for-dead clubs have started hot (Atlanta, New Jersey, New York).
Will these trends continue or is it all a mirage?
Here are answers you can take to the bank:
Boston and Cleveland will meet in the conference finals. I know, what a revelation. But it says here that Cleveland will win.
Orlando will take the Southeast Division and the third seed, and Detroit, which may never run like a well-oiled machine with Allen Iverson, will nonetheless play well enough to earn a first-round series at The Palace.
From there it gets tricky. Does Devin Harris continue to play like Tony Parker and lead a Nets resurgence that absolutely no one saw coming? Was the Hawks' 6-0 start just a tease? Will multi-, multi-, multi-millionaires Elton Brand and Andre Iguodala ever mesh in Philly?
Rest assured ATLiens, the Hawks are for real. Their recent struggles have much to do with the absence of Josh Smith, who'll return Wednesday from an ankle injury. Arguably the league's best shot-blocker, he'll bolster the Hawks on both ends of the floor and enable them to snatch the fifth seed, their highest in 10 years.
Toronto is more than a .500 team, but it's not the conference contender many thought it was. There will be improvement, but the Raptors are still a sixth seed. When Jermaine O'Neal returns, they're going to unleash a tri-towers lineup featuring Chris Bosh and the once-again-promising Andrea Bargnani at the forwards. It'll work well enough to keep them ahead of Philly.
That's right, Philly. Don't be fooled by the slow start. Mo Cheeks' teams almost always start slow and then finish feverishly over the second half of the season. Five of his previous seven teams have done so.
Last year, the Sixers were 7-13 and 18-30 before closing at 40-42. The year before, they started 11-30 but finished 35-47. Way back in 2002-03, his Portland Trail Blazers started 7-9 but roared into the playoffs with a 50-32 record.
How much more should we expect them to stumble out of the gate with the new addition of Brand? Things will turn around.
One Western Conference executive assures me that Mike D'Antoni will get the Knicks -- no matter how many two-year rentals they fill their roster with -- into the playoffs. But I'm not going to bet against Miami's Dwyane Wade. The dude is just too nice.
Plus, I like the discipline and appreciation for defense that Erik Spoelstra is instilling in rookie Michael Beasley, and that will pay dividends over the second half of the season. I expect Shawn Marion to play better and, of course, youngsters Mario Chalmers and Daequan Cook will improve.
Boy, that roster still looks weak. But I've seen D-Wade's latest commercial, so I refuse to join the parade of doubters he's already proven wrong. I believe.
Chris Broussard is a senior writer at ESPN The Magazine.
Dimes Past: November 19 | 20 | 21 | 22-23 | 24 | 25 | 26 | 27 | 28-29 | December 1 | 2
Marbury Still An Issue For the Knicks
By Chris Sheridan | ESPN.com

NEW YORK -- Levity was in short supply, and Donnie Walsh's temper was at the boiling point Tuesday night as he half-pleaded, half-implored the media pack surrounding him to ask about the Portland Trail Blazers instead of the subject that will not go away.
"I'm finished talking about Stephon Marbury," he said, repeating a statement he had already made a minute earlier.
An uncomfortable silence descended, and it was incumbent upon someone to keep Walsh from storming off -- even if it took some attempted levity to do so.
"OK, Donnie. Here's a Portland question: How do you think Jerome James will do tonight defending Greg Oden?"
The stare that came back from Walsh cannot accurately be described as a death stare, because Walsh really hasn't had the death stare working for him since back in his playing days at Holy Cross. But it was a stare nonetheless, and if Walsh found any humor in the question, he didn't let it show.
"The Portland Trail Blazers have a great team, it took them a long time to build it, and I can now understand all the wrath they went through on that road," Walsh said prior to Portland's 104-97 victory over New York, the Blazers' fifth straight win.
James was on the bench and in uniform but did not play, something he summoned the physical capability to do only twice last season while pulling down a salary of $5.8 million. Aside from Marbury, those out of uniform for the Knicks on Tuesday included Eddy Curry (swollen knee, making a $9.7 million salary this season with $21.8 million due over the next two), Danilo Gallinari (still hurting from a mysterious back problem he first experienced in summer league), Nate Robinson (strained groin), Cuttino Mobley (seeing another heart specialist Wednesday as he awaits clearance to join his new team) and Jared Jeffries (still a week away from returning from a leg fracture, and under contract through the 2010-11 season at $6.8 million).
Clearly, there are plenty of injuries to overcome and at least another big salary to clear through a trade -- and that's even before we get to the ballast. James is making $6.2 million this season and has a player option for $6.8 million next season, and he may very well become the next player on the buyout line once the Marbury situation is settled -- if it is ever settled.
ESPN.com has learned several details of the Knicks' meeting Monday with Marbury, who was so angered by New York's offer to cut his $20.8 million salary by $2 million to $3 million -- he actually stormed out of the meeting after the offer was made -- that he called the New York Post on Monday night and told the newspaper he was withdrawing the $1 million pay cut he had offered to take in an earlier meeting with Walsh.
No discussions took place Tuesday, and none are scheduled for the immediate future. The players' union considers the Knicks' banning of Marbury from games and practices a violation of the collective bargaining agreement, and discussions will take place in the days ahead -- especially if no buyout agreement is reached -- on whether the union will ask an arbitrator to clarify Marbury's status and allow him, at the very least, to use the Knicks' practice facility to stay in shape.
Marbury's representative was given permission Monday to speak to other teams to gauge whether any team would be willing to commit to signing Marbury if he is bought out and cleared waivers. Previously, the only permission the Knicks had given was for the Marbury camp to try to facilitate a trade.
"I'm sure we'll be talking," Walsh said, refusing to put a timetable on finding a resolution to the increasingly tempestuous saga. "Everybody's got telephones, and actually that's probably the better way to do it."
Chris Sheridan covers the NBA for ESPN Insider. To e-mail Chris, click here.
Terry and Barea Team Up As Mavs Stop Clippers
Marc Stein | ESPN.com

DALLAS -- Before they drafted Eric Gordon and signed Baron Davis, Jason Terry was highly (and repeatedly) coveted by the Los Angeles Clippers.
"It's no secret that they've tried to acquire me," Terry says. "It's good to be wanted, but I'm very blessed that it didn't happen. I love Dallas. This is where I want to be."
If the Terry we're seeing now sticks around all season, you can assume that his Mavericks will be just as grateful that they never went through with a proposed deal in the summer of 2007 that would have swapped the little shooting guard for Corey Maggette. With nearly a fourth of the season gone, Terry has been the standout Mav, even if that status specifically belonged Tuesday to the even smaller J.J. Barea.
Barea unexpectedly played the entire fourth quarter in the Mavs' improbable rally from 15 points down to a 100-98 victory over the Clippers, capped by Barea's 3-pointer from the wing with 50.2 seconds left to account for the home team's only lead all night.
Yet it was Terry -- again -- who kept the Mavs in comeback range to make Barea's moment possible, tossing in 15 of his 26 points off the bench in the second half to push his average to 26.5 points over the past six games. For the season, Terry is up to 20.7 points per game for the 9-8 Mavs, giving himself an early edge for the NBA's Sixth Man Award.
The Mavs had to get creative in this one, after an inexcusably flat and defenseless three quarters, to dodge what would have been a seriously deflating start to a crucial seven-game homestand. The desperation was evident throughout crunch time when Terry and Barea joined Jason Kidd in a three-guard alignment, alongside Dirk Nowitzki and Brandon Bass, that isn't exactly a staple of Rick Carlisle's rotation.
"We had a crazy lineup out there that had me at the [small forward]," Terry said with a laugh. "I don't think I've played 3 since high school."
Dallas also need copious amounts of help from the Clippers, who completely capitulated when the Mavs went to a 2-3 zone that they haven't even worked on much in practice, scoring only two of the game's final 18 points.
The only nonsurprise at the end was Terry. He's in the midst of what might be his best stretch in Dallas since the Mavs' 2006 run to the NBA Finals, clearly relishing his new role as the undisputed microwave off the bench and supplying a mix of speed and aggression that Dallas sorely needs with Josh Howard (ankle) still sidelined and so many question marks on the roster outside of Dallas' four-man core.
Provided he can sustain this level, Terry will continue to hush the local skeptics who've suggested that the 31-year-old -- who received a six-year contract worth nearly $60 million after the '06 Finals -- had begun to decline after his back-to-back quiet showings in Dallas' recent first-round exists to Golden State and New Orleans. The Mavs, furthermore, certainly don't need another one of their lead guards flourishing elsewhere with Steve Nash having won back-to-back MVP awards in Phoenix and Devin Harris speeding toward All-Star status in New Jersey.
Said Terry: "I think my mentality and focus has changed. Dirk told me going into the season: 'There's one thing about you that bugs me, Jet. It's consistency. Some nights you come out looking great like an All-Star, and other nights I don't know what's going on.' So I took that to heart."
By Maurice Brooks
ESPN.com

TUESDAY'S BEST
Danny Granger, Pacers
: He scored 32 points to help set the stage for Troy Murphy's game-winning tap as Indiana came from way back to stun the Lakers, who entered the game with the league's best record.
---

TUESDAY'S WORST
Anthony Parker, Raptors
: The shooting guard connected on just 2 of 11 attempts from the floor, although he wasn't the only Toronto player who was off target in the Raptors' 39-point loss to the Nuggets.
---
QUOTE OF THE NIGHT
"We shared the ball as a team and got open looks. It felt good, because I've been in kind of a slump. I just figured I'd come in and shoot it. If I missed, who cares?"
-- Wizards guard DeShawn Stevenson, who scored a season-best 21 points against the Nets
By Henry Abbott
ESPN.com

NEW YORK -- The game story is filled with tales of Brandon Roy's offense, Rudy Fernandez's 3-pointers and Greg Oden's single bucket in his Madison Square Garden debut.
But as an in-person witness, I'm here to tell you that the game was decided not by any of those things, but instead by a gutsy play by a big Polish-American kid from Minnesota.
Blazers backup center Joel Przybilla not only got nearly every rebound that mattered with the game on the line (he finished with a game-high 14), but he also starred in what, to me, was clearly the play of the game.
The Blazers had shot abysmally all night -- the offense was working correctly, but nobody could hit those open shots -- and it had seemed like the Knicks might just hang around long enough to win. They had several decent leads, even though everyone knew the Blazers were supposed to be the better team.
A few minutes into the fourth quarter, the Blazers' shooting percentage had finally normalized somewhat after starting out in the 20s. Without doing anything brilliantly, the team had a meaningless one-possession lead at 78-75.
Al Harrington -- who has looked rejuvenated since joining Mike D'Antoni's squad -- took the ball hard to the hole. A make would mean a very close game, and an and-one almost seemed like the most likely outcome.
But Przybilla stuffed the layup attempt. Just blocked it beautifully. The Blazers recovered the ball, and a few seconds later Rudy Fernandez drained a 3. Suddenly, what had been a scant fluke of a lead became a meaningful six-point advantage with 9:37 to play. New York called timeout and never really competed again. Moments later, Knicks fans were streaming for the exits.
Przybilla is a no-frills player. He attempts only simple things. But he achieves nearly all of them. He has made nearly 84 percent (46-of-55) of his shots this season. The 13-6 Blazers have a lot of players sharing the spotlight as they return to NBA respectability: Brandon Roy, LaMarcus Aldridge, Rudy Fernandez, Travis Outlaw, Greg Oden, Nicolas Batum ... but for my money, one of the most essential ingredients has been a big man who protects the rim, gets big rebounds and doesn't make mistakes. A tip of the cap to Joel Przybilla.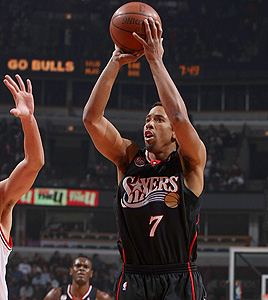 Gary Dineen/Getty Images
After getting embarrassed by Chicago rookie Derrick Rose two nights earlier, Andre Miller redeemed himself by scoring nine of his 28 in OT as the Sixers rolled 103-95.

Mark Jackson thinks the Knicks have handled the Stephon Marbury situation the wrong way because he did everything that they asked him to do, and then they benched him without warning.
Tirico & Van Pelt
Murphy, Pacers Surprise Lakers
Elias Sports Bureau
Troy Murphy capped a 16-point, fourth-quarter comeback with a tip-in off the offensive boards to give the Pacers a 118-117 win over the Lakers. The Lakers hadn't lost a game in which they led by more than 15 points during the fourth quarter since April 19, 2000 at San Antonio.
Each of Indiana's starters scored at least 16 points on Tuesday. It was the first time that any NBA team did that this season and it was the first time for the Pacers in almost six years -- since a win over the 76ers on Dec. 15, 2002 (Jamaal Tinsley, Jermaine O'Neal, Reggie Miller, Brad Miller and Ron Artest).
• The Lakers hadn't played a game decided by a margin of fewer than seven points this season until Tuesday's one-point loss at Indiana. The Lakers, who lost six of their last seven one-point decisions last season, were the first team since the 2001-02 Mavericks to begin a season with 15 straight games all decided by seven or more points.