Bill Baptist/Getty Images
Led by Ron Artest, the Rockets are the team to beat in the rugged Southwest Division this season.

Scott Cunningham/Getty Images s
Josh Smith had 14 points and six rebounds in his return after missing 12 games because of injury.
Western Conference Playoff Predictions

Welcome to Rock/Hard Place Central, where picking the first eight seeds in the West means leaving out a quality team and presuming there will be no injuries or trades that will completely alter the landscape in the next four months. You know, like the injuries to Utah's Deron Williams and Carlos Boozer or the trade of Chauncey Billups for Allen Iverson impacted the first 30 days of the season. So forget taking these prognostications with a grain of salt; invite the entire Morton family over.
This much is safe to say: Nobody's catching the Lakers in the West for the No. 1 seed -- Tuesday's toe-stub in Indy notwithstanding -- and the Northwest Division promises to be what the Southwest was last season with the Jazz, Nuggets and Blazers battling for the division title and the home-court advantage that comes with it.
Two ways to look at the Jazz: They remain a lousy road team and already have a handful of dreadful losses (Wizards, Bobcats, Nets, Knicks) ... or they've been without Williams or Boozer for almost the entire month and are only two games behind first-place Portland. I'm going with the latter and bequeathing them the No. 2 seed.
The Rockets take the suddenly moribund Southwest and third seed, having already proved that no matter how injury-prone or inconsistent they might be, coach Rick Adelman is too resourceful and has too many weapons not to win two out of every three games.
The Hornets are my fourth seed, based on nothing more than they're too talented to be this mediocre the entire season. But it's worth noting that they've started 10-6 despite the cushiest of schedules with loads of days off. I'm going on the theory that if the players are tired of coach Byron Scott's voice, as is rumored, less practice time and more games is the perfect tonic.
That leaves the fifth seed to Denver and the sixth to Portland. Not to put any pressure on Blazers GM Kevin Pritchard, but reverse that order if he trades some of his young talent between now and January for a pressure-tested veteran who doesn't screw up their chemistry. Now comes the hardest part: picking between San Antonio, Phoenix and Dallas for the last two seeds. I don't get the whole watch-out-for-the-Spurs-down-the-stretch theory. Robert Horry and Brent Barry are not walking through that door, people. They were exposed as not athletic enough last season and did little to change that (though Roger Mason has been a pleasant surprise). Whatever wear and tear Manu Ginobili and Tony Parker were spared by being injured went on Tim Duncan's bill carrying the load in their absence. But they're a single-minded group that wins the games they're supposed to and steals a few they shouldn't. Put them down as No. 7.
Phoenix is the unhappiest 11-8 team I've ever seen, but they've got the raw talent to be as versatile as any offense in the league. They just need coach Terry Porter to stop beating the defensive drum long enough to recognize it. (That, and for Amare Stoudemire to recognize that the Suns can't play up-tempo and make him The Man. He's at his best when Phoenix goes up-tempo, but that means the ball goes to whoever is open on the break, not consistently looking for one guy. Wanting both makes no sense.)
So give the Suns the eighth seed and put Dallas, whose recent surge has been against the league's bottom feeders, on the outside looking in.
And you can take that to the bank -- only because, as we know, banks aren't what they used to be.
Ric Bucher is a senior writer at ESPN The Magazine.
Dimes Past: November 19 | 20 | 21 | 22-23 | 24 | 25 | 26 | 27 | 28-29 | December 1 | 2 | 3
Observations From A Snowy Night in Milwaukee
By David Thorpe | Scouts Inc.

MILWAUKEE -- Ramon Sessions has terrific court sense and timing. He's the closest thing I've seen to Chris Paul on ball-screen action, patiently reading the defenders but ready to make his move (pass, dribble burst or shoot) in the blink of an eye. His on-court demeanor screams veteran, despite his age.
Luc Richard Mbah a Moute looks much leaner and quicker than he did last season at UCLA. Not surprising -- colleges rely on power from their players, but since most pros have "man strength," quickness is the better attribute for most players.
The Bucks seemed more focused on curbing Derrick Rose's scoring in the first half, unlike most opponents, who'd prefer him to score but not move the ball around a lot and help get some other Bulls in rhythm. So Rose scored just six points, but he picked up five assists and three turnovers (thanks to the cluster of bodies around him). His education continues, one that will end up with a Ph.D. in special attention from opposing defenses.
Chicago shoots a low percentage from the field partially (perhaps mainly) because they get few easy looks. And that's because they get few ball reversals in their half-court offense. Players too often hold onto the ball a second or two longer than they should and swing it from side to side even less. This keeps the defense in their starting positions and better able to defend the Bulls from a position of strength.
The Bucks are committed to slowing or stopping ball penetration. And they are willing to help off naked wing shooters (meaning there is no post player on that side of the floor, so there is no defender to run out on the wing if he shoots). Most teams are afraid to do that except against poor wing shooters. But Milwaukee is establishing a defensive foundation, and they are willing to put up with the risks.
I'd never teach anyone to shoot like Milwaukee's Michael Redd. But then again, I'd never try to change how he shoots. With talent like his, you just sit back and smile a lot.
David Thorpe is an NBA analyst for Scouts Inc. and the executive director of the Pro Training Center at the IMG Academies in Bradenton, Fla., where he oversees the player development program for more than 40 NBA, European League and NBDL players. Those players include Kevin Martin, Rob Kurz, Luol Deng, Courtney Lee and Tyrus Thomas. To e-mail him, click here.
Philly's Speights Earning More Minutes
By John Hollinger | ESPN.com

I'm sure the highlights made it seem exciting, and it did go to overtime ... but from an offensive execution standpoint, Philadelphia's 103-95 win over Chicago on Tuesday night was the worst game I've seen all season. The Sixers, for instance, shot 39.6 percent, made only two 3-pointers and had 19 turnovers ... and they won.
For the game, the two teams combined to score 198 points on 221 possessions, a truly horrendous 89.6 offensive efficiency mark. And the points that were scored often came as the result of the opponent's offensive miscues; many of the game's 43 turnovers produced points at the other end, and even more would have if the Sixers had not been intent on breaking the league record for botched three-on-two breaks.
The game had two signature moments of ineptitude. One came when Tyrus Thomas ambled down the middle of the lane wide-open on a pick-and-roll, never realized he was open for a dunk and never even looked in Derrick Rose's direction. Instead, we were treated to a backcourt violation after Rose was trapped in the corner and fired it out to nobody in particular.
Later, Larry Hughes topped it. While idly dribbling near half court to run down the clock at the end of the third quarter, the ball squirted away from him and right to Andre Iguodala, who soared in for an easy dunk.
• Speaking of the Sixers, some observers were surprised to see that the top-ranked rookie by PER is not Greg Oden or Rose, but center Marreese Speights of Philadelphia.
Speights' production is earning him a much bigger role than expected. In the fourth quarter and overtime against Chicago on Tuesday night it was he -- not Samuel Dalembert -- who occupied the middle, and he held down the fort quite nicely. Speights showed an impressive midrange touch, made 5-of-8 from the floor, and finished with 11 points, eight boards and two blocks. Given how disappointing Dalembert has been and how little the Sixers are getting from their bench in general, his 26-minute stint Tuesday night might become a much more regular thing.
By Maurice Brooks
ESPN.com

WEDNESDAY'S BEST
Rajon Rondo, Celtics
: The Celtics have lost just two games this season, and one of those losses came against the Pacers. Rondo made sure that didn't happen again, recording his first career triple-double with 16 points, 17 assists and 13 rebounds in a Boston win.
---

WEDNESDAY'S WORST
Chris Duhon, Knicks
: He played like the best point guard in the league, posting 12 points and 22 assists and 23 and 13, respectively, in the two games heading into the contest against the Cavs. Reality check: 1-for-9 (six points), four assists, six turnovers.
---
QUOTE OF THE NIGHT
"Do you need an oxygen mask?"
-- Bobcats part-owner Michael Jordan to Sean May, who was breathing heavy

By Elias Sports Bureau
Portland's Rudy Fernandez extended his streak of games with a 3-point field goal to 20 on Wednesday. He's the only player to make at least one 3-pointer in each of his first 20 career games; no other player has even started his career with a 10-game streak.
• Chris Paul had his 29th career game of 15 or more assists. In 238 career games, Paul already has more 15-assist games than Lenny Wilkens, who did it 28 times in 1,077 games. When Wilkens retired after the 1974-75 season, he stood second on the all-time assists list, behind only Oscar Robertson.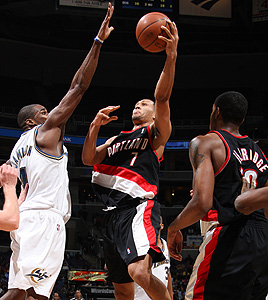 Ned Dishman/Getty Images
Saving his best for last, Brandon Roy scored 12 of his 22 points in the fourth quarter as the Blazers beat the Wizards. Portland's 14-6 start is their best since the 1999-2000 season.

Charles Barkley shares his thoughts on Chicago's Derrick Rose, Cleveland's LeBron James and players carrying guns.