Garrett Ellwood/Getty Images
What The Advance Scouts Are Seeing And Saying

Roughly one-fourth of the regular season is already finished.
So with teams having played anywhere between 16 and 21 games through Friday, it's an ideal time to survey the NBA's true road warriors -- advance scouts -- for some snapshots of what they've seen on their travels.
We surveyed five of the guys who make their living as courtside spectators at three to four games per week to examine some of the league's key developments thus far. Here's what they had to say, speaking on condition of anonymity, about the first quarter of the season:
Western Conference scout on what the Chauncey Billups-Allen Iverson trade has done for the Nuggets
"Chauncey has been fantastic. These guys show him respect. He's got a voice with them right away. You can see him and George Karl are on the same page. He keeps those other guys like Nene and Kenyon [Martin] involved, whereas before AI and [Carmelo Anthony] shot every shot. We'll have to see how he does with the altitude at his age and the speed [at point guard] in the West, but Denver was going absolutely nowhere the way they were constituted."
Eastern Conference scout on Allen Iverson's impact in Detroit
"Are they one of the top teams right now? You can't say that. But I still think they're going to be good, and historically they're better as an underdog. They're still trying to figure things out with AI and a first-time head coach [Michael Curry] feeling his way through. When they want to run a half-court play, a lot of times they've got Tayshaun [Prince] running it, so things are a little bit different.
"But what makes this team special is Rasheed [Wallace]. When he's really good, they're really good. If that doesn't happen [this season], then you can write them off. [Antonio] McDyess makes a big difference, too. So when you say that they're 7-7 [through Friday] with Iverson, make sure you say that they're 7-7 without McDyess. Maybe that's overstating it a little, but when Dice is out there it will change the way you guard Iverson and changes the way you guard Rasheed."
East scout on the top three point guards in his conference
"Coming into the year I'd have said that [Jose] Calderon is the best true point guard of the group. Based on what we've seen so far, I'll say [Rajon] Rondo, then [Devin] Harris, then [Derrick] Rose. I've only seen Rose in person a couple times, but everything you've heard is true: He's pretty darn good already. But I'll put Harris just ahead of him; New Jersey's [new] style of play really works to his benefit.
"The thing about that [dribble-drive] offense is that when [Harris] gets the ball with a dribble handoff, he's at full speed … and he's already quick. So he's another step ahead of the defender who's playing catch-up. He's always been a pretty good aggressive driver, but he's been able to attack even more than he used to in Dallas. I don't think [Harris] has to think as much. He uses his instincts, looks to score first and is playing at a really high level."
West scout on the problems in Phoenix
"I hate to say it, because I've enjoyed watching them play as much as anyone, but I think that team is ready to sink like a rock. That thing is smoldering. You can tell that guys are confused and not together. I don't want to pile on Terry Porter, because [Mike] D'Antoni would be a tough act for anyone to follow, but I'm surprised that Porter came in using so much of Flip Saunders' offense. He's coached under Rick Adelman and played for Gregg Popovich; there's not anything from those guys he wanted that he wanted to use? … The [bigger] problem is that the Suns might be stuck.
"I don't think there's much of a market for trading Shaq. [Steve] Nash is the face of the franchise, so trading him is even harder. If they want to make a drastic change, that pretty much leaves trading Amare [Stoudemire]. In some ways Amare still hasn't figured it out; he talks about not getting enough shots and touches but what about the other end? But he's also the youngest of their star players."
East scout on Philadelphia's early struggles
"The biggest thing with Philly is having
Elton Brand
takes them away from what they did so well -- playing a small lineup, getting up the floor, pressing, creating turnovers. That style allowed their young guys to play freely and cover up their biggest weakness [outside shooting]. Now they have to be a half-court team and their lack of shooting is exposed.
"They've slowed down; they don't press. I think they had to seize the opportunity to get Elton if they eventually want to compete for the title, but they're going to need to surround him with some pieces that can shoot from the outside. He just doesn't look comfortable with them, and they don't look comfortable with him."
East scout on Greg Oden and the surprising Portland Trail Blazers
"Guess what? They're only going to get better. And even though Brandon Roy is playing even better than he did last year, I think the No. 1 reason is the coach. Nate McMillan is really good. Everybody says they should be out running, but they're so young. He's keeping things under control and emphasizing defense, and they're not turning the ball over as much as they would be if they were running.
"[Greg] Oden has helped a lot, by the way. He's enough of a force defensively at this point in his career that people shouldn't pick on him for his lack of offense. And now Joel Przybilla only has to play 20 minutes; Oden and Przybilla together give you a pretty good center combo. But the one thing hidden in all this is that Utah hasn't been healthy. When Utah gets healthy, I think they pass Portland up and win that division."
East scout on the sleeper in his conference
"I think Orlando is the best team in the NBA that's not being talked about. Everyone loves Portland right now, so everyone talks about them. Orlando is racking up the road wins again, and they're going to be a legit player in the Eastern Conference if they can get that No. 3 or [No.] 2 seed and avoid Boston in the second round. I know people say they have no bench, but once you get to the playoffs you only play seven or eight guys anyway.
"Look at what they do have: Rashard [Lewis] and Hedo [Turkoglu] to spread the floor and one of the few legit big guys out there [in Dwight Howard], even though he's not a great scorer. And Jameer Nelson … his problem is that he's making $8 million instead of $6 million. If he was making $6 million, everyone would think he's a bargain. In the playoffs, I thought the kid was pretty good."
East scout on the recent firings of Oklahoma City's P.J. Carlesimo, Washington's Eddie Jordan and Toronto's Sam Mitchell
"The number of people who've been fired already means that the next few guys that are teetering -- [Reggie] Theus, [Marc] Iavaroni, [Randy] Wittman -- will probably get axed soon, too. The earliness of the firings makes it easier for teams [to follow] because there's no surprise factor. It won't look like you're jumping off a cliff. But Minnesota probably has a little bit more patience being so young. It would be more dangerous for Wittman if he had a good veteran player or two to make more of a ruckus."
West scout on how many legit title contenders there are at the 20-game mark
"I can't give you more than three. I should probably reserve the right to include San Antonio, out of respect for all [the Spurs'] championship experience. Who's going to be surprised if they're a factor in the playoffs? But it's Boston, Cleveland and the Lakers. We're all looking up at Boston and L.A. and I can find too many flaws in everyone else."
West scout on the league's worst first-quarter nightmare
"You know what I've seen so far? A lot of empty seats. Arenas are emptier than I've ever seen. I was in Atlanta recently and I know that the Hawks have traditionally had problems drawing, but they're winning now. It's a good team that just made a nice little playoff run and there was almost nobody there. I saw it to a lesser degree even in Denver, where the Nuggets have been playing great. It's scary."
Marc Stein is the senior NBA writer for ESPN.com. To e-mail him, click here.
Dimes Past: November 22-23 | 24 | 25 | 26 | 27 | 28-29 | December 1 | 2 | 3 | 4 | 5

The current economic crisis is a global one, as the Russians could tell you. Perennial powerhouse CSKA Moscow recently shut down its women's team, which some European hoops experts we know well see as a clear sign that legendary men's coach Ettore Messina (at right) will be leaving CSKA at season's end as part of the club's financial cutbacks.
If Messina indeed becomes a coaching free agent this summer, that'll only make it tougher for Raptors president and GM Bryan Colangelo to resist hiring the Italian as the first European-born head coach in the NBA. Messina is super close with Raptors assistant general manager Maurizio Gherardini and counts Colangelo as one of his biggest fans.
Back in October, when CSKA was in Toronto to face the Raptors for an exhibition game, Colangelo was asked whether a foreign-born coach who speaks English as his second language could really land one of the NBA's 30 head-coaching jobs. Colangelo told our man Dave Feschuk of the Toronto Star, "It's not a matter of if it's going to happen, it's when it's going to happen."
Colangelo, remember, didn't have a job opening when Mike D'Antoni and the Suns parted suddenly in May because of the four-year contract Colangelo felt he had to give Sam Mitchell after Mitchell won Coach of the Year honors in 2006-07. It'll be fascinating to see what happens now with Messina given that he's believed to be Colangelo's other favorite coach.
The obstacles to such a hire, though, are obvious and numerous. Messina is enormously respected in the coaching biz worldwide for his X's-and-O's acumen, but there are undoubtedly hundreds of NBA players who've never heard of him. There would inevitably be loud questions about how NBA players would respond to Messina's firm hand -- far firmer than you generally see over here -- even with Toronto ranking as the NBA's most Europe-like setting, both in terms of the city and the roster.
So it would be sensationally bold from Colangelo, even for a GM as aggressive as he is, to take that gamble, when at the same time he has made no secret of the fact that the organization's No. 1 goal over the next 18 months is keeping hold of 2010 free-agent supreme Chris Bosh.
Obstacle No. 2: As Colangelo also conceded in October, any NBA coach has to "understand the sensibilities of the North American athlete," and that's something Messina could do only if he came to the NBA as an assistant first. Yet for the likes of overseas coaching legends such as Messina and Dynamo Moscow's David Blatt -- the American/Israeli from Princeton who ranks with Messina as Europe's best -- taking an assistant's job over here can't be especially appealing, from a financial or prestige standpoint.
Another wrinkle here is that you shouldn't underestimate Jay Triano's ability to keep this job full-time, especially if Colangelo ultimately decides in the summer that it's too soon to make history with Messina. Triano is a certifiable Canadian legend -- as a player and a coach -- who has spent six-plus seasons as a Raptors assistant after memorably guiding the red and white to within one victory of the medal round in the 2000 Summer Games in Australia. The only recognizable names on that overachieving team were former Nets and 76ers center Todd McCulloch and a struggling young point guard out of Dallas named Steve Nash.
"Players love Jay," Nash said this week, welcoming the opportunity to talk about something other than the Suns' gloomy start and clearly moved by Triano's promotion. "He's a fantastic coach. They're going to find out that he has a great feel and understanding of the game and is a lot of fun to play for."
---

Sources close to the situation insist that Mo Cheeks has more job security in Philly than the current climate for coaches (three have been fired five weeks into the season) and a 1-5 slide entering the weekend would suggest, for a couple reasons:
1. Don't forget that Cheeks has received two contract extensions from the Sixers in less than a year, one in February (picking up his 2008-09 option) and another in September. That'll naturally prompt management to give Cheeks every chance to fix the Sixers' issues, especially after they spent big in the summer to sign Elton Brand and re-sign Andre Iguodala.
2. The source points out that there is no assistant on Cheeks' staff who ranks as a clear-cut choice for interim elevation, given that former Sixers head coach Jim Lynam briefly retired from the business in 2006 because of health issues and that Jeff Ruland only just returned to the NBA after spending the bulk of his coaching career at the college level. Chris Ford is another former Sixers head coach who is back in the organization, working in scouting, but there wouldn't appear to be an obvious caretaker to whom Philly can rush.
---

New York's
Al Harrington
recorded an obscure bit of NBA history last weekend when he rumbled for 36 points and 12 rebounds in a victory over Golden State, joining
Dominique Wilkins
as the only players ever to post a 35-and-10 performance against their previous employer in the same season in which they got traded.
Fine. Call it very obscure.
But I was going to mention it no matter what, because Nique did his damage -- 36 points and 10 boards -- in the first big game I got to cover as an NBA beat writer. I'll never forget going to the Omni, home to the second-greatest organ sounds ever heard in this league next to the magic we're still treated to at Madison Square Garden, to see Wilkins and the Los Angeles Clippers pull out a 97-84 triumph over Danny Manning's Hawks.
The Los Angeles Daily News handed me my dream of the Clipper beat about 10 days before the trading deadline in the 1993-94 season, just in time for the Hawks -- already on their way to securing the East's No. 1 seed in the first season after Michael Jordan's maiden retirement in Chicago -- to abruptly end the Nique Era so they could build around the more versatile Manning. It wound up as a surreal and unsuccessful half-season rental for both teams when the principals found new teams in free agency a few months later -- Manning to Phoenix, Wilkins to Boston -- but I simply couldn't resist this rewind.
Clippers at Hawks on March 25, 1994, was an all-timer here at Stein Line HQ.
Good News For Wolves Fans … Or Maybe Not

Timberwolves vice president of basketball operations Kevin McHale preferred
Randy Foye
over
Brandon Roy
in 2006.
He burned a No. 7 overall pick in 2007 on Corey Brewer, only for Brewer to struggle mightily as a rookie and then suffer the misfortune of a season-ending knee injury just last weekend.
The early returns, furthermore, on O.J. Mayo-for-Kevin Love (and Mike Miller) suggest that we're probably looking at another McHale special.
So this might not be the pick-me-up for Wolves that it would appear to be on paper.
We proceed nonetheless after we were reminded that there are nine first-round picks in the 2009 draft owed to someone else as part of a previous trade … with the Wolves stunningly in position to end up with the pick in four of those nine cases.
It must be pointed out that each of those nine picks comes with restrictions that require the season to play out before we know for sure who will be making the selections. Yet it's not inconceivable, as you'll see below, that McHale's Wolves will wind up with the rights to all four first-rounders in June.
• Boston to Minnesota (1-through-3 protection): This pick, as part of the Kevin Garnett deal, is definitely headed for Minnesota six months from now … unless you can foresee a scenario in which the Celts miss the playoffs and wind up with a top-three pick.
• Charlotte to Denver (1-through-14 protection): The Bobcats only surrender this pick if they make the playoffs.
• Houston to Sacramento (1-through-14 protection): Pick is Sacramento-bound as part of last summer's Ron Artest deal unless the Rockets miss the playoffs, which seems highly unlikely in spite of their annual injury panic.
• Memphis to Washington (1-through-16 protection): Count on the Griz to finish well shy of a playoff berth and thus retain this pick.
• Miami to Minnesota (1-through-10 protection): Thanks to an ultimately not-so-monumental deal that sent Ricky Davis and Mark Blount to South Beach for Antoine Walker and parts, Minnesota has a decent shot at this first-rounder if the Heat, under rookie coach Erik Spoelstra, continue to be a .500 team.
• Minnesota to L.A. Clippers (1-through-10 protection): The Wolves still owe a future first to the Clips as part of the disastrous Sam Cassell-for-Marko Jaric exchange, but they can delay it one more year as long as they finish in the top 10 of the lottery in May.
• New York to Utah via Phoenix (1-through-22 protection): The Jazz get this pick unconditionally in 2010 if it doesn't happen in the next draft.
• San Antonio to Oklahoma City (1-through-15 protection): The Thunder will almost certainly be taking this first-rounder from the Spurs as part of the deal that put Kurt Thomas in San Antonio in February.
• Utah to Minnesota via Philadelphia (1-through-22 protection): Here's another pick very likely to be Minnesota-bound unless the Jazz continue to be short-handed and lose more often than anyone expected.

Five questions with Suns guard Raja Bell:
Q: Can you give us your diagnosis on what's going on with this team?
A: I think right now there's just a bit of uncertainty around us and within our locker room. I think some of it's to be expected, but I think more is being made of it than needs to be, and that's by everyone else and ourselves. I think we've kind of bought into what everyone else is saying a little bit. As a team, we just need to buy back in and go ahead and forget about everything thing else.
Q: How easy is it to actually do that, though?
A: When we started off the season, we were playing well and finding ways to win. Whether we were the finished product under [new coach Terry Porter's] system or not, we were still playing well and finding ways to win, and we've gotten away from that.
Q: And now?
A: Right now, it's defense. We're just getting ripped apart. I really think it's a side effect of what's happening to us offensively and the uncertainty that's kind of crept into our locker room a little bit. … I think Terry is in the process of tweaking things and trying to figure out what he thinks is the best prescription for us to win now that he knows us a little better. I think he wants to push the tempo a little bit more and still do some of the things we're good at.
Q: When you mention "uncertainty," do you think guys are also starting to worry about roster changes because of the slow start?
A: No. I think it's just … we came out to play one way [at the start of the season] and it's kind of evolved to where we're going to try to run a little bit [again], so there's a little bit of uncertainty as far as what is going to be the final answer for us as far as the way we need to play to win. That's what I mean by uncertainty. I don't think that any of us are worried about changes or anything like that. We've had some losses, so we've lost a little bit of our swagger, and with that comes a little uncertainty.
Q: You know I have to ask you the obligatory question about the Suns' window closing, right?
A: Look. The window of opportunity in the NBA is always changing size because teams are shuffling rosters. You never really know. So right now we're a middle-of-the-pack team record-wise. But we feel like we're still better than that. Anything can happen if we find our chemistry and start believing in each other and string a few wins together. I don't get caught up in that window-open-or-closed stuff.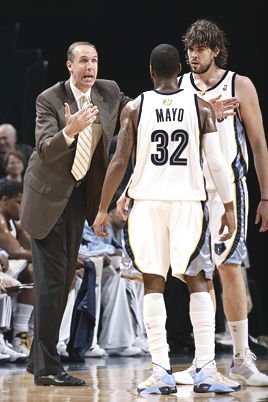 Joe Murphy/NBAE via Getty Images
Griz coach Marc Iavaroni shares a few thoughts with rookies O.J. Mayo and Marc Gasol. It remains to be seen, given three coach firings already, how much longer Iavaroni will have that privilege. (See Box 6.)

The mounting pressure on Grizzlies coach Marc Iavaroni was eased Friday night with a victory over the Clippers, with one plugged-in source saying that Iavaroni likely couldn't have survived a home loss to the Clips after a home loss to Oklahoma City last weekend.
Correction: The mounting pressure was eased only slightly.
Iavaroni and Sacramento's Reggie Theus are facing the most immediate threat in the wake of Sam Mitchell's dismissal in Toronto. Both of them heard plenty of firing-line speculation last season as rookie head coaches, too, but Iavaroni -- unlike Theus -- received less-than-lukewarm public support this week from his ridiculously young team.
Yet don't forget that the Grizzlies are trying to save money wherever they can. That fact has to help Iavaroni and also lends credence to the belief that the Griz will only agree to move the expiring contract of Antoine Walker -- whom Memphis refuses to play -- if they can shed the salary of, say, Marko Jaric or Greg Buckner along with Walker. The money factor is such that general manager Chris Wallace, sources say, faces a fight to keep minimum-salaried defensive specialist Quinton Ross on the roster at less than $800,000 … ... after Wallace battled just to get Ross on the team.
---
The capper to a dreadful visit to Dallas for the Phoenix Suns on Thursday night came from Terrell Owens … when T.O. volunteered to play for them.
But I'm pretty sure Suns president Steve Kerr resisted when Owens, sitting adjacent to the Phoenix bench throughout the Suns' 112-97 defeat, shouted out to Kerr to suggest that his shooting skills could help Phoenix get out of its funk.
---

This week's runner-up for Marc's Quote status was the Mavericks' bubbly eternal optimist, Jason Terry, who (almost) made you believe that the aforementioned Dallas-Phoenix tussle on TNT would be as big-time as any Suns-Mavs matchup of recent vintage … just as Terry earnestly and repeatedly insisted throughout Dallas' painful 2-7 start that the Mavs' current surge was inevitable.
Said Terry: "They say the window's shuttin' [on both teams]? They say [this matchup has] lost the luster? No, no, no, no, no. It's still there.
"You got Shaq, you got [Steve] Nash, you got [Amare] Stoudemire.
"Let me go back. You got Nash. [Dallas] traded me for him. Not directly, but that's basically what happened. So that's always there. Whenever we play them, I know Dirk [Nowitzki] sees his best friend on the other side, so that's always on my mind."

The Mavericks' recent 8-1 surge hasn't completely calmed the locals, who are increasingly concerned that it was a mistake to surrender Devin Harris in February's trade with the Nets which brought back Jason Kidd.
They also want to know how likely it is that the Mavs will try to Stephon Marbury should Steph ever manage to extricate himself from the Knicks.
So Marc Stein was summoned by Brian Estridge and ESPN.com colleague Matt Mosley to Galloway & Co. on ESPN Radio in Dallas (103.3 FM) to explain why Harris' gaudy numbers in the Nets' dribble-drive offense never would have happened had he stayed with the Mavs … and why the Mavs are highly likely to pass on Marbury in spite of the team's plans to give such a move strong consideration.
Galloway & Company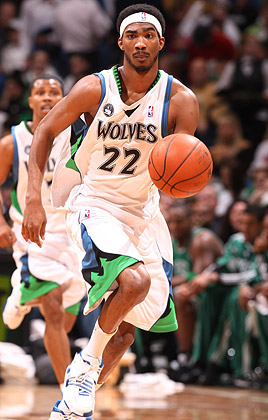 David Sherman/NBAE via Getty Images
Corey Brewer's season-ending knee injury, which he suffered Nov. 29, means more angst for Kevin McHale. (See Box 3.)

"I'm all right. I know what I came here for. I knew when I came here that I'd have some work to do.
"This is a total new team. I think that's a new situation for everyone. It'll get better."
Clippers guard Baron Davis, reflecting on a deflating eight-game stretch in which his new club -- employing 11 players who weren't there last season -- played five games decided by three points or fewer and lost four of them.
It's a run that dropped the Clips to 3-15 entering the weekend in the former UCLA star's homecoming.
Amid persistent skepticism around the league about coach Mike Dunleavy's willingness to let the Clips play with some semblance of the offensive freedom Davis had in Oakland under Don Nelson, Davis insists that (A) returning to his hometown doesn't make his current suffering even worse, and (B) he doesn't think it's unrealistic for the Clippers to reach .500 by All-Star Weekend.
In the short term, Chris Kaman's injury absence might actually help L.A. with the .500 part, since the frontcourt duo of Marcus Camby and newly acquired Zach Randolph seems to mesh better with Davis.
Randolph doesn't slow the offense down as much as Kaman can and rates as a better-than-expected freelancer, as we just saw in New York when the ground-bound lefty flourished under Mike D'Antoni. And Camby appears willing and able to cover up for Randolph's famed defensive deficiencies.
"There's no pressure," Davis said after a fall-from-ahead loss in Dallas in which the Clippers led throughout until the final 50 seconds. "A lot of people say it's pressure [coming home], but you know me well. I don't let pressure get the best of me.
"You have to be patient with our progress. It's a learning process for me, but at the same time I'm optimistic about where this team could be and the future of the franchise."
The Clippers, for the record, continue to insist that rumblings of a Kaman trade to Charlotte in a swap for Jason Richardson -- rumblings that haven't gone away -- are unfounded.

Matt (Champaign, IL):
So based on your responses so far, should it be
Devin Harris
(right) and
Derrick Rose
filling the PG spots for the East in the All-Star Game?
Marc Stein: Have to be honest: Questions like this are easy to screw up because I can pretty much guarantee that I'm going to forget a name or three when I'm typing at my usual blazing pace and trying to monitor the questions that are coming in at the same time.
Another issue: East and West coaches, remember, don't have to make their reserve choices based on strict designations of point guard and shooting guard. After the five starters are chosen by the fans, it's two guards, two forwards, one center and two wild cards in each conference … with coaches given the freedom by the league to be loose with positional interpretations to ensure that the most deserving seven reserves are chosen.
However …
After saying all that, there's no disputing that those two and Rondo rank as the three best PGs in the East right now.
Gordon (Cleveland, Ohio): Uh … aren't you forgetting Jose Calderon when you're talking about the top 3 PGs in the East?
Marc Stein:
See that? I LOVE Calderon and forgot him because of his recent injury woes. See? How many times last season was I accused of overhyping Calderon? See why these questions are killers?