AP Photo/AJ Mast
The hot shooting of Ray Allen helped the Celtics edge the Pacers for their 12th straight victory.

Nathaniel S. Butler/Getty Images
Chris Duhon had 25 points and nine assists for the Knicks, who raced out to a big early lead.
Allen Has Regained His Legendary Shooting Touch
The defending NBA champion Boston Celtics now own a league-best 20-2 record and a 12-game winning streak. With up-tempo and improved play from young point guard Rajon Rondo, Boston is making a push to put four players in the NBA All-Star Game. And the big Christmas showdown between the Celtics and Los Angeles Lakers is not far away.
Hidden in all grand Celtics talk right now is that Ray Allen has not only regained his old stellar shooting form, but has also been the champs' MVP so far. Allen scored a season-high 35 points, nailed seven 3-pointers and sank a key trey down the stretch during a 122-117 road overtime victory over the Indiana Pacers on Sunday night. Over the past five games, while playing with fellow stars Kevin Garnett and Paul Pierce, the now-healthy Allen has averaged 24.5 points, nailed 19-of-42 3-pointers and missed only one of 15 free throw attempts.
"Ray's just on fire," said Celtics coach Doc Rivers after the Indiana game. "He had a great game and a great overtime. He hit all the shots when we needed him to."
During all the big three hoopla during Boston's 2007-08 championship season, the one guy who got the least recognition was Allen. And statistically speaking, there was a good reason for that.
The eight-time All-Star was the third option from the season's start for the Celtics and seemed uncomfortable conforming to an offense where there weren't a lot of screens set for him. Rivers said time and time again that Allen was making the biggest sacrifice on the team. Once All-Star time came around, Garnett was the leading vote getter and an Eastern Conference starting forward, Pierce was selected as a reserve and Allen was added as a replacement.
There were flashes during the All-Star Game and the NBA Finals when Allen lived up to his reputation as one of the league's premier shooters. The 33-year-old, however, finished last season with his lowest scoring average (17.4) since 1998-99 (17.1 with Milwaukee), his 3-point shot was far from deadly, and some even thought he might be washed up when he struggled mightily against Cleveland in the postseason while being guarded primarily by Wally Szczerbiak.
Allen, however, kept it very quiet that he played that entire championship season on two bum ankles. He had ankle surgery on both to remove bone spurs prior to being dealt to Boston on draft night last year. While Allen had a strong rehabilitation routine that had him on the right track in Seattle, once the trade went down, his family moved from the Northeast to the Northwest, putting his ankle recovery on hiatus.
Despite eventually working out with Celtics trainer Ed Lacerte and a University of Connecticut physical therapist on his ankles, the former UConn star's surgeon recommended that he miss the entire preseason and not play in back-to-back games early last season in order for his ankles to heal properly. But with the allure of being a part of the big three and a potential title too strong, Allen opted to play with pain instead of sitting. Without healthy ankles, Allen did not get up as high on his jump shot and used a lot of arm strength instead of his trademark flick of the wrist on his release, and a lot of shots ended up hitting front rim.
With a first-ever championship ring now on his right hand, Allen has no regrets about not listening to his surgeon. But by the unstoppable way he is playing now, it's evident that his ankles are healthy and he is back playing like Jesus Shuttlesworth again.
"I'm just the recipient right now," said a modest Allen, who is averaging a team-best 19.1 points per game. "It definitely goes in cycles. Most importantly, I think my body is in a good place. Regardless of whether I score points or not, I like to keep my body in a good place and do whatever I can to help the team."
With their starting five and a majority of their players back, the Celtics are very experienced now. Rondo and Kendrick Perkins are having career-best seasons so far, while Tony Allen is soothing the pain of the loss of James Posey to New Orleans. But with a healthy Ray Allen quietly hot, the big three are truly the big three now, and today's Celtics are even better than last season.
Marc J. Spears is a regular contributor to ESPN and covers the NBA and the Boston Celtics for The Boston Globe.
Dimes Past: November 22-23 | 24 | 25 | 26 | 27 | 28-29 | December 1 | 2 | 3 | 4 | 5 | 6-7
Theus Caught Between Rock and Hard Place
By J.A. Adande | ESPN.com

December is quickly turning from opportunity to calamity for coach Reggie Theus and the Sacramento Kings. With eight of 13 games at home, it looked like the Kings could pick up a little momentum and provide some job security for Theus. But two games -- and two home losses -- into the month, the only thing the schedule has done is magnify everything that's going wrong in Sacramento.
The losses are getting worse and the crowds are getting smaller. What started as a matter of minute allotments and playing style is becoming a matter of economics. The Kings are next to last in the league in attendance, averaging 11,979 fans per game. Eight straight home losses haven't exactly provided incentive for the people of Sacramento to come out to see the team.
Owners Gavin and Joe Maloof want to see the younger players on the court to give the fans a sense of hope for the future. Any coach who needs wins is going to turn to his veterans. He can't afford on-the-job training if it means he'll be off the job himself.
"Contrary to what everybody thinks, they have not told me to play the young guys," Theus said. "They've not said, 'This season's a wash, play the young guys. Their attitude is, 'Reggie we have to develop. We've got to try to win and we have to develop our guys.'
"I get in a place in the game, where I say, 'Is there a reality, or is there a chance for us to come back from here?' Or do I just go, 'You know what, it's time for these guys to play.'"
The young group includes rookies Jason Thompson, Donte Greene and Bobby Brown.
One of the problems for Theus is that he hasn't had the option of playing the veterans even when he wanted to; Kevin Martin, the team's top scorer last season, has missed more than half the games with injury. Francisco Garcia has played in only four games.
Of course, other teams have injuries too, but that hasn't kept them from coming into Arco Arena and racking up wins. The Utah Jazz won without Carlos Boozer and Andrei Kirilenko on Dec. 2. Then Denver, minus Kenyon Martin, destroyed the Kings 118-85 on Saturday night in a dispiriting game that was over in the first quarter.
It's open season on coaches, with Eddie Jordan, P.J. Carlesimo and Sam Mitchell already getting whacked.
"Everybody's situation is different," said Theus, who is in the second year of a three-year, $6 million contract. "I know that I've done what I can do for this team. I know that I've coached them the right way. I know I've got young guys playing as well as guys in the league.
"We've been in a lot of games, we've been blown out a few times, but that's also a product of trying to play up-tempo. If you want to have defensive scores, we can take the air out of the ball and walk it up court.
"They asked me, 'Reggie, this is what we want to do. We want you to create a style of basketball that the fans like. We want you to keep the locker room together. And we want you to develop the young players.' We want to try to win every game ... but it gets lost in everybody's wish and everybody's want."
Lost has been the operative word ... as in the Kings have lost 16 of their 21 games. Some of it has nothing to do with coaching, such as when the Kings missed critical free throws down the stretch and Brad Miller picked up a technical foul in an overtime loss against New Jersey on Nov. 26.
The Maloofs will leave Theus' fate in Geoff Petrie's hands. That's not the best news for Theus, since his connection to their home state (he coached at New Mexico State) and their hangout (he's still big in Vegas from his UNLV playing days) made him more of a Maloof hire than a Petrie pick.
Meanwhile, the schedule isn't providing any more favors for Theus. Next up is a home game Tuesday ... against the Western Conference-leading Lakers.
Wanted In the East: 40 Victories Or More
By John Hollinger | ESPN.com
Excerpted from Hollinger's daily Insider Gems:
The playoff bar keeps getting lower in the East.
Today's Playoff Odds now show 40 wins as the threshold for attaining not just the East No. 8 seed, but the No. 7 seed, as well.
Meanwhile, the expectation for the last Western playoff spot is up to 44 wins, and realistically it probably should be higher than that -- the final two spots in the Playoff Odds' median projection go to Utah and San Antonio, and both injury-wracked teams should prove far stronger over the final three-quarters of the season than they've shown thus far.
This is important news for the East's bottom feeders, as it means they're still in the race. Even lowly Washington maintains an 8.1 percent chance of crashing the playoff party in the East, a sharp contrast to the virtually nil odds that face the bottom four teams out West.
All of which should make for a very interesting playoff chase for the East's final two spots ... even if the winners are most likely just sacrificial lambs for the mighty Cavs and Celtics.
• Read all five Insider Gems
By Maurice Brooks
ESPN.com

SUNDAY'S BEST
Ray Allen, Celtics
: Often overlooked because of Kevin Garnett and Paul Pierce, Allen showed the Pacers that he is an All-Star, too, scoring a season-high 35 points, including seven 3-pointers.
---

SUNDAY'S WORST
Milwaukee Bucks starters
: Not one of the starting five scored in double digits for Milwaukee, which got a combined 18 points from the lineup of Michael Redd, Richard Jefferson, Malik Allen, Luke Ridnour and Andrew Bogut.
---
QUOTE OF THE NIGHT
"We get a lot of money to come out here and perform to the highest of our ability, and there's no reason why you shouldn't come out and give that effort."
-- Detroit guard Allen Iverson after the Pistons lost by 12 in New York
Kwame Will No Longer Start
By Chris Sheridan
ESPN.com

NEW YORK -- Kwame Brown is out of a job.
Not unemployed, mind you, but out of the Detroit Pistons' starting lineup, and probably out of their rotation altogether, too.
Detroit coach Michael Curry delivered that news Sunday following another inexplicably lackluster effort (well, maybe there was an explanation, as many of Curry's players were out late Saturday night in Manhattan watching Oscar De la Hoya get beat up by Manny Pacquiao) as the Pistons fell behind by 29 in the second quarter and ultimately dropped a 104-92 decision to the New York Knicks.
Curry sounded as though he was leaning toward moving Rodney Stuckey into the starting five in the backcourt alongside Allen Iverson, shifting Richard Hamilton to small forward, Tayshaun Prince to the four spot and Rasheed Wallace to center.
With Antonio McDyess expected to be re-signed and back in uniform for Tuesday night's game at Washington, Brown will drop behind Amir Johnson and Jason Maxiell in the big-man rotation. He finished with zero points, two rebounds and two fouls in 10½ minutes of what was likely his last start for Detroit. (In 18 games, 12 of them starts, Brown has committed 42 fouls and scored only 73 points -- fewer than every Piston except Alex Acker and Walter Sharpe.
Curry also said he will find more minutes off the bench for Arron Afflalo and Walter Herrmann, signaling somewhat of a fundamental shift toward a small-ball lineup similar to what so many other NBA teams are using.
"I've got to make sure we're faster and getting off to better starts than we have," Curry said.
Sunday's loss dropped the Pistons to 0-5 on Sundays and made them 7-8 since they replaced Chauncey Billups in the lineup after the trade for Allen Iverson. Included in that 15-game span were impressive road victories over the Lakers and Spurs plus a home victory over Cleveland, although Detroit also had a 26-point home loss to Minnesota (also on a Sunday) and dropped its two most recent home games against Portland and Philadelphia.
Asked when it will be fair to pass judgment on whether the trade was a wise one, Curry said to wait another six months.
"In Detroit, we're all about the postseason. Judge us when this season is finished," Curry said.
Garnett Dominates the Pacers

Elias Sports Bureau
Kevin Garnett pulled down 20 rebounds in the Celtics' 122-117 overtime victory at Indiana. It was Garnett's first 20-rebound game since he recorded 20 boards in his debut with the Celtics on Nov. 2, 2007. The span of 90 games without a 20-rebound performance was Garnett's longest since 1997-99 (126 games).
• Greg Oden narrowly posted his seventh double-double in 14 games, scoring 10 points with 10 rebounds in the Trail Blazers' 98-97 win at Toronto. Oden has posted twice as many double-doubles as any other NBA rookie this season except the runner-up, Brook Lopez of the Nets, who has four.
Heading In Opposite Directions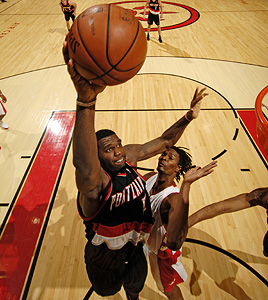 Ron Turenne/Getty Images
Greg Oden and the Trail Blazers have won six of their past seven games, while Chris Bosh's Raptors have dropped four in a row.