Harry How/Getty Images
Dwight Howard (23 points, 22 rebounds) heads for a jam against the Clippers' Zach Randolph.

AP Photo/Mark Weber
O.J. Mayo, Kyle Lowry and Marc Gasol cheer their Grizzlies on during a 109-97 win over Houston.

Layne Murdoch/Getty Images
Russell Westbrook and C.J. Watson await a referee's call in the Warriors' win over the Thunder.
Howard Shows He Has The Superhero (And Villain) Stuff

LOS ANGELES -- Every time Dwight Howard visits Staples Center he makes sure to look at the retired Lakers jerseys hanging high up on the southern wall. There are enough impressive names representing history to start an annex of the Basketball Hall of Fame, names like West, Baylor, Abdul-Jabbar and Johnson.
But Howard always zeroes in one jersey, No. 13. Wilt Chamberlain.
"I always wanted to meet him," Howard said. "I read his books. I'm a real big Wilt Chamberlain fan. He was bigger than life.
"Me and him, as far as on the court, the way we play the game, we've got some similarities: our size, our strength, our ability to dominate. He had all of that. I try to pattern my game after his."
On the NBA family tree, Howard isn't the direct offspring of Chamberlain, but he's in the lineage, a descendant of Shaquille O'Neal. But he's taking it to the next step, the natural evolution. The league didn't keep track of blocked shots during Chamberlain's prime, and O'Neal never led the league in rebounding. Howard currently leads the NBA in both categories.
His numbers are becoming more and more ridiculous. In Orlando's 95-88 victory over the Clippers on Monday, Howard had his third double double-double of the season (that's at least 20 points and 20 rebounds) and second in as many games, with 23 points and 22 rebounds. Oh yeah, he also had six blocked shots and four assists.
"I don't know how many more statements Dwight can make," Magic coach Stan Van Gundy said. "Another great game."
One sequence in the Magic's comeback victory showed just how easily Howard can take over a game in so many ways. First, he elevated to eye-at-the-rim level to throw down an alley-oop dunk. At the other end, he discouraged an Al Thornton layup, then collected the rebound. He ran down to the low post, caught the ball, backed down Marcus Camby, drew two more defenders and passed out to an open Keith Bogans for a 3-pointer.
Clippers power forward Zach Randolph, who spent more than his share of time guarding Howard, called him the "best center in the game."
That prompted a quick cough from Marcus Camby two lockers over.
"Second best," Randolph amended. "My partner over there."
"Oh no, that was just the deodorant," Camby said.
Camby really couldn't take offense to Randolph's statement. It's clear right now there's Howard, then everyone else.
"He's tough, physical, jumps high. He's strong. Just, everything ...
"And his offense is getting better, too."
Witness a spin-move, lefty-bank shot Howard unleashed on Randolph in the first half. It almost wasn't fair.
Howard also inherited O'Neal's sense of humor, which might make him the most important player in the league. Someone needs to lighten the mood in the NBA the way O'Neal did almost single-handedly for more than a decade. O'Neal might have passed the torch to Howard in their legendary dance-off during All-Star Weekend in New Orleans last season. Now Howard has taken the torch and is flying around the stadium like that guy in the Opening Ceremonies of the Beijing Games.
He took over All-Star Weekend in Las Vegas two seasons ago by winning the dunk contest with his Superman slam. If nothing else, it set the stage for this raucous debate on NBA TV about whether Howard or O'Neal had the right to claim the Superman moniker. (The verdict: Shaq.)
Even though Howard did don the cape at the dunk contest, and does make references to Kryptonite and drinking "Superman juice," and his agent is having discussions with DC Comics about some type of tie-in, he claims he never officially gave himself the title.
"It was given to me, first by my teammates," Howard said. "I never ordained myself 'Superman.' I'm sorry, Shaq."
It's not as if Howard doesn't have plenty of other characters he can adopt.
He does a range of imitations, from his preacher father to Stan Van Gundy to Rasputia from "Norbit." But my favorite is Sho'nuff, the Shogun of Harlem, from the 1980s classic "The Last Dragon." Howard showed up for a team flight in full Sho'nuff attire earlier this season, and he did his Sho'nuff impersonation on demand Monday night.
He's very accommodating. He tried to satisfy both the media and the fans simultaneously before the game, agreeing to an interview while signing autographs and posing for pictures.
It's as if he's running for office. He might not have bought out chunks of network prime time the way our president-elect did, but you'll be seeing a lot more of Howard in the coming months. Howard came to Los Angeles early to shoot a McDonald's commercial. He'll be in T-Mobile ads with Charles Barkley and Dwyane Wade that begin airing next week.
And he'll be your starting center for the Eastern Conference in the All-Star Game in February.
The new face of the league rests atop his broad shoulders, the legacy of Wilt Chamberlain is secure in his hands.
J.A. Adande joined ESPN.com as an NBA columnist in August 2007 after 10 years with the Los Angeles Times. Click here to e-mail J.A.
Dimes Past: November 25 | 26 | 27 | 28-29 | December 1 | 2 | 3 | 4 | 5 | 6-7 | 8
Waiting On The Thunder: The Road To 7-75
By ESPN.com

Jamal Crawford got his first win in a Warriors uniform during Monday's 112-102 win over Oklahoma City. The Warriors' nine-game losing streak started the night of the Crawford trade, a move that soon shipped Anthony Morrow to the bench ... the same guy who was the leading scorer in their last two wins before the long-awaited win in Oklahoma.
The Thunder (2-20) are currently on pace to win seven games, which would surpass the worst record of all-time. Might not be quite time for the 1972-73 Sixers to put the champagne on ice, but maybe a ice bucket would make a thoughtful Christmas present.
Oden's Board Scores Strong
By John Hollinger | ESPN.com

Excerpted from Hollinger's daily Insider Gems:
Greg Oden hasn't been the low-post presence that some envisioned. In fact, he's been turnover-prone and is making fewer than half his shots. He hasn't always been a defensive force, either, as teams have been able to take advantage of him in transition at times, most notably Boston on Friday night.
But rebound? Yes, he can do that.
Oden's 22.2 rebound rate leads the entire NBA, beating even Orlando man-child Dwight Howard's. On the defensive glass, Oden's rate is a monstrous 31.0, bested only by that of the Clippers' Marcus Camby and one other player.
That other player is Oden's teammate in the middle, Joel Przybilla, whose overall rebound rate is just behind Oden's and Howard's at 21.2.
And so we have quite an event in the Rose Garden on Tuesday night when the Magic play the Blazers -- the league's three best rebounders, on a per-shot basis, will be in the building battling for caroms.
Whomever comes out on top in that war is likely to see his team prevail in a battle among two of the best teams in the league's "Other 27" -- my new name for teams not named the Lakers, Celtics and Cavs.
• Read all five Insider Gems
By Andrew Ayres
ESPN.com

MONDAY'S BEST
Dwyane Wade, Heat
: Finished with 41 points and eight rebounds in a 100-96 win over Charlotte. With a four-game win streak, it's possible Miami can set its clock-radio for an eighth straight win on Dec. 19 against the visiting Lakers.
---

MONDAY'S WORST
Luther Head, Rockets
: Might be too much to expect the T-Mac fill-in to repeat his 21-point night against the Spurs on Nov. 29. Misses seven of eight shots, and all four 3-point attempts, in the 109-97 loss to Memphis.
---
QUOTE OF THE NIGHT
"We didn't win the world championship but it sure felt like it."
-- Warriors coach Don Nelson after his team snapped a nine-game losing streak with a 112-102 win over Oklahoma City.
By ESPN Research

While the Celtics heat up with a 12-game win streak and the Warriors snapped a nine-game skid, there's also some individuals who are in extreme conditions. Devin Harris (right) of New Jersey has been scoring like Dwyane Wade.
Who's Hot ...

Name
G
PPG
RPG
APG
FG %
D. Harris, NJ
5
28.4
3.6
5.8
56.3
David Lee, NY
5
19.8
15.8
2.0
58.8
JJ Barea, DAL
3
18.3
2.0
4.7
51.2
Who's Not ...

Name
G
PPG
RPG
APG
FG %
L. Odom, LAL
5
4.8
4.6
2.6
35.0
J. Kidd, DAL
3
2.0
5.7
8.0
13.3
N. Batum, POR
5
2.0
2.6
1.6
23.5

Suns forward Grant Hill tells ESPN Radio's Colin Cowherd about the differences between playing for coaches Terry Porter and Mike D'Antoni. Hill said he believes the guys on the roster can make an impact in the Western Conference.
The Herd With Colin Cowherd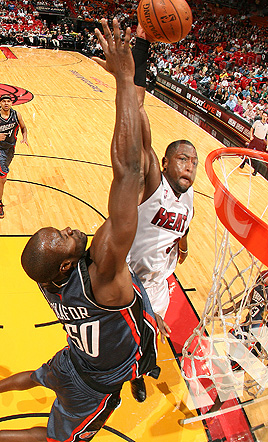 Victor Baldizon/Getty Images
With the Heat down by two and 4:10 left, Dwyane Wade snared a defensive rebound and headed upcourt. He split two defenders near the top of the key and drove the lane for a thundering dunk over Charlotte's Emeka Okafor. Miami eventually wins by four.