Ned Dishman/Getty Images
Ray Allen scored 22 points to help the Celtics top the Wizards, extending their win streak to 13 games.

Glenn James/Getty Images
Dirk Nowitzki and the Mavericks stayed hot, edging the Bobcats for their 10th victory in 12 games.
Historic Night For the Defending Champion

The Celtics' 122-88 thumping of the Wizards on Thursday added another historic notch to Boston's 2008-09 campaign. With 21 wins in their first 23 games, the Celtics eclipsed their franchise record for the best start to a season. Six more wins against New Orleans, Utah, Atlanta, Chicago, the Knicks and Philadelphia -- five of them at home -- and they'll stand alone atop history, besting the 1969-70 Knicks and the 1966-67 Sixers, who each started 26-2. The 13-game win streak is Boston's longest since winning 14 straight late in the 1985-86 season.
Of course, the Celtics are no strangers to rarified air. Head coach Doc Rivers told the Boston Globe that a stellar finish is far more important to the team than a jackrabbit start. Championships have a way of trivializing the novel, and nothing accomplished in autumn for the title-holders can offer any measure of fulfillment.
Thursday night, the Celtics shot a blistering 55.7 percent and generated 31 assists off their 44 made shots. After Kevin Garnett hit Kendrick Perkins on a perfect backdoor cut with 2:54 left in the first, the Wizards never sniffed single digits. Boston managed to rest four of its five starters for the entire fourth quarter. Ray Allen settled matters early, beating his defenders off screens to drain four shots from beyond the arc in the first quarter. He finished with 22 points. Paul Pierce wasn't graceful but still tormented the Wizards' defense, earning six trips to the line [off fouls committed by six different Wizards] to also finish with 22 points.
What's made the Celtics so devastating this season is their ability to vary their offense so effortlessly. The Celtics beat opponents with a kick-and-drive scheme initiated by Rajon Rondo. But they're just as apt to come down with a lot of fluid ball motion. At times, they employ an almost Sloan-like flex offense. Everyone in the starting lineup understands how to use space, even the hulking Perkins, who can navigate the baseline and fill a vacant spot underneath as well as any big man. All these offensive principles were at work last season. Even though opponents have since learned the Celtics' playbook, they're still powerless because Boston's execution is so precise.
Perhaps Washington isn't the best measuring stick to gauge the C's force. The Wizards were unable to build on a solid home win over Detroit on Tuesday night and dropped to 4-16 on the season. Caron Butler and Antawn Jamison, who picked up the slack last season during Gilbert Arenas' absence, appeared worn down, though they combined for 36 points. The Wizards were slow to the ball all night. The team gave up 12 offensive boards, but collected only 20 defensive rebounds -- an atrocious ratio.
Help arrived for Washington's thin backcourt on Wednesday, when the Wizards acquired Memphis castaways Mike James and Javaris Crittenton. Both saw action ... in a manner of speaking. James went 0-for-6 from the field in 11 minutes, while Crittenton committed four turnovers in six minutes without a point, rebound, or assist.
Kevin Arnovitz is an NBA editor for ESPN.com.
Dimes past: Nov. 26 | 27 | 28-29 | Dec. 1 | 2 | 3 | 4 | 5 | 6-7 | 8 | 9 | 10 | 11

Jeff (Miami):
Is Miami a lock to make the playoffs or do we need to make a move?
John Hollinger: Not a lock at all -- virtually everyone in the East projects to win between 35 and 44 games, so luck (both with injuries and buzzer-beaters) is going to be a huge factor. Miami will be active in trade talks certainly, with Shawn Marion and Udonis Haslem as the likely bait.
Ray Allen: Will I be a snub this year? Or will I make it into the All-Star Game?
John Hollinger: I suspect Allen will just slip in, and based on the first 22 games I believe he deserves to be there. Though I should point out that Allen has as many questionable All-Star selections as any player in history, with his laughable inclusion ahead of Chris Paul in 2006 heading the list, so perhaps this will be the year for karmic retribution.
Charlie (San Diego): Is Luke Ridnour blackmailing Scott Skiles with some shameful secret that allows him to play so many minutes over Ramon Sessions? Are we missing something that Ridnour does better?
John Hollinger: I've been wondering the same thing since training camp, and I'm no closer to an answer than you are.
• To read the entire Hollinger chat, click here.
Daniels A Good Fit For Hornets
By John Hollinger | ESPN.com

Excerpted from Hollinger's daily Insider Gems:
New Orleans has to be feeling like it got something for nothing. Wednesday's trade of Mike James for Antonio Daniels went under the radar, given the bigger deal made by Phoenix, but it's really going to help the Hornets. Backup point guard had been an open sore for them all season, and in one swoop, they addressed it with a productive veteran who might benefit from the reduced minutes he'll have to play in New Orleans.
The Wizards lose on this part of the deal. James had a player efficiency rating of 8.75 in 2007-08 and is at 6.14 this season, and he is among the worst defenders at his position. Meanwhile, Daniels registered 13.65 last season and is at 11.19 this season, with a caveat to the latter figure being his recent track record of slow starts and strong finishes. The trade was cap-neutral, with each player at $6 million and expiring next season, so it's really a free upgrade for the Hornets.
• The other half of this deal is a bit more sensible. Javaris Crittenton was never going to play in Memphis, so dealing him for a conditional first-round pick seems reasonable, given that he was a mid-first-round pick to begin with. Cost-conscious Memphis also was able to cut a salary, and that might enable the Grizzlies to keep defensive ace Quinton Ross the remainder of the season.
Crittenton will get his chance in Washington; until Gilbert Arenas returns, it's pretty much Crittenton and Juan Dixon at point for the Wizards. DeShawn Stevenson might also steal some minutes, but if Crittenton plays well, he has a chance to carve out a major role. And if not? It didn't cost the Wiz much anyway.
By the way, the Wizards had to do this as a three-way deal to fit it all under the cap. Which then helps you understand why they agreed to trade Daniels for James. Washington likely didn't move on that part of the deal until getting the Crittenton terms set up and realizing a swap of large, equal salaries with a third team was necessary to get the deal done; with Washington mired at the bottom of the East, the potential value of obtaining Crittenton far outweighed the short-term downgrade in veteran point guards.
• Read all five Insider Gems
By Maurice Brooks
ESPN.com

THURSDAY'S BEST
Dirk Nowitzki, Mavs
: In a game that was a lot tighter than expected, Nowitzki was the difference, tallying 23 points, 13 rebounds and five assists, and hitting a big three with less than 30 seconds remaining in the Mavs' 95-90 win over the Bobcats.
---

THURSDAY'S WORST
DeShawn Stevenson, Wizards
: It is hard for a team to win a game when its starting shooting guard misses every shot he takes (0-for-4), doesn't score a point and turns the ball over four times in 22 minutes of action.
---
QUOTE OF THE NIGHT
"I've been a big fan of history. To establish ourselves in that history that's so enriched with culture and prestige and tradition is a great thing."
-- Celtics forward Kevin Garnett after Boston defeated Washington for its franchise-best 21st win in 23 games
Here Today, Gone Tomorrow

ESPN.com's Chris Sheridan talks about the latest trades and all of the coaching changes that have happened and the ones that are still to come.
NBA Today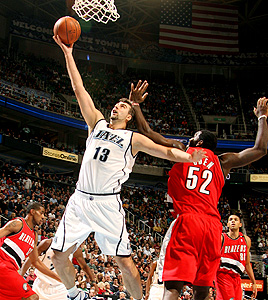 Melissa Majchrzak/Getty Images
Mehmet Okur made sure the Jazz jumped out to a quick lead against the Blazers, popping in 21 of his 27 points before intermission. He added 10 rebounds as the Jazz handed their division rivals a nine-point loss.
Millsap Cleaning the Glass
By Elias Sports Bureau

Paul Millsap extended his streak of games with 10 or more rebounds to 10 on Thursday. That's the longest such streak for any Jazz player since Karl Malone had a 16-game streak in 1992.
Jason Terry came off the bench to lead the Mavericks with 26 points in their win over the Bobcats. It's the ninth time this season that Terry has scored at least 20 points as a substitute; the only other player with more than three such games is the Bucks' Ramon Sessions (with five).