Steve Babineau/NBAE/Getty Images
Rajon Rondo got free for a career-best 25 points, including 12 in the final 5:20, for the Celtics.

Barry Gossage/NBAE/Getty Images
The Suns' Shaquille O'Neal had 23 points, shooting 11-for-18 from the foul line, and 12 rebounds.
Rondo Proves C's More Than Just Big Three

BOSTON -- The Big Three? Might want to make it the Fantastic Four.
As the Celtics scuffled past Utah 100-91 for their 15th straight win, it was unquestionably Rajon Rondo who was the difference -- for good and bad. He spent the first and fourth quarters winning the game for the Celtics and much of the middle two stanzas giving it to Utah. At times it seemed he would get the league's first ever quintuple-double -- in points, rebounds, assists, turnovers and missed layups.
In the end, he finished with 25 points, nine boards, eight assists, six turnovers and three steals, while the Celtics tied a league record for the best 25-game start at 23-2. With four more victories, they'll set a new record for the most wins with only two losses to start a season.
And these are related points: Boston's great start is a direct result of Rondo's ascension to stardom, providing another major contributor at both ends and taking some of the strain off Kevin Garnett, Ray Allen and Paul Pierce.
In fact, it was Rondo, not any of the Big Three, who was Boston's go-to guy down the stretch Monday night. With the Celtics clinging to a four-point lead with 3:22 left, the Celtics turned to side pick-and-roll plays for Rondo, and he created points four times in five trips -- zooming to the basket for two layups, drawing a foul on another drive, and setting up two free throws by Kendrick Perkins on another.
The clincher came on a spinning reverse layup with 43.6 seconds left with so much English that it left Celtics coach Doc Rivers comparing him to Minnesota Fats.
"[Paul Pierce] told me never to play that man in H-O-R-S-E," teammate Kevin Garnett said, "and I had to learn the hard way. He's real good at using the backboard, really good with the English."
This is the good Rondo -- the Rondo who dominated Game 6 of the Finals against the Lakers, and the one who will be instrumental in Boston's effort to repeat.
Alas, he has a dark side. All the good requires living with the bad, especially since the 22-year-old Rondo is still learning the ropes. We saw it in Saturday's 94-82 win over New Orleans, when a strangely passive Rondo sat most of the fourth quarter while Eddie House played, and we saw it Monday night during a plague of turnovers that wasted a 12-point first-quarter lead. His six miscues and multiple misses from short range were the Hyde to his Jekyll -- on occasion he's as capable of beating the Celtics as he is of beating their opponents.
It's no surprise, then, that in Boston's two losses, Rondo has been the most ineffective Celtic. He had two points on 1-of-4 shooting in a 95-79 loss to Indiana, and two points on 1-of-8 shooting in a 94-85 loss to Denver. It bears noting that he had a total of just one turnover in those two games -- he's one of the rare players who seems to be a lot better when he's taking chances and, sometimes, screwing up.
Fortunately for Boston, the good has massively outweighed the bad on most nights. On the season, his player efficiency rating ranks second on the Celtics and is pushing Garnett's for the top spot; and even with Monday night's mistakes, he was good enough to prompt Pierce to endorse him for the All-Star team.
Perhaps that explains why the Celtics seem perfectly happy with the trade-off ... just as long as he's attacking.
"Against New Orleans," Rivers said, "he walked the ball up the floor, he played at a medium pace, and that allowed them to stop him. Tonight, we just told him, 'Every single time we get a rebound, we want you at full speed up the floor,' and he did that. And I thought his speed, especially early and then in the third quarter, was the difference."
"Rondo puts pressure on you defensively with his ability to push the ball up the floor," Jazz coach Jerry Sloan said. "They caught us a lot of times napping, and he would push it and get an easy basket."
The attacking mentality applies off the ball, as well. Rivers was pleased that when Utah doubled off Rondo -- a common tactic for Boston opponents -- he made hard cuts toward the basket instead of hanging out on the weak side. Often that resulted in a pass from Pierce or Garnett to Rondo near the basket, who would then find a teammate for a score or a foul.
About the only negative for Boston was a knee injury suffered by Pierce with 31 seconds left. The Celtics forward went down when Utah's Mehmet Okur crashed into him under the basket, and he stayed on the floor for several seconds during a timeout.
Eventually he limped off with the help of two teammates -- no, we didn't see any wheelchairs -- and afterward he said he could put weight on it and thought he'd play Wednesday in Atlanta. In fact, he felt good enough to take pictures in the locker room with Olympian Michael Phelps (who was there with Jared from Subway) after the game. Rivers also said trainer Eddie Lacerte told him he thought Pierce would be OK, but they would do more tests Tuesday.
He'll be needed for Boston to continue its streak. The Celtics are on a three-game losing streak in Atlanta's Philips Arena -- where they lost Games 3, 4 and 6 in the first round of the 2008 playoffs -- while a Christmas date with the Lakers looms just nine days out. Two nights before that, hosting the 76ers, the Celts might have the opportunity to be the first NBA team to start 27-2.
But they'll also need Rondo to win those games -- the aggressive, attacking Rondo. And if that player shows up every night, it will be time to retire the Big Three moniker in Beantown.
John Hollinger writes for ESPN Insider. To e-mail him, click here.
Dimes past: Nov. 29-30 | Dec. 1 | 2 | 3 | 4 | 5 | 6-7 | 8 | 9 | 10 | 11 | 12 | 13-14 | 15
Warm Welcome For D'Antoni In Return To Phoenix
By Marc Stein | ESPN.com

PHOENIX -- The noise was definitely rising, louder than a Phoenix crowd had cheered for Mike D'Antoni in a very long time, when the arena lights and the big screen overhead were suddenly switched off.
Who knows how loud it would have gotten if the darkness that signals the start of introductions for the home team, D'Antoni's old team, didn't snuff out a standing ovation warmer than the former coach of the Suns ever imagined?
The warmth clearly surprised and moved D'Antoni, who made sure to keep his expectations modest Monday evening when he returned to the scene of one of the more emotional, awkward breakups of recent NBA vintage. He certainly dreamed of the comeback win that his New York Knicks nearly pulled off, but D'Antoni otherwise came in guarded, comparing this difficult night to Christmas morning.
A bittersweet Christmas morning.
"A lot of times you're disappointed," D'Antoni cautioned beforehand. "You don't always get what you want."
This, though, really wasn't one of those times. The Knicks' horrific 3-point shooting (5-for-37 is no misprint) and a couple of late daggers he absorbed from his all-time favorite player, Steve Nash, prevented D'Antoni from making a triumphant return, with the Suns doing just enough to secure an unconvincing 111-103 victory. Yet it was hard to see this as anything other than D'Antoni's night, given how much difficulty Phoenix has found moving on from the relationship and, of course, how the fans reacted.
"I was proud to be a Suns player and a Phoenician to hear the response Mike got," Nash said. "I thought it was a classy response after a little bit of controversy in his exit. People really needed to brush that aside and really look at what he contributed to this city and franchise and how much fun we've had over the last four years."
• To read the full Stein column, click here
Kings' Natt Gets Off To A Good Start
Elias Sports Bureau

Sacramento fired Reggie Theus on Monday, replacing him with Kenny Natt. The Kings are the sixth team to make a coaching change this season. In only five other seasons were there as many as six teams that changed head coaches, most recently in 2004-05, when an NBA-record nine teams employed more than one head coach.
• Sacramento beat Minnesota 118-103 on Monday night in Natt's debut as the Kings' head coach. Natt is the third in-season replacement this year to win his first game by at least 15 points. The others were Ed Tapscott (Washington) and Tony DiLeo (Philadelphia).
• The Nets outscored the Raptors 31-17 in the fourth quarter and won Monday night's game 94-87. Devin Harris scored 16 of his 20 points in that final period. It's the sixth time in his 20 games this season that Harris has scored at least 15 points in one quarter. Coming into this season, Harris had scored 15 or more points in one quarter only once in 276 career games.
By Maurice Brooks
ESPN.com

MONDAY'S BEST
Danny Granger, Pacers
: The first thing that comes to mind when you think of Granger is his scoring, but he showed his all-around skills against the Wizards, adding five steals, five assists and nine rebounds to his 27 points as Indiana stopped its six-game skid.
---

MONDAY'S WORST
Atlanta Hawks bench
: The Hawks were able to defeat the Bobcats
despite
getting only eight points (3-for-17 shooting from the field) and one assist from their reserves.
---
QUOTE OF THE NIGHT
"We can't put it all on Dwyane. Someone's got to pick their game up somewhere."
-- Heat forward Udonis Haslem after Dwyane Wade struggled for the third straight game (all Miami losses)
By Henry Abbott
ESPN.com

In talking about Kevin Garnett's trash talking, there has been a curious little parallel in my own life.
It goes like this: I'm really not a trash-talker. I am no wallflower, but in general, I'm hoping everyone on the court has a good time, and don't really want to humiliate anyone.
• Read the full TrueHoop blog entry
Yi Over Bosh, Pierce? No Way
By John Hollinger
ESPN.com

All-Star balloting results came out this week and they show the Nets' Yi Jianlian in third place among Eastern Conference forwards, just behind LeBron James and Kevin Garnett and ahead of Chris Bosh and Paul Pierce. This is something of an embarrassment for the league and its encouragement of international voting over the Internet, because Yi clearly doesn't belong in an All-Star Game -- he's averaging 11 points and six rebounds.
I'm sure the league will spin it positive and say, "Look, it's working -- the two best players are leading the vote." I take the opposite viewpoint: It demonstrates that someday soon the international vote will put a player in the All-Star Game who has absolutely, positively no business being there. We're not talking about marginal choices like we've seen from other fan votes in recent years, we're talking about a player you wouldn't consider even if they doubled the roster size. The fact Yi even has a chance of making it threatens to make a mockery of the entire fan-voting process.
• Read all five Hollinger Insider Gems
Playing His Role To Perfection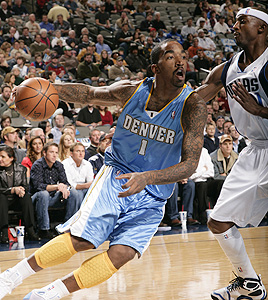 Glenn James/Getty Images
J.R. Smith came off the bench to drop in a team-high 25 points in just 24 minutes of action for the Nuggets, who stopped Dallas for their seventh victory in eight games.

Keith Lipscomb breaks down the trade between the Suns and Bobcats, and talks about some of the injury situations around the league.
NBA Today