Sam Forencich/Getty Images
Brandon Roy scored 52 points, including a tie-breaking 3-pointer with a little over a minute to go.

Fernando Medina/Getty Images
Tim Duncan had a slight edge in the individual battle, but Dwight Howard's Magic earned the victory.
There Is Something Special About No. 7

It's just 7 days 'til Christmas, 7 weeks into the season ...
So let's roll some 7s.
Best No. 7
Brandon Roy.
Excuse me, after Thursday's incredible 52-point performance, that's ... Brandon Roy!!!!!!!
Best No. 7 Pick
Brandon Roy.
Actually, Roy was the No. 6 pick in 2006, but Minnesota immediately traded him to Portland for the No. 7 pick (Randy Foye). That was Boston's No. 7 pick, which the Celtics traded to Portland for Sebastian Telfair, who's now with Minnesota.
You think Danny Ainge and Kevin McHale might have lost some sleep over those fiascos?
Magnificent 7 so far this season ... and how they relate to LeBron James
1. LeBron ... 'nuf said.
2. Chris Paul ... playing even more minutes than LeBron, if you can believe it.
3. Dwyane Wade ... now feeling the weight LeBron's carried all these years.
4. Dwight Howard ... he can tell his grandkids about all the MVP awards LeBron won.
5. Tim Duncan ... remember the '07 Finals?
6. Kobe Bryant ... the MVP is still the best in the game for many, especially the KB24 cult.
7. Brandon Roy ... forget LeBron, how 'bout Thursday night's scintillating 52 pickup?
Lucky 7 ... as in, fortunate to be drawing an NBA paycheck
1. Ricky Davis, Clippers: He has the league's worst PER, and he's played only 277 minutes because of a knee injury, which reminds us of the old joke about a neighborhood's worst restaurant: "The food there is terrible, and the portions are so small!"
2. J.J. Redick, Magic: Gunner got a chance to play and proved he couldn't, with a 35.7 field goal percentage.
3. Brian Scalabrine, Celtics: Has Michael Jordan's brain type and Bill Parcells' body type ... a five-year, $15 million contract ... and, yes, a championship ring.
4. Kwame Brown, Pistons: The former No. 1 pick has regressed more than Brad Pitt in that new "Benjamin Button" movie.
5. Mark Madsen, Wolves: Players all over the world are wondering, "Why him and not me?"
6. Goran Dragic, Suns: The search for Steve Nash's understudy continues.
7. Mike James, Wizards: When a point guard changes teams nine times in eight seasons ...
Super 7
Check these guys out: Tony Parker (55-7-10), Amare Stoudemire (49-11-6-5-2), Devin Harris (47-7-8), Chris Paul (29-10-16-3-1), Vince Carter (39-9-6, game-winning dunk), Dwight Howard (32-21-3-4) and Brandon Roy (52-5-6).
That's 7 almost perfect games, and 7 Ws.
7 Seconds
That's about how long it took for Phoenix fans to freak out when new coach Terry Porter slowed down the Suns' patented ":07 Seconds or Less" attack. Then Suns management said, "Never mind!" and traded for 3-point marksman Jason Richardson, while Porter put the game back into the hands of Steve Nash with the hope of speeding up the Suns again.
7 Samurai
Like the seven mercenaries defending the village in "Seven Samurai," Mike D'Antoni and his seven-man, rag-tag rotation have made an inspired effort to restore dignity in New York.
7 Feet High and Rising
Orlando's Superman II is flying head and shoulders above the crowd as the best 7-footer in the game, especially since Tim Duncan and Kevin Garnett insist they are only 6-11.
7 Revisited
The best rematch of a 7-game series has been Boston-Atlanta, hands down. Whether you prefer the early-season excitement of Paul Pierce's buzzer-beater or the playoff intensity of Wednesday's defensive struggle, the Hawks and Celtics have given us their greatest battles since 'Nique and Larry wore short shorts.
7 Rematch
The greatest 7-game series in the making isn't Celtics-Lakers, but Cavs-Celtics (again). At the moment, those two teams are leading both Marc Stein's and John Hollinger's Power Rankings. Ready for another LBJ-PP34 duel? Yeah, thought so.
Scary 7
That's the Jazz. Utah is No. 7 in both the West standings and the projected standings. If the Jazz don't rise up the charts as they return to health, they'll make some No. 2-seed (New Orleans or Denver, perhaps) very nervous about a potential first-round oust.
7 Pounds (Or So)
Aaron Brooks, Houston's Pocket Rocket, is the NBA's flyweight (as well as Houston's best PG) now that Earl Boykins has taken his 133-pound frame to the Italian League. Brooks, weighing in at 161 pounds, is less than half Shaq's size. Of the NBA's top five wee ones, the rest are T.J. Ford (165), Juan Dixon (165), Mike Taylor (165) and Brevin Knight (166). (Thanks to Mark Simon, ESPN Research.)
No. 7 To Go
Six coaches down ... who's next? While no coach appears to have a foot out the door yet, we'll nominate Philly's interim coach Tony DiLeo, because A) he is really an assistant GM and B) his team has deep pockets and deep concerns about meeting high expectations.
7 Wonders
I wonder ...
... how much Joe Dumars regrets trading Chauncey Billups.
... if NBA players know the Mohawk (and fauxhawk) comes from Native American culture.
... whether the Nets really will move to Brooklyn.
... if the ultimate winner, Michael Jordan, will ever win a playoff game as an executive.
... whether Greg Oden can live up to the oversized expectations we have for him.
... if Seattle will get another team.
... whether Chris Paul can surpass Magic Johnson as the greatest point guard ever.

7-Year Itch
Michael Jordan won a title in his 7th season. LeBron, whose 7th season is next year, is hungry to match MJ in every way. So when we talk about LeBron leaving Cleveland after Year 7, let's not forget his recent statement that he's looking to sign where he can win multiple titles (preferably 7 rings, one more than Michael). And that could be Cleveland.
7th Man of the Year
Paul Millsap.
Best Year for a Former No. 7 Who Was Also a No. 7 Pick
Former Phoenix point guard Kevin Johnson, who was drafted No. 7 by the Cavs in '87 and wore No. 7 for the Suns, was elected mayor of Sacramento on Nov. 4.
7th Life
Cornershop's "When I Was Born for the 7th Time," one of the best albums of '97, has new life thanks to "Candyman," the tune from LeBron's "Chalk" commercial ... which also features a cameo by ESPN contributor Lil Wayne.
7 Degrees of Kevin Bacon
How Kevin Love is connected to Kevin Bacon: One of Love's teammates is Sebastian Telfair (Minnesota, '08-09), teammate of Darius Miles (Portland, '05-06), teammate of Cherokee Parks (L.A. Clippers, '00-01), teammate of Dennis Scott (Vancouver, '99-00), teammate of Penny Hardaway and Shaquille O'Neal (Orlando, '94-95). Well before their falling out, Penny and Shaq became fast friends on the set of the the 1994 movie "Blue Chips," which also featured Alfre Woodard, who was in the 2005 movie "Beauty Shop" with Kevin Bacon.
Most Pointless, Preposterous 7-Player Involving Stephon Marbury
Pretty much every trade involving Stephon Marbury would be pointless, since practically no one wants Marbury and the Knicks don't want to take back long-term contracts, but you can click here to see one that reshuffles some of the greatest deadweight contracts in the NBA. (What, you don't think a Marbury acquisition would go over well in Indiana?)
Royce Webb is an NBA editor for ESPN.com.
Dimes past: Dec. 1 | 2 | 3 | 4 | 5 | 6-7 | 8 | 9 | 10 | 11 | 12 | 13-14 | 15 | 16 | 17 | 18
By Mark Simon | ESPN Research

Hornets guard Chris Paul broke Alvin Robertson's NBA record for most consecutive games with a steal on Wednesday night.
But isn't it harder, and a better example for today's kids, to resist temptation and not steal from others?
The NBA record for consecutive games without a steal, as the Elias Sports Bureau has informed us, is held by Denver Nuggets TV analyst Scott Hastings, who played 65 straight theft-free games from 1989 to 1992. Coincidentally, Hastings was a college teammate of Robertson at Arkansas, and was quite proud to hear that he boasted this dubious distinction.
Hastings lasted 11 seasons in the NBA, mostly as a backup or late-game insertion. He averaged 2.8 points (and 0.3 steals) per game. His steal streak encompassed just over 250 minutes of playing time (the equivalent of a little more than five full games).
"Back in my playing days, I was always mentioned in the same sentence with Larry Bird, Michael Jordan and Magic Johnson," Hastings said, readying a joke he told once during an appearance with David Letterman in his playing days. "It's nice to know that in the modern era, I can still be mentioned in the same sentence with the greats of today's game. That sentence is: Scott Hastings, he sure ain't Chris Paul.
"All I wanted from my NBA career was to say that somewhere, somehow, in the bowels of the history books, I'm somewhere in there. It's confirmed and validated now. I'm pretty excited about that. My biggest claim is that I have a streak record, sort of, I have a win-loss record, sort of (Hastings was on the 1988-89 Heat, which started 0-17) and I won an NBA title (with the 1990 Pistons). My family and I can raise an egg nog over Christmas knowing that their dad, husband or son made an impact in the NBA."
By Maurice Brooks
ESPN.com

THURSDAY'S BEST
Brandon Roy, Blazers
: With the crowd screaming "MVP!" Roy gave the type of performance that proved he belongs in the conversation, scoring 52 points on 14-of-27 shooting, including 5-for-7 on 3-pointers and 19-for-21 from the foul line. He also had six assists as the Blazers beat the Suns, 124-119.
---

THURSDAY'S WORST
Tony Parker, Spurs
: He was able to get to the basket with ease as usual, but on this night the ball wouldn't fall in the hole. Parker missed 14-of-17 shots, finishing with nine points, four assists and four turnovers.
---
QUOTE OF THE NIGHT
"I can't say the basket was big, but my confidence was huge tonight. I just felt like every shot I took was going to go in."
-- Blazers guard Brandon Roy after scoring the most points in a regulation game this season.
Nice Present: Lakers vs. Celtics

ESPN analyst Magic Johnson, from Thursday's NBA conference call:
On playing on Christmas Day: "I loved it, and it didn't matter if we were on the road or not. Just give me the basketball in my hand, and everybody watching me? Oh, man. We were the featured game. I loved it. It's the best time because there's only a couple of teams playing. It's fantastic."
On whether the Celtics or Lakers are playing better right now: "The Celtics are playing better on both ends of the court. You can just tell that they really want to repeat.
"The Lakers have been struggling, big time, on the defensive end, so they've got a lot of work to do to come up to where the Celtics are."
On the meaning of the Celtics-Lakers game on ABC on Christmas Day: "The excitement is just like the old days, no question about it.
"I think this is about the Lakers. The Lakers have to prove to the Celtics and to themselves that they can handle the physical play of the Celtics. That last beating that they took by 39 points, that should have left a sour taste in the Lakers' mouth.
"To me, that was an embarrassment for the Lakers. Those guys have got to come out and really prove something to themselves and show the league that they are really ready to challenge the Celtics. Right now, the Celtics believe that the Lakers can't beat them."
Elias Sports Bureau

Brandon Roy scored 52 points Thursday, giving him 182 over his last five games. That's the most points over any five-game span by any player in Trail Blazers history. The previous record was 175, by Geoff Petrie in February 1971, Portland's first NBA season.
Petrie had two 50-point games for Portland in the 1972-73 season, but in the 36 seasons since then only two other Trail Blazers have scored 50 or more points: Clyde Drexler in 1989 and Damon Stoudamire in 2005. Of the 17 teams that have been in the NBA since 1973-74, only two others have had as few as three 50-point games by a player: the Kings (one) and Pistons (three).
• The Magic improved to 20-6 with their win over the Spurs Thursday. It's the fewest games Orlando has needed to reach 20 wins in a season since 1995-96, when the team, led by Shaquille O'Neal, Penny Hardaway and Dennis Scott, and coming off an NBA Finals appearance, also started 20-6, en route to a 60-22 record.

Indiana's
Danny Granger
talks about his hot shooting of late and looks back at his dominating 41-point performance in the Pacers' victory over the Warriors.
Scott Van Pelt Show
Celtics, Cavaliers and ... Magic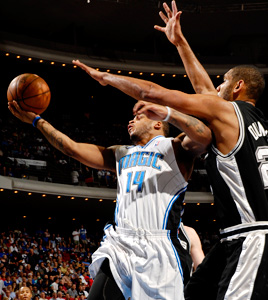 Fernando Medina/Getty Images
The Celtics and Cavaliers aren't the only elite teams in the Eastern Conference. Jameer Nelson, who is averaging 22 points over his last five games, scored 24 as the Magic defeated the Spurs to improve to 20-6.