AP Photo/John Bazemore
Mike Bibby and Joe Johnson enjoy the final moments of the team's 20th win of the season.

AP Photo/Duane Burleson
Magic guard Mickael Pietrus leaves the court after suffering a sprain of his wrist during Detroit's win.
Flight Club: Hawks Plan Rise To 50 Wins

ATLANTA -- Expectations are a new thing around these parts, at least if they involve winning.
But before defeating the Nuggets 109-91 on Monday, Hawks coach Mike Woodson laid down a major expectation for his surprising club this season: 50 wins.
And with the Hawks at 20-10 through 30 games -- tied with San Antonio for the league's fifth-best record -- they're on pace to achieve it.
"The point we've been talking about is trying to win 50 games," Woodson said. "That's been the goal for our basketball team. It's 13 games off the pace we finished last year, so it's not unrealistic. I say to these guys all the time, 'If you can take Boston to seven and win three games, there's not a team you can't beat.'"
The Hawks players I talked with seemed comfortable with the goal, between sheepish admissions that they're not really experts on what it takes to win 50.
"I've never been on a 50-win team," Marvin Williams said. "But we know what it feels like to lose 50, and we don't ever want to be in that position again."
Atlanta moved into another piece of unfamiliar territory on Monday: The win marked the first time since the 1987-88 season that the Hawks had won 20 games before Jan. 1. Three of the Hawks' five starters, including Williams, were in diapers at the time.
The third milestone on the night was the completion of a monumental eight-game homestand, one they completed at 7-1 with the only defeat coming by a whisker against the defending champion Celtics. Early in the season, the Hawks had some concern about the bizarre set-up of this season's schedule. Woodson said he'd never had an eight-game homestand in his 26 years in the league, and in March there's another stretch of 12 of 13 games at Philips Arena. In between, they play 15 of 21 on the road.
Privately, Hawks officials were hoping for 5-3 or 6-2 out of these eight games, but they exceeded their goal and finished it off in impressive fashion. The Hawks pounded a Nene-less Nuggets team with body blows early, and then used some long-range daggers from Mike Bibby to finish them off late. (Nene was a late scratch with a cervical strain in his neck, and Denver's brass didn't seem terribly pleased by this.)
All the while, the Atlanta defense remained stout, with Joe Johnson and Marvin Williams being particular standouts. As he often does against power point guards, Joe Johnson checked Chauncey Billups instead of Mike Bibby and held Billups to 11 points. Notably, he chased Billups off his favored pull-up 3-pointer, limiting him to one triple in four mostly hurried tries.
Meanwhile, the 6-9 Williams used his length to hound Carmelo Anthony into 4-for-17 shooting and did it with relatively little double-team help. Both of Denver's stars were frustrated enough to earn fourth-quarter technicals as the game got out of hand, in what's rapidly becoming a Nuggets tradition in Atlanta.
Johnson's defense on Billups was particularly notable. Most star players take on relatively light defensive assignments so they can focus on their offensive role, but Johnson was a focal point at both ends given how prominent Billups is in Denver's attack.
"It's just something that Coach challenged me to do," Johnson said. "I know [Billups] looks to score at times, and when he did try to attack I was just trying to make it hard on him. I know in transition he likes to pull up and make a [3-pointer] and I was aware of that."
But let's get back to that other challenge from coach Woodson: winning 50. Heading into Monday's game the Hawks projected to finish 50-32, according to the Playoff Odds, so it's certainly attainable.
But Johnson -- one of the few Hawks who has actually been on a 50-win team -- isn't taking anything for granted.
"We got a long season ahead of us," said Johnson, noting the heavy stretch of road games between now and March. "We haven't been so great on the road [lately]. I thought early we were, we have to get back to coming out with a lot more energy and talking on defense."
The Hawks are ranked 14th in defensive efficiency entering the game, compared to sixth at the offensive end, so Johnson is correct that there's room for improvement. But with some good health and a few more defensive efforts like Monday night's, the Hawks just might find themselves in that rarified 50-win air.
John Hollinger writes for ESPN Insider. To e-mail him, click here.
Dimes past: Dec. 12 | 13-14 | 15 | 16 | 17 | 18 | 19 | 20-21 | 22 | 23 | 24 | 27-28 | 29
Lopez's Strong Play Makes Krstic Expendable
By Chris Sheridan | ESPN.com

EAST RUTHERFORD, N.J. -- With a burst of sneaky quickness, Brook Lopez buzzed past Joakim Noah along the baseline and rose quickly to the hoop, laying in two points and making it look easy against one of the league's better young shot-blockers.
Moments later, Lopez drove right, faked Tyrus Thomas off his feet, then quickly spun left and rose up for a dunk, another shot-blocking specialist outfoxed.
Moves like those two, which the 7-foot rookie from Stanford made while posting a line of nine points, eight rebounds and two blocks in New Jersey's 100-87 loss to the Chicago Bulls on Monday night, are the moves of a keeper. Which was one of the primary reasons why the Nets decided not to match the offer sheet Nenad Krstic signed with the Oklahoma City Thunder.
Krstic became a member of the Thunder when the clock struck midnight, the Nets declining to match the three-year, $16 million offer sheet Oklahoma City made to the restricted free agent.
New Jersey did explore trade options, looking to create an open roster spot, believing in their heart of hearts that Krstic would be a valuable trade asset down the road at roughly $5.3 million per season, but could find no takers for any of the extraneous parts on their roster (Sean Williams, Stromile Swift, Mo Ager).
Several other factors impacted their decision not to match:
• The Nets could not believe their good fortune when Lopez slipped to them at No. 10 on draft night last June. Now he leads all rookies in rebounding (7.8) and blocks (1.97). Adding Krstic would impact Lopez's development.
• New Jersey was wary of making a three-year investment in a player whose knee injuries (he tore his ACL in 2006) they are well-versed in, having waited the bulk of last season for Krstic to overcome lingering pain from his rehab.
• The offer sheet includes a guaranteed third season, which the Nets saw as a potentially burdensome risk given Krstic's history of knee problems. Also, $3.8 million of this season's $4.8 million salary was payable up front.
• Matching the offer would mean Krstic would have trade-veto rights for a full calendar year, he could not be traded to Oklahoma City during that time, and NBA rules would have prohibited the Nets from trading him anywhere, under any circumstances, for three months after the day they matched the offer sheet.
Whatever it was that drove Krstic to seek a termination of his deal with Triumph Moscow remains somewhat of a mystery, although his agent, Marc Cornstein, said Krstic had been paid on time and was not unhappy with the Russian club.
"They [Triumph Moscow] knew that signing with them was a means to an end. They recognized that the NBA was where Nenad wanted to be, and we worked out a resolution," Cornstein said. "In mid-December we weren't even looking at the NBA, but this came up, and obviously this is something we couldn't have foreseen in the summer."
The addition of Krstic will provide some depth at the center position for the Thunder, who have used Johan Petro, Robert Swift, Joe Smith and Nick Collison at that position at different points this season while losing 29 of 32 games. The latest was a 110-102 defeat against Phoenix on Monday in which Shaquille O'Neal shot 10-for-12, scored 28 points and grabbed 12 rebounds against the likes of Swift, Petro and Chris Wilcox.
Krstic, with career NBA averages of 11.3 points and 5.7 rebounds, played in only 35 games last season and 26 the prior season. He was the 24th overall pick of the 2002 draft after playing four seasons with Partisan Belgrade.
Chris Sheridan covers the NBA for ESPN Insider. To e-mail Chris, click here.
Rose's Performance Puts Him In Good Company
Elias Sports Bureau

Derrick Rose had 21 points and 13 assists for Chicago in its 100-87 win in New Jersey. Rose is the fifth Bulls rookie to record at least 20 points and 10 assists in the same game. Michael Jordan did that eight times in his rookie season (1984-85), while Reggie Theus had four such games as a freshman (1978-79), Kirk Hinrich three (2003-04) and Jay Williams one (2002-03).
By Andrew Ayres
ESPN.com

MONDAY'S BEST
Al Jefferson, Wolves
: Drops in nine of his season-high 38 points during overtime, helping Minnesota hold off Memphis, 108-98. Also hauled in 16 boards. AJ is now averaging 22.1 points and 10.2 rebounds.
---

MONDAY'S WORST
Yao Ming, Rockets
: His 12-point night, his lowest scoring effort in December, helped sink the Rockets in an 89-87 home loss to the lowly Wiz. On the bright side, he made all four free throws, lifting him to 88 percent on the season.
---
QUOTE OF THE NIGHT
"I've been telling them all year: 'When they get it to me and let me do what I do, I can still put up those numbers.' Just because I'm 35, sometimes they think that he's old, he can't do it."
-- Suns center Shaquille O'Neal, who went 10-for-12 (28 points overall) and passed Dominique Wilkins for ninth place on the league's career scoring list in a 110-102 win over the Thunder.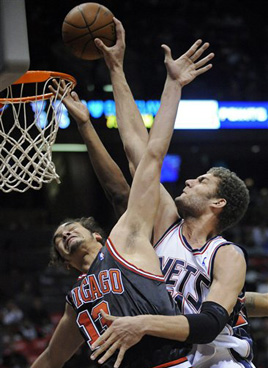 AP Photo/Bill Kostroun
Stopping Nets rookie Brook Lopez is no easy task, as Bulls forward Joakim Noah finds out. Lopez's quick development helped New Jersey allow Nenad Krstic to leave. (See Box 2.)
ESPN.com

Though both players downplayed their matchup afterward, the meeting of Grizzlies guard O.J. Mayo (right) and Timberwolves forward Kevin Love brought some interest to two teams headed back to lotteryland.
In their first NBA meeting, Mayo scored seven points in the fourth quarter, nearly elevating the Grizzlies to
a win in regulation.
The two were traded for each other in a multi-player draft-day deal. The two meet again Jan. 6 in Memphis. Mayo is averaging 20.1 points. Love is averaging 7.8 boards.
Mayo V. Love

Name
Min
FG/FGA
Reb
Ast
Pts
Mayo
39
10-17
3
4
23
Love
31
5-7
7
2
17
John Hollinger | ESPN.com

Pau Gasol's unexpected display of spine on Christmas is in keeping with his general trend this season: The 7-foot Spaniard is scoring less, but filling in the stat sheet in other ways. Gasol's 14.2 rebound rate would be the second-highest of his career and only the second time he averaged double figures on a 40-minute basis; the fact that he's doing this while losing boards to Andrew Bynum makes it even more impressive.
Gasol is also averaging 4.2 assists per 40 minutes, more than he averaged in all but one season in Memphis. And again, it's particularly impressive since he's no longer the first option offensively.
And most importantly, he's making shots. Gasol is at 56.0 percent from the field and 79.6 percent from the line, with the former being a career high and the latter coming very close to one. The upshot is a 22.20 player efficiency rating, which ranks him 18th in the NBA and has him poised for an All-Star bid, even given the West's deep reservoir of quality forwards.
• See all six Hollinger Insider Gems